Across Sonoma VALLEY on Dec. 30, folks will be counting birds, and they won't include partridges in pear trees.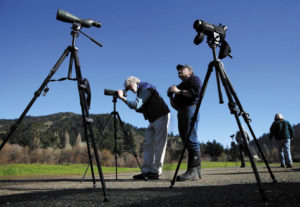 The California quail is far more likely to be spotted when the Sonoma Valley Christmas Bird Count sends out 25 or more teams to identify and count species, by sight and sound, as part of the National Audubon Society's Christmas Bird Count (CBC). Between Dec. 14 and Jan. 5, volunteers toting field glasses and scopes will fan out across North America to conduct the annual census. Once compiled, the data will help wildlife organizations assess the health of avian populations, and perhaps save those that are dwindling. CBC has been called one of the largest "citizen science" projects in the world.
In a 24-hour period, Sonoma Valley CBC volunteers will follow specified routes within an established 15-mile-diameter circle, in search of the more than 400 bird species known to winter in the county. All species are eligible: ducks, egrets, hawks, eagles, falcons, doves, owls, woodpeckers, chickadees, robins, finches, jays, shorebirds, even crows and hummingbirds.
On Dec. 27, the Western Sonoma County Bird Count will be conducted by the Madrone Audubon Society. Last year, the 48th annual event fielded 22 teams, with more than 134 volunteers identifying 185 species and 38,738 individual birds, according to group president Gordon Beebe.
Two counts are just for kids: Petaluma CBC4K and Sonoma CBC4K. Junior Birdmen (and Birdwomen) are taught by experienced adults to use binoculars and spotting scopes, identify species, and understand how vital it is to preserve them. There is lots of fun, too, and antsy kids have a reason to get outdoors during their holiday break.
CHRISTMAS BIRD COUNT
dates and contact info
Dec. 27: West Sonoma County CBC, Gordon Beebe, gdbeebe@earthlink.net, madroneaudubon.org
Dec. 30: Sonoma Valley CBC, Gene Hunn, enhunn323@comcast.net, sonomabirding.com
Jan. 2: Petaluma CBC4K, Al Hesla, a.hesla@comcast.net
January: Sonoma CBC4K, visit
sonomabirding.com for actual date.