Some 1,000 people will walk the 9 miles from Santa Rosa's St. Rose Catholic Church to Our Lady of Guadalupe Catholic Church in Windsor at 12:01 a.m. on Dec. 12, an act of devotion to one of Mexico's most beloved religious figures.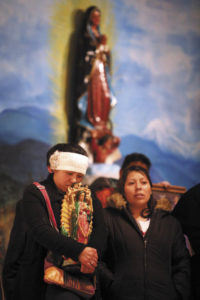 On what likely will be a chilly early morning, the pilgrims will carry candles, roses, crosses and statues of Our Lady of Guadalupe — the Virgin Mary, mother of Jesus — accompanied by horse-mounted riders and Aztec dancers. When the procession arrives well before dawn in Windsor, songs will be sung, Mass will be celebrated in a flower-filled church, and a breakfast of pan dulce (pastries), hot chocolate and coffee will be served.
Nuestra Señora de Guadalupe is the recipient of the adoration, a collective gratefulness for the miracles she and God have worked for followers. For some, it's a plea for help with difficulties in their lives.
A dark-skinned, pregnant, colorfully dressed Mary is said to have appeared before a peasant named Juan Diego near Mexico City in 1531, asking that a church be built in her name. To convince the bishop to do so, Juan Diego delivered a miracle: his tilma, or cloak, imprinted with the image of the Virgin Mary and filled with roses that could not have bloomed at that time of year. The bishop believed, and the Basilica of Our Lady of Guadalupe was built on the hill of Tepeyac.
Seen as a champion of the poor and an answerer of prayers, La Virgencita is celebrated year-round. On Dec. 12, Sonoma gives her extra attention.
St. Rose Catholic Church, 398 10th St., Santa Rosa,
707-542-6448, stroseonline.org
Our Lady of Guadalupe Catholic Church, 8400 Old Redwood Highway, Windsor, 707-837-8972, olgwindsor.org