It's almost time to get your knives, forks and glasses ready for Bottle Rock 2016! 
Not surprisingly, the list of top chefs, restaurants, wineries and brewers has continued to grow — including an expanded culinary stage, more food royalty and the kind of first-rate festival food we've come to expect in Napa.
The restaurant lineup includes haute Napa eateries Morimoto, Bouchon Bakery, Estate Events by Meadowood, Oenotri, La Toque, La Taberna, Ca'Momi, Mustards Grill, Angéle, Hurley's, Bounty Hunter, Cole's Chop House, REDD, Goose & Gander, Tarla Grill, Pizzeria Tra Vigne, Atlas Social, Bistro Don Giovanni, The Q Restaurant and Bar, Heritage Eats, Taqueria Rosita, Fumé Bistro, Ristorante Allegria, Napa Palisades Saloon, Il Posto, Eight Noodle Shop, Jax White Mule Diner, Bui Bistro, Gerard's Paella and Smoke Open Fire.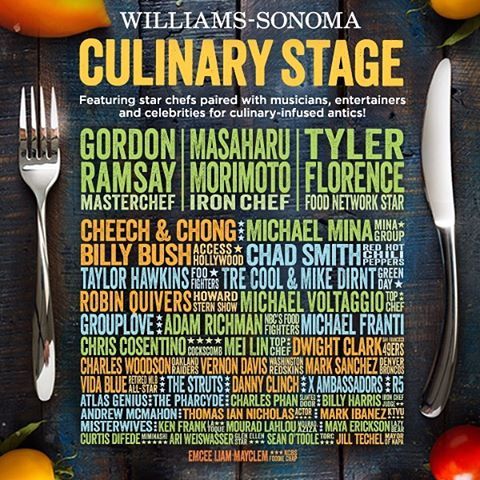 Food trucks include Drewski's, MeSoHungry, Seoul of Taipei,  farmerbrown, El Porteño, Bowl'd Acai, Curry Up Now, The Middle Feast, Bacon Bacon, Wanna-E, Eureka! Street Cuisine, Pinup Girl Coffee Co. and Kara's Cupcakes.
One of the most fun aspects of last year's eat-a-thon included the culinary stage, where chefs and musicians teamed up for goofy cooking demos and general mayhem. This year, multi-Michelin Starred Chef Gordon Ramsay, Iron Chef Masaharu Morimoto and Food Network's Chef Tyler Florence will headline the Williams-Sonoma Culinary Stage, leading a star-studded lineup during the  three-day festival, May 27-29, 2016, in historic downtown Napa.
Heads up for additional culinary stars appearing on the stage including Michelin-Starred and James Beard Award-winning Chef Michael Mina, Top Chef Michael Voltaggio, Top Chef Masters winner Chris Cosentino of Cockscomb, Top Chef Mei Lin, Charles Phan of San Francisco's Slanted Door, Michelin Starred Chef Ken Frank of La Toque, Michelin Starred Chef Mourad Lahlou of Mourad and Aziza in San Francisco, Maya Erickson of Michelin Starred restaurant Lazy Bear in San Francisco, Ari Weiswasser, Food & Wine Magazine's "People's Best New Chef", Curtis Di Fede of Napa's Miminashi and Sean O'Toole of Napa's Torc, among others.
Joining the culinary talent on the Williams-Sonoma Stage are musicians Chad Smith of Red Hot Chili Peppers, Taylor Hawkins of Foo Fighters, Tre Cool and Mike Dirnt of Green Day, GROUPLOVE, Michael Franti, X Ambassadors, R5, Atlas Genius, The Pharcyde, Misterwives, Andrew McMahon and The Struts. Athletes including 49er great Dwight Clark, future Hall-of-Famer and former Oakland Raider Charles Woodson, former 49er Vernon Davis of the Washington Redskins, Mark Sanchez of the Denver Broncos and Oakland A's and San Francisco Giants Legend Vida Blue.
Needed upgrades to the culinary stage include an expanded stage and viewing area, complete with upgraded audio and video capabilities to provide a close-up look at the cooking demonstrations and allow for maximum fan participation.