No one needs to tell Jeff Bull that cold beer is hot for creative food pairings. The Santa Rosa home brewer and self-admitted craft beer geek lists among his favorite sudsy combos a spicy, mocha porter with German chocolate cake.
He waxes poetic on his bullseyebrewco.com blog about the pleasures of partnering beer and cheese, beer and maple bacon Kettle chips, beer and ice cream, and beer and oysters. He also posts uncommon culinary hints from regional craft brewers ("Ever hear that Girl Scout cookies and beer go well together? Oh, HELL YES. Ninkasi Brewing Devil and Tagalongs").
"Pairing beer with food is one of my favorite activities," Bull said. "I love the diverse flavor profiles offered by both."
Bull and his brethren are just the type of microbrew lovers helping fan the flames of an ever-increasing array of beer dinners in Sonoma. These days, local brewmasters hold court like the fanciest winemakers, sharing their skills as cicerones (beer sommeliers) to show others how an artful IPA can enhance spicy duck wings dunked in fried Maytag blue cheese, and how a soulful stout can be a sophisticated star alongside a burger adorned in truffles and foie gras and drenched in demi-glace.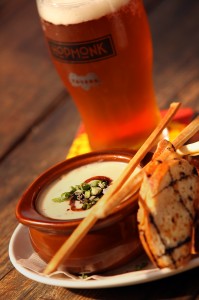 HopMonk Tavern owner Dean Biersch knows well the charm of beer and fine food, often arranging one-night-only, fancy, suds-soaked meals at his pubs in Sebastopol and Sonoma. With 18 beers on tap and dozens of bottled microbrews, he likes to challenge his chefs for inspirations such as a Lagunitas Brewing Co. Petaluma Pils partnered with bitter apple and corn croquettes.
Part of the fascination, he said, comes from the often-layered flavors of artisanal beers, which can boast notes ranging from pear and lilac in Healdsburg's Bear Republic Brewery Co. Cher Ami, to caramel and coffee in Sonoma's Carneros Brewing Co. Negra IPA.
"The range and quality of American craft beer in 2015 is amazing," Biersch said. "Most are hybrids based on tradition, but featuring unique yeasts and hop varietals. This has created new and open territory for chefs interested in beer. It's the combination of unique pairings and flavors, the relaxed tavern or beer garden setting, shared tables and the personal stories from brewers, chefs and owners that make beer dinners so fun and informative."
Subscribe to Our Newsletters!