Trathen Heckman has turned his 6,200-square-foot lot in suburban Petaluma into an educational model for how to grow your own food. The bounty ranges from 500 to 1,000 pounds a year, and he uses less water than a lawn would take.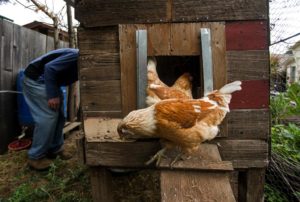 Heckman's small flock of backyard chickens, housed in a recycled chicken coop and automatically watered by a rainwater catchment system, plays an integral role by supplying fertilizer, pest control, soil aeration and eggs to the plot.
"The chickens eat bugs and worms in the garden, and they make manure that we use to make compost," he said. "We compost our food waste, but it's better to feed it to our chickens, because we get high-quality protein in return."
Heckman is the founder and executive director of Daily Acts in Petaluma (dailyacts.org), a nonprofit that promotes sustainability by planting edible landscapes aimed at nurturing practical skills and community resilience. The organization offers all kinds of workshops and educational events, including a Backyard Feather Revolution Tour of various local chicken coops. The tours are an ideal way for potential backyard chicken owners to learn how to get started.
"We show the power of having a landscape that uses 80 percent less resources, grows food and makes protein," he said. "We look at how it all fits together: the chickens and bees, the plants and soil, the graywater and rainwater, and the human stewards."
After moving to his west Petaluma neighborhood in 2007, Heckman set about adding beehives and several rainwater catchment systems, along with a simple chicken coop he inherited from the Post Carbon Institute, a Santa Rosa-based nonprofit dedicated to environmental sustainability.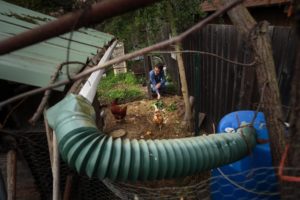 "We built the fence and the gate," he said of the chicken enclosure. "Then we installed the rainwater system (to automatically provide water for the chickens)."
In addition to fresh eggs, the chickens offer an infinite source of entertainment for his 3-year-old daughter, Ella, and her friends.
"They provide eggs for Easter egg hunts," he said. "She goes out and gets the eggs, and the kids try to pick the chickens up and pet them."
When they're not making their own mayonnaise or digging into an egg dish with hot sauce, Heckman and his wife, Mary, share their backyard eggs with their neighbors, in order to get them excited about raising their own chickens.
"They are so low-maintenance," he said. "It's super easy."
Subscribe to Our Newsletters!