The Petaluma region proved to be an ideal incubator to hatch a thriving egg industry at the turn of the 20th century. After World War II, however, the small family farms were slowly bought out, and the once-proud "Egg Capital of the World" collapsed in the mid-1960s.
In the past 10 years, however, locavore and back-to-the-farm movements have spawned a new generation of egg farmers and fueled a growing demand for healthy, pasture-raised eggs produced by humanely treated chickens, often using organic practices.
Here are the highlights of Petaluma's storied past as a poultry hub:
1868: Danish immigrant Christopher Nisson arrives and launches a chicken ranch in Two Rock. He goes on to found Petaluma's Pioneer Hatchery, the first commercial hatchery in the U.S.
1871: Midwesterner Samuel A. Nay buys a 55-acre ranch and becomes
the first to make a success of
chicken-raising in Petaluma.
1878: Canadian Lyman Byce comes to Petaluma to raise chickens and perfects the chick incubator, originally developed by Jewish dentist Dr. Isaac Lopes Dias of Petaluma. By 1897, Byce's Petaluma Incubator Co. has sold more than 15,000 incubators.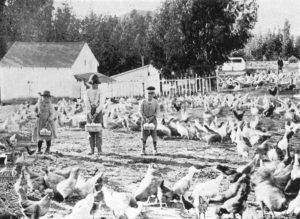 1888: Illinois native John Sales establishes the Sales Hatchery.
Early 1890s: The highly productive Single Comb White Leghorn chicken is introduced into Petaluma, after New York breeder C. H. Wycoff uses selective breeding to produce a small flock that averages 200 eggs a year per chicken.
1898: Southern Californian
 Alphonse E. Bourke establishes 
the Must Hatch hatchery, a Petaluma landmark. In 1911, the hatchery produces 1.25 million baby chicks.
1904: The first local Jewish chicken farmer, Sam Melnick of Lithuania, buys 7 acres near Cotati. By 1925, Sonoma County has 100 poultry-raising families of Jewish descent, with the number eventually growing to between 200 and 300 families. The farmers, known for their socialist politics, had fled Eastern Europe via New York's Lower East Side, dreaming of escaping urban poverty and working closer to the land.
1906: Bostonian Walter Hogan arrives in Petaluma and shares his poultry-breeding techniques used to identify high-production hens and breeder roosters, and weed out "spent" hens.
1913: D. B. Walls launches a breeding farm, honing a program that kept extensive breeding and laying records. In 1923, he takes first place at the Petaluma Fair with his White Leghorn hen, "Pride of Petaluma."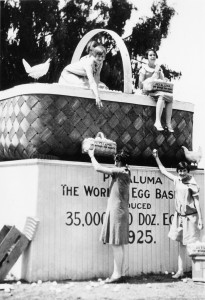 1918: Publicist Bert Kerrigan assures the Petaluma Chamber of Commerce that it should continue to put all of its eggs in one basket and stick with the "little white hen" as its economic focus. At his suggestion, the town launches National Egg Day, with a parade and other activities. The festival continues today as the annual Butter & Egg Days in April.
1923: James Keyes starts the Chicken Pharmacy, which was featured in "Ripley's Believe It or Not" as the world's only drugstore devoted to poultry health.
1936: The Great Recession that follows the stock market crash of 1929 puts dozens of Petaluma ranchers out of business. Still, the town continues to serve as the home to a record 6 million hens.
1941: Sonoma County boasts 4,000 egg farms. By 1945, the region hits its peak production, with 612 million eggs laid that year.
1989: H&N International, the last remaining hatchery in Petaluma, closes.
2002: Mechanization in the industry enables just a few Sonoma companies to produce as many eggs as the industry did during its heyday.
Mid-2000s: Sunrise Farms, co-owned by longtime egg farmer Arnie Riebli, becomes the largest egg producer in the county, turning out 1 million eggs a day.
Sources: "Empty Shells: The Story of Petaluma, America's Chicken City" by Thea Lowry and "Images of America: Petaluma, California" by Simone Wilson. Photos courtesy Petaluma Historical Library & Museum and "Illustrated Atlas of Sonoma County, California," by Reynolds and Proctor.