Alfresco food and wine pairings are a dime a dozen in Wine Country this time of year, but a special outdoor dinner at the end of May at Healdsburg's Preston Farm and Winery is creating a lot of buzz this spring.
While culinary experiences at Sonoma County wineries usually focus on wine, the upcoming dinner in Healdsburg is all about honeybees.
"It's going to be something totally different," said Candice Koseba, the founder of Sonoma County Bee Company, who is organizing the event in collaboration with Preston Farm and Winery and Field Day CA.
A first of its kind in Sonoma County, the Bee Inspired Dinner on May 20 is shaping up to be a delicious event for people passionate about bees, food and wine.
Preston Farm and Winery will provide the wine and the beautiful Dry Creek Valley setting, to the tunes of live music. Chef Aaron Koseba (Candice's husband and former chef de cuisine at Single Thread restaurant in Healdsburg) will prepare a multicourse meal. And the Field Day CA bus, a school bus turned prep kitchen by local chef Naomi Mcleod, will be parked in the vineyards.
"The dinner will be constructed around what's available on the farm and the bounty of Candice's hives," said Ken Blair, Sales Director at Preston Farm and Winery. "The wines will be chosen to complement Aaron's dishes that he constructs from these raw materials."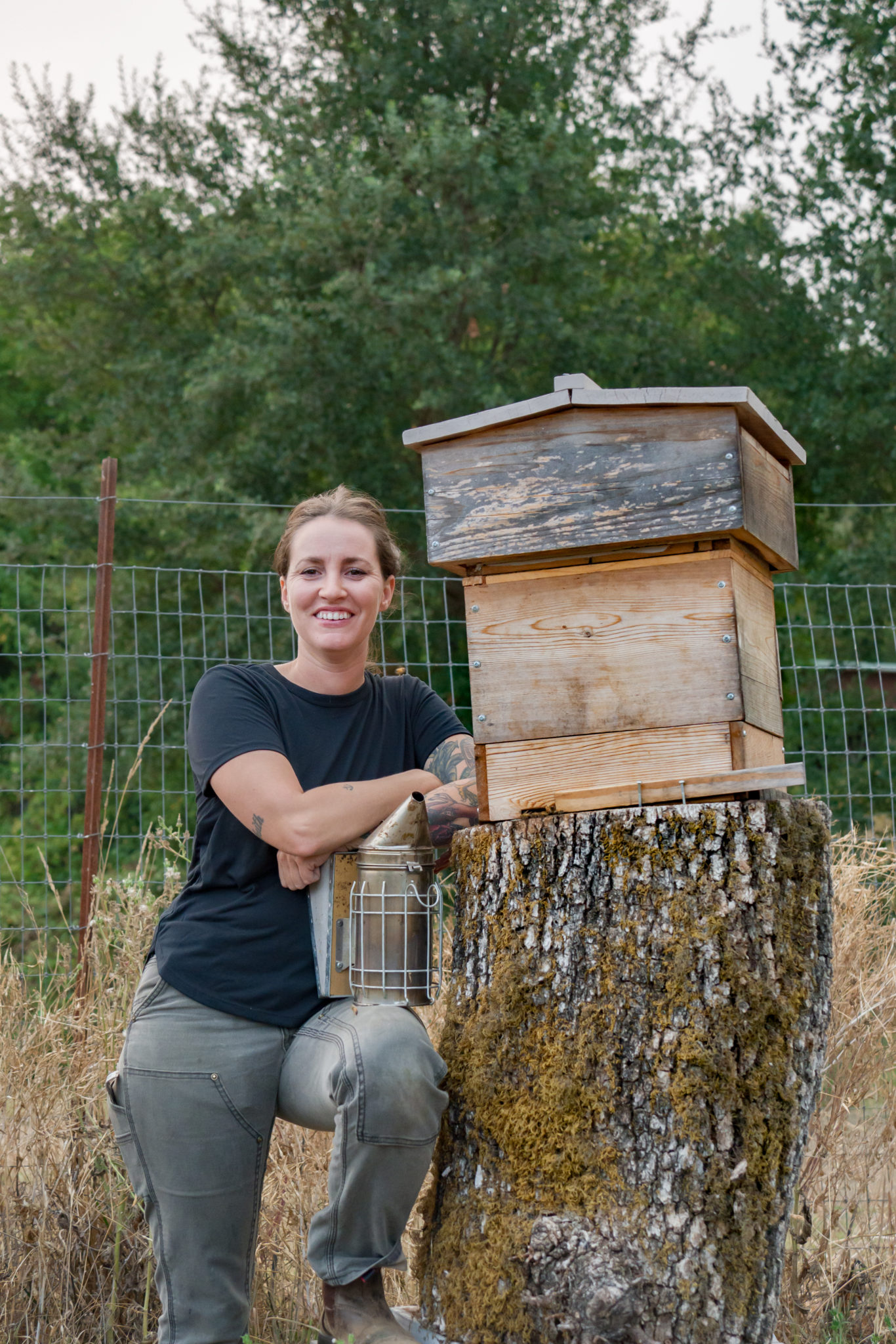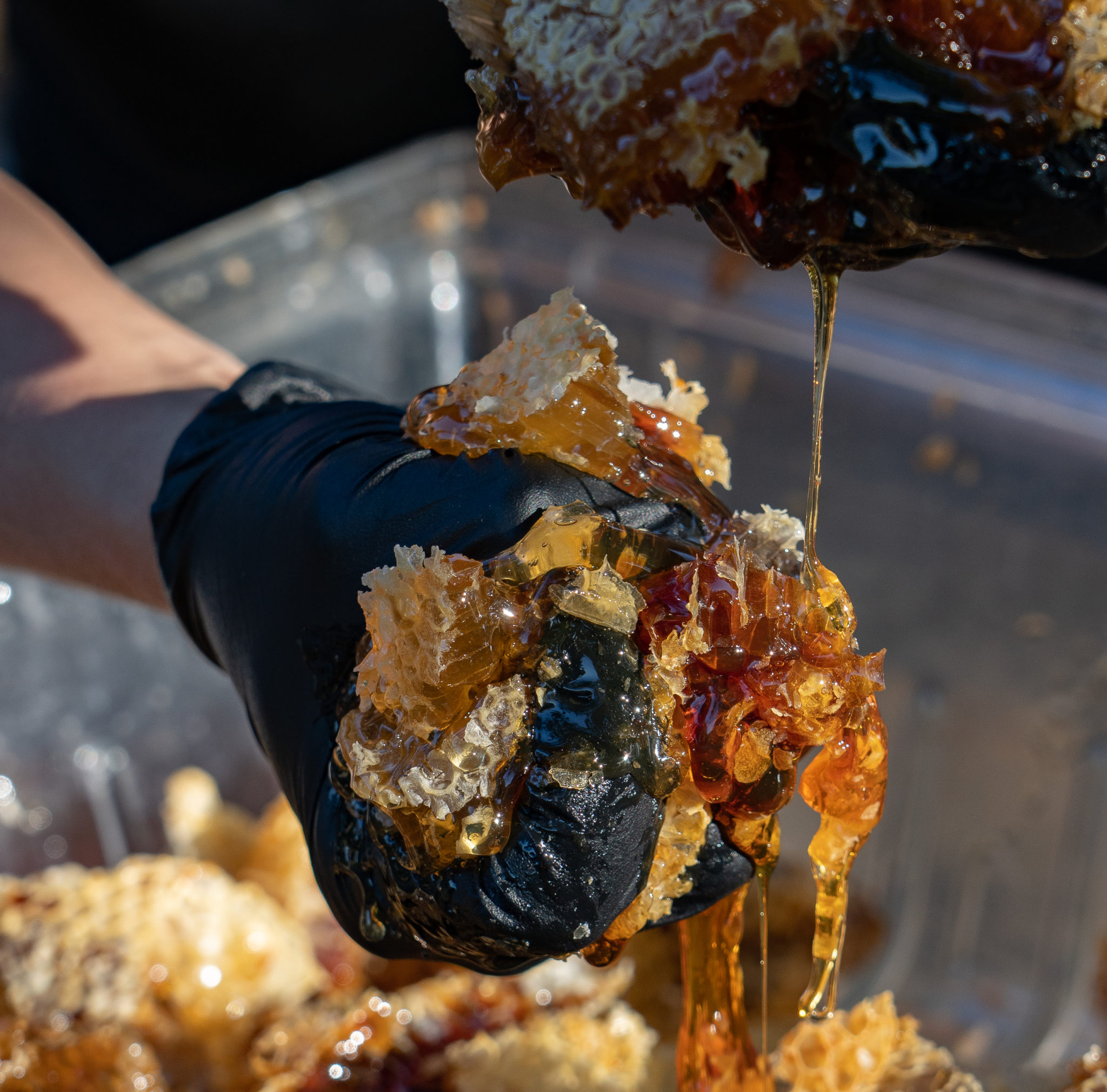 The dinner menu is yet to be revealed but it will, of course, feature honey as its star ingredient. Guests also will be able to taste different kinds of honey side by side and with the aid of a colorful honey flavor wheel, making it easier to detect differences in flavor, aroma and texture.
"I am infusing herbs and flowers into honey as we speak, and also fermenting garlic in honey," said Koseba. "I want [guests] to taste some fun honey creations that I enjoy at home … I want everyone to feel a little more love for bees than they already do and have a tasty meal."
In addition to serving up honey for the dinner — in collaboration with her beloved bees, Koseba plans to take dinner guests on a journey through the lifecycle of a honeybee colony. While showing guests the newly designed beehives she tends to at the Healdsburg winery, she will explain how beekeepers determine when it is safe to harvest honey and why bees are so fiercely loyal to their queen.
The Bee Inspired Dinner on May 20 at Preston Farm and Winery is $165 per person, which includes a Sonoma County Bee Company gift set to take home. Preston Farm and Winery, 9282 West Dry Creek Road, Healdsburg. Purchase tickets at fielddayca.com
If you can't make it to dinner
Sonoma County Bee Company's Instagram account has a wealth of information for people eager to learn more about bees and beekeeping. It features videos and posts on a variety of bee-related subjects, from an enthralling video of Koseba rescuing and relocating honeybee nests to educational posts on how to infuse honey or what to do if you see a honeybee swarm (don't panic, give Koseba a call).
You can learn more about how Koseba got into beekeeping in this Sonoma Magazine article, and purchase raw honey and other products, like beeswax candles and herb salves made with beeswax, lavender, calendula and olive oil, on the Sonoma County Bee Company website.  Koseba's products also are available at Montage Healdsburg, where she leads excursions that offer guests a fascinating glimpse into the daily lives of Wine Country's hardworking honeybees.