Tashi Kilburn sipped sparkling wine at Charles M. Schulz-Sonoma County Airport on Thursday prior to boarding an Allegiant Air jet for what promised to be an unforgettable bachelorette party weekend in Sin City.
Kilburn, a bride-to-be from Santa Rosa, expressed amazement at being able to fly to Las Vegas from her local airport.
"We were going to fly out of San Francisco or Oakland, but the flights were getting expensive," she said. "This popped up magically. Any time we can fly out of Santa Rosa, it's all good."
Anticipation and excitement greeted the debut of Allegiant's new service to Las Vegas on Thursday. The new flights ­— along with the launch of new service to Phoenix-Mesa Gateway Airport next Thursday — signal an important milestone for the Sonoma County airport, which is undergoing an expansion and is seeking more connections to farther-flung destinations.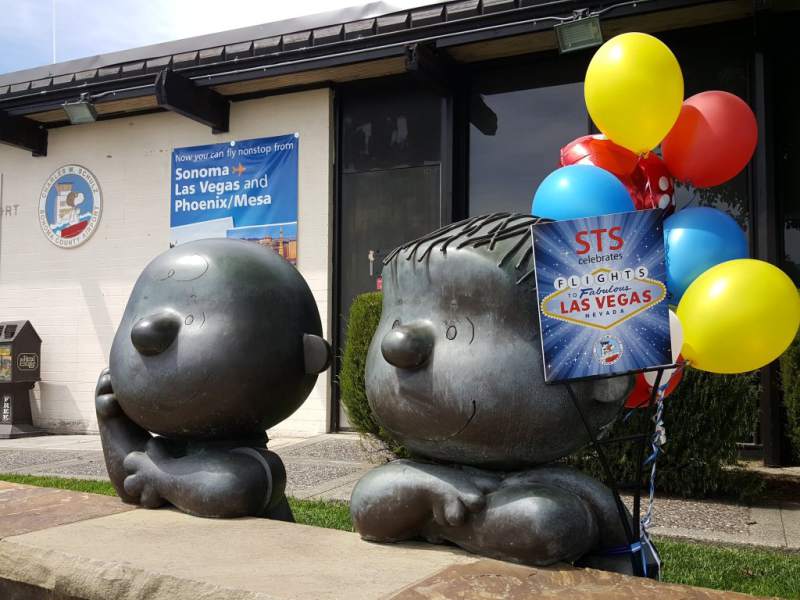 At one point Thursday afternoon, two Bombardier planes operated by Alaska Airlines and the McDonnell Douglas MD-80 flown by Allegiant were lined up together on the tarmac, visible signs that Snoopy's little airport is flying higher.
"It's a pretty big deal," airport manager Jon Stout said.
Neither the inbound nor outbound Las Vegas flights were on time Thursday. But passengers didn't seem to mind.
Instead, they raved about being able to use their hometown airport. Others lauded Allegiant's ticket prices, despite fees for bags, seat assignments and a host of other add-ons that upped the cost.
Samantha Wagner and her husband, Zac, said they were spending about $1,000 for round-trip airfare, three nights at the MGM Grand, a shuttle to and from the airport and a party bus Saturday night to celebrate Samantha's 30th birthday. They booked the entire trip through Allegiant's website.
The couple opted not to select seats to save a few bucks.
"I don't care if I don't sit next to my husband," Samantha said.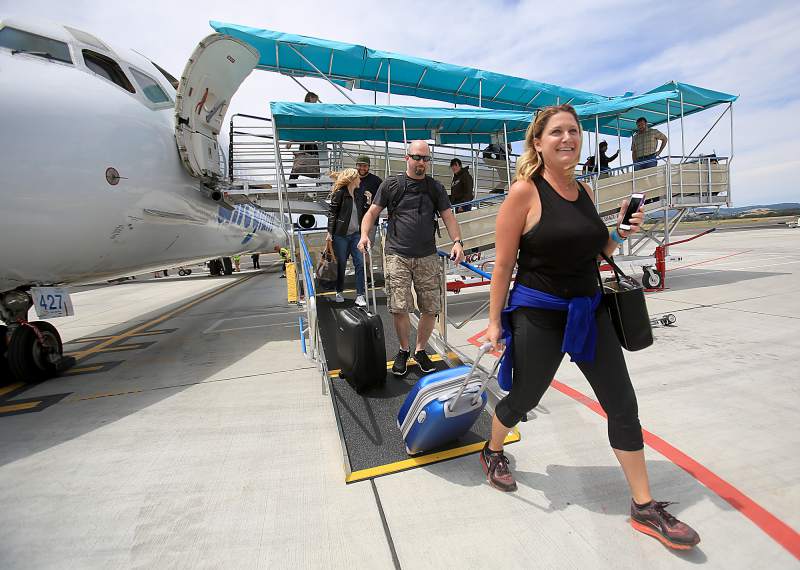 Allegiant is the second commercial airline operating in Sonoma County. Alaska Airlines started providing nonstop flights from Santa Rosa to Los Angeles, Seattle and Portland in 2007, filling a hole left by the 2001 departure of United Express. It added flights to Las Vegas in 2008, but ended the route in 2012 and replaced it with flights to San Diego. Alaska also recently started daily service to John Wayne Airport in Orange County.
The Sonoma County airport hasn't had two airlines in more than 20 years. On Thursday, it showed.
Workers scrambled to finish a walkway leading to an overflow passenger waiting area prior to the 4 p.m. flight to Vegas. Crews also hovered around reservation counters that are being refurbished to accommodate the two airlines.
Allegiant currently offers two flights a week between Sonoma County and Las Vegas, on Sundays and Thursdays. It plans a similar schedule to Phoenix-Mesa, starting next Thursday. The airline plans a quick turnaround of only 40 minutes between the arriving and departing flights. But Thursday, the MD-80 idled on the tarmac for four hours to allow more training for ground crews.
Stout said the hours for security screening also are expanding, from 5:30 a.m. until after the last flight has departed on Thursdays and Sundays. The long-term parking lot also is adding spaces.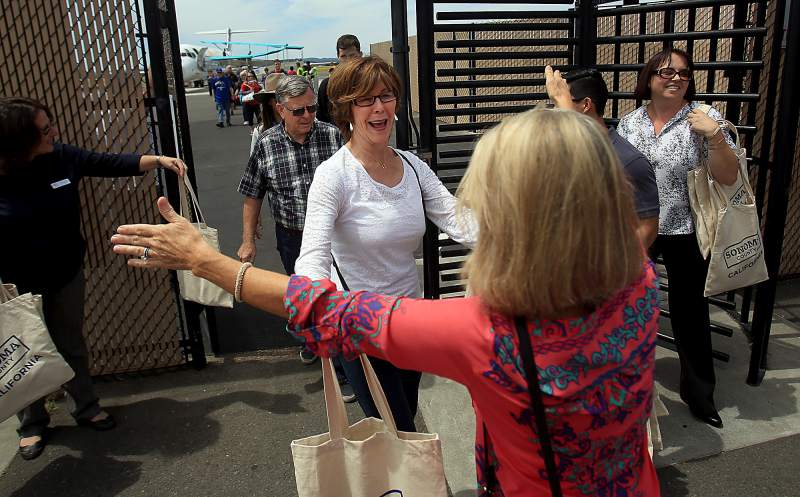 Outside the airport's waiting lounge, Steve and Carolyn Poggi of Santa Rosa greeted their daughter, Laura Bongiorno, who flew in from Vegas for a visit. The Poggis' other daughter, who resides in Scottsdale, Ariz., is booked on a June 16 Allegiant flight to Sonoma County.
"This is so much easier than driving to San Francisco to pick them up," Carolyn Poggi said.
Tim Pugh and Keira Finnegan flew in for the weekend to celebrate their one-year wedding anniversary. Neither had ever been to Wine Country.
"We hear it's beautiful here," said Pugh, noting that the mercury in Las Vegas is supposed to hit 100 degrees this weekend.
Officials say the new Allegiant service will boost Sonoma County's tourism industry, which employs nearly 20,000 people. Total direct travel spending in Sonoma County was $1.82 billion in 2015, up almost $200 million from the prior year, according to one economic study.
"This is just bringing in more customers," said Tim Zahner, chief marketing officer for the county's tourism bureau.
The flights also benefit local companies that have business in the Las Vegas and Phoenix areas, said Jonathan Coe, president of the Santa Rosa Chamber of Commerce.
He said in terms of infrastructure and economic growth, expansion of the Sonoma County airport is the "most important thing we are doing."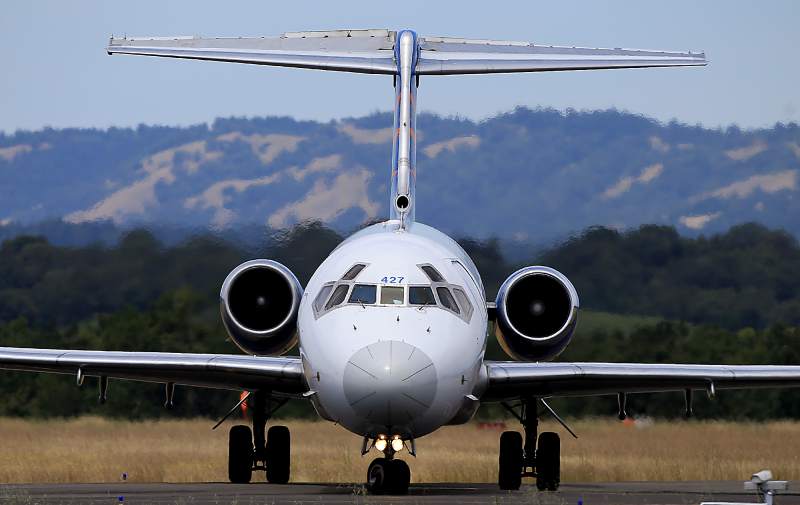 Denver, Salt Lake City or Chicago remain the most coveted destinations for local travelers, as they offer connections to national and international destinations. Stout said he is meeting with representatives of eight airlines at a conference in Denver next month seeking such commitments.
Some of the airlines are anxious to see how things go with Allegiant before committing to service here, he said.
Allegiant has come under federal scrutiny recently following several incidents, including a low-fuel landing in Fargo, N.D., and an aborted takeoff in Las Vegas last summer. The Federal Aviation Administration is investigating the airline's operations.
Stout acknowledged the airline has a "few issues." But he said he considers the airline safe to fly.
Photography by Kent Porter / The Press Democrat. 
---
Subscribe to Our Newsletters!