When it comes to the great outdoors, Sonoma and its environs are blessed with so many appealing options that it can be difficult to decide what to do next. From the rugged coast and its alluring beaches and campsites, to the craggy inland mountains for hiking and biking, and everything in between, there's a wealth of choices for those who love to spend time outdoors.
The glorious Sonoma summer weather — cool mornings, warm, sunny afternoons and little chance of rain — perfectly complements outdoor action. Take a look at our suggestions, then hop on your bike, lace up for a hike, or dive into a lake. Summer may not last forever, but the memories will.
There's nothing quite like a lazy (or energetic) day of BOATING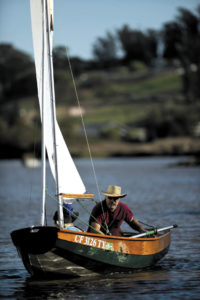 Petaluma River, Petaluma
Spending some time on the water is a great way to get away from it all without traveling too far. Launch in downtown Petaluma and within minutes, great blue herons in the reeds and great egrets in the trees will come into view. Haul your own vessel, or rent a kayak or standup paddleboard at Clavey Paddlesports, whose staff will guide customers to the launch dock on the river.
Clavey's Jeff Kellogg notes that excursions can be oriented toward downtown Petaluma at high tide — the river is actually a tidal slough and fluctuates with the tides — or paddlers can set off toward San Pablo Bay. Armed with a good map, tidal knowledge and a GPS system, boaters can explore the sloughs and wetlands around the bay.
Standup paddleboard rentals start at $55 for four hours; single kayaks are $75 a day and $95 for the weekend; double kayaks and canoes cost $95 a day and $120 for the weekend.
Clavey Paddlesports, 409 Petaluma Blvd. S., Petaluma, 707-766-8070, clavey.com
Russian River, Healdsburg
Just southeast of downtown Healdsburg and at the base of Memorial Bridge, River's Edge Kayak & Canoe Trips offers guided and solo paddles on the upper Russian River, where otters, turtles and herons might be spotted. A 5-mile trip takes two to three hours and ends at the River's Edge beach. The river is placid in summer, but late in the season, when the flow is low, some portage may be required — particularly in drought years. Kayak rentals start at $45 for a single, $90 for a double. Canoes are $90 for the trip.
River's Edge Kayak & Canoe Trips, 13840 Healdsburg Ave., Healdsburg, 707-433-7247, riversedgekayakandcanoe.com
Russian River, Forestville
Burke's Canoe Trips in Forestville rents canoes for serene floats along the Russian River. Drift downstream toward the sea on this redwood-forested riverway; the 10-mile trip includes a return shuttle. $65 per canoe (not per person) includes paddles and life vests.
Burke's Canoe Trips, 8600 River Road, Forestville, 707-887-1222, burkescanoetrips.com
Other water spots:
Lake Sonoma's Yorty Creek Recreation Area in Cloverdale is good for kayak launching.
Like still-water kayaking? Check out Lake Benoist at Healdsburg's Riverfront Park.
TIP: Polarized sunglasses cut down on the glare of the water and are easier on the eyes.
—
Pack up the marshmallows, get the tent, and go CAMPING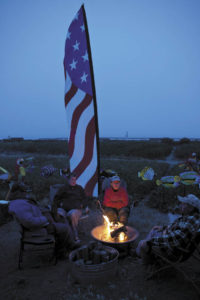 Doran Beach Regional Park, Bodega Bay
Camp a stone's throw from the Sonoma Coast's most family-friendly beaches. RVs are welcome and descend by the dozens during weekends at this popular site, but there's also a section for tent camping. A boat launch is nearby, and there are plenty of opportunities to explore hidden coves and fly a kite. Doran also has tranquil, yet bracingly chilly, swimming.
Campgrounds in Sonoma County's 's regional parks start taking reservations exactly a year in advance, so plan ahead and book for next summer. But don't give up on this summer: cancellations are frequent and weekdays are often open. The $32-per-night fee includes one vehicle and one towed. Follow the links on the website to check for availability and book a campsite. Also reserve by going to sonomacountycamping.org and selecting the campground from the drop-down menu. Or call the Regional Parks office at 565-2041.
Doran Beach Regional Park, 201 Doran Beach Road, Bodega Bay, 707-565-2041, parks.sonomacounty.ca.gov/Get_Outdoors/Parks/Doran_Regional_Park.aspx
Hood Mountain Regional Park, Santa Rosa
Located in the mountains between Santa Rosa and St. Helena, Hood Mountain is a hidden gem that offers rustic, yet blissful, camping solitude. Two hike-in campsites provide tent space and a primitive toilet; there is no running water, so bring your own H2O. Campers who are also experienced hikers can traverse trails that lead to views of the Golden Gate Bridge. Even though there are only two spots, in late May, both were open for almost every day this summer.
Hood Mountain Regional Park, 1450 Pythian Road, Santa Rosa, 707-539-8092, parks.sonomacounty.ca.gov/Get_Outdoors/Parks/Hood_Mountain_Regional_Park_Open_Space_Preserve.aspx
Stake your claim:
Cabins at the base of Steep Ravine Canyon off Highway 1 in Mt. Tam State Park offer great ocean views.
Hipcamp.com is a great place to find last-minute available camp sites.
—
Skip the walk around the block and hit the trails for some HIKING
Annadel State Park, Santa Rosa
Just 10 minutes from downtown Santa Rosa, Annadel State Park offers more than 5,000 acres of rolling hills, meadows and woodlands. Its trails provide a good workout without being too taxing. After hiking for a few miles (the distance depends on the chosen route; there's a map on the website), reach Lake Ilsanjo and enjoy a cool swim (it even has a rope swing). It's the perfect way to cap a vigorous hike.
Another way to enjoy the lake: Pack a fishing rod and cast your line for bluegill and black bass, but be sure to have a California fishing license if you're 16 or older. Tip: use a purple plastic worm for bass, live worms for bluegill.
6201 Channel Drive, Santa Rosa, 707-539-3911, www.parks.ca.gov/?page_id=480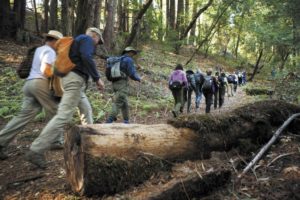 Bald Mountain, Sugarloaf Ridge State Park, Kenwood
"A rough smack of resin was in the air, and a crystal mountain purity … there are days in a life when thus to climb out of the lowlands seems like scaling heaven." So wrote Robert Louis Stevenson about hiking in the Mayacamas mountains.
Share that exhilaration by trekking to the top of 2,729-foot Bald Mountain, in the 4,020-acre Sugarloaf Ridge State Park northeast of Kenwood, between Sonoma and Napa valleys. Elevation gain during the strenuous 5.6-mile hike is about 1,500 feet. Allow at least three hours and pack a lunch to enjoy at the summit, which on a clear day has fabulous views of Calistoga, Sonoma and Mount Diablo. Sugarloaf also has a Planet Walk with hiking among a vastly reduced scale model of the solar system.
2605 Adobe Canyon Road, Kenwood, 707-833-5712, sugarloafpark.org
Pomo Canyon to Shell Beach, Bodega Bay
Starting a few miles north of Bodega Bay, this hike takes in much of the best of coastal Sonoma: verdant trails, misty forests and expansive views of the ocean. The hike starts with a climb through towering redwoods, then opens to jaw-dropping views of the Russian River Valley and the ocean, including landmarks such as Goat Rock. The route is almost 4 miles each way.
For more coastal glory, try the breathtaking Kortum Trail from Shell Beach, but bring a windbreaker, as afternoons can be gusty. A portion of the trail is a wood-plank path that goes over sensitive marshland, but these planks make the walk even more appealing. The Kortum Trail is slightly more than 4 miles.
Both routes are within Sonoma Coast State Park. While there are no fees to hike, parking is $8 per day, $7 for seniors.
10439 Highway 1, Jenner, 707-875-3483, www.parks.ca.gov/?page_id=451
Shollenberger Park, Petaluma
Anyone who enjoys communing with birds will love this flat, 2-mile paved loop in east Petaluma. Observe avocets, swans, pelicans and all sorts of ducks while circling a lagoon alongside the Petaluma River. Red-wing blackbirds perch atop reeds and bitterns (a type of heron) sometimes linger in the thrushes. Go soon, because the recently approved Dutra asphalt plant nearby will likely alter the habitat.
1400 Cader Lane, Petaluma, 707-778-4303, cityofpetaluma.net/parksnrec/parks-pages/shollenberger.html
Made for hiking:
Download the Google Field Trip app for interesting facts and landmarks along the way.
In Calistoga's Robert Louis Stevenson State Park, look for intriguing rock formations along the trail to Table Rock.
The privately owned Grove of Old Trees in Occidental is open to the public at 17400 Fitzpatrick Lane.
Always pack water and a snack; a trail map is handy, too.
—
To enjoy the view from a new perspective, go HORSEBACK RIDING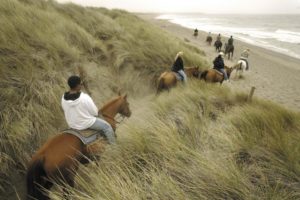 Chanslor Ranch, Bodega Bay
There's nothing like riding a horse over the rolling dunes and expansive beaches of Bodega Bay, with its sea-salt air, crashing waves and miles-long views. Chanslor Guest Ranch & Stables makes this adventure possible, offering three daily 90-minute rides on trusty horses, some of which have been rescued from neglect. Prices start at $125 and profits support horse-rescue groups. Chanslor Ranch also offers several inland rides. Check out the "About the Horses" page on the website and fall in love with the one you want to ride, based on breed, height, gender, temperament and the story of how the horse got to the ranch. Reserve a specific horse online.
Chanslor Guest Ranch & Stables, 2660 N. Highway 1, Bodega Bay, 707-875-2721, chanslorranch.com
Vineyard Exploration, Healdsburg
Affiliated with Chalk Hill Estate, Wine Country Trail Rides leads rides through 1,300 acres of lush vineyards and oak woodlands east of Healdsburg. Owner Rafael Hernandez, a former professional polo player, offers polo lessons and will set up three-on-three polo matches in an enclosed arena.
A 90-minute guided trail ride through Chalk Hill's vineyards is offered three times a day and costs $100 per person. After the ride, guests enjoy a tasting of Chalk Hill wines. Kids 7 and older are welcome. A four-hour tour combines horseback riding, wine tasting and a culinary tour of Chalk Hill chef Didier Ageorges' garden. This $175 tour concludes with wine tasting paired with small plates from the chef.
Chalk Hill Estate, 10300 Chalk Hill Road, Healdsburg, 707-494-0499, vineyardrides.com
Family Riding:
Five Brooks Ranch, Olema
There aren't many places where a 2-year-old can celebrate his or her birthday on a horseback ride, but Five Brooks Stable, located in the Point Reyes National Seashore in Marin County, recently found a pony to make a toddler's dream come true. Specializing in guided trail rides geared to families, Five Brooks has 120 miles of trails including grassy meadows, coastal scrub and white-sand beaches, and offers both private and group rides. Guided rides starts at $40 per person for one hour. The most popular ride, a two-hour trot along the Fir Top Trail, is $60 per person and climbs to the top of Inverness Ridge through a Douglas fir forest, with views of the Pacific Ocean. Three- and six-hour rides give riders a more immersive experience; private rides can be arranged, too.
Five Brooks Ranch, 8001 Highway 1, Olema, 415-663-1570, fivebrooks.com
Ricochet Ridge Ranch, Fort Bragg
In Cleone, just north of Fort Bragg in Mendocino County, Lari Shea's Ricochet Ridge Ranch has athletic horses built for endurance rides along the rugged Mendocino Coast. Most popular is the 90-minute, Ten Mile Beach Trail Ride ($50), and multiday rides can be arranged as well, which might include beaches, redwood forests and coastal mountains. Children 6 and older are welcome.
Ricochet Ridge Ranch, 24201 Highway 1, Fort Bragg, 707-964-7669, horse-vacation.com
Good to know: Sturdy-soled shoes with a slight heel are the best choice for time in the saddle.
Giddyup now:
Horse trailer parking for the Sonoma Mountain Ridge Trail is available at the Bennett Valley trailhead.
There are deals for equestrians at Saddles to Boots consignment store in Sebastopol.
—
Roads and trails await you on skinny or knobby tires for some CYCLING
Road riding: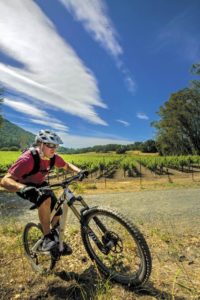 Chileno Valley, Petaluma
Just west of Petaluma is a gloriously uncrowded loop through bucolic scenery with few big hills. Start in Petaluma, pedal west on Western Avenue to Chileno Valley Road, then head back on Spring Hill Road. It's 26.2 miles, the same distance as a runner's marathon, and a perfect two-hour ride for intermediate cyclists. To extend it, head out 5 miles more to Tomales, refuel at the Tomales Bakery, then return to Petaluma.
Tomales Bakery, 27000 Highway 1, Tomales, 707-878-2429
Coleman Valley Road, Occidental
For those whose legs are up to the challenge, conquer the steep hills of Coleman Valley. It's a tough climb, but the ocean views make it worthwhile. Start in Freestone with biscotti or scones at Wild Flour Bread bakery, then ride north some 3.5 miles to Occidental. Turn left to go up Coleman Valley, maintaining control on the descent to coastal Highway 1 because it's easy to really fly down the steep hills. Follow Highway 1 south to Freestone Valley Ford Road and enjoy the homestretch back to Freestone. Allow at least three hours for this exhilarating 27.5-mile ride.
Wild Flour Bread, 140 Bohemian Highway, Freestone, 707-874-2938, wildflourbread.com
Healdsburg-Geyserville Circuit
From Healdsburg, this classic Wine Country route wends its way north along scenic Dry Creek Road. Veer right on Canyon Road and head through Geyserville via Highway 128; stop for refreshments and a sandwich at Jimtown Store. Return to Healdsburg via Alexander Valley Road, turning left onto Healdsburg Avenue, the route back into town. After the ride, cool off with a pint at Bear Republic Brewing Co. Approximately 30 miles, this route takes two to three hours, depending on how often one stops to admire the scenery and take photos.
Jimtown Store, 6706 Highway 128, Healdsburg, 707-433-1212, jimtown.com
Bear Republic Brewing Co., 345 Healdsburg Ave., Healdsburg, 707-433-2337, bearrepublic.com
Mountain biking:
Annadel State Park, Santa Rosa
With bumpy single-track, wide-open fire roads and fern-shrouded paths, Annadel is mountain-bike heaven. That's no secret. What many people don't know is that in recent years, a network of under-the-radar trails has been developed by riders. One Annadel mountain bike insider says that although these trails "aren't sanctioned by the authorities, they're more technical, faster, more difficult and … more fun."
The sanctioned trails are fantastic, too. A 25.7-mile loop around the park that includes the North and South Burma trails takes about three hours and starts with a difficult climb up the Cobblestone Trail. From the top of Cobblestone, connect with the Rough Trail and follow it to Lake Ilsanjo, where the trail opens up to a fire road. Continue to the Ridge Trail and prepare to ford a creek that isn't too deep during summer but can be more than knee-high after a winter rain. There are some scintillating downhill runs on the way back to the parking lot.
Annadel State Park, 6201 Channel Drive, Santa Rosa, 707-539-3911, parks.ca.gov/?page_id=480
Lake Sonoma, Geyserville
A 45-minute drive north from Santa Rosa, Lake Sonoma is surrounded by mountain bike trails (Bike Monkey magazine hosts a series of races there, staged at Liberty Glen Campground, March through June.) The 45-plus miles of trails are steep and technical, yet offer frequent views of vineyards and the lake. It's a thrill a moment, with tricky terrain winding through redwood groves and shady oak stands, and with the possible sighting of wild pigs, deer, rabbits and falcons.
After a ride, visit the state fish hatchery behind the visitor center, where a spawning ground for salmon and steelhead has been established to preserve these species.
Lake Sonoma Visitor Center, 3333 Skaggs Springs Road, Geyserville, 707-433-9483, www.spn.usace.army.mil/Missions/Recreation/LakeSonoma.aspx
For all wheels
In Glen Ellen, there's a water stop for cyclists at the Mayacamas Volunteer Fire Department station at the intersection of Trinity and Cavedale roads.
Find a great ride in the book, "75 Classic Rides Northern California," by Sebastopol's Phil Oetinger.
Cyber tip: mapmyride.com is an excellent tool for mapping bike rides and getting information on climbs and distances.
—
Get sand between your toes and splash up some fun while SWIMMING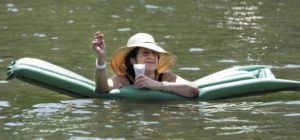 Johnson's Beach, Guerneville
The atmosphere at Johnson's Beach can be raucous and frenetic, yet totally fun, as families crowd the beach and kids romp everywhere. Rent a canoe for $30 or an inner tube for $5 and drift in the cooling waters. Umbrellas and beach chairs can also be rented. There is a snack bar on the beach, and beer is sold at the boathouse. Families take note: There is a roped-off kiddie pool, and there is no fee to use the beach.
Johnson's Beach, 16241 First St., Guerneville, 707-869-2022, johnsonsbeach.com
Veterans Memorial Beach, Healdsburg
Upriver from Johnson's is Healdsburg Veterans Memorial Beach Park, an alcohol-free zone where in most years, kids can paddle little wine-barrel boats and where a lifeguard watches over the dammed-off swimming lagoon. Drought-induced low flow in the river this year has resulted in wading-only conditions at the beach, yet it's still a great place to cool off. The park, open from 7 a.m. to sunset, has plentiful picnic benches and restrooms.
Healdsburg Veterans Memorial Beach, 13839 Old Redwood Highway, Healdsburg, area.parks.sonomacounty.ca.gov/Get_Outdoors/Parks/Healdsburg_Veterans_Memorial_Beach.aspx
Pack it up: On sweltering summer days, Sonoma's swimming sites beckon. Pack a picnic lunch, sunscreen, beach chairs and towels, and head for the Russian River to escape the inland heat.
Splashy spots
Access the Russian River from Odd Fellows Park Road, which runs off Highway 116 between Forestville and Guerneville near Korbel Winery.
There's a cooling pool for swimming at Morton Hot Springs in Glen Ellen.
Day passes are available for the pool at Calistoga Spa Hot Springs.
Monte Rio's community beach is lovely, surrounded by serene redwoods.
—
By the water or the redwoods, grab your clubs and go GOLFING
The Links at Bodega Harbour, Bodega Bay
Those who have golfed fabled Pebble Beach Golf Links on the Monterey Peninsula know how spectacular coastal views complement a round of golf. The Links at Bodega Harbour, designed in part by the legendary Robert Trent Jones, offers one spectacular vista after another. The course is lined by vacation homes, and golfers are responsible for any broken windows or other damage — something to consider before teeing off. All 18 holes have a view of Bodega Bay, as long as the fog isn't too thick. Per-player rates range from $45 (after 2 p.m. on weekdays) to $90 on weekend mornings.
The Links at Bodega Harbour, 21301 Heron Drive, Bodega Bay, 707-875-3538, bodegaharbourgolf.com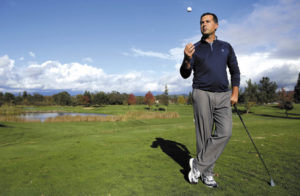 Northwood Golf Club, Monte Rio
Surrounded by massive redwoods alongside the Russian River, Northwood Golf Club is an affordable gem. This nine-hole course, designed by Alister MacKenzie (who also created the Augusta National and Cypress Point courses), has rates starting at $21 (weekdays after 3 p.m., walking nine holes). Even 18-hole weekend rounds (the nine-hole course played twice) in a rental cart won't break the bank at $53. Some folks come as much for the abundant pancake-and-eggs breakfasts as they do for the golf. Or maybe it's the bloody marys, which help players forget about how many shots they bonked off the majestic trees.
Northwood Golf Club, 19400 Highway 116, Monte Rio, 707-865-1116, northwoodgolf.com
Windsor Golf Club, Windsor
A former host of PGA Nike (now Web.com) Tour events, Windsor Golf Club's par-72, 6,650-yard course is challenging for its year-round creek, lakes, trees and the occasional noise of airplanes landing and taking off at nearby Charles Schulz Sonoma County Airport. The most difficult hole is the par-4 No. 2, where accuracy is key to avoid water on the left and oaks on the right. Head pro Jason Schmuhl has played in nine PGA Tour events and holds the course record of 62. Instructor Molly James is known for her work with youngsters and women. Enjoy the 19th "watering" hole or a meal at Charlie's, the club restaurant. Course fees range from $17 to $56, depending on day of week and tee-off time, and there are discounts for juniors and seniors.
Windsor Golf Club, 1340 19th Hole Drive, Windsor, 707-838-7888, windsorgolf.com
Check this out:
Try your hand at disc golf at Crane Creek Regional Park in Rohnert Park and at the Anderson Valley Brewing Company in Boonville.
Did you know? Long before the invention of tees in the 1920s, golfers played off of hand-built sand piles.