Don Enrique Segura came to Napa Valley from Mexico in 1956, leaving behind a young bride and finding vineyard work to support the family that was to come. His wife later joined him, he was hired permanently by Charles Krug Winery in St. Helena, and he and his family tended the Krug vines until his death in 1983.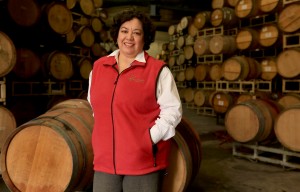 The effort was not lost on his daughter, Rosaura Segura, one of a growing number of children of Mexican immigrants in Sonoma and Napa who have their own wine-based businesses. She and her husband, Enrique Lopez, own the Encanto Vineyards wine brand in St. Helena and vineyards in Carneros and Lake County. She manages the winery, he tends the vines.
"My dad used to take me with him to the fields when he was irrigating, before the drip system," Segura recalled. "In summers, against his better judgment, I would pick grapes. My husband's family also worked in the fields, so the field is in our blood."
Segura and Lopez are vital members of the Mexican-American Vintners Association (MAVA), a nonprofit organization of wineries that pour their wines and tell the rich stories of how their families came to Wine Country to find work, persevered, and became leaders in winemaking and agriculture. Through public tastings, festivals and winemaker dinners, they promote their products more effectively than they could individually, and turn event proceeds into scholarships for Napa and Sonoma Latino students.
"MAVA has given us small producers visibility," Segura said. "We work together and are a very proud group. We're capable of hard work, we have vision and we can make things happen. Working together will get us farther. We also give back to the community and hope to be role models for all the young women and young men who might want to pursue a career in this very compatible field."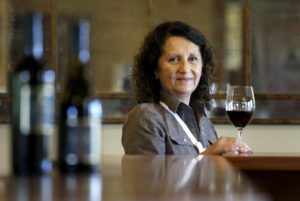 In Sonoma, couples Amelia and Pedro Ceja, and Martha and Armando Ceja, arrived as kids with their parents from Jalisco and Michoacan, Mexico, in 1967, and went to work in the vineyards, pruning, weeding and harvesting. They now own 113 acres of grapevines, the Ceja Vineyards winery, and are partners in Carneros Brewing Co.
Their adult children are making a mark, too. Dalia Ceja, 29, daughter of Amelia and Pedro, is Ceja Vineyards' sales and marketing director; one of her brothers, Ariel, 31, runs the tasting room (and for three years owned Bistro Sabor in downtown Napa, before closing it in 2013 after a lease dispute). Their cousin, Belen Ceja, 27, assists her father, Armando, with winemaking at Ceja Vineyards.
Also in Sonoma, MAVA member Robledo Family Winery opened in 2003 what it says is the first tasting room in the U.S. established by a Mexican immigrant. At age 16, Reynaldo Robledo left Michoacan for Napa and learned to prune vines at Christian Brothers Winery. In 1996, he formed Robledo Vineyard Management and eventually acquired some 350 vineyard acres in Sonoma, Napa and Lake counties. One if his sons, Everado Reynaldo, now runs the winery and vineyard management business, with assistance from brothers Jenaro, Francisco, Luis, Lazaro and Emiliano.
Ignacio Delgadillo Sr. arrived in Napa Valley in 1972 from Jalisco to work in vineyards, and eventually became cellarmaster at Freemark Abbey in St. Helena. He also founded Wine Country Cases, a manufacturer of custom wood wine boxes. He and his son, Ignacio Jr., started Delgadillo Cellars in 2001, with Senior managing the vineyards and winemaking, Junior handling sales and marketing of the Cabernet Sauvignons.
Oscar Renteria of Renteria Wines also followed his father's footsteps down vine rows. He helped his dad, Salvador, build Renteria Vineyard Management into one of the largest vine tenders, by acreage, in Northern California, with clients that include William Selyem, Robert Mondavi Winery and Duckhorn Vineyards. The Renteria wines (Chardonnay, Pinot Noir and Cabernet Sauvignon from Sonoma and Napa) are made by Ladera Vineyards' Karen Culler and sold at the chic Ma(i)sonry Napa Valley gallery in Yountville.
Similar stories are told by other MAVA members, which include Alex Sotelo Cellars, Justicia Wines, Maldonado Family Vineyards, Mario Bazan Cellars, Voces Wines and Volcan Cellars. Encanto's Segura, treasurer of the organization, speaks for many when she says that MAVA's efforts are in large part a tribute to their elders who left Mexico for California to seek better lives.
"I always admired my father because with very little, he was able to provide for his wife and six children," said Segura, whose oldest of four children, Horatio Lopez, is studying viticulture and enology at Cal State University Fresno. "I am sure that if he had the opportunity we did, he would have done more than working in the field. We did Encanto in honor of him and Enrique's brothers."
At an informal meeting of Sonoma and Napa wineries pouring at the Michoacan State Fair in 2010, Rolando Herrera of Napa's Mi Sueño Winery encouraged them to unite, and MAVA took shape. Its roots now run deep, connecting its members' Mexican heritage with their new lives in California.