Although vaguely familiar with the Vietnamese staples of Pho and the Bahn Mi sandwich, prior to visiting Petaluma's Simmer Vietnamese Kitchen, I had little other experience with Vietnamese cuisine. At first glance, it appears similar to Chinese food, but take one bite and it becomes evident that although influenced by neighboring countries, Vietnamese food is unique in its own right.
Brothers Nhat and Sonny Le opened Simmer in 2013 and have been receiving rave reviews ever since. But having been unimpressed with past Vietnamese restaurant experiences in Sonoma County, visiting yet another strip mall restaurant was not high on my list.
That all changed after speaking with Amber Driscoll, co-owner of Petaluma's Speakeasy, The Big Easy and the Opera House Gallery. Although a vegetarian herself, Driscoll's own menu is balanced with both delicious meat and vegetarian dishes, all of which I enjoy on a regular basis. When Driscoll told me that even I, a through-and-through carnivore, would like Simmer's vegetarian selections, I knew it was time to give them a try.
I arrived on a Saturday afternoon for an early dinner, food crew in tow, including our resident vegetarian. We immediately noticed that Nhat and Sonny had transformed what used to be a dark dining space at 299 North McDowell Blvd., into something open and airy.
"The first thing we did was remove all the window coverings in order to let the light in," said Nhat Le. Exposing patrons to a view of a strip mall parking lot might seem counterintuitive, but having dined in this location before, I can attest that the difference is like night and day, literally.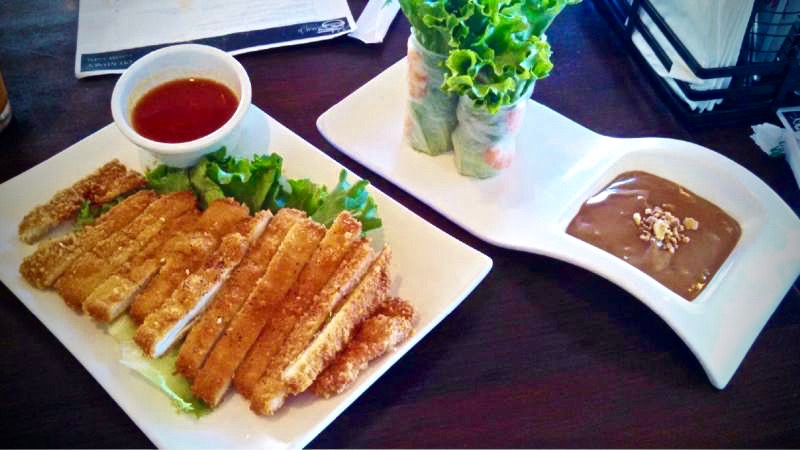 We started our order with one of everything on the "small plates" menu because these items appeared to represent a great cross-section of flavors and textures. These included Simmer spring rolls ($6), egg rolls ($7), sweet and sour crispy chicken ($8), salt and pepper prawns ($11), crispy fried tofu ($6), pot stickers ($6) and beef onion wraps ($8).
At first glance, this looks like an order at a Chinese restaurant, but one bite of each and we knew something was quite different.
All were delicious, but the pot stickers were the perfect example of how Vietnamese dishes are more delicately created than their "heavier" Chinese counterparts. These were light and free of grease, while still delivering the memorably bold flavors we expect from a pot sticker.
The beef onion wraps were a huge surprise as I usually dislike all but macerate, caramelized or pickled onions. These wraps look simple enough, but the flavor and texture combo were close to perfection. We loved all the dishes we tried, but these alone are enough to get us to revisit Simmer again and again.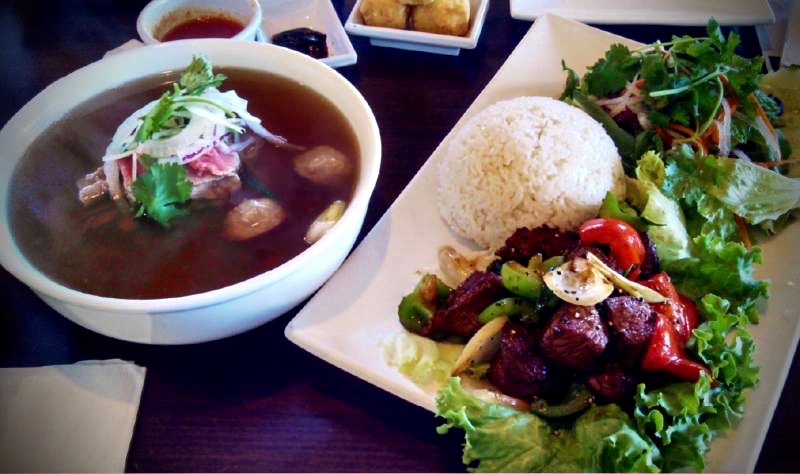 For our main dishes, we ordered pho ($10-$11.50), shaking beef rice plate ($18) and the incredibly popular lemongrass crispy tofu with vermicelli ($10).
Pho (pronounced "fuh") is a noodle soup consisting of broth, thin vermicelli rice noodles, herbs and veggies, and usually some sort of protein, like chicken or steak. Simmer's pho comes with a side of onions, scallions, cilantro, bean sprouts, basil, jalapenos and lime, so diners can complement the already flavorful broth as they wish. Simmer's large pho can easily be shared by two people.
The shaking beef is one of the more expensive dishes on the menu, but is worth every penny. Made with cubed filet mignon, it is as tender and flavorful as any filet I have had in a long time.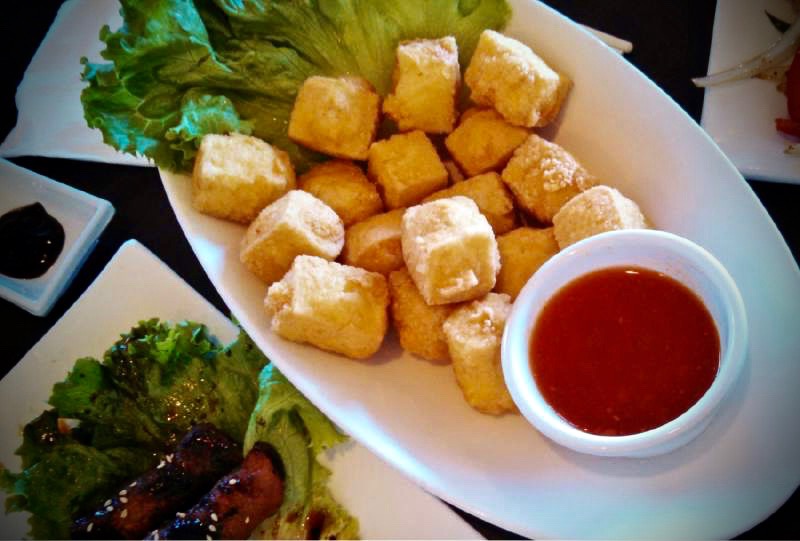 But just as Driscoll had warned me, the pièce de résistance really is Simmer's lemongrass crispy tofu with vermicelli. I cannot say I would pass up the beef onion wraps or shaking beef if dining at Simmer alone, but the lemongrass crispy tofu will likely guarantee I will always bring at least one friend with me whenever visiting Simmer in the future.
A huge portion of Simmer's menu is not only gluten free, but is available in a vegetarian option.
"We listen to our guests and try to accommodate different dietary restrictions whenever we can," said Sonny Le. "We get a lot of compliments on our veggie broth, which we created and perfected in-house."
Many fall prey to the fallacy that all Asian food is simply a variation on Chinese recipes. However, there are significant differences, especially when it comes to Vietnamese cuisine.
Traditional Vietnamese food is well-respected for its fresh ingredients, avoidance of heavy oils, use of herbs and vegetables for flavoring, and its complementary textures. It is no wonder that Vietnamese cuisine is some of the healthiest food on the planet, and certainly some of the most delicious.
One bite of Simmer's food and it is clear the Le brothers are focused on offering affordable dining options chalked full of high quality ingredients and diverse flavor combinations.
---
Simmer Vietnamese Kitchen
299 N McDowell Blvd, Petaluma, CA 94954
(707) 762-4288
---