Whether "pumpkin-spice season" evokes autumnal bliss or exasperated groans, it's hard to deny the appeal of comforting fall flavors like cinnamon, nutmeg and ginger.
Crafty Sonoma County bakers and baristas are selling a wide assortment of creative pumpkin-infused drinks and treats this season, from quintessential pumpkin spice lattes to imaginative pumpkin scones, cheesecakes and ice cream.
Here are 20 local spots that offer delicious pumpkin spice drinks and dishes this season. Click through the above gallery for a peek at the sweet pumpkin treats.
Santa Rosa
Belly Left Coast Kitchen & Taproom
Take a walk on the wild side of pumpkin spice with Belly's new October cocktail the Smashing Pumpkin, made with Kahlúa, Tito's vodka, espresso and housemade pumpkin simple syrup. It's iced and topped with whipped cream and a sprinkle of pumpkin spice.
523 Fourth St, Santa Rosa, 707-526-5787, bellyleftcoastkitchenandtaproom.com
Brew Coffee and Beer House
The cozy Brew cafe has brought back its seasonal pumpkin spice latte, a comforting and robust drink that's likely to be embellished with some festive latte art.
555 Healdsburg Ave., Santa Rosa, and 6566 Front St., Forestville, 707-303-7372, brewcoffeeandbeer.com
Criminal Baking Co.
Criminal Baking's seasonal specials include a spiced pumpkin pie topped with maple whipped cream; rich pumpkin cheesecake made with house-baked pumpkins; and pumpkin sponge cake filled with caramel, frosted with caramel buttercream and garnished with chocolate ganache and candied pecans. The pumpkin muffins topped with pepitas and chocolate chips are a regular go-to breakfast item. All baked goods can be made gluten-free.
808 Donahue St., Santa Rosa, 707-888-3546, criminalbaking.com
Crooks Coffee
It's fitting that this coffee shop with its Edgar Allan Poe theme has a festive lineup of fall drinks just in time for Halloween. The seasonal drinks include a classic pumpkin spice latte, white pumpkin pie latte and cold brew with pumpkin spice foam.
404C Mendocino Ave., Santa Rosa, 707-791-3365, shadyraveninc.com
Johnny Doughnuts
For fall, Johnny Doughnuts brought back its fan-favorite brown butter pumpkin cake doughnut, a fluffy spiced pumpkin cake with a brown butter glaze. It's a perfect coffee companion for chilly fall mornings.
1200 Fourth St., Santa Rosa, 707-308-4836, johnnydoughnuts.com
Noble Folk Ice Cream & Pie Bar
On the menu at this pie and ice cream shop is a pumpkin chocolate cheesecake; it's a spiced pumpkin cheesecake in an Oreo crust, topped with a rich chocolate ganache and sprinkle of cinnamon. Keep an eye out for the seasonal pumpkin chocolate-chip ice cream, satisfying in any weather.
539 Fourth St., Santa Rosa, 707-978-3392, and 116 Matheson St., Healdsburg, 707-395-4426, thenoblefolk.com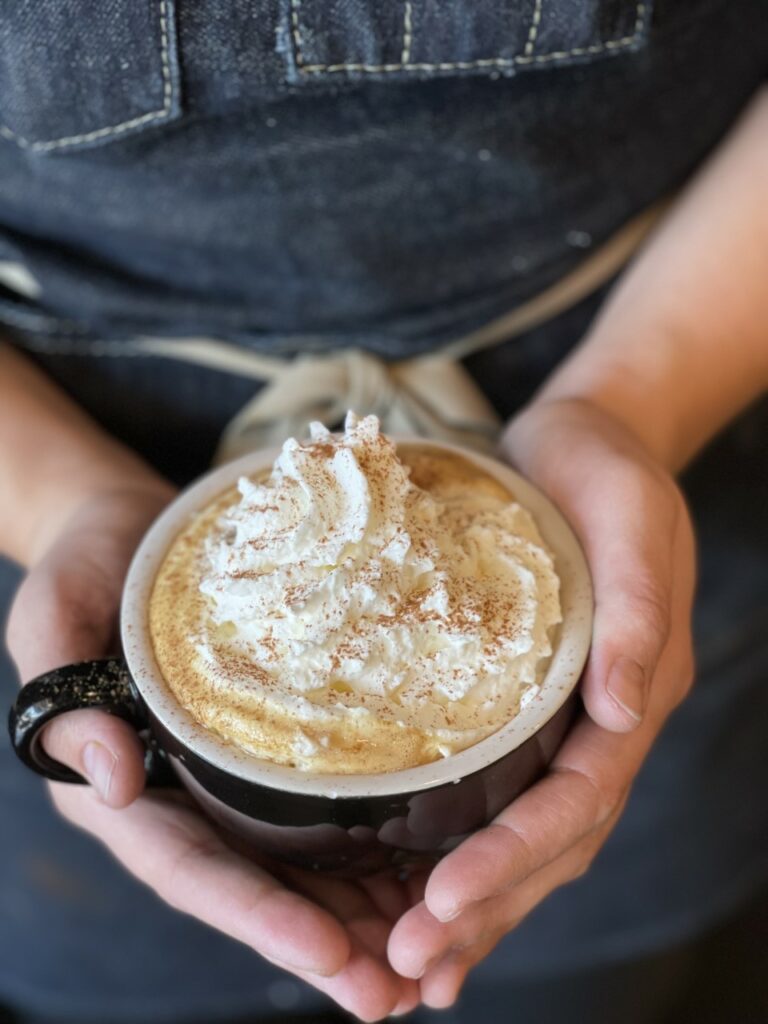 Healdsburg
Black Oak Coffee Roasters
Black Oak boasts a highly recommended pumpkin spice latte, made with housemade pumpkin sauce, fall spices, milk and espresso. The cafe also sells spiced pumpkin muffins filled with cream-cheese icing and topped with browned butter streusel, as well as pumpkin-pie overnight oats served with a pepita and cinnamon streusel for a warming breakfast.
324 Center St., Healdsburg, 866-390-1427, blackoakcoffee.com
Costeaux French Bakery
Among Costeaux's seasonal items is a plump pumpkin cheesecake in a gingerbread cookie crust, topped with mascarpone whipped cream and decorated with white chocolate fall leaves.
417 Healdsburg Ave., Healdsburg, 707-433-1913, costeaux.com
Plank Coffee
Plank Coffee's seasonal pumpkin spice latte is naturally flavored with organic pumpkin, brown and cane sugar, cinnamon, cloves, ginger and nutmeg, plus a double shot of house-roasted Pine Mountain Espresso. There's nothing artificial-tasting or overly sweet in this special fall drink. Plank also has a rotating lineup of seasonal sweet breads, such as pumpkin millet or pumpkin pecan.
175 Dry Creek Road, Healdsburg, 707-395-0572, and 227 N. Cloverdale Blvd., Cloverdale, 707-894-6187, plankcoffee.com
Quail and Condor
This bakery, owned and operated by Melissa Yanc and Sean McGaughey (formerly of SingleThread restaurant), sells excellent pastries, breads and pies — and some of the best croissants in Sonoma County. Their seasonal chocolate pumpkin croissants are getting top ratings from locals and might very well draw pumpkin-spice pilgrims from other parts of Sonoma County and the Bay Area to Healdsburg.
149 Healdsburg Ave., Healdsburg, 707-473-8254, quailandcondor.com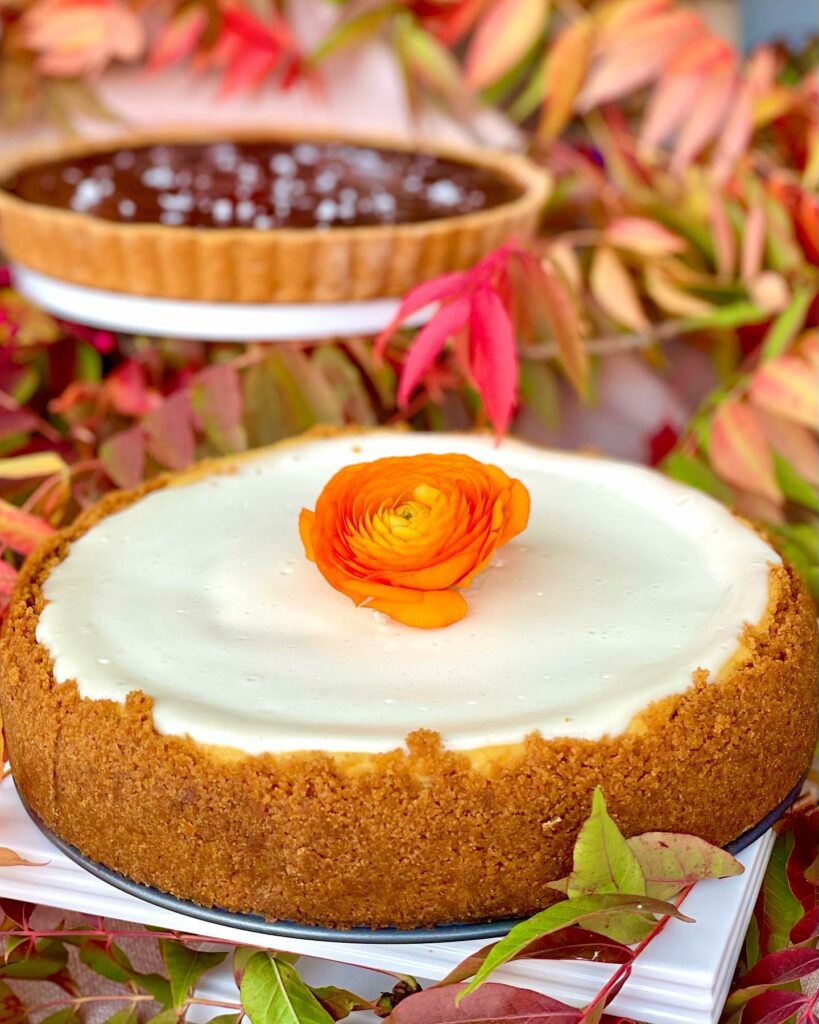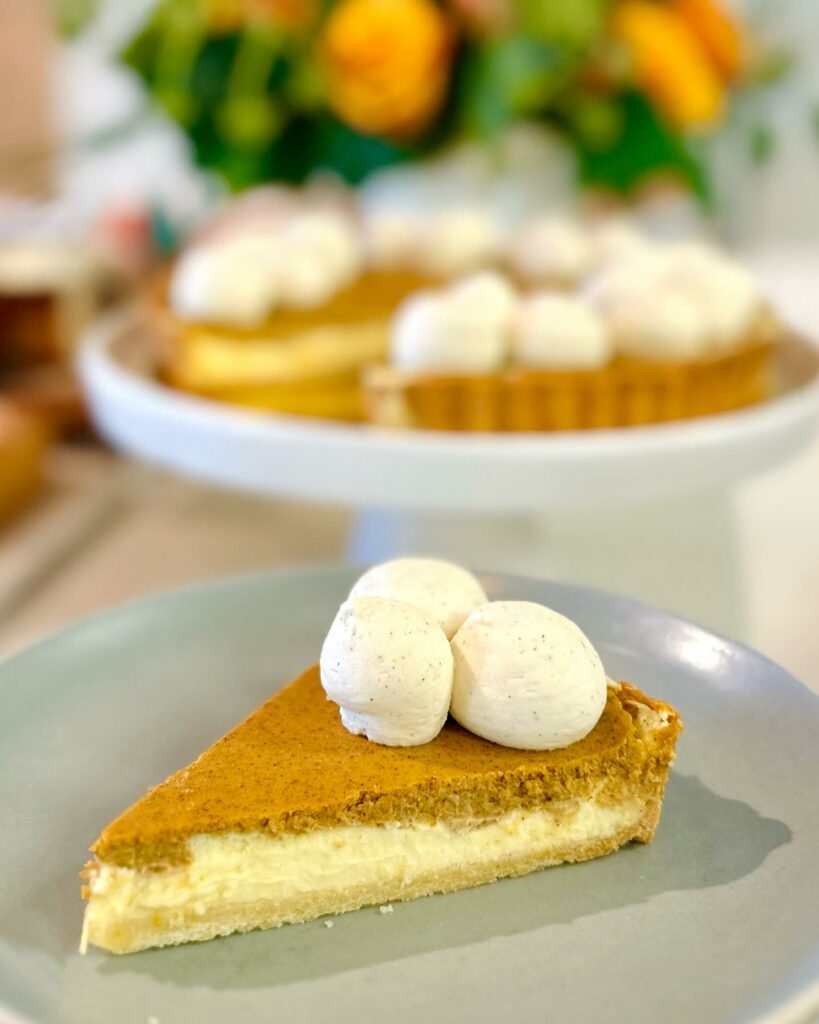 Petaluma
Avid Coffee
The Sonoma County-based coffee shop has seasonal drinks such as a classic pumpkin latte, a pumpkin chai latte and the Autumn Dream nitro cold brew — all made with pumpkin-pie syrup from Sonoma Syrup Co. Pair your fall drink with a gluten-free pumpkin muffin.
Locations in Petaluma, Santa Rosa and Sebastopol. avidcoffee.com
The Bagel Mill
The Petaluma bagel shop is selling pumpkin spice lattes and chai lattes made with housemade pumpkin spice syrup from local, organic sugar-pie pumpkins. There's also pumpkin-spice cream cheese, sold by the half pint, made with sugar-pie pumpkins, brown sugar and warm fall spices.
212 Western Ave., Petaluma, 707-981-8010, thebagelmill.com
College Confectionista
Local cheesecake darling Anamaría Morales is at it again with a lineup of seasonal cakes, including the Pumpkin Picosa: a creamy cheesecake made with spiced pumpkin puree in a cinnamon graham cracker crust and topped with homemade whipped cream.
Order online and pick up at Sonoma Family Meal, 1370 Redwood Way, Suite A, Petaluma. 707-495-5324, collegeconfectionista.com
Petaluma Pie Co.: Come autumn, it's near impossible to go wrong with a traditional pumpkin pie. Petaluma Pie Co. goes a step further with its maple pumpkin pie, made with organic pumpkin, cinnamon, cloves, ginger and maple syrup.
125 Petaluma Blvd. N., Suite B, Petaluma, 707-766-6743, petalumapiecompany.com
Stellina Pronto
Quaint Italian bakery and cafe Stellina Pronto has a New York-style pumpkin cheesecake on its regular menu for those who want a taste of fall year-round. The bakery also recently announced its new pumpkin ricotta tart — part pumpkin pie, part fluffy ricotta cheesecake, all creamy goodness.
23 Kentucky St., Petaluma, 707-789-9556, stellinapronto.com
Rohnert Park
Squatch's Gourmet Ice Cream Sandwiches and Coffee Shop
The cafe and ice cream shop has a Pumpkin Cheesecake Squatch — pumpkin cheesecake-flavored ice cream between two snickerdoodles and topped with graham crackers. There's also a seasonal pumpkin cheesecake milkshake, so you can eat your cake and drink it, too.
1451 Southwest Blvd., Suite 111, Rohnert Park, 707-992-0841, squatchscoffee.com
Sebastopol
Muir's Tea Room
The seasonal fall baked goods at this naturalist-inspired tea room and gift shop include vegan pumpkin cupcakes with cinnamon "cream cheese" frosting and moist pumpkin scones, best accented with clotted cream and jam. These specials sell out fast. October specials include moist pumpkin kringle cookies, chocolate-chip pumpkin muffins and pumpkin coffee cake with cinnamon streusel. 330 S. Main St., Sebastopol, 707-634-6143, muirstearoomandcafe.com
Retrograde Coffee Roasters
The pumpkin spice latte at Retrograde is made with real pumpkin puree, so you know you're getting an authentic touch of fall produce. It's pretty much hot pumpkin pie in a cup. 130 S. Main St., Suite 103, Sebastopol, 707-969-7234, retrograderoasters.com
Screamin' Mimi's Ice Cream
Why drink a pumpkin spice latte when you can eat it with a spoon? This is apparently the question Screamin' Mimi's asked, then answered when it dreamed up its pumpkin spice latte ice cream, sold in 16-ounce pints. Also available is the regular seasonal special pumpkin mud pie ice cream, which is like the popular chocolate Mimi's Mud, but with pumpkin replacing the espresso ice cream.
6902 Sebastopol Ave., Sebastopol, 707-823-5902, screaminmimisicecream.com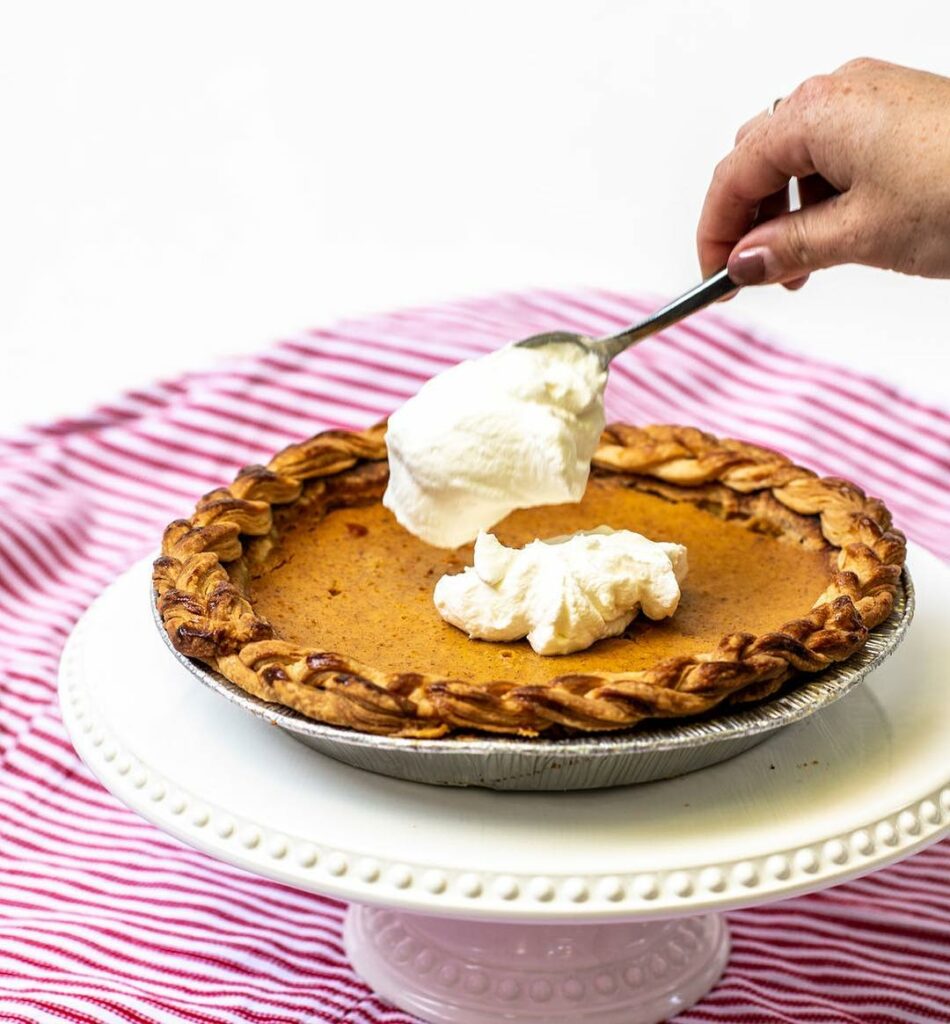 Sonoma
Monday Bakery
This popular Napa bakery recently opened a location on the Sonoma Plaza. Seasonal treats include pumpkin spice latte cake and pumpkin doughnuts. Pear chai scones and vegan apple oat muffins sound pretty darn delicious, too.
117 E. Napa St., Sonoma, mondaybakery.com
Farther afield
Flour Girl
Cloverdale-based Flour Girl is selling a warmly spiced pumpkin bread speckled with bits of locally grown pears as well as pumpkin cinnamon rolls studded with golden raisins and iced. Cloverdale, myflourgirl.com
Nom Nom Cakes
The Bodega Bay-based home bakery has fall specials such as a pumpkin cake frosted with maple buttercream frosting, traditional pumpkin pie spiced with nutmeg and ginger and a Thanksgiving variety pack that includes a pumpkin cake roll along with pecan tarts and apple-crisp cupcakes.
Place an order online for delivery or pick up at 390 Calle Del Sol, Bodega Bay. Bodega Bay, 805-350-0680, nomnombaking.com
Wild Flour Bread
The Freestone bake shop has a spiced pumpkin bread studded with walnuts, cranberries and candied ginger, resulting in a festive mashup of pumpkin pie and gingerbread flavors.
140 Bohemian Highway., Freestone, wildflourbread.com
And a few top picks from pumpkin-loving readers
"The pumpkin cinnamon rolls at Wooden Petal are SO good!" — Katie T.
"The cream cheese filled pumpkin muffins with streusel topping from BurtoNZ in Windsor are fabulous!" — Tessa K.
"Society Bakery and Cafe's chocolate pumpkin cupcakes are heavenly!" Melanie S.
Love pumpkin spice? Share your favorite spots for a treat in Sonoma County in the comments below.