Who would have thought that a pandemic would give rise to so much stress-baking? After the first shelter-in-place orders were issued in early 2020, many managed the stress and isolation by making loaf upon loaf of sourdough bread. Now, as we continue to stay at home, it's time to take our culinary coping to the next level.
We asked Petaluma Pie Company co-owner Lina Hoshino for baking tips, and she suggested we try "mindful baking," which, in Hoshino's words, means baking with locally sourced seasonal ingredients to support the local economy while ensuring a gentler impact on the environment. In Sonoma County, baking mindfully is easy: you can get locavore right down to the crust.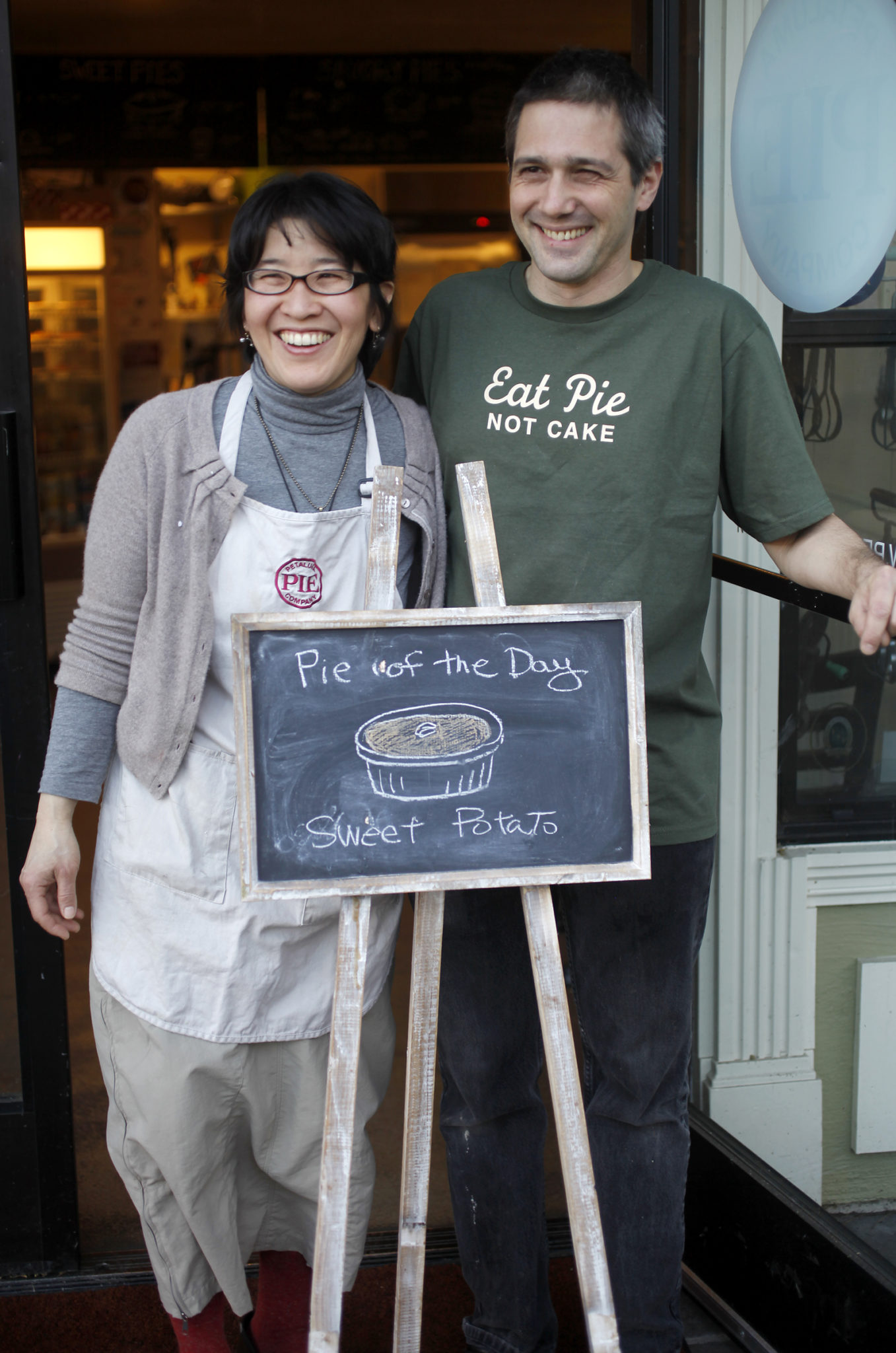 Here are a few tips from Lina Hoshino and her life and business partner, Angelo Sacerdote, on how to mindfully bake mouthwatering pies. As Hoshino puts it, "Why not bake with the intention to change the world, one slice at a time?"
Use in-season, local ingredients
For the best flavor and a reduced carbon footprint, Hoshino and Sacerdote believe in baking with in-season ingredients grown close to home. They advise that you choose "produce that didn't travel thousands of miles to get to you." Your local farmers market is always a good place to start your baking projects. Right now, citrus fruits are in season.
Hoshino and Sacerdote like to source their ingredients locally right down to the crust. Being "very Petaluma" about things, they purchase organic whole wheat flour for their pies from Central Milling, just a few miles from their pie shop. They get their butter, cheese and eggs down the road, too: organic European butter from Strauss Family Creamery; Estero Gold cheese from Valley Ford Creamery; organic cheddar from Springhill Creamery; and eggs from free-range chickens at Coastal Hill Ranch.
They also source ingredients from just outside Sonoma County: beef from Stemple Hill Ranch and pork from Devil's Gulch Ranch, both located in Marin County; mushrooms—for their mushroom and goat gouda pie—come from Solano Mushroom, run by Sunny and Sam in Vacaville.
Grow your own ingredients 
Hoshino and Sacerdote maintain that "best" doesn't have to mean "expensive." You can find excellent ingredients in your own backyard (figurative or literal). And don't forget neighbors and friends, who might happily unload a haul from their fruit trees.
Hoshino and Sacerdote grow their own Satsuma mandarin, Oroblanco grapefruit, Algerian mandarins, Kumquat, Meyer lemon, Japanese Yuzu, Filipino Calamansi, and Bearss lime trees. Fruit trees can be grown in smaller yards, too — some dwarfs, like Meyer lemon, can even thrive in a large container. Choose varieties that do well in your region. Fortunately, Sonoma County's grow-friendly climate gives us plenty of options.
"Play" with ingredients and swap savory for sweet
Your favorite lemon meringue pie recipe can be made with different citruses. "If you use oranges or mandarins, you can wind up with a creamsicle flavored pie, especially if you top it with whipped cream," says Hoshino.
"In the winter, nothing is cozier than a hearty savory pie. If you can make it into a stew, you can make it into a pie," advises Hoshino. At Petaluma Pie Company, she makes savory pies out of dishes you may not expect, like cheeseburger, Chicken Tinga and Jamaican beef.
Make pie crust in the food processor
Making your own pie crust is easy, and it's quicker than a visit to the grocery store. A food processor makes the process magically fast. With just a few ingredients and minutes of mixing and pulsing, you'll have pie dough ready for your rolling pin (after chilling for a while in the fridge).
Simplify a double crust pie by making pie "cookies"
Rather than fitting the top crust on your pie, you can make decorative cookies and use these as topping. Cut out pieces of extra dough and bake them for 10 minutes. Set them aside and then place them on top of your finished pie for beauty and taste.
Use the whole fruit by baking a Shaker Lemon Pie
Inspired by the classic Shaker Lemon Pie, Petaluma Pie's Company's citrus pie uses two whole lemons, macerated in sugar and baked in custard. You can swap out lemon for another thin-skinned citrus like mandarins.
Shaker Inspired Citrus Pie (9 inch pie dish)
Filling
2 medium size tart citrus fruits with thinner skins, such as Meyer lemon, lime or mandarins.
1 cup sugar
pinch of salt
4 eggs
Crust (use your favorite recipe, store-bought dough, or this)
1.25 cup flour
1/2 cup butter (cut into 3/4 inch blocks)
1/2 tsp salt
1/4 cup cold water
Instructions:
Filling:
Slice whole citruses as thin as you can, including the skin. You can use a knife but a mandolin works especially well.
Mix sugar and salt.
Add sugar and salt mixture to sliced citruses. Let macerate for 1 hour to soften the skin. Remove citrus seeds with a spoon.
Beat 4 eggs with a fork in a bowl. Add to the citrus mixture.
Crust:
Mix sugar, salt and flour.
Add sugar, salt and flour mixture and butter to food processor with a cutting blade. (You can also use a mixer with a paddle attachment or mix by hand.)
Pulse for a few times until butter is distributed but not entirely blended.
Add cold water little by little until the dough is still crumbling but starts to form a ball. Do not over-mix.
Take out the dough. Refrigerate in a container with a lid for 1 hour.
Roll out half of the dough and line a 9 inch pie dish with it.
Pour the filling into the prepared pie shell.
If you have leftover dough, make decorative 'cookies' with cookie cutter. Bake them for 10 min. Set aside. Use them later to decorate the top of the pie.
Bake for 40 min at 375° or until filling is cooked and crust is golden.