Springtime is swing season, when white and rosé wines become more tempting, particularly for brunch-time meals and Easter. The additional sunlight of daylight saving time encourages the firing up of grills — a siren call for Zinfandel.
Sauvignon Blanc For Easter

If you like: Quivira Vineyards 2014 Refuge Dry Creek Valley Sauvignon Blanc ($28) A new offering from this producer, it's a barrelaged white wine that's chiseled and complex, with melon, dried herb and lemongrass notes. With

subtle hints of baked pineapple and papaya, it veers tropical without becoming overripe, finishing with a refreshing wave of bright acidity.
You may also like: Balverne Wines 2014 Forever Wild Russian River Valley Sauvignon Blanc ($18) Two of the region's most respected winemakers, Margaret Davenport and Doug Nalle, teamed to produce this wine, which bursts on the nose with a New Zealandlike grassiness, followed by fuller-bodied layers of lime, melon and cream soda on the palate. Nice weight.
Zinfandel for Daylight Saving Time

If you like: Ousterhout Wine 2012 Nances Vineyard Alexander Valley Zinfandel ($39) This Zin hails from Ousterhout's 10-acre hillside vineyard, where cooling winds enable complex fruit to develop on the vine. This bottling vividly displays a sense of elegance, with crisp flavors of raspberry, black cherry and licorice

and well-integrated minerality.
You may also like: Peterson Winery 2012 Dry Creek Blend Dry Creek Valley Zinfandel ($25) The Peterson family believes in zero-manipulation wines, with father-and-son team Fred and Jamie working together to showcase the fruit from their estate vineyards. Here, they coaxed tangy cherry, leather and a soft touch of black pepper from their grapes, making for a wine that's strong and juicy, yet entirely elegant. Dabs of Petite Sirah and Carignane add depth.
Pinot Noir for Spring Flings

If you like: Sante Arcangeli 2014 Mardikian Vineyard Sonoma Coast Pinot Noir ($75) John Benedetti is the owner and winemaker of this Corralitosbased winery, in the mountains of Santa Cruz. He's ventured to the Sonoma Coast to source grapes from a vineyard planted by James MacPhail of MacPhail Family Wines and Jim Pratt, on the edge of Freestone. The wine opens with Syrah-like white pepper that persists on the soft, silky palate. Roses and black tea provide savory succulence, with an intensity of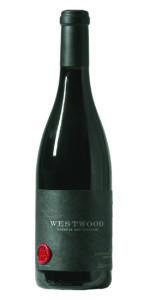 pine.
You may also like: Westwood Estate Wines 2014 Sonoma Valley Pinot Noir ($44) From a newish Sonoma Valley producer with its own estate, Annadel Gap Vineyard, there's a lovely bouquet of dusty rose petals on the entry of this wine, which is softly textured, subtle in tannin and oak, and with swaths of black tea and grenadine-intense cherry. Medium-bodied, it remains silky and fresh through the lengthy finish.
Petite Sirah for a Blustery Day

If you like: Trentadue 2013 La Storia Alexander Valley Petite Sirah ($34) Made by Miro Tcholakov, this wine offers plenty of barrel influence at first, but mellows in the glass into a mix of chalky tannin and red and blue fruit, with seasonings of black licorice and white chocolate. Aged in new French, American and European oak, the wine's finish is firmly tannic and eager to spend more time maturing in the bottle.

You may also like: Miro Cellars 2013 Dry Creek Valley Petite Sirah ($26) From the personal brand of Miro Tcholakov, winemaker at Trentadue, comes this wine that is softly approachable, with baked plum, blueberry, licorice and leather aromas and flavors. The tannins are sizable yet integrated; pair it with something meaty and rich.