Gail Fivis recently shopped in New York City, but not for herself.
Instead, she searched for the perfect Cognac-colored ostrich leather for a client's handbag.
It was all part of a day's work for the co-owner of BohLux, a custom leather goods shop in downtown Santa Rosa.
After years of study, Fivis, 64, and business partner Louise "Lu" Comora, 61, have become masters themselves. In their studio, they design belts, wallets, clutches and handbags using traditional techniques such as hand-stitching, and specialty tools from Europe and Japan. Clients begin with a private design session to dream up the ideal bag. Then they choose from a wall of high quality leathers and exotics (alligator, ostrich, lizard). Two to three months later, the bag is ready.
As Comora works, she uses the same knives and skivers as artists at Hermès, the famed Paris luxury-goods producer.
"Very few people still know how to use these 200-year-old tools," said Comora, who lives near Cotati. "It's a dying art form."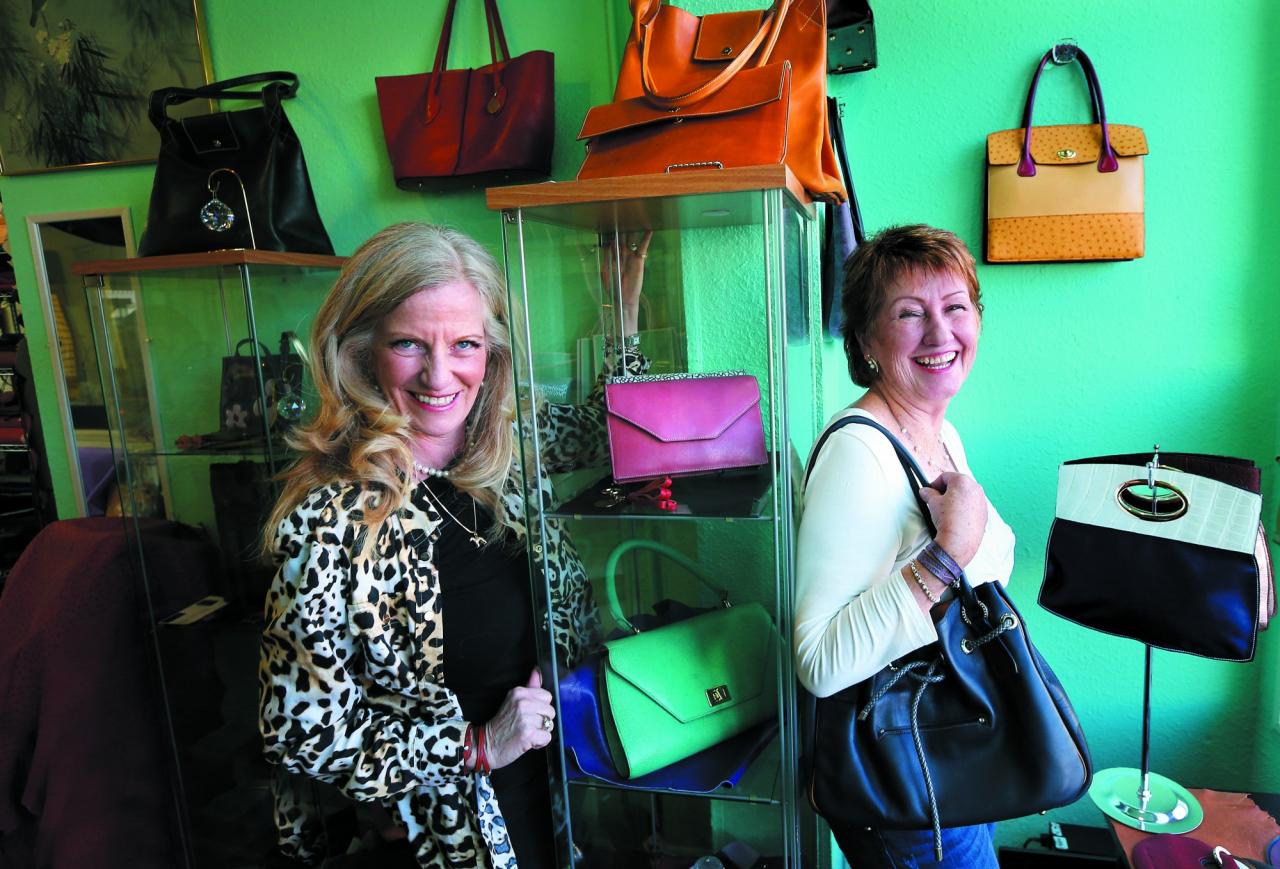 The result is a durable, oneof-a-kind item.
Fivis, who lives in Millbrae, initially attended shoemaking school. Comora started with a faux leather purse-making class, which whet her appetite for working with the real thing.
The women took private lessons with San Francisco leather artisan Béatrice Amblard; two years ago, they met through the Northern California Leather Guild.
It was good timing. Fivis had retired as director of human resources for the Mandarin Oriental Hotel Group. Comora, owner of Medical Office Management Services, had scaled back at her company.
A mutual passion for making elegant, butter-soft leather goods put them on the fast-track to launching BohLux.
BohLux, said Fivis, is different from store-bought luxury brands, whose customers know little about the materials and labor involved in production.
"We know the bag, we know the leather and we know the lady we are making a product for," she said. "Nothing gets farmed out.
It's all made here."
The line includes wallets ($375), alligator wristlets ($225) and belts ($350). Handbags start at $1,950.
638 Fifth St., Suite 10, Santa Rosa, 707-978-3708, bohlux.com
Editor's Note: Travel, dining and wine tasting can be complicated right now. Use our inspirational ideas to plan ahead for your next outing, be it this week or next year. If you visit restaurants, wineries, and other businesses during the pandemic, remember to call ahead, make reservations, wear a mask and social distance.