We're definitely spoiled for choice when it comes to good restaurants and interesting food options in Wine Country. From an Old World-inspired modern bistro in Windsor to a small Santa Rosa breakfast-and-lunch spot where everything is made from scratch, we've rounded up a tasty selection to put on your "must-try" list for spring and summer dining. Click through the gallery above for more info and dishes to order at each restaurant.
Tisza Bistro, Windsor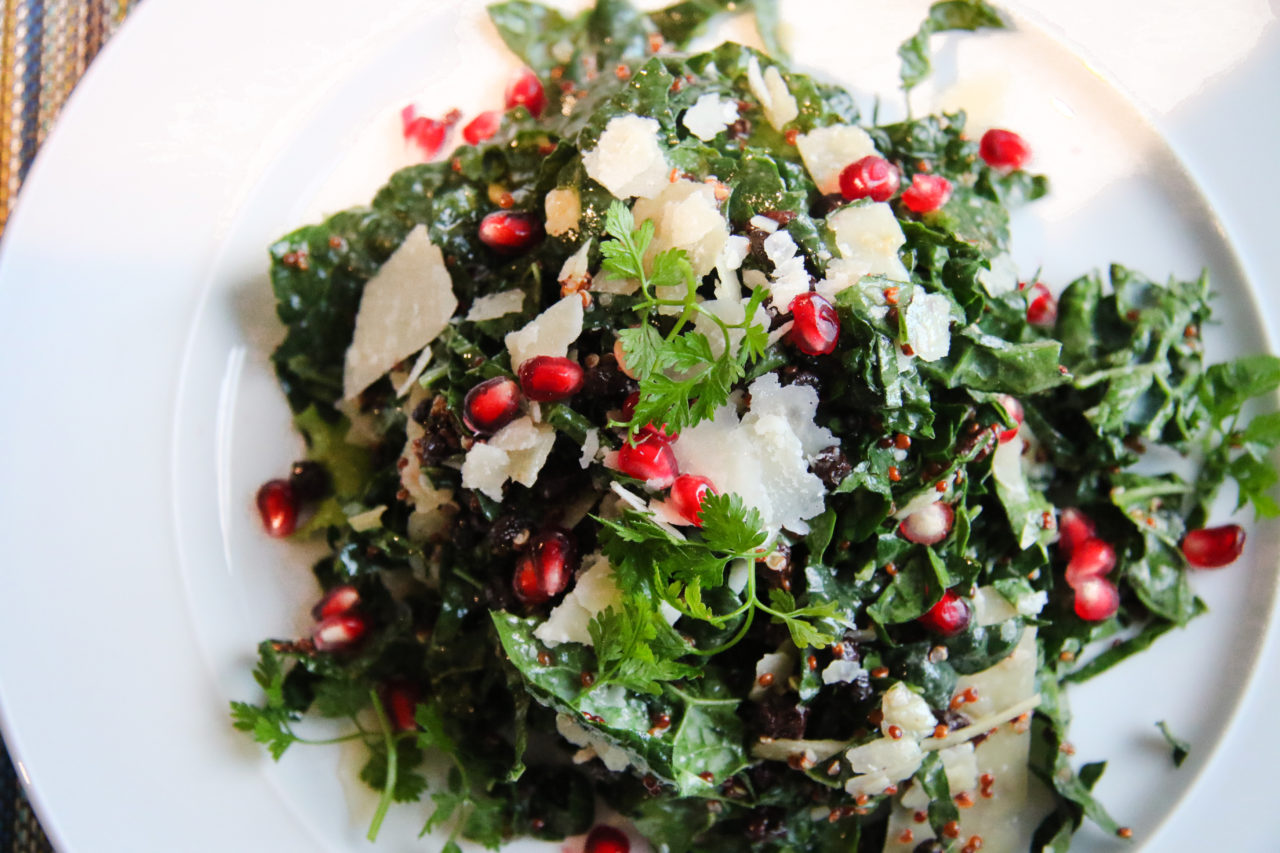 Chef Krisztian Karkus isn't sure if he wants everyone to know how good his wiener schnitzel is. He has a special recipe, sure, and it's pan-fried in butter and pork lard with fresh lingonberry jam and homemade cucumber salad. But he isn't a German chef, he says in a heavy Hungarian accent — and he doesn't want his new restaurant, Tisza Bistro in Windsor, to be pigeon-holed as an ethnic dining experience.
Trouble is, he already has fans coming in weekly for a plate of the breadcrumb-topped veal. It's just that good, which anything cooked in pork lard tends to be.
The restaurant has gained quick momentum with a mix of Old World comfort food (with lots of roasting) and fresh, California-inspired ingredients that make for an intriguing menu ranging from brown-butter artichokes with tarragon and lemon aioli (not lemon and mayonnaise, he specifies), duck confit with brandied cherries, spaetzle mac and cheese, and smoked bratwurst and braised sauerkraut.
Not a single dish misses the mark. Not one.
"Food has to taste good first," Karkus says, "and look good second." He's achieved both, with perfectly cooked greens and beans, clever touches like balsamic "pearls" (a molecular gastronomy technique) that aren't overly precious, deeply flavorful infusions of spices and herbs, and perfectly crisp salmon and duck skin.
Tisza is named after a meandering Hungarian river and its menu is awash in a love for the flavors of Sonoma County and Eastern Europe. Plus, the schnitzel ain't bad.
Especially worth a try is the roasted Castroville artichoke with tarragon brown butter and preserved lemon ($10) — a huge artichoke bathed in nutty butter with creamy lemon aioli. We're never quite sure about the proper way to eat an artichoke, but you'll find the meatiest bits on the bigger petals, though we'd rather just spoon the aioli into our mouths when it comes right down to it. There's no getting around the calories here, but it's intensely worth sharing around the table.
And as for that wiener schnitzel ($23), this version has no relationship to a sad piece of dry pork dropped in a deep-fat fryer — which is the sibling of chicken-fried steak, something no one should eat willingly. Instead, this dish of veal is rolled in bread crumbs and fried in butter and pork fat. Add a squeeze of lemon, and life suddenly seems a lot better.
Lamb can be a tough sell, but Tisza's braised lamb shoulder ($26), a long-cooked cut, is tender and beefy. It's served with Bohemian yeast dumplings, which are a bit like steamed bao, a sticky sort of dough ball whose only purpose is to soak up au jus. Similarly, there are so many ways preserved duck leg can go wrong —they're either greasy or fatty, and often a bit gray inside, with a rubbery skin. But with his roasted Liberty Farm duck confit ($18), Karkus again gets a super- crispy skin ("I love it to be crispy," he says) by searing off the deep red meat. Brandied cherries are, well, the cherry on the confit.
Finally, the undersell of the menu is the rolled crepe with walnut cream ($6). It's a treasured Hungarian dessert called palatschinke, and Karkus notes that the soft, papery crepe puts any French buckwheat imposter to shame. "You should be able to eat it like this," he mimes, pressing his lips together. No teeth needed. Rolled instead of folded into a triangle, palatschinke is filled with a walnut cream surrounded by rum raisins (boozy fruit is a popular theme) and swooshes of real chocolate ganache. Nutella be damned.
Tisza Bistro is open for breakfast, lunch, and dinner. 8757 Old Redwood Highway, Windsor, 707-838-5100, tiszabistro.com
Duke's Common, Healdsburg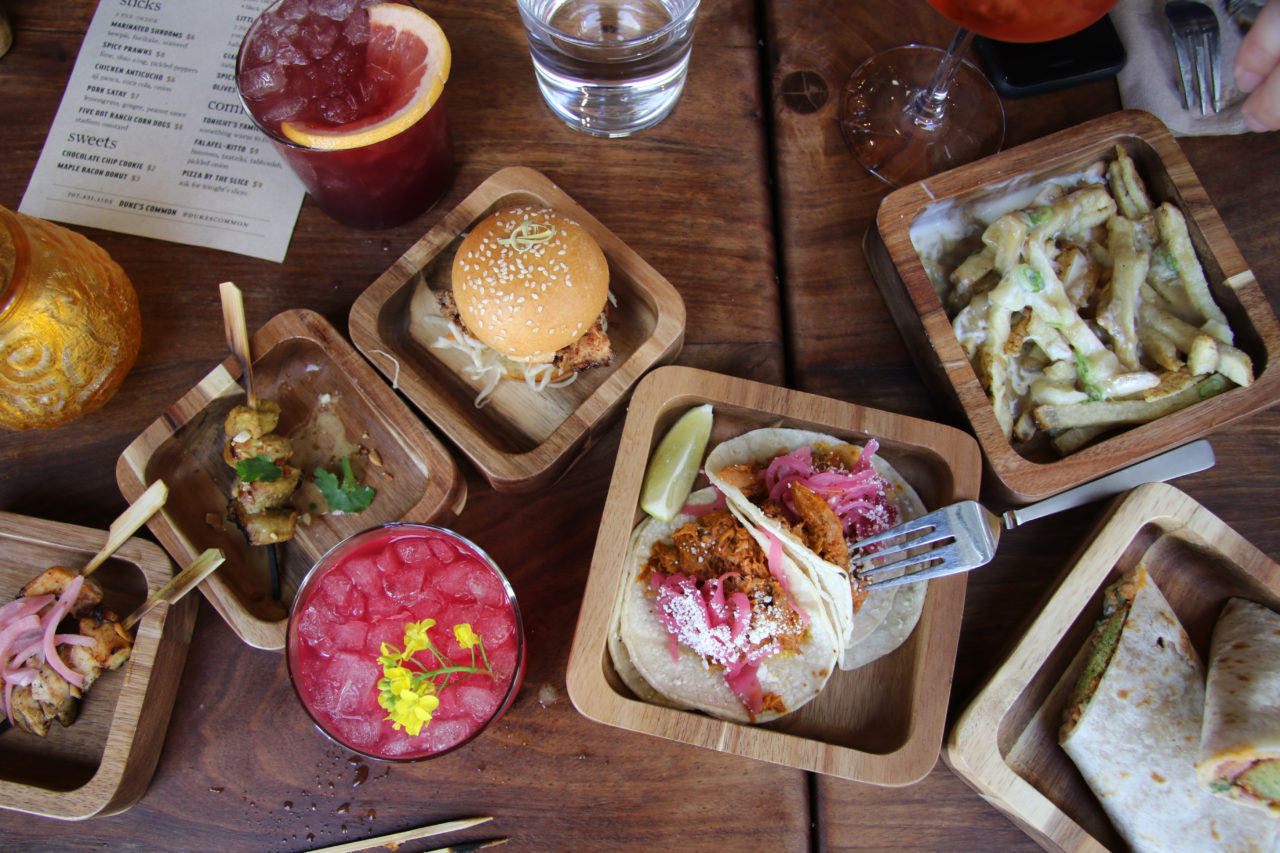 Bridging the gap between front of house and back of house, restaurant, or bar, lofty versus unpretentious, Duke's Common in Healdsburg is the halfway point — literally and figuratively — between the classic American cafe dining of Brass Rabbit (109 Plaza St.) and unfiltered farm-to-table booziness of Duke's Spirited Cocktails (111 Plaza St.).
Housed in the former Scopa space, the Common is an eat and drink spot where everyone's welcome (something not always easy to find in the 'Burg) — with 30-somethings balancing toddlers on their hips while sipping Prosecco, the pre-dinner crowd can grab a quick nibble and glass of wine, and after-hours revelers can stuff down some Disco Fries before boogieing home to bed.
Keeping in that unruffled spirit of hale and hearty bites like fries doused with gravy and tubs of shrimp and grits, it's clear to see that Duke's Common doesn't take itself the least bit seriously. There's a brief but eclectic lineup of things on skewers (mushrooms, chicken, corn dogs), small bites like the insanely popular McChicken sandwich, and slightly larger bites that include slices of pizza for $4 or a burrito stuffed with falafel, along with cocktails, wine, and beer. We ordered just about the entire menu for under $100, much to our surprise.
Duke's Common has arrived in the right place at the right time — a place for all of us to gather, whether we're plastic dish or white tablecloth kinds of diners. Nothing on the menu is more than $10. Don't miss the Maple Bacon Donut ($3), which is actually more of a mapleglazed beignet. Big flavors make up for the tiny size. Recommended: Catch all bacon and glaze crumbs into waxed paper, then upturn into your open mouth. Refuse to acknowledge you just did that.
109A Plaza St., Healdsburg, 707-431-1105, dukescommon.com.
What A Chicken! Petaluma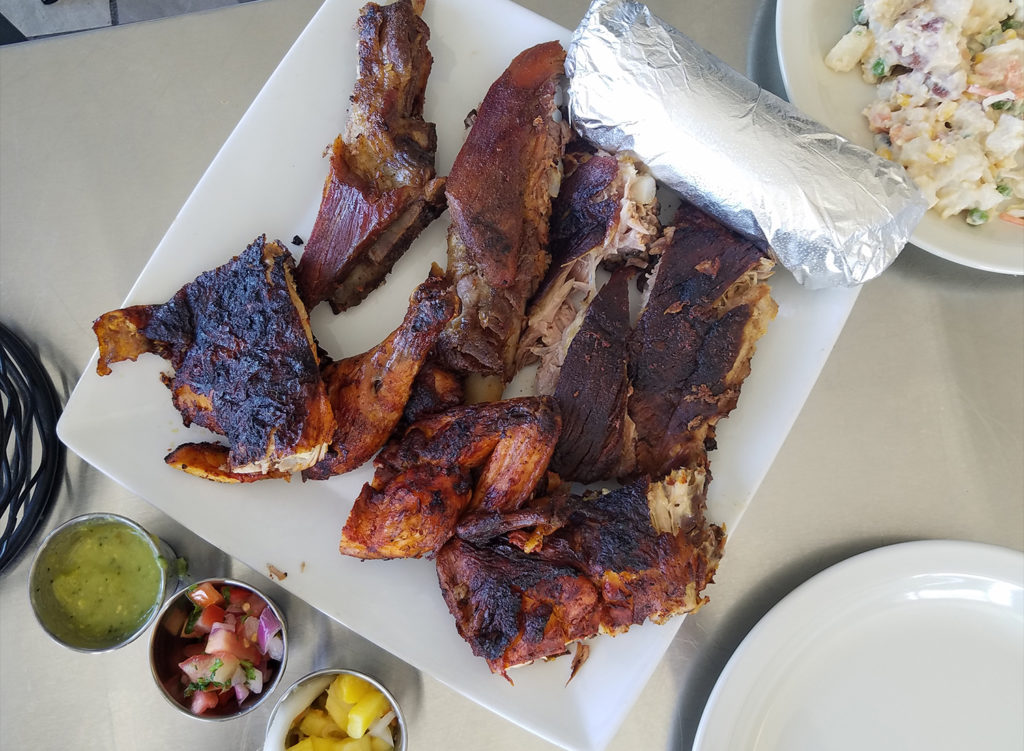 Petaluma is going gonzo for What A Chicken!, a budget-friendly barbecue spot, which specializes in — you guessed it — chicken.
You'll smell it before you see it, with a massive grill perfuming the entire block with mesquite smoke and grilling chicken. Prepare to drool a little. Once you've passed through the mist of sizzling poultry, it's an order-at-the- counter affair. Choose from mixed-grill plates, as well as tacos, fall-off-the-bone ribs, and so-so-sides like potato salad, coleslaw, and Spanish rice. Instead, get the freshly made corn tortillas and spend some time at the salsa bar. There's usually a line, so you'll have time to ponder the menu.
We found the chicken to be wonderfully flavored, but a bit dry. Doused with fiery pineapple salsa and wrapped in a warm tortilla, it's easier to see why folks are so impressed. That and the prices: You'll get a two-item, two-side plate and a drink for $7, hearty tacos are $3, and burritos around $7 as well. Super plus: A selection of icy aguas frescas are delightfully cool and sweet, taking some of the bite out of the spicier salsas.
708 E. Washington St., Petaluma, 510-776-7615.
The Grove Cafe, Santa Rosa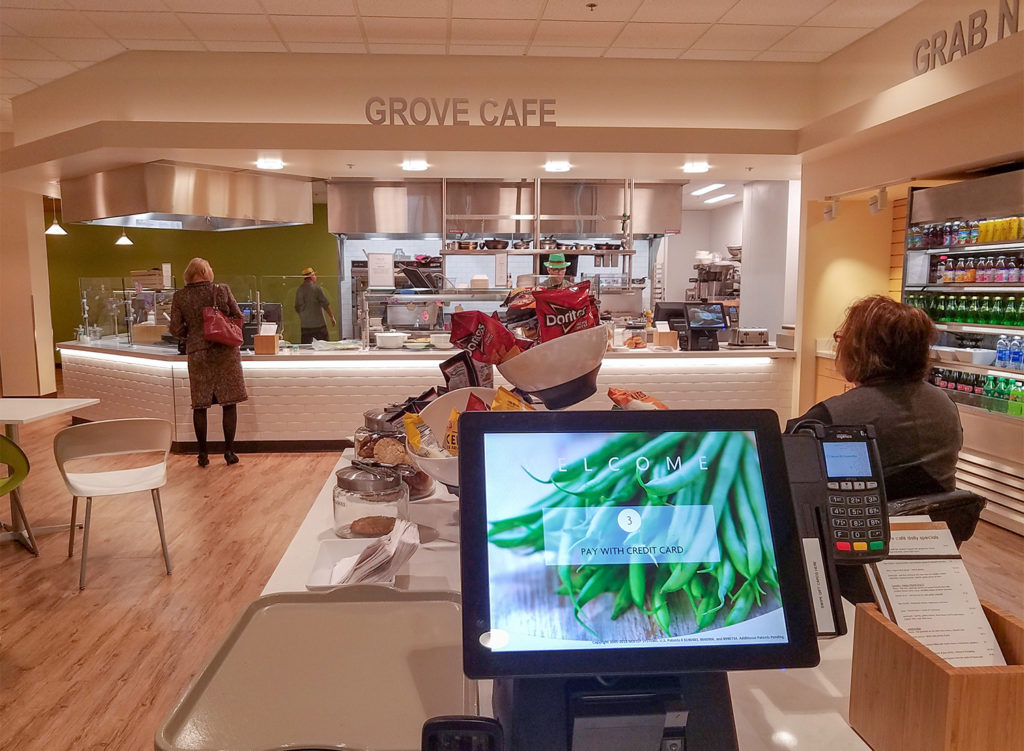 It's time for a little lunchtime dignity at the office. So long to sad brown paper sacks, desiccated Lean Cuisines warmed up in a dirty microwave, and worst of all, whatever stinky thing you had for dinner last night that's making us all retch at our desks. I make it a practice to publicly humiliate anyone with the chutzpah to bring a steaming plate of fish stew, garlic curry, or god forbid, tuna salad near my workstation.
That's why I'm convinced that Redwood Credit Union's new Grove Cafe is the future of the office lunch.
Simple daily menus are placed near the entrance to the bright, modern space and include dishes like blackened chicken flatbread with sweet corn and red onion ($6), roast cauliflower and pear soup ($3.50), Korean barbecue chicken in lettuce cups ($8), a grilled veggie sandwich with sun-dried tomato pesto and goat cheese ($6), fresh beet salad with arugula ($6.75), made-to-order sandwiches, and burritos (all under $9).
There are no servers or waitstaff. Instead, diners simply pick a dish or two on the touchscreen monitor, pay with a credit card and sit down. Minutes later, your number is called and your order ready for pickup at the counter. No muss, no fuss, no lost time when your lunch hour is ticking quickly by.
While the cafe isn't locally owned or Michelin-starred (it is part of international food service conglomerate Compass Group, which operates cafes and food services for businesses, schools, and hospitals, including Bon Appetit Management and Wolfgang Puck Catering), the simple idea is efficient, inexpensive, and what office drones (myself included) could really use on days when simply putting food in our faces is something of a luxury.
Open Monday-Friday. Breakfast, 8:30-10 a.m.; lunch, 11:30 a.m-1:30 p.m.; snacks, 1:30-3 p.m. 3033 Cleveland Ave., Santa Rosa
Zoftig, Santa Rosa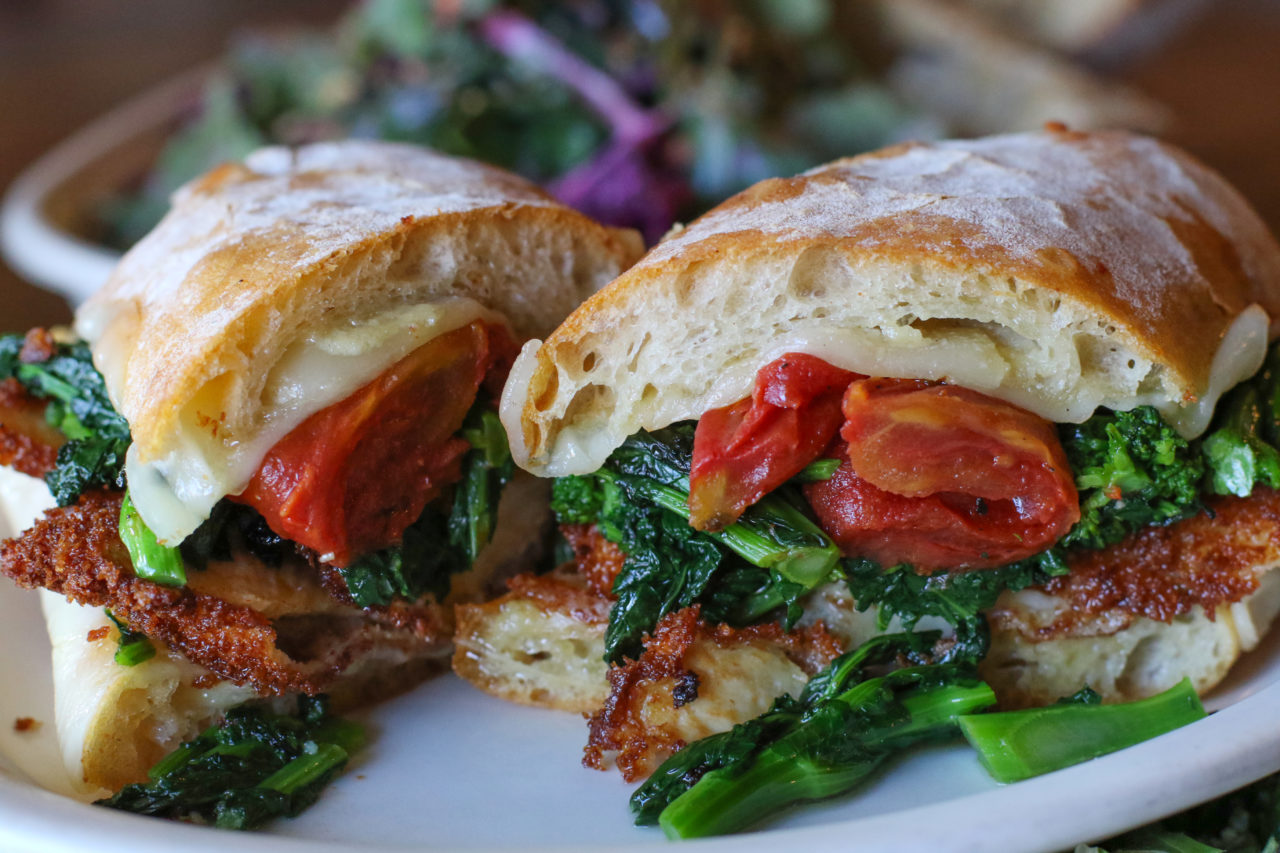 Former owners of Calistoga's acclaimed JoLe restaurant have brought their talents to Santa Rosa with a breakfast and lunch spot that's truly zoftig.
"My grandmother always said live life with zoftig," said co-owner Matt Spector. A Holocaust survivor, she often used the Yiddish term that roughly translates as "fullness" that comes with being well-fed.
Focused on simple yet well-made sandwiches, salads, and bowls, the concept doesn't sound particularly fascinating at first pass. Until you realize that Matt makes everything from scratch — from the roasted chicken and Diestel turkey to oven-roasted tomatoes, and fresh porchetta for his own take on a Vietnamese banh mi.
It's a grab-and-go lunchtime spot near downtown Santa Rosa that's far better than it actually needs to be, featuring bread from their next-door neighbors at Goguette, fresh chicories, kale from FEED Sonoma, and salad add-ins including paprika roasted cauliflower, goat Gouda, and grilled Crimini mushrooms. Must-tries include the roasted chicken ($11.50) and the banh mi ($12).
57 Montgomery Drive, Santa Rosa, 707-738-3558, instagram.com/zoftigeatery
Cascabel, Santa Rosa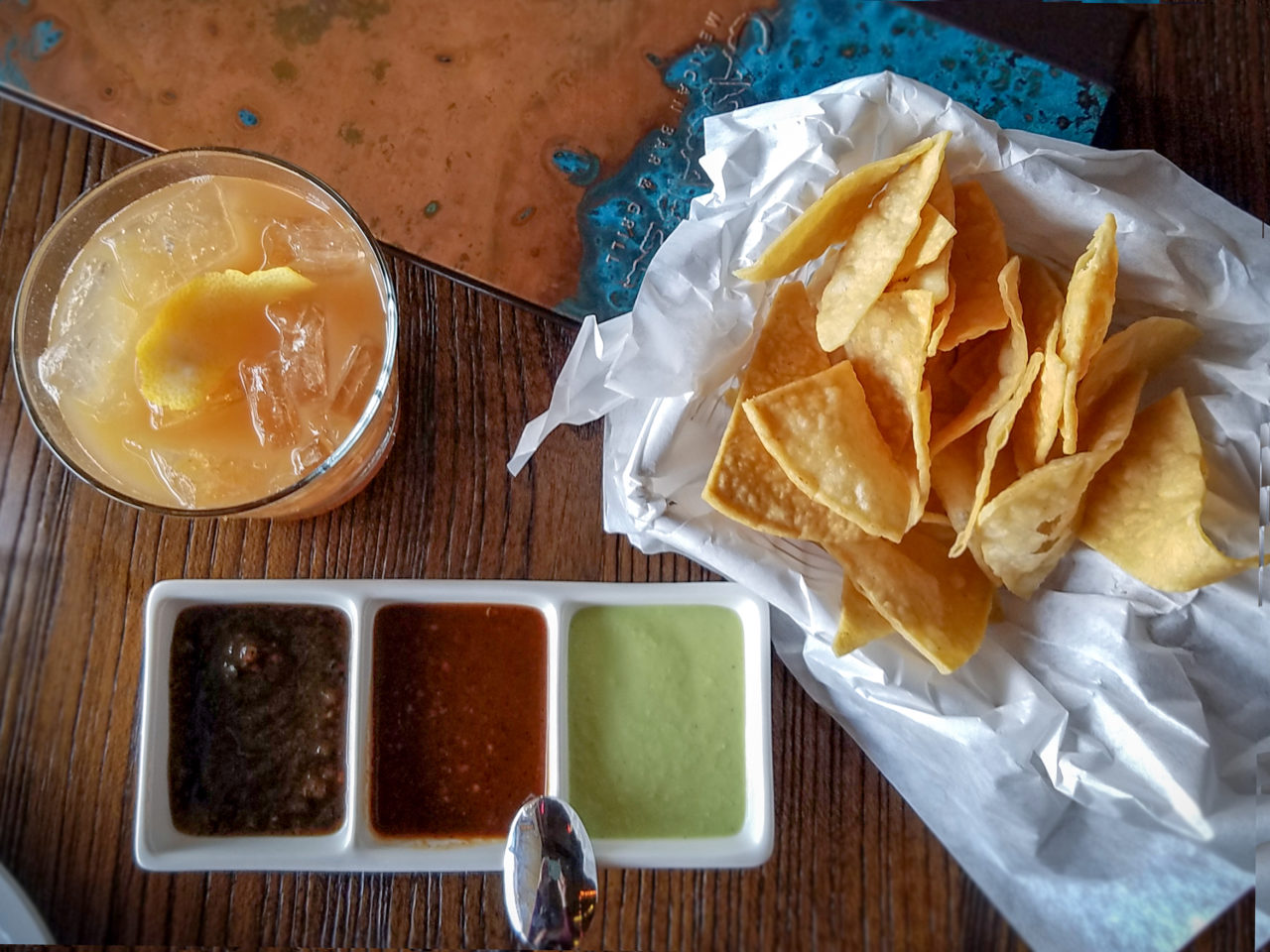 It's hard not to get enthusiastic about Cascabel, the newest addition to Santa Rosa's Montgomery Village restaurant lineup. We found several menu standouts at this casual tequila bar and grill, including a sweet-and-savory Oaxacan mole, meltingly soft barbacoa, spicy shrimp ceviche, and homey arroz con leche.
For the barbacoa pancakes ($10), Cascabel uses a low-temp sous vide technique to slowcook meats overnight, then a pan fry to caramelize and crisp. In the case of barbacoa, the sweet shredded beef is butter-soft, but propped up with an intense mole sauce that commands respect. Piled atop a soft potato latke with crema and red onion, it's a menu favorite. Also worth a try are the chicken tinga enchiladas with mole poblano ($13) and the Cocoyoc salad ($13). With achiote-marinated chicken, pineapple relish, red onion, toasted pumpkin seeds, and a pumpkin seed-serrano chile vinaigrette, the Cocoyoc is a lighter way to enjoy the intense flavors of Cascabel in a calorically virtuous way.
909 Village Court, Santa Rosa, 707-521-9444, cascabelbayarea.com/santa-rosa