As spring approaches, the rolling green hills of Sonoma County are alive with sheep grazing on early grasses. They wear their lush winter coats, thick pelts of beautiful warm wool that have protected them from the season's chill.
Soon they will be shorn, just as sheep have been for countless North Bay springs. For decades, the wool didn't see much of a life after it left the sheep. Most of it ended up in landfill, at a cost to the rancher, or back on the ranch, to be used as mulch and for erosion control. A bit was sold on the open wool market, but fetched such paltry sums that it was barely worth the effort it took to sell it.
That began to change in 1993, when Joe Pozzi of Pozzi Ranch in Bodega founded PureGrow Wool.
"When a friend asked what I did with my wool," Pozzi recalled, "I was taken by surprise. My sheep are raised for meat and their wool has medium-length fibers, which are not used for clothing."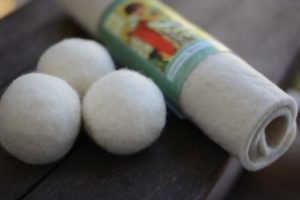 But the inquiring friend was interested in making bedding, pillows, comforters and mattresses. Pozzi's wool was ideal and PureGrow Wool, based on the same humane, environmentally thoughtful practices that guide Pozzi's ranching, was born. Today Pozzi produces about 84,000 pounds of PureGrow Wool a year from about 14,000 sheep, both his own flock and from local ranches and those throughout the Pacific Northwest.
Pozzi sends the wool to Texas for processing, first to a scouring mill where it is washed, and then to a carding mill, where it is combed, straightened and rolled into what are called bats: freshly cleaned sheaves of wool ready to be used. The process is simple and mechanical; it uses none of the chemicals of industrial processing that strips natural lanolin from the wool and accounts for its reputation as being itchy.
Some of the wool returns home to Sonoma Wool Company in Valley Ford, where it is used in a line of products that include dog toys, dish-drying mats and dryer balls (balls of wool that fluff your clothes and reduce drying time).
Pozzi uses a Texas facility because cleaning wool takes a lot of water, too scarce a commodity in California for large-scale wool processing. Yet there is a renaissance of small-scale wool processing in the Golden State and its heart, its nexus, resides in the hamlet of Valley Ford, where the Valley Ford Mercantile & Wool Mill opened last August to instant success.
"We barely had time to get our feet wet," said Casey Mazzucchi, who grew up on a nearby sheep ranch and founded the mill with his business partner, Ariana Strozzi. Within weeks, the mill was filled with wool from two dozen clients.
Interest in local wool rose as the sheep's-milk cheese industry here found a lucrative niche and the diversity of sheep breeds broadened. Also, as the mantra of sustainable farming has deepened, farmers have sought ways to make use of and benefit from their wool.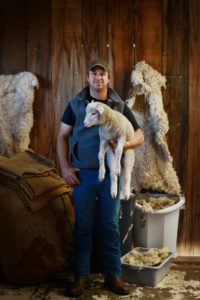 Mazzucchi oversees the processing, from the moment the wool comes in the door until it is ready to be transformed into goods. Strozzi develops products from wool from their flock of sheep, making mattress pads, comforters, pillows and mattresses, with more items soon to come.
Deborah Walton of Canvas Ranch in Two Rock, west of Petaluma, was the mill's first customer. After establishing her ranch in 2001 and at first using wool from her Olde English Babydoll Southdown sheep as mulch, Walton slowly entered the wool business, initially making pillows and small comforters.
At first she sent her wool to the Yolo Wool Mill in Woodland, one of the few in California, but eventually switched to a mill in Michigan that offered a better price, even with shipping costs factored in. Now that there is a local option, Walton is expanding her products, with beautiful table runners, full-size comforters, vests, felted items and more.
Mimi Luebbermann of Windrush Farm in southern Petaluma has produced wool from her animals since 1995. Currently, she has Corriedale cross and Shetland sheep and alpacas. Luebbermann still uses the Yolo mill, as it produces roving, the long, narrow bundles of fiber preferred by spinners (Luebbermann's primary customers). Her animals produce wool that ranges from white, gray and light brown to chocolate and true black, from the Shetlands. She also uses natural materials to dye her wool, which she sells at the Marin County Farmers Market in San Rafael on Sundays. She's waiting, she said, to see if the new mill will produce roving.
If the Valley Ford mill's first season is any indication, demand will continue to grow as more sheep ranchers take advantage of having a mill close to home, and with customers eager for another local product. Looking at the enormous barn, where wool covers nearly every surface and bags of it are stacked almost to the ceiling, it is easy to imagine that the need for more space will come sooner rather than later.