In a village outside Hanoi, Vietnam, an unassuming food vendor cooks what chef Tony Ounpamornchai considers the best banh xeo he's ever had. The sizzling Vietnamese crepes stuffed with seafood and vegetables have been a street-food staple for centuries, favored by farmers working long days in the fields.
"This lady was making them come out just perfect every time," Ounpamornchai said while sitting inside his newest restaurant, Mandarin Kitchen (formerly Tony's Galley) in Santa Rosa's Montgomery Village shopping center.
Framed by the restaurant's 500-gallon fish tank and its soothing purple glow, the longtime restaurateur talked about the sources for his culinary inspirations: walking the streets of large cities and small villages and observing what people eat.
"I just like to walk around towns and find things wherever I go. Traveling is part of my journey," Ounpamornchai said.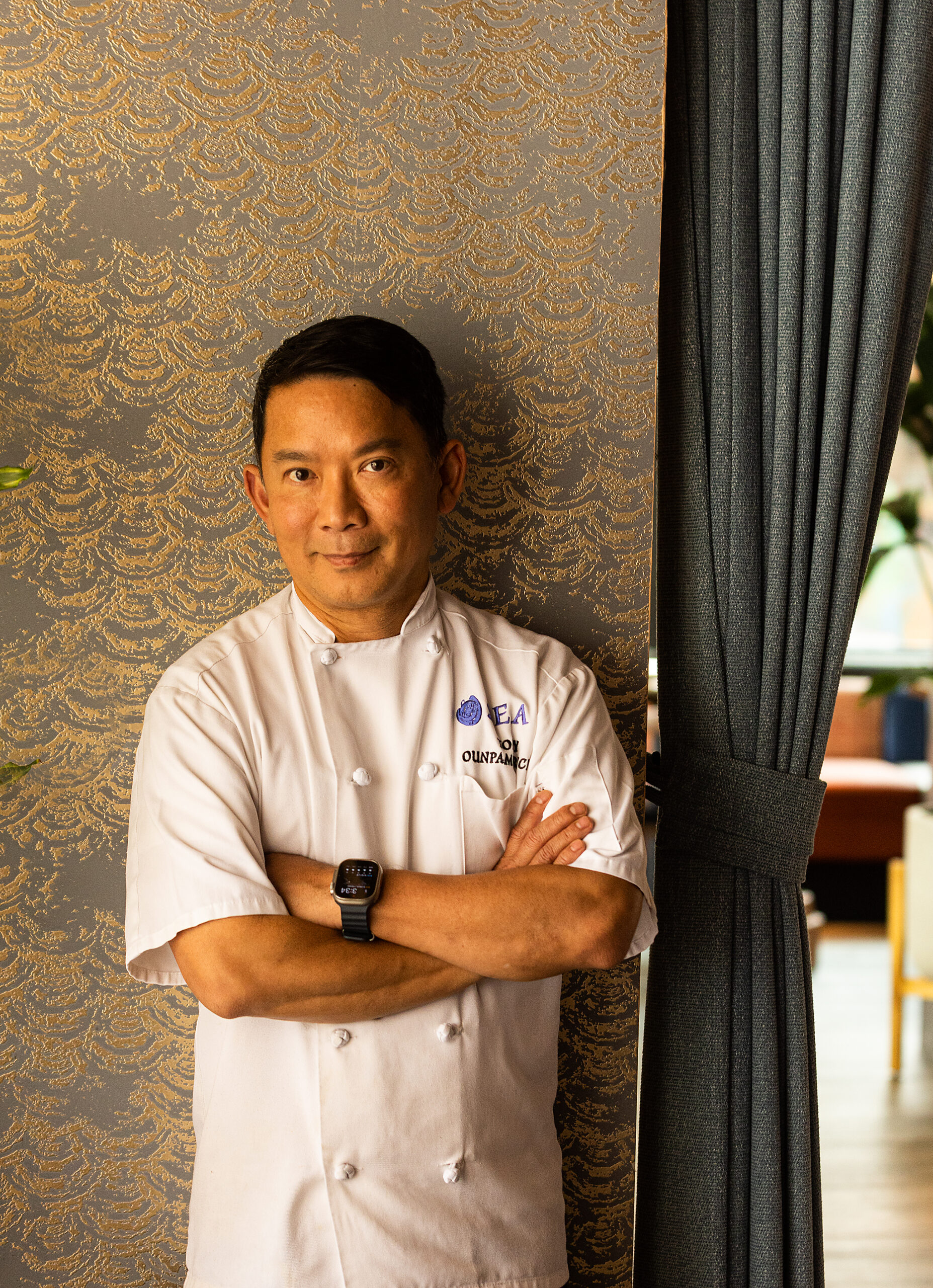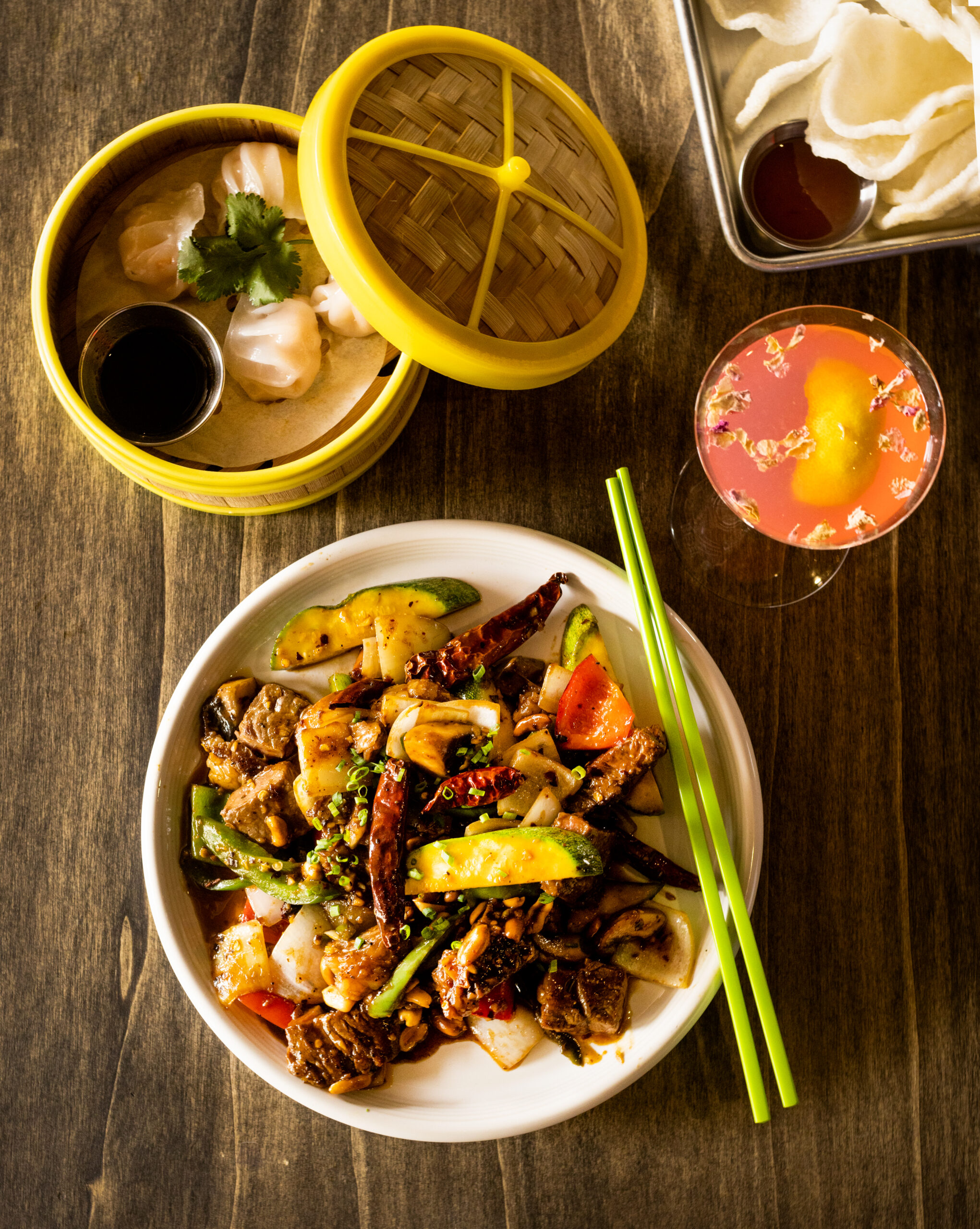 Now 54, he's getting personal with his menu, with dishes pulled from his childhood memories and the expansive culinary landscapes of Vietnam, Malaysia, Bali, Singapore, Cambodia and Laos.
Central to the Mandarin Kitchen menu are recipes from his family's Chinese and Thai traditions. It's the memories of learning to make his mother's massaman curry and picking fresh water spinach from the pools around his family's floating house in Thailand that are particularly powerful.
"This is truly the food that I love," said Ounpamornchai, who is also executive chef and co-owner of Sea Thai Bistro, also in Montgomery Village, and Sea Noodle Bar, in Santa Rosa's Coddingtown Shopping Center.
The former Tony's Galley opened in 2021 with a seafood-focused menu and closed in late March. After a quick menu revamp, it reopened in early April as Mandarin Kitchen.
Ounpamornchai said the high cost of very perishable seafood led him to change the concept, though seafood still figures prominently on the new menu. Sea bass in banana leaves and sauteed eggplant with sea scallops are among the best dishes here.
The restaurant's namesake, a mandarin orange, symbolizes luck and happiness, Ounpamornchai said. But with a menu this endearing and filled with happy memories, luck already has found Mandarin Kitchen.
Best Bets
Savory Vietnamese Crepe, $16: This hard-to-find street food is the perfect mix of sweet, savory, crisp and fresh. The sizzling crepe ("xeo" means sizzling in Vietnamese) is filled with prawns, bean sprouts and cabbage and is accompanied by a side of romaine lettuce, mint, fennel fronds, basil and cilantro meant to create a second shell of flavorful produce. The mix of cold greens and hot crepe dipped in chile sauce brings a surprise to every bite. It's a must-order.
Stir-fried Morning Glory, $13 and Mee Goreng, $18: In Bali, you'll find these staples at many warungs (small eateries) as a side dish to suckling pig or even for breakfast. Mandarin Kitchen's smoky-sweet black soy sauce sticks to wide rice noodles that slip and slide off your chopsticks (use a fork instead). Chicken, fried tofu, egg, bean sprouts, bell peppers, mushrooms and zucchini round out the dish.
Grilled Sea Bass in Banana Leaves, $24: The star of this dish is Jungle Curry, a Thai-style curry studded with zingy red chiles and cooled with fresh herbs and perfumed makrut lime leaves, galangal and lemongrass. Mild sea bass swiped with curry paste is steamed in a banana leaf (adding a distinct earthy flavor) and served atop a pool of sweet-salty Chinese black bean sauce with onions and zucchini. It's an incredibly unusual fusion dish, but worth checking out.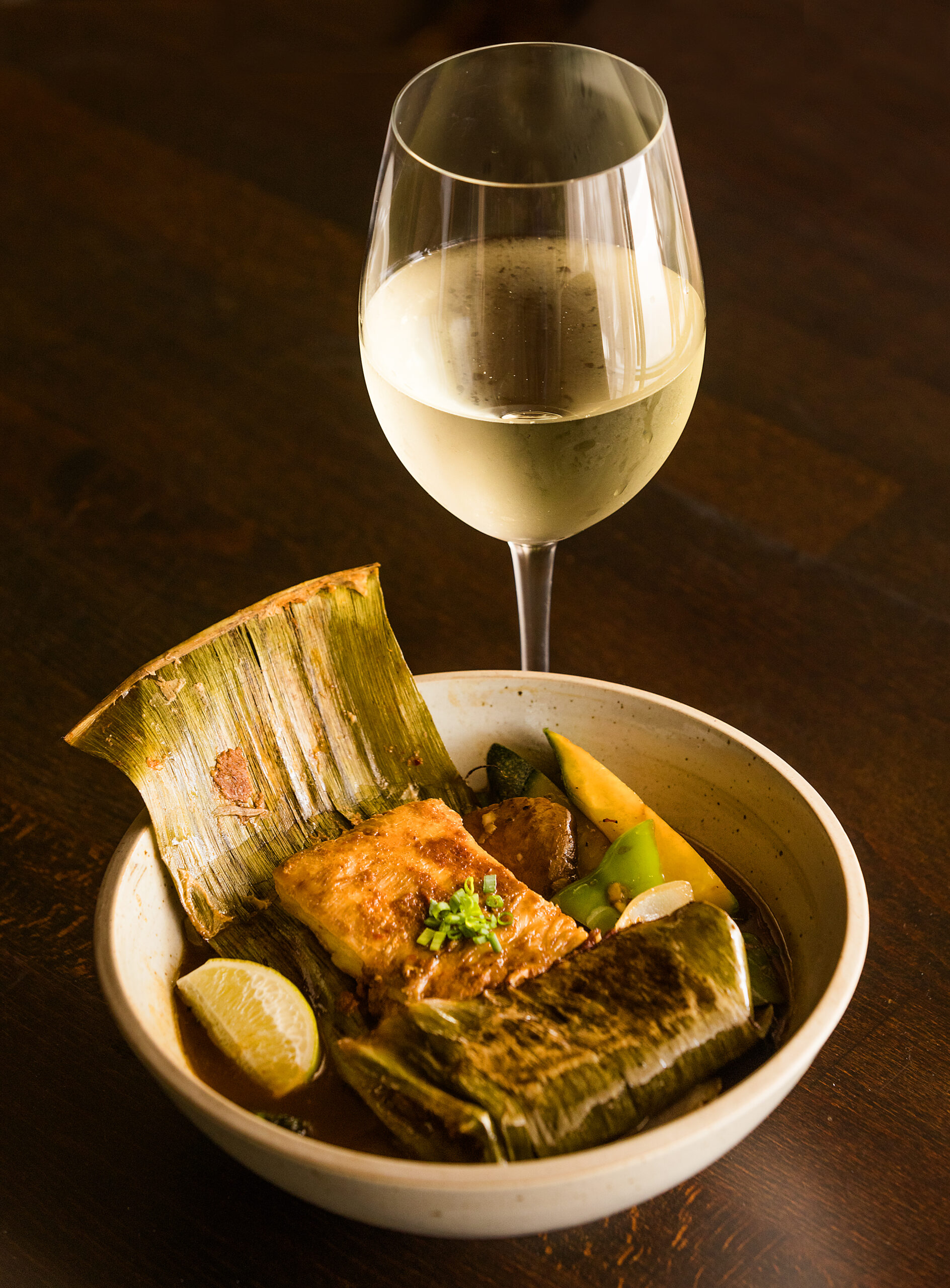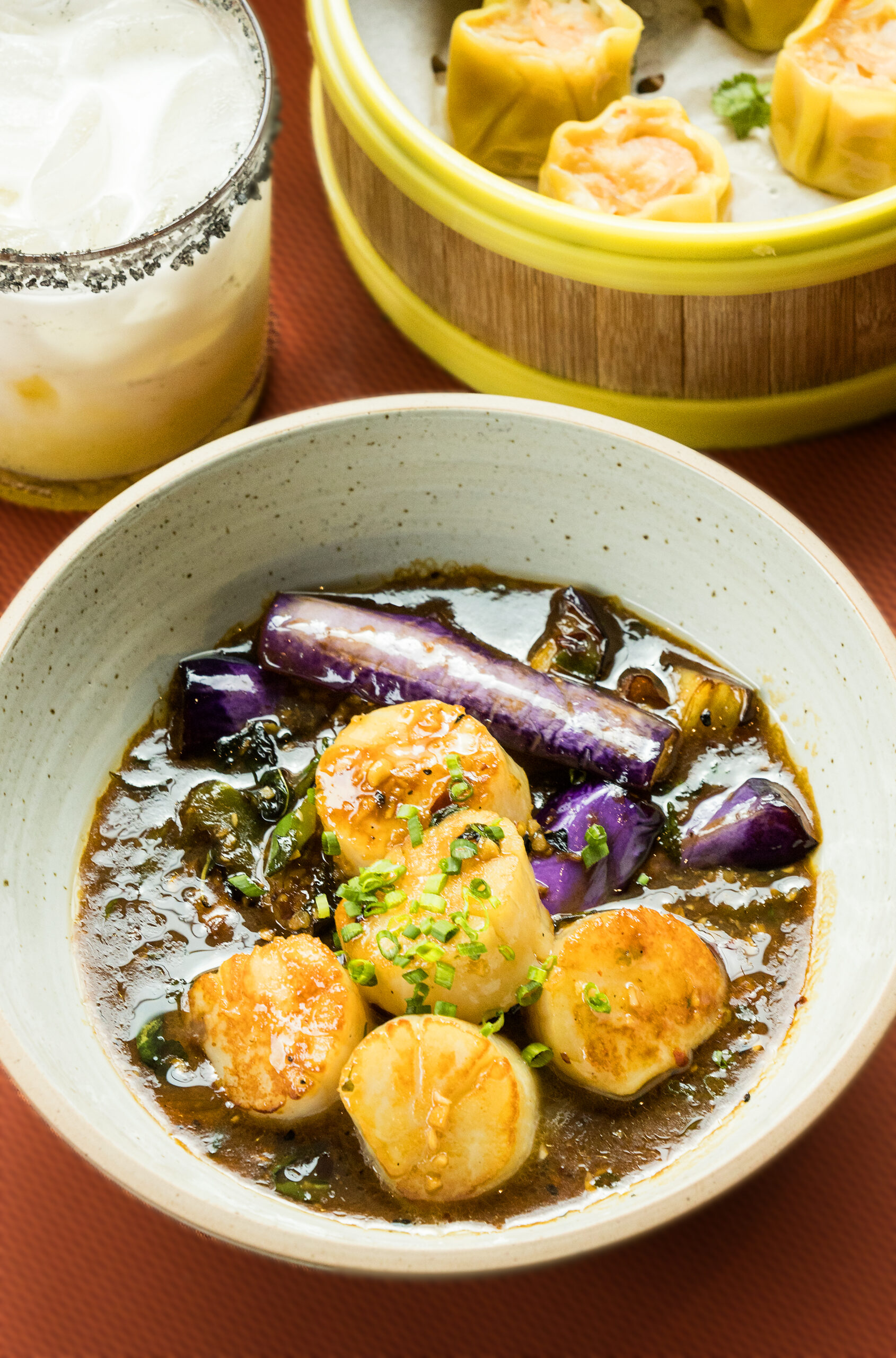 Sauteed Eggplant and Sea Scallops $24: At first, the combination of eggplant and seafood seems, well, odd. Initially, I didn't order it. But on a second visit, I couldn't resist the adventure. Five plump scallops float on a raft of sweet Chinese eggplant in a salty-sweet mix of soy and hoisin sauce studded with garlic bits. We couldn't get enough of the sauce.
Matcha Green Tea Cheesecake, $10: Matcha is divisive. Either you love the herbaceous, slightly bitter green tea or you loathe it. In desserts, it can be overpowering, but the light touch of matcha mixed into a creamy crustless cheesecake is charming. Ounpamornchai also has a light hand with the scoop of sesame ice cream on top. The whole thing could easily come off as a mouthful of dirt with the intense earthy flavors of both, but it ends up perfectly balanced.
Other great picks: There's almost too much to choose from, including other dishes we loved such as Hot and Sour Soup, $10; Shumai and Har Gow Dim Sum (lunch only), $12; and Chicken Massaman Curry, $20.
The restaurant has a full bar, with light and fruity cocktails including Beach, Please ($13) made with RumHaven Coconut Rum, pineapple liqueur, coconut milk, pineapple juice and orange juice; and the Magic Dragon ($13) with gin, dragon fruit, elderflower liqueur and fresh lemon. The standout, however, is the easygoing Easy On Me ($13) with a peculiar mix of bourbon, creme de peach liqueur and fresh lemon.
Mandarin Kitchen is located at 722 Village Court, Santa Rosa, 707-303-7007, mandarinkitchensr.com. Open 11:30 a.m. to 3 p.m. and 4 to 8:30 p.m. daily.