You know how everybody always says, "Wouldn't it be great if someone invented healthy fast food?" Well, someone has.
Amy's Kitchen, the natural foods company based in Petaluma, spent nearly two years developing a one-of-a-kind organic, vegetarian fast food restaurant that could give McDonald's and In-N-Out Burger a run for their money. With it's grand opening on July 2o, Amy's Drive Thru in Rohnert Park aims to do just that.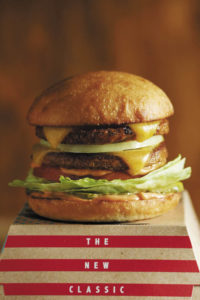 Located within throwing distance of McDonald's, In-N-Out, Taco Bell and Arby's, Amy's Drive Thru will compete with its flagship item, the Amy's Burger, a hearty, mouth-stretching patty made from beans, grains and vegetables and piled with sweet pickles, lettuce, tomato slices, cheese and "special sauce" on a soft bun. It can satisfy even the most devout, skeptical carnivore. Other menu items include meatless chili-cheese fries, milkshakes, mac and cheese, personal pizzas, burritos and salads, all made with GMO-free, organic ingredients, many of which are sourced locally. All items can also be made gluten-free or vegan.
These clearly aren't rehashed versions of Amy's nationally distributed frozen meals: instead, they're dishes that have been entirely created for a fast-food experience. And that came with plenty of misfires in the R&D lab, according to co-owners Rachel and Andy Berliner.
"We've grilled enough burgers to run the restaurant for a month and a half. Multiple times," said Amy's head food developer Fred Scarpulla. Trial and error can be delicious, but not necessarily easy.
Expect to pay under $10 for a double cheeseburger, fries and a shake, and less than $5 for a burrito.
Subscribe to Our Newsletters!