The glorious view from Daryl and Lisa Groom's home sweeps out over downtown Healdsburg to Geyser Peak and Mount St. Helena and would be hopelessly distracting if it weren't for the Grooms' engaging hospitality. Conversation sparkles, food tempts, and the mood is Wine Country generosity at its most genuine.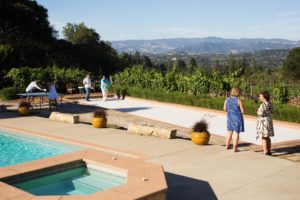 The vista becomes merely a backdrop for this outdoor escape because the grounds are gorgeous and the goings-on at the Groom home are so much fun. A large stretch of lawn and a shimmering pool set the bucolic scene. There's table tennis and a giant Jenga block tower made of two-by-fours. And the bocce court beckons.
"We like games that can be played with one hand so you can hold a glass of wine in the other," Daryl said, showing his affinity for good times and his respect for his profession, as he is one of California's most acclaimed winemakers.
The Grooms bought this treasure of a property 16 years ago in a private sale, one of the upsides of being as plugged into the community as they are.
"Since we were lucky enough to buy this place, we feel we have to share it," Lisa explained, and Daryl agreed. "People just fall in love with it, and we love sharing it with other people."
The property is especially stunning in fall, arguably Wine Country's finest season for outdoor entertaining; the landscape is ablaze with color, the fleeting light of early evening soft and enfolding.
The home sits on 7 acres on a hill off Dry Creek Road and includes a frequently used tennis court, organic garden, small orchard and chicken coop. There's even a yesteryear clothesline tucked amid rose bushes and fruit trees.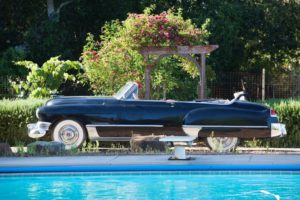 A 1949 black Cadillac was included in the sale of the house, and it has served as bride-and-groom transport for two couples, friends of the Grooms who were lucky enough to have their weddings at the home.
The first thing the Grooms did was put in a pool and build a 600-square-foot guesthouse, because they often have family visit from their native Australia and dinner guests sometimes spend the night.
The guesthouse is flanked by a commanding outdoor stone fireplace that the Grooms use year-round, especially as the last days of summer turn to fall. "When our children have friends over, it's the natural gathering place for conversation," Lisa said. She keeps s'mores ingredients on hand for such occasions.
The roof of the guesthouse extends over the fireplace and an alfresco dining area with a long, welcoming table that is surrounded by a low rock wall. Off to its side is an outdoor kitchen on a deck built by Lisa's father. The granite-topped kitchen holds a sink, under-counter refrigerator, two gas burners and a built-in DCS grill. There is also a freestanding Weber kettle-style barbecue.
The original house was one story, 1970s-style. Once the outdoor space was spiffed up, the Grooms remodeled, adding a second story and creating 4,000 square feet where they've raised their four children — Lauren, 26, Meg, 24, and Kara, 22, who are now off on their own, and Colby, 16, who attends Santa Rosa's Cardinal Newman High School.
In addition to an up-to-the-minute kitchen with an ample island and high-end appliances, there is a utility room that houses a washer and dryer at one end and a long stretch of counter space at the other. The counter is home to Lisa's dehydrator and an ice cream maker, and also serves as something like a catering area when they host guests.
The Grooms worked with Gerda Engelbart of Healdsburg when they remodeled, and the landscape plan is credited to Up & Up Landscape in Sebastopol. Colby raises market lambs on the property, keeping a pair in a small shed with a pen.
Daryl and Lisa met when he was a winemaker at Australia's most famous winery, Penfolds, in the Barossa Valley, and where she was a production assistant. They were a youngish married couple in 1989 when Penfolds purchased 50 percent of Geyser Peak Winery in Geyserville and installed Daryl as winemaker, moving the Grooms to the U.S. What they thought would be a stay of a few years turned out to be permanent, although their connection to Australia remains strong.
In 1997, partnering with Jeanette and David Marschall, Lisa's sister and brother-in-law in Australia, they bought 87 acres in Barossa Valley, planted Shiraz and Zinfandel, and launched Groom Wines. Daryl is the winemaker, spending a good deal of time in Australia, and the Grooms market the wines in the U.S. from their home office.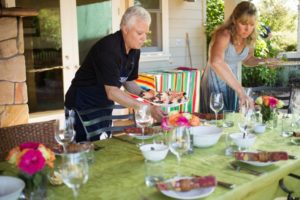 Asked if they do the cooking themselves, they answer "Yes!" in unison. Lisa does the shopping, prep work and inside cooking, and Daryl mans the grills. Lisa is a passionate gardener and beekeeper, and plans menus based on what's fresh and homemade.
At a dinner for 14, Daryl grilled seven racks of lamb slathered with Lisa's estate-grown blackberry sauce, and roasted potatoes and rosemary from the garden. The meal began with house-made fresh goat cheese with honey from Lisa's hives. For dessert, there were three sorbets, strawberry elderflower, triple orange and lemon tequila, made with fruit grown on the property and accompanied by Lisa's honey-basil shortbread.
She plants directly in the ground, dealing with gophers as best she can, saying that when she has her hands in the earth, she feels a cathartic connection to her mother and grandmother, who avidly gardened before her in Australia. Her garden includes a variety of squashes, melons, eggplant, strawberries, raspberries and peppers.
Lisa loves tomatoes, from which she makes "to-mah-to" jam. She currently has Red Brandywine, Green Zebra and Black Russian, among others varieties. "I grow San Marzano for sauce and canning, always an Early Girl for reliability, and a selection of heirlooms, which are more finicky to grow but the fruit is outstanding," she explained.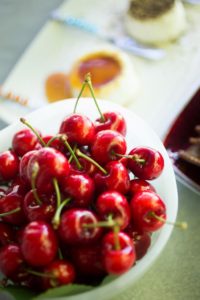 Lisa washes her garden harvest outside in an antique vessel that sits atop an ancient stone fencepost, which drains right back into the ground. She also nurtures abundant greenish-white hydrangeas that were on the property when the Grooms arrived and honor their link to the home's history.
After Daryl's storied career at Geyser Peak, and in addition to the Shiraz, Sauvignon Blanc and Zinfandel he makes for Groom Wines, he added an important element to his resume: Colby Red.
Colby Groom was born with a heart condition and has endured two open-heart surgeries and long recovery times.
He was so thankful for the good care he received that he asked his dad to make a wine that could be used as a fundraiser for heart-health charities. Daryl began producing Colby Red in 2011 with an original goal of donating $100,000. The wine has since raised more than $500,000, and the new goal is $1 million.
As brand spokesperson, Colby has been on the "Today" show and many local TV stations, with speaking engagements across the U.S. and Canada.
Daryl and Lisa love it when their children bring their friends home, and everyone gathers around the outside table to share their lives. A 1950s-style jukebox in the guesthouse has outdoor speakers, often blaring, and the rock wall is a favorite spot for dancing. It's a place full of love and laughter, and the Grooms wouldn't have it any other way.
Subscribe to Our Newsletters!