The Oyster Eater's Guide
(This article was originally published in 2016 when I met with Santa Rosa Seafood owner Mike Svedise. Sadly, Svedise died unexpectedly in 2017.)
On Thursday and Friday mornings, dozens of mesh bags filled with oysters are piled onto fresh ice at Santa Rosa Seafood shop. They travel from waters as far away as Prince Edward Island and the Virginia coast, to Pacific waters between Tomales Bay and British Columbia, and come in all shapes, sizes, colors and textures.
Call it a United Nations of bivalves.
Devoted oyster seekers come for Kumamotos, Miyagis, Malpeques, Kusshi and even Fat Bastards.
Sixteen different kinds of oysters are in today's order: from Hammersly Inlet, Tomales Bay, Wildcat Cove or Anchor Bay Washington; the Yeocomico River in Virginia or Long Island. Each has a distinctive shell shape, ruffled, flat, ruggedly bumpy or nearly smooth.
As staff shuck them, he reveals a time capsule of a specific place and time where that oyster grew, what they've eaten, the temperature of the water, the time of year and of course their place of origin. All give an oyster the unique flavor some compare to a wine's terroir, or "merroir."
As we head into winter, the ideal time for shellfish, it's worth knowing what you're eating and what to look for.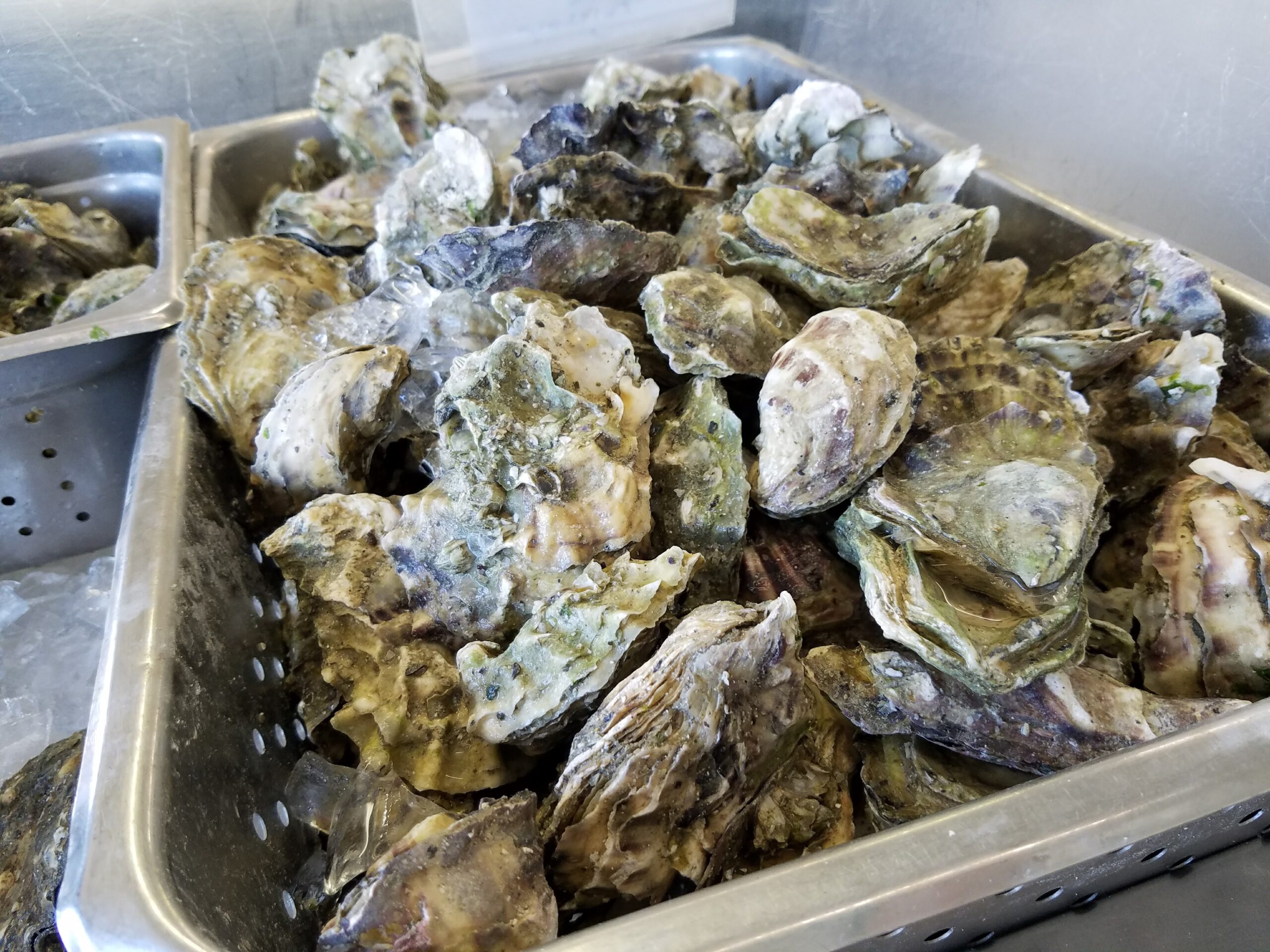 What an oyster is
Oyster are bi-valves, meaning they are filter feeders with a hinged shell. Also part of the oyster family tree are mussels, clams and scallops. As anyone who's been to an oyster bar knows, part of the fun of eating these slippery shellfish is getting up close and personal with them.
It's less clear what's in a name. Fanny Bay, Hog Island Sweetwater, Totten Inlet, even French Kiss and Naked Cowboy are just a few of the monikers you'll find, most of them referring to the place they were grown. We actually eat only five main species in North America: Pacific, Kumamoto, Olympia, Eastern and European Flats.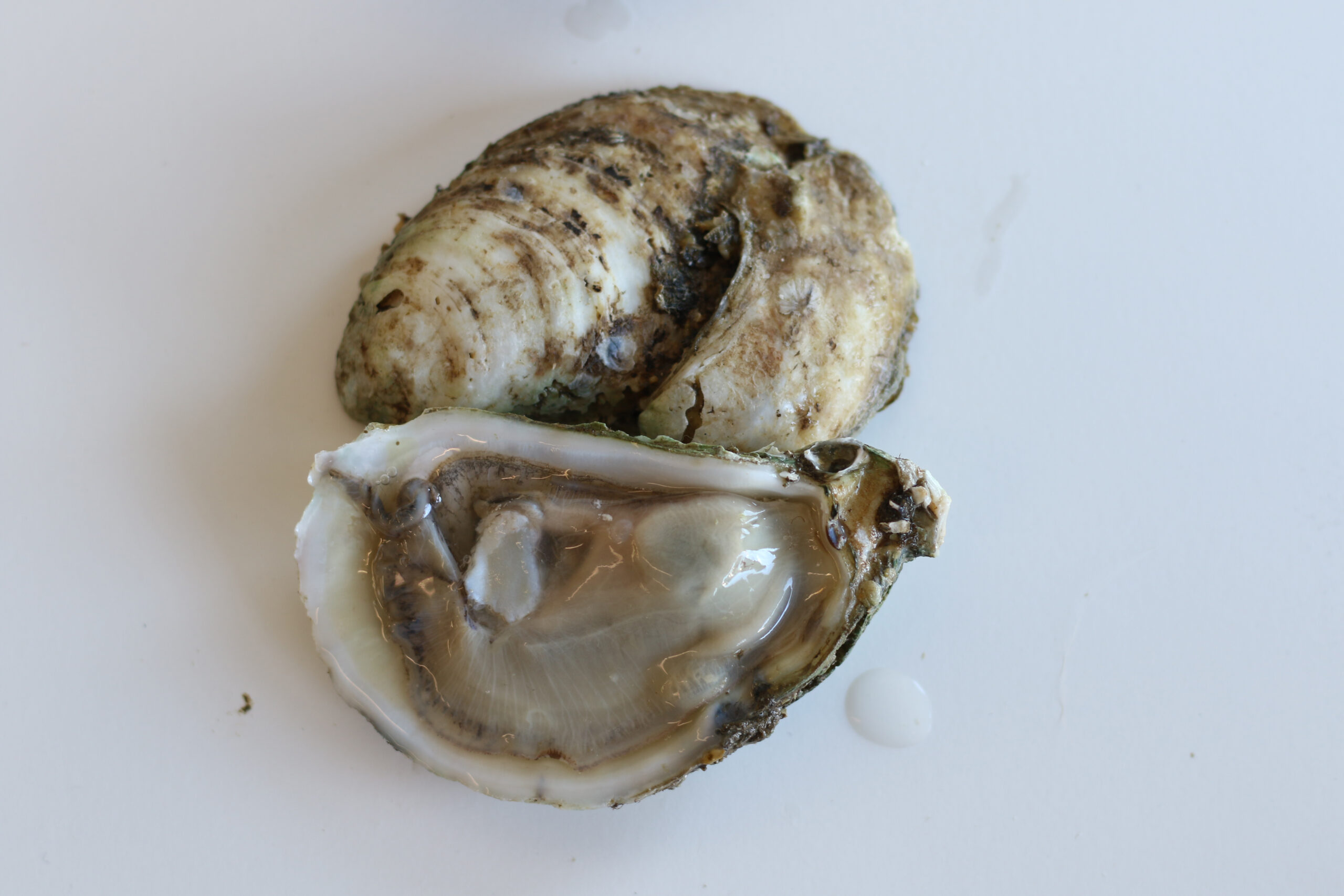 Pacific oysters are the most common species, estimated to be 75 percent of the worldwide market. They have ruffled shells, like our local Hog Island Sweetwaters. Both Pacific and Kumamotos originated in Japan but are frequently grown in California and Washington. Kumamotos tend to have the lightest, sweetest flavor and are great for first-timers.
Olympia oysters tend to be small, but are gaining popularity with aficionados, even though they can be hard to find. Eastern oysters have flatter, less jagged shells and often a stronger briny flavor. European Flats are native to the cool waters of Western Europe and less popular in the U.S., though you can find the rare French Hog at Hog Island Oysters.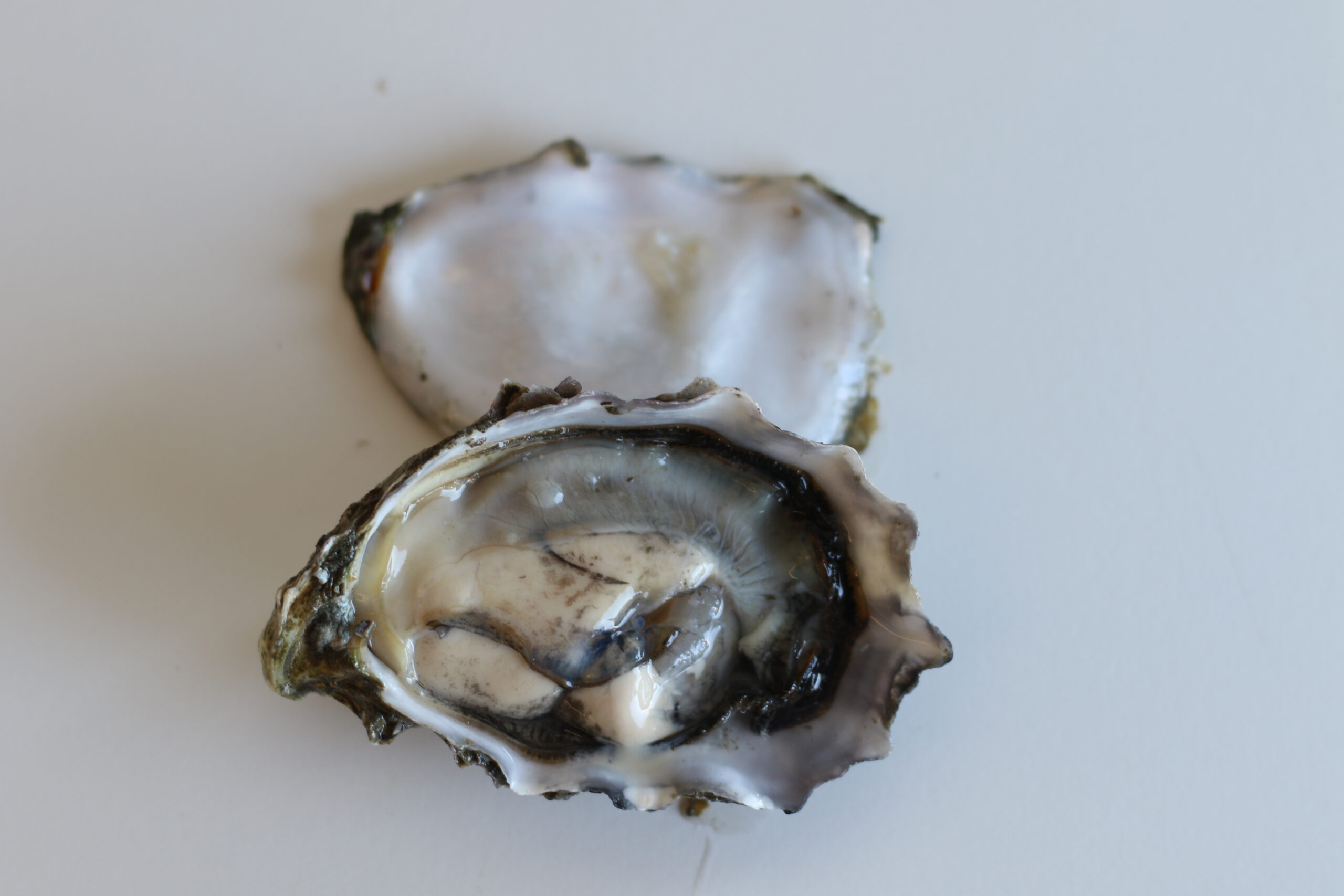 Why we love oysters
"A good oyster smells like the sea breeze skipping over the shore," writes Rowan Jacobsen in "The Essential Oyster: A Salty Appreciation of the Taste and Temptation" (Bloomsbury, $35). "A bad oyster smells like a murder victim. I prefer the former. But I like how even the latter helps exemplify the essence of the interface: An oyster conveys its life experience directly to your senses."
Though it seems a bit counter-intuitive to yearn for a slimy little creature that spends its life filtering mud, algae and other floating things, archaeologists have found ancient oyster shell piles (called middens) that date back millennia. Clearly our ancestors knew there was something to be said for them, whether it was the salt, the minerals in their flesh or simply their alleged aphrodisiac properties.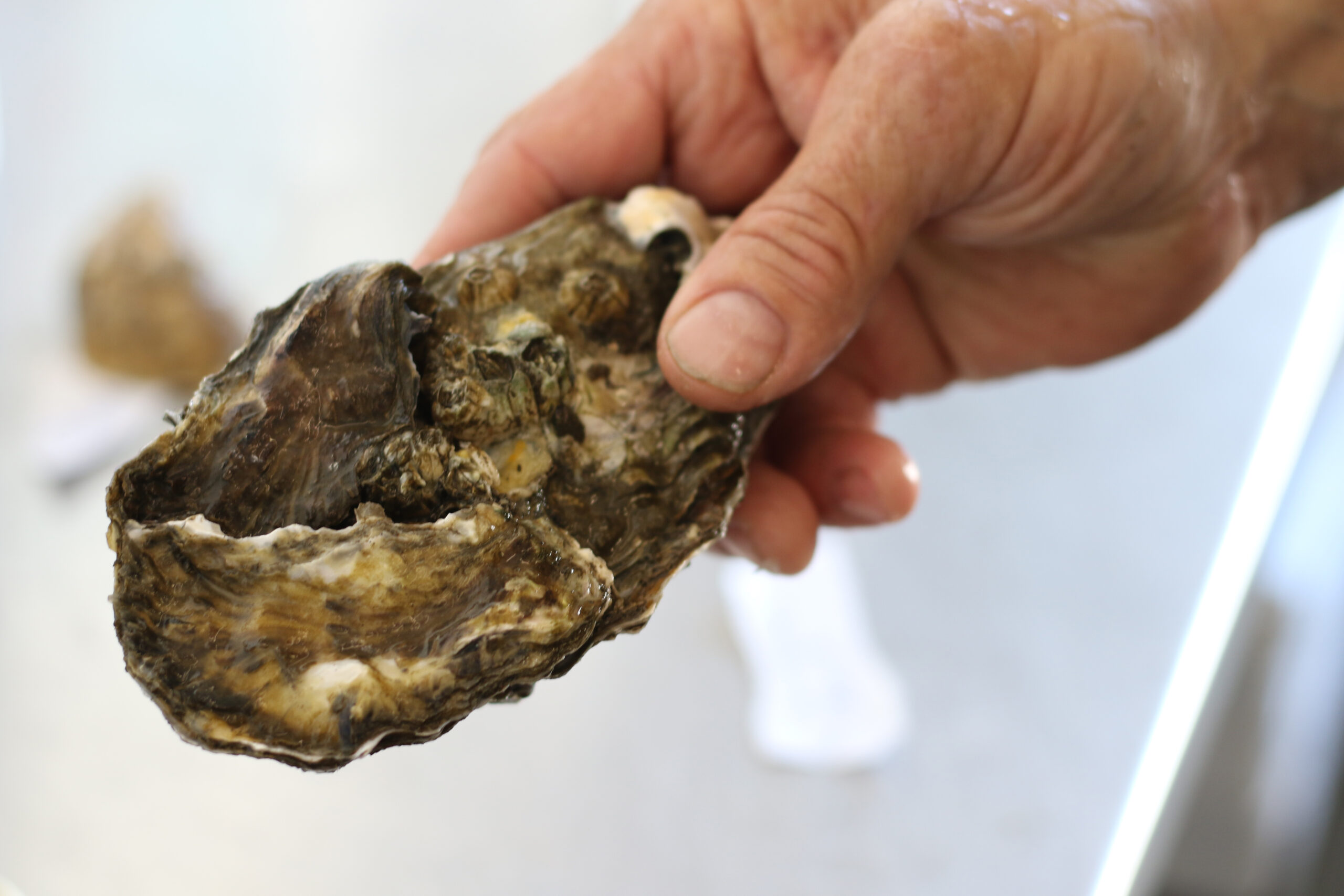 Then again, there's something primal about tucking into a plate of these sea creatures. They are the essence of salt water and time.
Many are available year-round, though experts that include Jacobsen say it's best to use the "R" rule, eating them in months with an "R" in their name (September through April, in other words).
Most oysters we eat are farmed, not wild. And that's not a bad thing.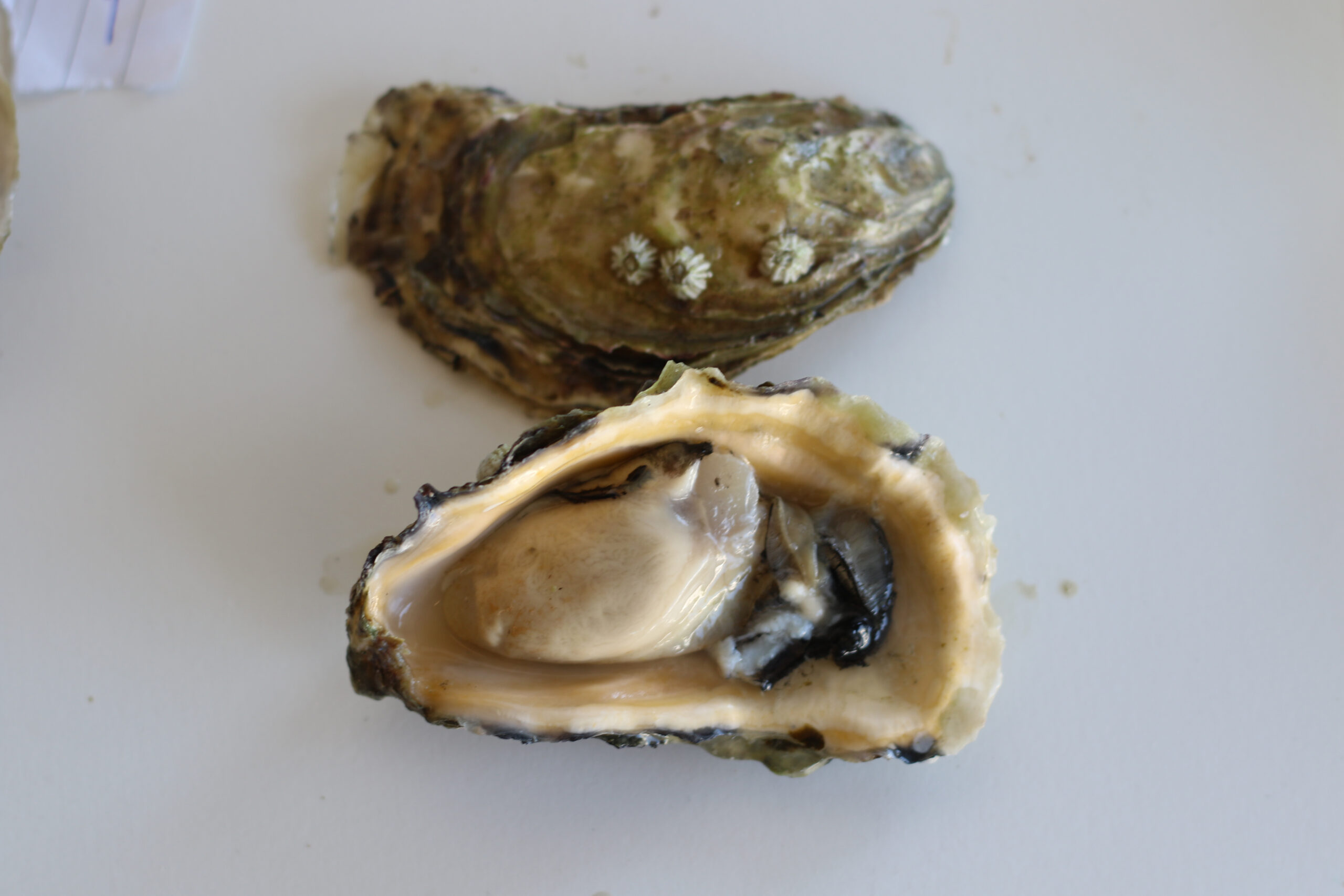 In Northern California, they are seeded and grown, each oyster filtering up to 50 gallons of water each day, according to the Chesapeake Foundation, and are generally thought to improve their surrounding environments. In fact, a Stanford study found that oysters and other bivalves could significantly reduce toxins in water, though you might not want those on the half shell.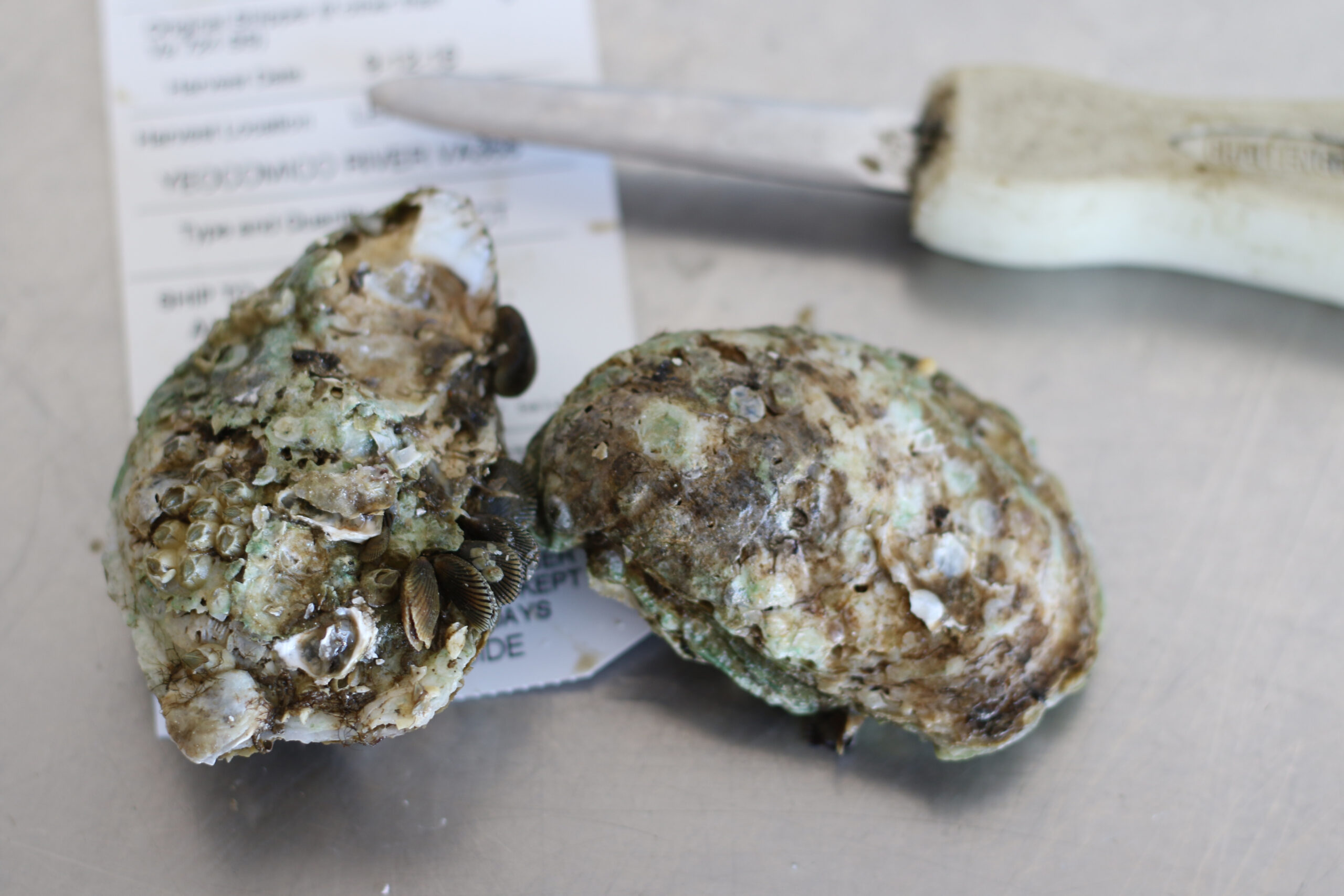 The biggest concentration of oyster farms is near Vancouver Island, British Columbia, where popular Pacific oysters like Fanny Bay, Kusshi, Emerald Cove, Denman Island and Chef's Creek are grown. Washington state is also a large producer best known for Kumamotos and smaller Olympia oysters. In Northern California, Hog Island oysters are plentiful in Tomales Bay. Keep in mind that most oysters we eat don't grow pearls, though it's always worth a look.
Oysters: What to look for
"The first thing you want to see is liquid," said Aluxa Lalicker, co-owner of The Shuckery restaurant in Petaluma. As half of "The Oyster Girls" traveling oyster bar she runs with her sister, Jazmine, she's seen a lot of oysters, both good and bad.
"Oysters are bringing the seawater to you," she said, in the form of oyster liquor, the watery, salty liquid that surrounds an oyster. If an oyster is dry, you probably don't want to eat it, and for heaven's sake, don't pour out the liquid. It's part of the tasting process and tres gauche to dump it.
Depending on the kind of oyster, it should look plump and healthy. Color is also important, according to Lalicker. "Some have a more orange or coppery color, offering a lot of minerality. Some have really green gills with notes of vegetables, prized in Europe," she said. "After you open a lot of oysters, you kind of know what it's going to taste like."
Oysters should always be stored cold and served cold if they're raw. If an oyster is already opened before shucking, it's dead, and you really don't want to eat it.
Starter oysters
Lalicker's restaurant usually has about four kinds of oysters on the menu, but Tomales Bay Miyagis are her favorite. The local oysters have a salty, sweet and slightly metallic flavor that's approachable to newcomers, but also a favorite of more experienced oysterologists.
"I've tasted oysters from throughout the world, and they're addictive," Lalicker said. Like wine, however, it takes a little while to learn what you like.
"We ask if you like ice cream or potato chips," she said. Folks who like chips tend to like briny, more intense flavors. Ice cream people tend to like sweeter, softer oysters grown near freshwater that have a less salty flavor.
Best bet, however, is just to ask questions, go to a reputable purveyor or restaurant, and try a few oysters to see what you like. "It's about the smell, the taste and the texture all coming together," said Lalicker.
How To Shuck An Oyster
Great Spots to Get 'Em
You can practically throw a rock in any direction and hit an oyster bar in Sonoma County. We've got a passion for them, just about any way you can serve them up. Here are a few spots to try them:
Santa Rosa Seafood: 946 Santa Rosa Ave, Santa Rosa
The Shuckery: 100 Washington St., Petaluma
Anna's Seafood: 901 Lakeville St, Petaluma
Willie's Seafood and Raw Bar: 403 Healdsburg Ave., Healdsburg, 707-433-9191, starkrestaurants.com
Fisherman's Cove 1850 Bayflat Road, Bodega Bay, 707-377-4238
Nick's Cove, 23240 Highway 1, Marshall, 415-663-1033, nickscove.com
El Dorado Kitchen: El Dorado Hotel & Kitchen, 405 First Street West, Sonoma, 707-996-3030, eldoradosonoma.com
Stark's Steak and Seafood: 521 Adams St., Santa Rosa, 707-546-5100, starkrestaurants.com
Sonoma Grill: 165 W. Napa St., Sonoma, 938-7542
Cafe Lucia: 235 Healdsburg Ave., Suite 105, Healdsburg, 707-431-1113.
Rocker Oysterfeller's: 14415 Highway 1, Valley Ford, 707-876-1983, rockeroysterfellers.com
Nellie's Oysters: Saturdays at the Santa Rosa Community Farmers' Market, Santa Rosa Veteran's Building.
Hog Island Oyster Co.: This oyster pilgrimage spot has recently changed up their policies on the picnic area: Seating is reservation-only and are limited to 90 minutes, though its really only enforced Friday through Monday. Make sure to check the website before you go so you won't end up disappointed. 20215 Highway 1, Marshall, 415-663-0218, hogislandoysters.com