Want to sip something different during the holidays? Head to these local watering holes for a comforting cocktail created with warmth in mind, or shake one up yourself. Three top-notch bartenders offer distinctive drinks they serve this time of year.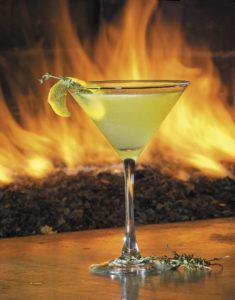 El Dorado Kitchen
Sonoma
"To me, a well-crafted cocktail, with the perfect balance of ingredients and a bit of love, can unlock beautiful memories," head bartender Kenny DeAlba said.
"Winter and Christmas being my favorite time of year, I created this 'thymely' cocktail that brings friends, family and loved ones together. That's my passion and goal: Create cocktails that help bring great memories."
Father Thyme
(serves 1)
3 sprigs thyme
1½ ounces Osocalis brandy
½ ounce Drambuie
½ ounce honey water
½ ounce lemon juice
lemon peel for garnish
Place the thyme sprigs in a shaker and muddle them to release their oils. Add the remaining ingredients and shake well to combine. Double strain into a martini glass and garnish with the lemon peel.

Spoonbar
Healdsburg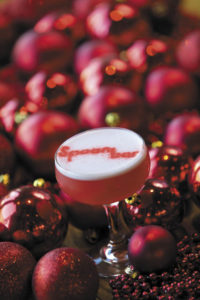 "When the weather gets colder, it's a no-brainer to turn to the classic whiskey cocktails: Old-Fashioneds, Manhattans, savory drinks," bar manager Alec Vlastnik said. "I like to enhance these recipes by adding winter spices and flavors to make them even more winter-friendly.
"That's where the Fireside Sour came from. The bourbon we use for this cocktail is beautiful stuff. When you put our house-made blood orange syrup and add spices like clove and cinnamon, you have a drink that makes you start thinking about fireplaces and good times with family. The cranberry bitters balance the drink with a touch of acidity and smell like Thanksgiving."
Fireside Sour
(serves 1)
1½ ounces W.L. Weller Special Reserve Bourbon
½ ounce Campari
½ ounce Pür Likör Spice Blood Orange Liqueur
¾ ounce lemon
½ ounce egg white
dash cranberry bitters
Combine all the ingredients in a shaker, without ice, and shake for 15 seconds to fluff the egg white. Add 1 cup of ice and shake for another 15 seconds. Double strain into a martini glass and finish with the dash of bitters.
Stark's Steak & Seafood
Santa Rosa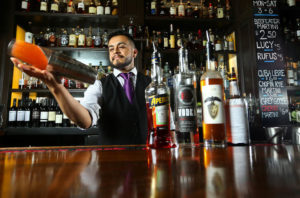 "Glogg liqueur is really unique and we were looking for a way to highlight it in a new cocktail," bar manager Mamadou Diouf explained. "We came up with the Broken Halo as a different take on the classic 'holy trinity' of winter spices: the cardamom, cloves and cinnamon that are prominent in the liqueur.
"You think about these flavors in eggnog, fruitcake and all those great holiday sweets. In this cocktail, there's a bit of fruitiness from the Aperol, but the acid and bitter notes tie everything together to create a drink that is more refreshing than warming."
Broken Halo
(serves 1)
1½ ounces vodka
½ ounce Geijer Glögg liqueur
½ ounce Aperol
1 ounce lemon juice
1 dash Angostura Bitters
1 ounce simple syrup
sage leaf
Put all the ingredients in a mixing glass with ice. Shake well, and double strain into a martini glass. Garnish with the sage leaf.