This article was published in the March/April 2016 issue of Sonoma Magazine.
Mike Thompson was talking gun safety legislation as he slipped two yellow shells into a 20-gauge Browning shotgun, snapped the breech closed and yelled, "Pull."
Two orange sporting clays sailed in a low arc above a muddy field, dark clouds hanging over San Pablo Bay in the distance. Thompson aimed and fired twice.
The first flying target shattered, raining debris on the ground below. A second disc suffered the same fate.
The white-haired congressman stared for a moment with a satisfied look before turning to reload.
"I'm just trying to stop the bad guys from getting guns," Thompson said after a day of shooting, which included an early morning duck hunt at the Yolo Bypass Wildlife Area.
But the St. Helena Democrat, lifelong hunter, Vietnam War veteran and chairman of the House Gun Violence Prevention Task Force, has yet to hit his most important mark.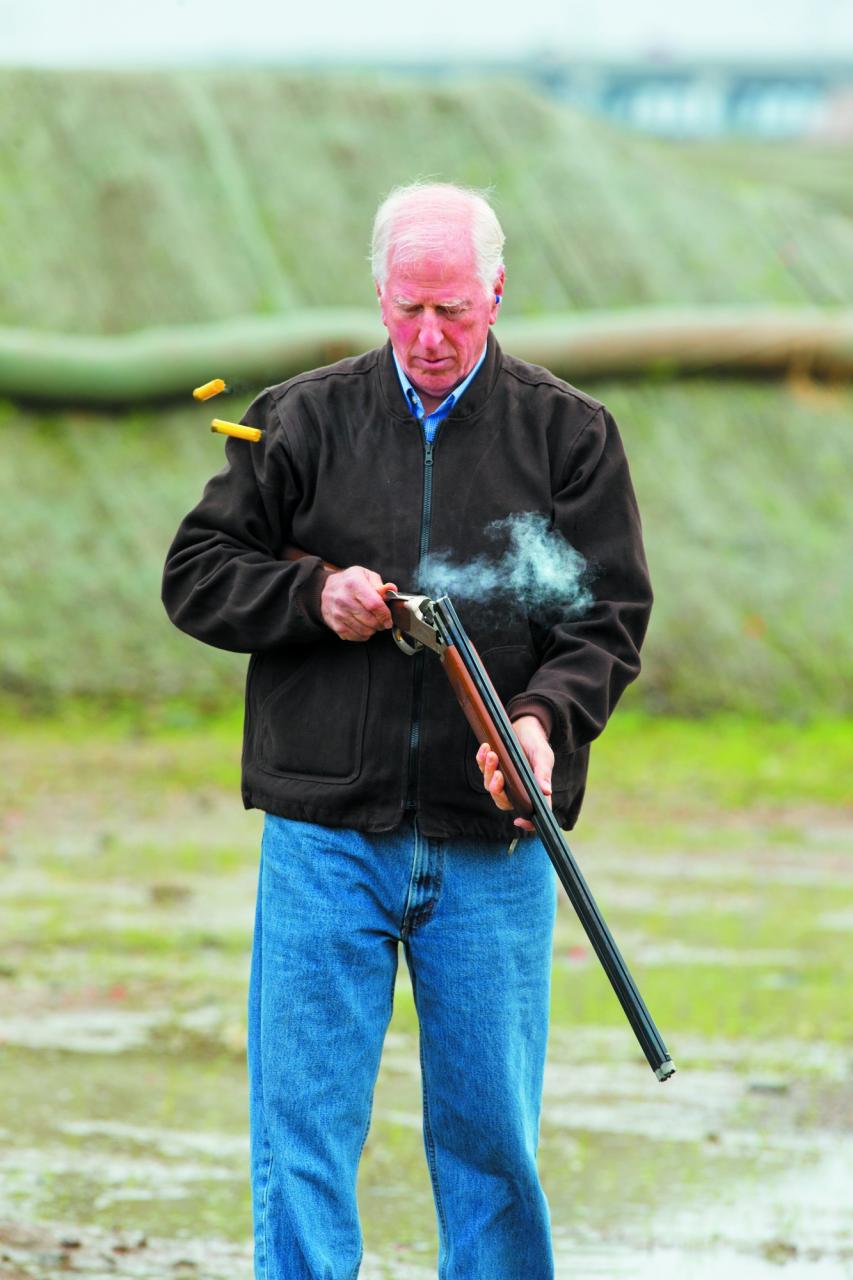 The party's point man on gun control has been unable to bring a bipartisan background checks bill up for a vote despite continued mass shootings that have taken innocent lives from Newtown, Conn., to San Bernardino.
Congressional Republicans, backed by the National Rifle Association and other gun-rights groups, are blocking legislative efforts that Democrats and their allies say are needed to stem an estimated 30,000 gun deaths a year in the United States.
Recent polls found a majority of Americans support such measures, including mental health screening for gun purchasers and creation of a federal database to track gun sales.
"Over 30 people are killed every day by someone using a gun," Thompson said. "Young lives, old lives, mothers, brothers and sisters are killed. Lives just snuffed out. There is mass shooting after mass shooting and nothing gets done. And the American people want something done."
The deadlock on Capitol Hill has proved one of the greatest frustrations of Thompson's 17-year run in Congress and comes on what is arguably the biggest stage of his political career. No other issue has given him such national prominence, with news outlets seeking him out for interviews about gun control and town hall appearances by his task force in communities across the country.
Only a handful of Democrats, including President Barack Obama, have cut a higher profile on the issue.
The work has put him on the emotional front lines of the political standoff, giving him access to gun-violence victims or their families while also leaving him open to criticism from constituents, including gun rights activists who accuse him of trying to take away their guns.
In the months after the Sandy Hook Elementary School shooting, he met with some of the parents whose children were killed. One father described how the 20-year-old gunman placed the muzzle of an AR-15-style rifle to his son's head and pulled the trigger.
"It shook me to my bones," said Thompson, the father of two, grandfather of three. "It's not comprehensible that someone could be that vicious and deranged to do something like that to a child."
Thompson was also at the White House in January as a stymied President Obama announced a slate of executive actions on gun control meant to bypass Congress. In his speech, Obama recalled through tears the hundreds of victims of gun violence during his administration.
"There was no one in the room who didn't tear up, myself included," said Thompson. "You can't sit or stand, dry-eyed, when people talk about that terrible tragedy."
Gun rights advocates dismiss the campaign to create new gun-control laws as misguided attempts by the government to stop violence they say is rooted in other causes. They worry that a bolstered system of background checks is part of a liberal agenda to strip Americans of their right to bear arms and suggest Thompson is being used for that goal. The stance is more formidable given the political stakes involved in an election year.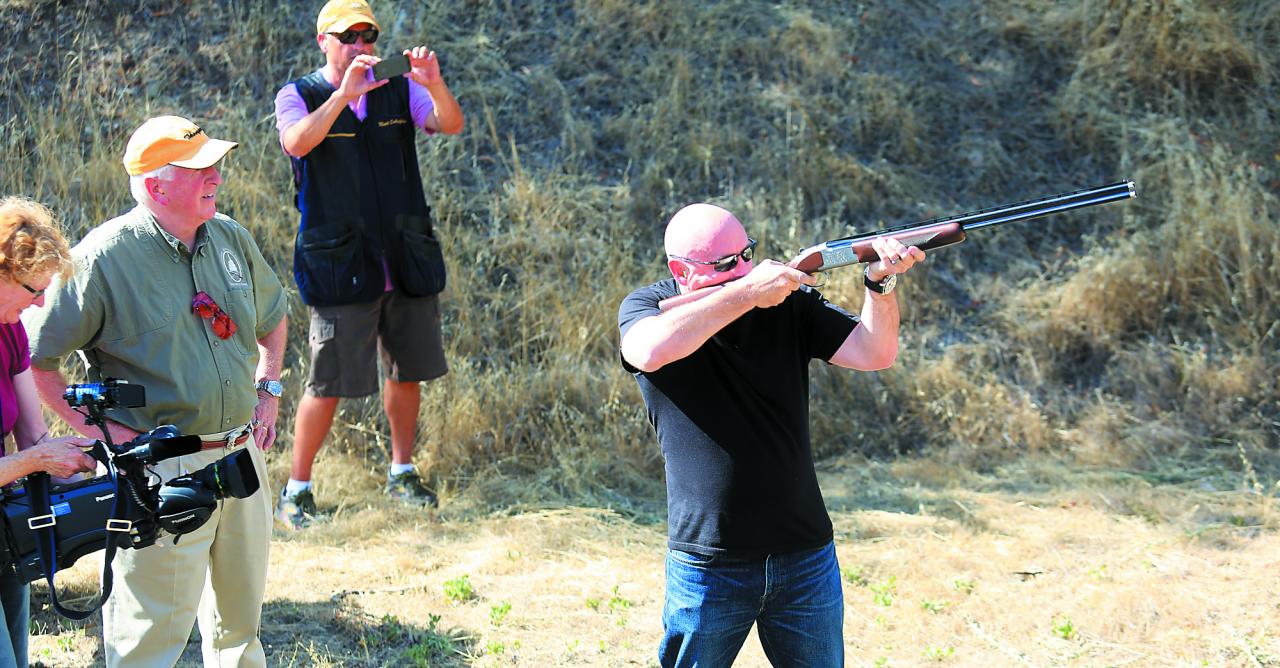 Republicans control both the Senate and House of Representatives and appear unwilling to move on any gun-control measures amid a contest to determine who occupies the White House. Most Republican candidates for president have incorporated pro gun-rights messages into their stump speeches and those in Congress who might be open to gun control are reluctant to speak up for fear of angering voters, political watchers say.
Many gun owners are demanding they hold the line and are buying up more firearms than ever in anticipation of what they believe will be a federal crackdown.
Clarence "Herb" Williams of Petaluma, a board member of the California Rifle and Pistol Association, a state affiliate of the NRA, said Thompson has "always been a good, pro-hunting guy," but accused him of jumping on a bandwagon and backing bad legislation.
Like many critics, Williams fears Thompson's proposals will lead to a national catalog of gun owners. He called California's 1991 background check law — among the strongest of its kind across the nation — "too intrusive," saying it doesn't stop shootings with firearms purchased legally.
"It didn't do a damn bit of good in San Bernardino," said Williams. "The government doesn't need to know who owns what gun. It's just not their job."
The NRA, which spent more than $30 million on candidates and independent expenditures in the 2014 election cycle, has enlisted the help mostly of Republicans to keep the status quo. Following the Sandy Hook shooting, a background checks bill was defeated in the Senate. And Thompson's own bill, introduced in 2013 and co-authored by Rep. Pete King, R-New York, has yet to be called up by House leadership.
Lawmakers say privately they like the legislation but don't want to risk becoming a target for the NRA.
"People have to lobby … I get that," Thompson said. "But as members of Congress we need to rise above that and do what's best for the American people. I'm most angry at the leaders in Congress who refuse to so something that will saves lives and make communities safer for all."
Thompson's work on gun violence prevention has earned him a D grade from the NRA for his record on gun rights. But the association has stopped short of spending money on his opponents, likely a recognition of his lock on a majority of voters in his 5th District, which takes in much of Sonoma County, all of Napa County and parts of Contra Costa, Lake and Solano counties. The death penalty opponent and abortion rights supporter has emerged as a top Democratic fundraiser, winning re-election eight times.
While Thompson's NRA grade has improved from the F- he got years ago as a state senator and is much higher than marks given to other California Democrats, it irks the lifelong gun owner, who calls the NRA disingenuous. He said he voted with the gun rights group 85 percent of the time while in the statehouse but still could not earn a passing grade.
"I have been pro-gun but not 100 percent of the time," Thompson said. "That wasn't good enough for the NRA."
On the other side, Thompson has earned warm praise from gun control groups.
Amanda Wilcox, legislation and policy chairwoman for the California chapter of the Brady Campaign, said Thompson was a good pick to lead the House gun violence task force because he appeals to both sides as a firearms owner and military veteran.
She said 93 percent of Americans are in favor of universal background checks, including NRA members and others who share Thompson's interests.
"It's so easy to politicize this," said Wilcox, whose 19-year-old daughter Laura was killed in a Nevada County mass shooting in 2001. "There are a lot of gun owners who support background checks. He's an example of that. It helps to show there's a broader consensus on this issue than our politics let us realize."
Many of Thompson's friends and fellow hunters agree, although the congressman said he is no longer invited to annual events at the Safari Club International, a large hunting group — a snub that reflects that range of opinion on gun control among sportsmen.
Jimmy Smith, a former Humboldt County supervisor and commercial fisherman, has shared a duck blind with the congressman. He said Thompson is respected among sportsmen as a gun-rights supporter with moderate views on gun control. "Having hunted beside him for a number of years, (I know) he knows a lot about firearms. I think he's trying to do the right thing."
One of his two sons, Jon Thompson, a 39-year-old Napa County sheriff's deputy, said he also believes in what his father is doing. He dismissed criticism that his proposals risk a "slippery slope" leading to erosion of Second Amendment rights.
"He's not out to get people's guns," he said. "He's just trying to do something that maybe saves a life."
Thompson, 65, grew up in the outdoor paradise that was Napa Valley in the 1950s and '60s. Hunting and time spent afield were traditions passed down from his father, Charles Thompson, a local home builder.
"I was attracted to guns from Day One," Thompson said.
As a youngster, he would gaze at his dad's rifle rack in the office of their St. Helena home until one day his father snatched one off and said, "Come on."
They jumped in a pickup and drove to his grandfather's St. Helena ranch, where the elder Thompson handed his son the heavy bolt-action deer gun and directed him to shoot a fence post. Thompson was 5 years old.
"I could barely hold it up," he said.
He was hooked after the first shot. Before long he was taking hunter safety classes and lobbying his parents for his own gun, a small shotgun, which he got at age 12.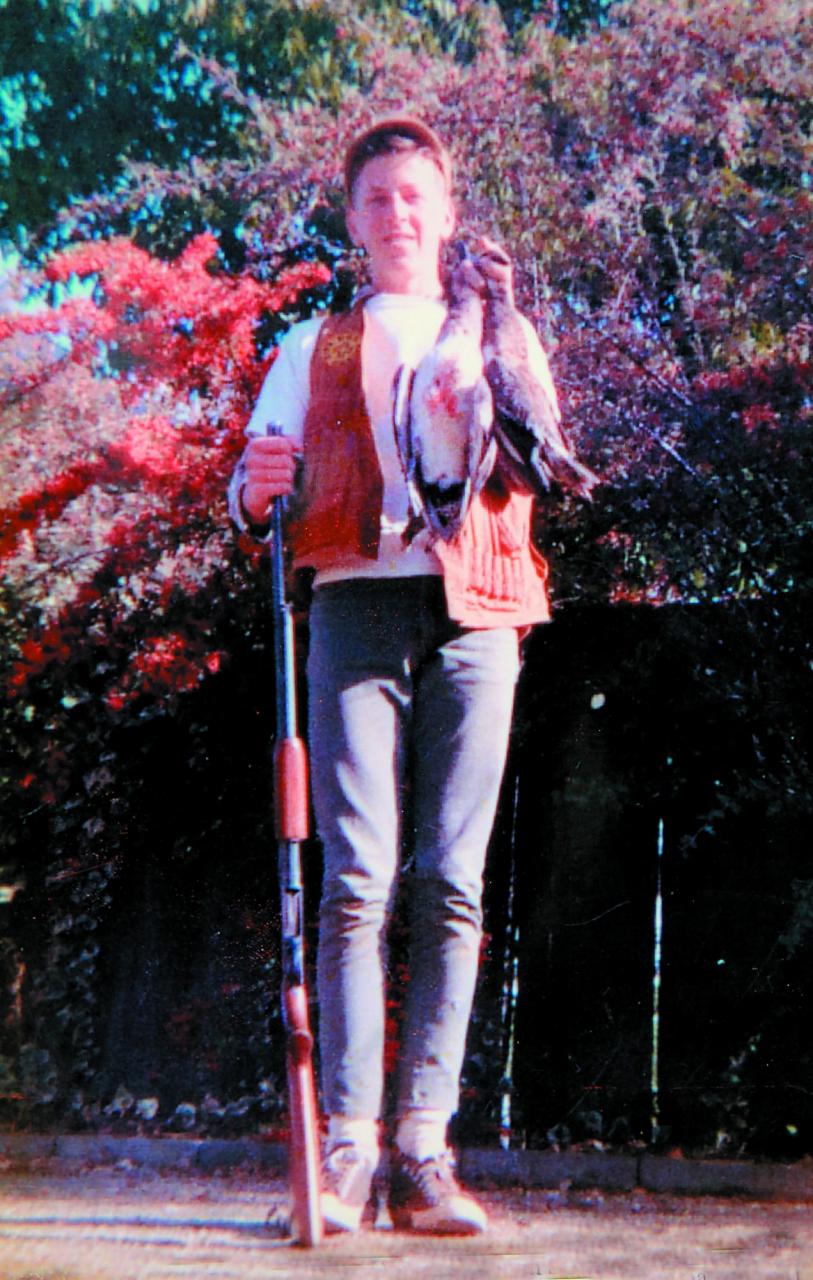 It was a different time. Thompson recalled sliding the gun into a leather scabbard mounted to his bicycle and riding around town and down to the Napa River in search of game.
During duck season, he carried the gun everywhere, walking with it along Highway 29 and into Giugni's grocery store.
"I propped it in the corner of the store while I used their pay phone to call home," Thompson said.
At St. Helena High School, Thompson was losing interest in his studies as the Vietnam War was heating up. He dropped out in the late 1960s and joined the Army.
"I was young and stupid," he said. "I thought I knew more than the teachers and adults in my life. It didn't take long to figure out I was wrong."
By 1970, the future congressman, then 19, was fighting in Vietnam, walking point with the 173rd Airborne Brigade in the Central Highlands. More than 1,500 soldiers in the unit were killed over a six-year period and another 6,000 were wounded. Altogether, the Vietnam War claimed 58,000 American lives.
Thompson grew to hate the war but developed an affection for the southeast Asian country. He's since returned multiple times. Decades later, he was part of a U.S. delegation attending a ceremony at the presidential palace in Hanoi.
"You try and forget the bad stuff," Thompson said. "I remember Vietnam as beautiful country and terrible war."
His combat tour ended after about six months. On a long-range patrol, a Vietnamese scout walking in front of him stepped on a booby trap, setting off an explosive device. The scout was killed and Thompson was struck by bone-shattering shrapnel in his chest and legs. A chunk of flying metal also pierced his nose.
"It's a pretty big target on me," he joked.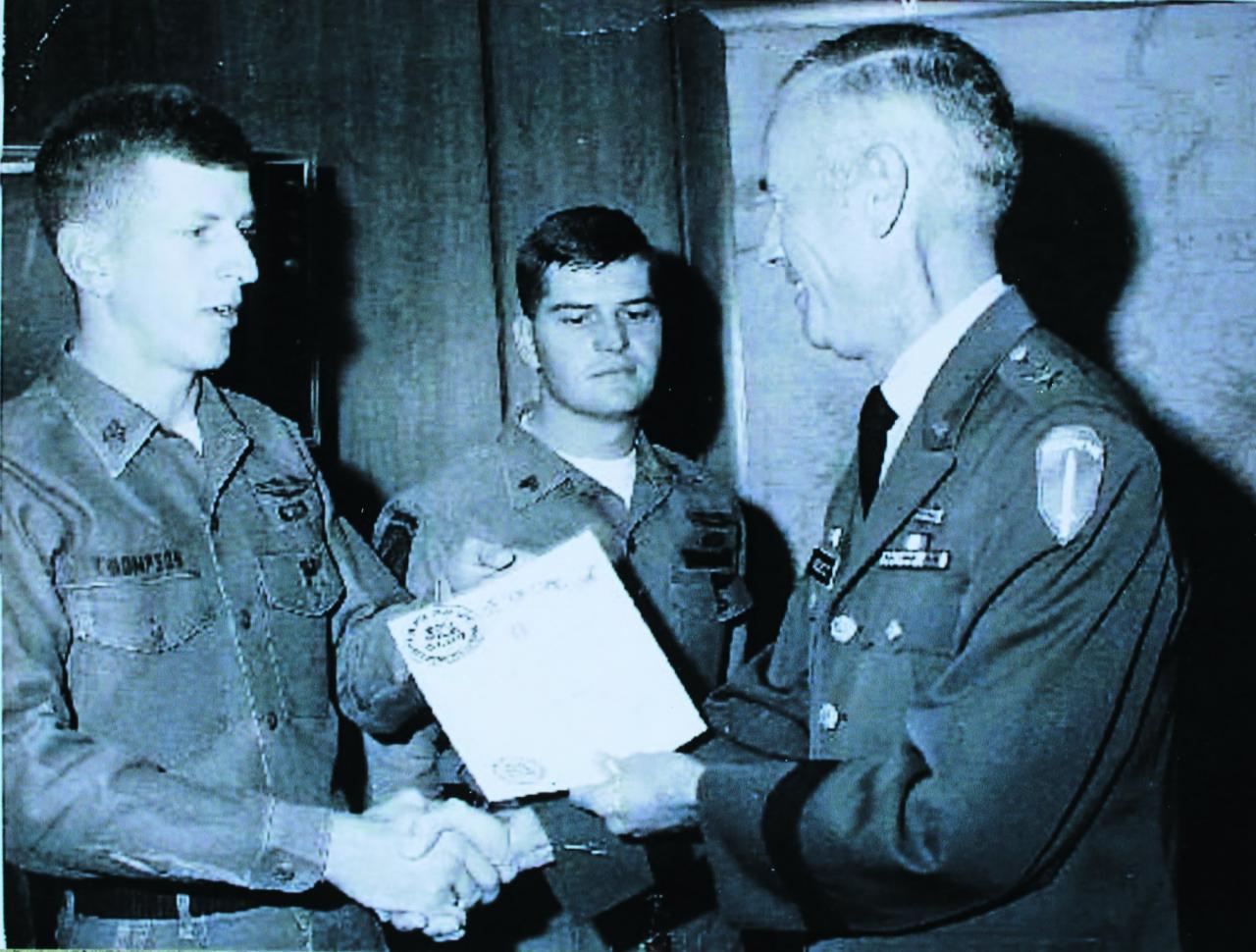 He was airlifted out and hospitalized in Saigon and Japan before being shipped back to San Francisco for more treatment.
After the long flight, his bus loaded with other wounded soldiers was surrounded by war protestors as it approached the military hospital. They grabbed the bus and rocked it from side to side.
Thompson, who couldn't walk at the time, recalled peeking out the window and thinking, "Oh my gosh. I've made it all the way back, only to be a casualty of a bus rollover," he told a Press Democrat columnist for a 2015 story.
When he recovered, the Army gave him the Purple Heart and his choice of duty assignments. Thompson wound up at Fort Benning, Ga., where he earned staff sergeant stripes and eventually became a paratrooper instructor.
"I got there with five jumps under my belt and left with more than 100," he said.
Thompson left the military in 1972 and returned home to work in the burgeoning wine industry. Napa Valley would gain international acclaim in the Judgment of Paris wine tasting of 1976, when a Napa red and Napa white beat out French varietals in a blind competition. It set the stage for a three-decade boom in the local industry, and Thompson himself would do much to support that growth as a wine industry champion on Capitol Hill.
He started out in vineyard maintenance, becoming a supervisor for Beringer Vineyards. Today he owns a 20-acre vineyard in Kelseyville in Lake County.
But he was determined to carve out a career elsewhere. After taking classes at Napa College and graduating from Chico State University with bachelor's and master's degrees, Thompson accepted a state Assembly fellowship and developed a taste for politics.
He was chief of staff for the powerful Daly City Democrat, Assemblyman Lou Papan, and went to work for his successor, Jackie Speier, who later was elected to Congress. In 1990, Thompson ran for a seat in the state Senate and won. Eight years later, a few months before the mass shooting at Columbine High School in Littleton, Colo., he was elected to the U.S. House of Representatives.
Thompson grieved with the nation over the senseless killing of 12 teenagers, a searing tragedy in the list of recent U.S. mass shootings.
"It was a terrible time," he said.
Early in his tenure, with the country reeling from the Sept. 11 terrorist attacks, Thompson focused on war. He opposed President George Bush's plan to invade Iraq and became one of three congressmen in a group nicknamed the "Baghdad Boys" when he visited the country in 2002 to urge compliance with United Nations weapons inspectors. The trip rankled fellow Democrats seeking re-election and stalled Thompson's quick rise through party leadership. He said his own war experience compelled him to go.
"Before I was going to cast a vote to send someone's son or daughter into harm's way, I wanted all the information I could get," he said. "I wasn't getting it so I went to see for myself."
At the same time, Thompson, considered a centrist "Blue Dog" Democrat, is known as a champion of business, especially the region's famed wine industry. He co-founded the Congressional Wine Caucus in 1999 and has written bills blocking increases in excises taxes on wine. In addition, he sits on the House Permanent Select Committee on Intelligence and the House Ways and Means Committee, which controls spending on entitlements such as Social Security and Medicare.
He has written legislation to help returning soldiers as co-chairman of the Congressional Veterans Caucus and intervened to help clear Veterans Administration benefits backlogs. Obama considered appointing Thompson as his first Interior secretary because of his environmental record but ultimately settled on then-Sen. Ken Salazar of Colorado.
In his time in office, Thompson has established himself as a prodigious Democratic Party fundraiser, a role that has elevated his profile among party members on Capitol Hill.
Being a rainmaker affords Thompson a greater level of influence while bringing attention to issues that are dear to his constituents and resonate across the country.
"He raises a hell of a lot of money and he sprinkles it around," said Sonoma State University political science professor David McCuan.
"He's definitely the dean of Northern California government."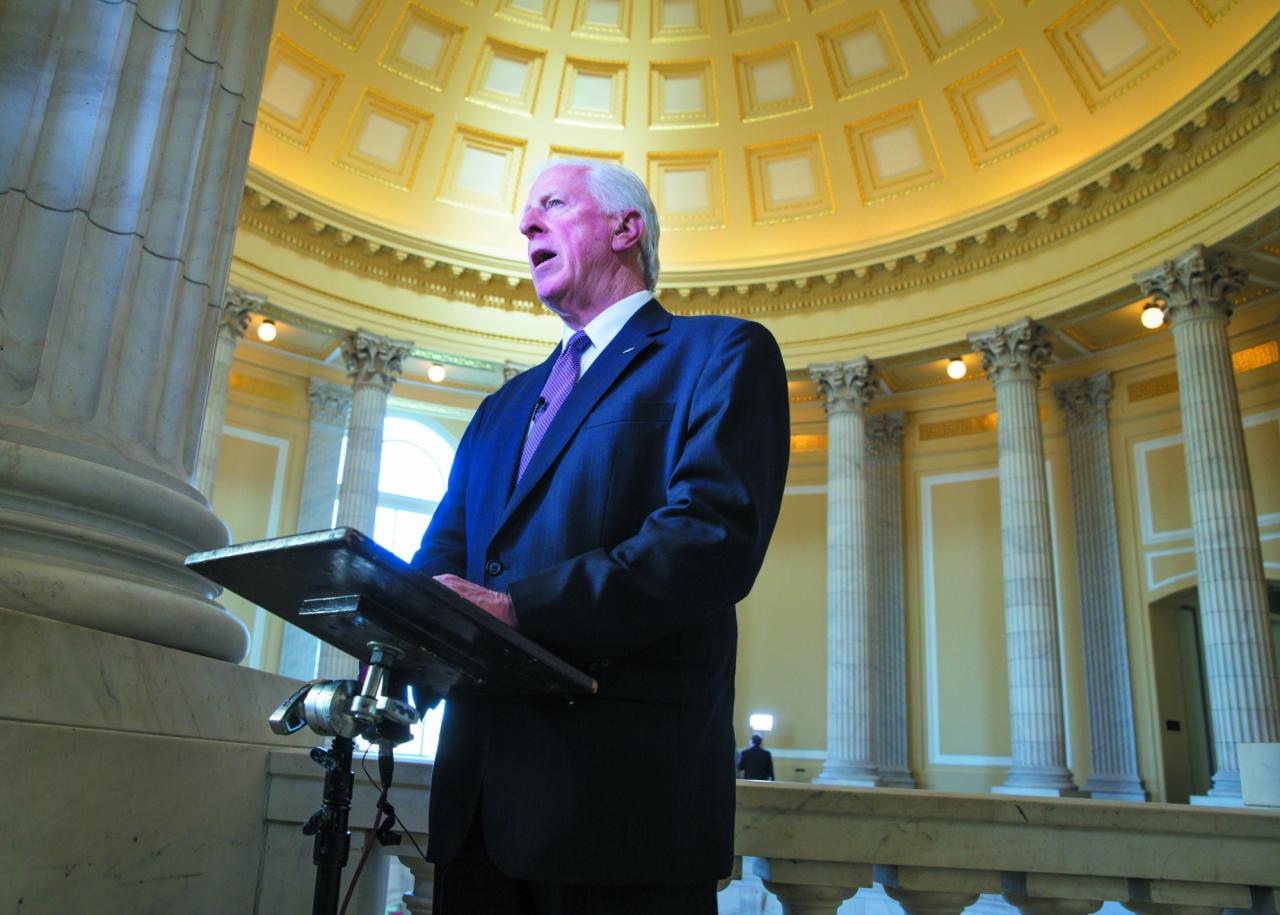 But even Thompson's relatively good standing among Republicans has not helped persuade House Speaker Paul Ryan to move his legislation and the Democrats' larger gun-control package to a vote.
Thompson's bill, HR 1565, requires "comprehensive and enforceable" background checks on all commercial gun sales, including at gun shows, over the Internet and through classified ads. It is the companion bill to legislation authored by Sen. Joe Manchin, D-West Virginia, which was narrowly defeated in a Republican-led filibuster five months after the Newtown shooting and has languished from lack of support ever since.
Thompson cites a Public Policy Polling survey that shows more than 90 percent of Americans want background checks.
"Eighty-three percent of gun owners want them and more than 70 percent of NRA members want them," he said. "These numbers are compelling and overwhelming. And yet Congress won't act. I think it's embarrassing. I think it's cowardly and I think it's dereliction of duty."
When he's back home with his nurse practitioner wife, Janet, Thompson decompresses from the battles in Washington — unlike many members of Congress — not with golf clubs, but guns.
"I'm terrible at golf," Thompson said, laughing, as he shouldered his gun in January at Wing & Barrel Ranch outside Sonoma.
Thompson, a member of the Congressional Sportsmen's Foundation, brings fellow hunters to his district to shoot game or clay pigeons. He makes wooden duck decoys as a hobby and has secured funding to preserve marshlands for hunting.
On a wet weekend in January, he hunted ducks with Sacramento developer and Democratic donor Angelo Tsakopoulos in Yolo County. Thompson, who bagged his limit, rubbed elbows with Washington Nationals manager Dusty Baker on the same trip.
He frequently shoots with wine industry powers such as Michael Mondavi and Richard Arrowood, local elected officials including former Sacramento County Sheriff Lou Blanas, and members of Congress from both parties.
Thompson was duck hunting with a friend on Dec. 14, 2012, when his Blackberry chirped with news of the massacre at Sandy Hook Elementary School. A man later identified as Adam Lanza, 20, killed his mother, then stormed the Connecticut campus with a cache of guns and shot to death 20 children and six adult staff members. He committed suicide at the scene.
"I pulled out my phone and read about this tragic situation," Thompson recalled. "I told the guy I was with, 'You're not going to believe this.'" As gun control advocates and Second Amendment rights supporters argued over what should be done, Thompson picked up the phone and dialed his fellow Californian, House Minority Leader Nancy Pelosi, offering to help.
Pelosi lamented her party's lack of knowledge of firearms, saying "People don't know what they are talking about," Thompson said.
The lifelong gun owner saw his opening.
"I said, 'I know what I'm talking about,'" he said. "'And I'd be happy to take this on.'" The next day, Pelosi announced the formation of the House Gun Violence Prevention Task Force and named Thompson to lead it in the hopes that he might disarm critics with his gun-owner perspective.
"I've always thought gun laws should be influenced by people who know guns," said Thompson. "If we care about supporting our lifestyles, we need to speak up and take an active role."
He picked other hunters for the task force and co-authored the bipartisan bill to beef up background checks. He describes it as "pro-lawful gun owner, pro-Second Amendment and anti-criminal."
Congressman King, his Republican counterpart, said the need for the measure transcends partisan politics.
"I don't consider it a liberal or a conservative issue," King said. "For me, it's a matter of common sense."
Though there's been no movement despite continued mass shootings, King said it was important to keep trying. Thompson could be instrumental in reaching agreement, he said.
"I find Mike an easy guy to work with," King said. "He's a smart guy. And he's well-received by Republicans."
It was in the aftermath of another horrible shooting five years ago that Thompson forged a tight relationship with Mark Kelly, the husband of then-Arizona Congresswoman Gabby Giffords. Giffords suffered severe brain injury in a 2011 assassination attempt in Tucson that killed six people.
Kelly, a retired astronaut and fellow gun owner, traveled the country advocating passage of Thompson's background checks bill. The two met up at a Napa shooting range three summers ago to highlight their role as gun owners in the push for additional measures.
Kelly, in a recent interview, called Thompson a pragmatic moderate with an approach to gun control that "his constituents can understand and support."
"He's relentless," said Kelly, whose wife was forced to step down from office to focus on her recovery. "He's not going to give up. He knows this is the right thing to do for the American people."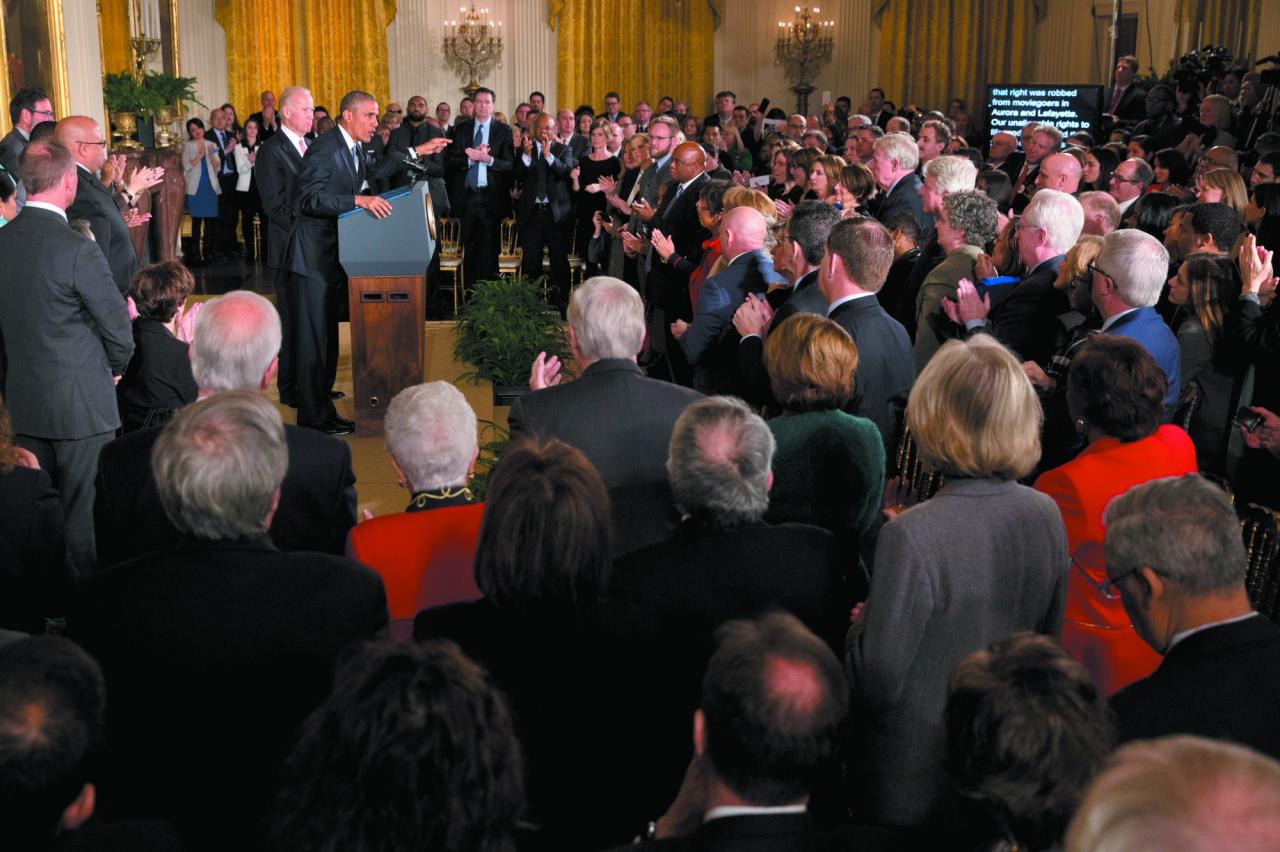 In January, Obama turned to Thompson before announcing a slate of executive actions on gun control that bypass Congress. He and others met with the president in the White House for more than two hours before Obama delivered the emotional speech in which he clamped down on unlicensed gun sellers who exploit an exception to avoid running background checks on their customers.
"It's all he can do," Thompson said. "If he were to do any more, he'd be subjected to challenges. They were rightfully very careful that they didn't get outside the lane."
Thompson, meanwhile, continues to urge holdouts on Capitol Hill and across the country that it is time for additional action on gun control.
The feedback in town halls throughout America has been mixed, ranging from outrage at the "reckless distribution of firearms" in the country to fears that gun ownership is "in constant jeopardy of being criminalized," according to news accounts.
In his stentorian voice, Thompson assures crowds he has no interest in overturning the Second Amendment while advocating for "a sensible solution that saves lives."
But pressed about the deadlock in Congress, Thompson admits to a level of exasperation that rarely surfaces in public.
"I'm frustrated. I'm very, very frustrated," he said. "I'm emotional about it. (But) all that pales in comparison to my commitment and resolve to get something done.
"I'm still young," he said. "I'm not going anywhere. I want to make sure gun violence prevention is passed."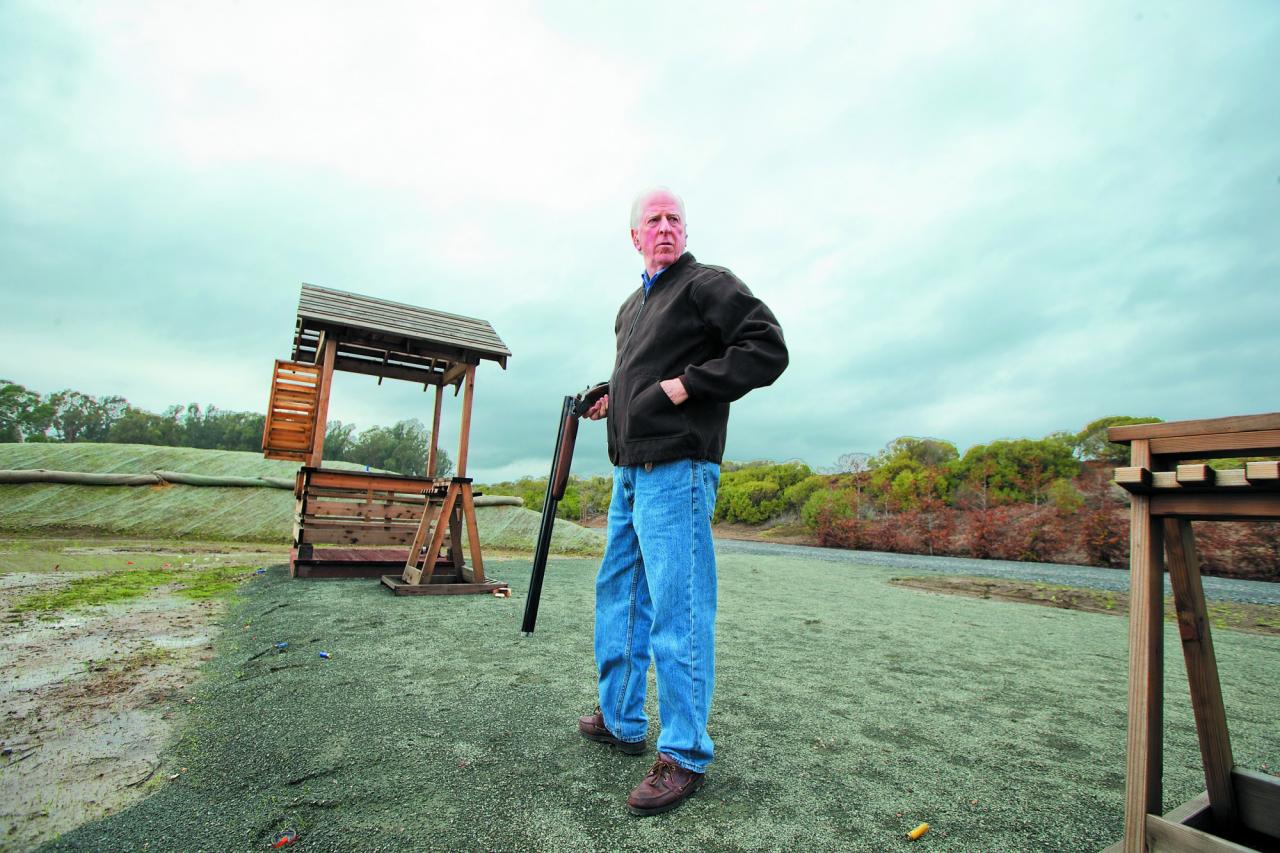 Subscribe to Our Newsletters!