Kasraa "Kaz" Khosrowmanesh credits his father's stellar cooking for spurring a lifelong passion for food, dining, and eventually, wine. Born in Los Angeles to a first-generation Mexican American mother and an Iranian father who worked as an executive chef, Khosrowmanesh says good food was something that piqued his interest early on— especially when his dad prepared Persian food or his grandmother's recipe for carnitas en lechuga.
"My dad's version of my grandma's carnitas is amazing," he says. "Those big chunks of braised pork—it is one of my favorite things ever." These days, however, Khosrowmanesh's appetite for flavor is focused on wine, which he brings to his role overseeing the drinks program at Valley Bar + Bottle in Sonoma, known for a wine list that celebrates low-intervention, sustainably produced wines.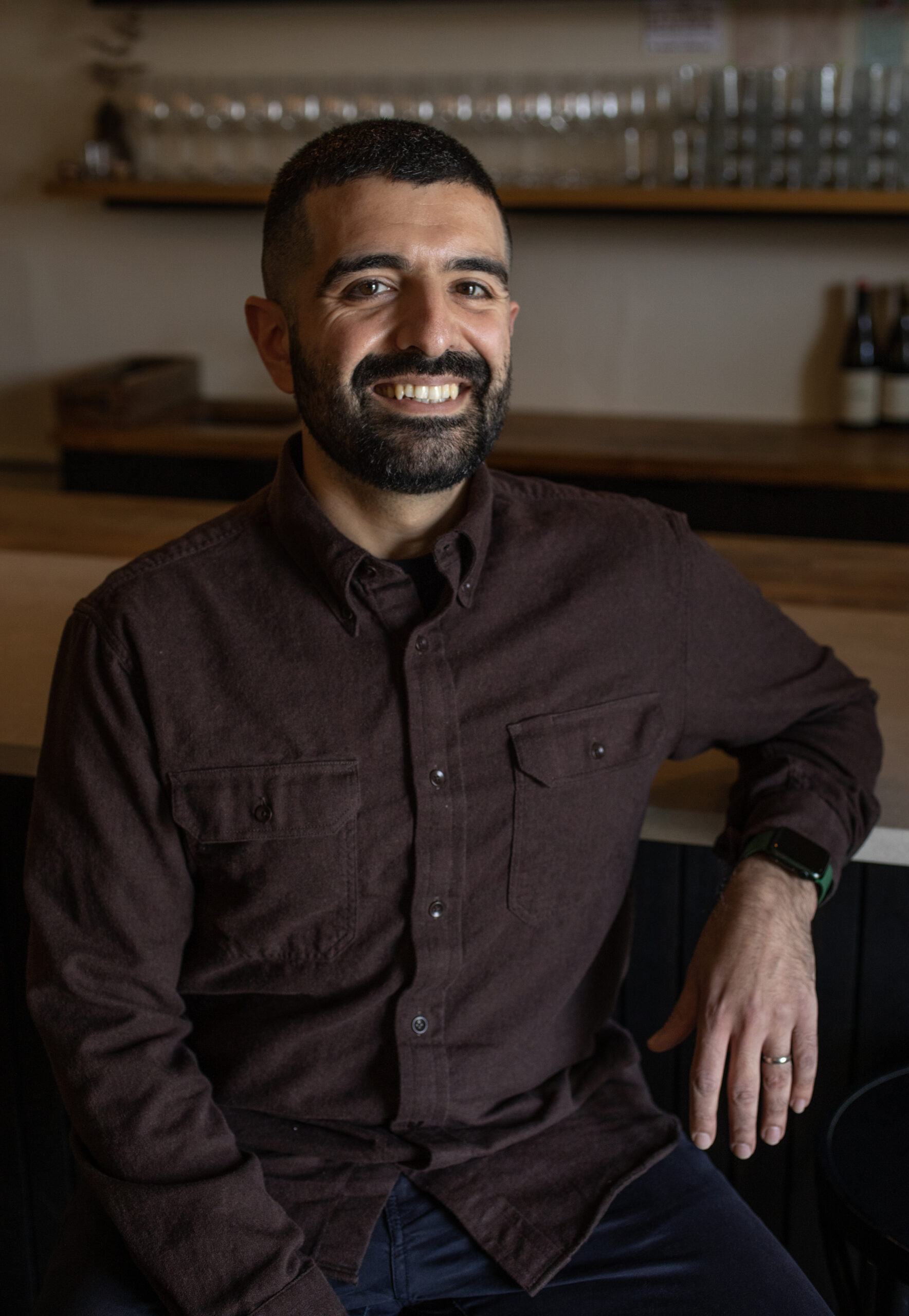 A certified sommelier, Khosrowmanesh developed a close friendship with Valley's owners when they worked together at Sonoma's Scribe Winery.
"I thought it was the best restaurant in Sonoma County before I began working there, and I still do," says Khosrowmanesh. "The owners have created a food menu that stays dynamic according to the season, but with a common thread that makes it feel cohesive. It's such a special little place."
Khosrowmanesh sources the restaurant's 75-bottle wine list and small retail selection. About onethird of the wines are produced domestically, while two-thirds are sourced from Europe or beyond.
"My job is to be cognizant of what people enjoy while also introducing them to new wines," says Khosrowmanesh.
A glass of wine, he believes, is like a time capsule of what happened in that particular vineyard— everything from the weather to the soil to the field-workers who tended and picked the fruit.
"It's easy to wax poetic about it, but there really is something magical about the way wine can transport you to a certain place and time. It's truly sunshine in a glass."
Three to try
Khosrowmanesh finds these wines particularly magical for early summer. His picks focus on family-owned Sonoma labels and are part of the wine list at Valley Bar + Bottle. 487 First St. W., Sonoma. 707-934-8403, valleybarandbottle.com
Ryme Cellars, 2021 Fiano, Rancho Coda, Russian River Valley
"Grown on a vineyard perched 1,000 feet above sea level. The position above the fog line results in a crisp, refreshing and food-friendly bottle.
White peach tea and honeysuckle with mineral, textured mouthfeel. A gorgeous example of this variety's potential within the county."
Lotis, 2021 Vermentino, Las Brisas Vineyard, Carneros
"This wine was all I wanted to drink last summer. Whole-cluster, coolclimate Vermentino from a site at the end of the Petaluma wind gap. Laserfocused acidity, key lime, and crushed seashells."
Darling Wines, 2021 Pinot Noir, Turnstone Vineyard, Sebastopol Hills, Sonoma Coast
"This is Thomas Darling's newest wine and possibly his best. Whole-cluster Pinot Noir grown 10 miles from the Pacific. Beautifully balanced with juicy, concentrated cherry fruit. Fragrantly spiced and ethereal."