Written by Meg McConahey for the Press Democrat.
Personal stylist Malia Anderson has one message for her clients: you're awesome just the way you are. And the more awesome you feel the more awesome you will look.
Anderson professionally dresses people. The owner of "Style by Malia," she helps people find their own personal styles. The 38-year-old image expert helps her clients look their best by "auditing" their closets for what to keep and what to toss and going shopping with them for outfits and accessories that will make them look like a billion bucks at work or play.
She works out of a studio near downtown Santa Rosa, a lively space with pink velvet chairs, a wall of polka dots and lots of Kate Spade accessories. Her high-powered clients include Fourth District Supervisor James Gore and his wife Elizabeth, a Dell executive in charge of entrepreneurial efforts in the U.S. and globally.
Anderson grew up in the rough Bayview-Hunter's Point neighborhood of San Francisco and earned a certificate in fashion consulting and merchandising from San Francisco City College.
She gives back by serving on the board of the North Bay Black Chamber of Commerce and Legal Aid of Sonoma County, which provides legal services to low-income families and children dealing with issues such as domestic violence and eviction.
She has also served on the board of Soroptimist International of Santa Rosa and The Youth Professionals Network and founded the North Bay Women's Professional Network.
A plus-sized woman who has learned to love her curves, she also makes herself available as a speaker, talking to women about achieving a positive body image and inspiring minority youth to follow their dreams.
Q: What is the most important quality of a good stylist?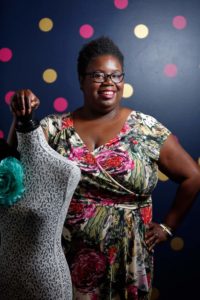 Listening to what my clients are saying about the challenges they have getting dressed and interpreting that back into real situations. For instance, I have clients who are nurses. Their everyday wardrobe is a uniform. When I go shopping with them I don't need to buy them work clothing. They live in a uniform all day. They're having trouble getting dressed outside the uniform. I make sure people get clothes that work for their lifestyle as a whole and not just bits and pieces.
Q: What job best prepared you most for being a stylist?
Working as a plus-size model. There were local shows in San Francisco and the East Bay I would hear about, and I would go and ask if they needed a plus-size model. They would often say they didn't have a place, but they said they would let me in after I told them I would create my own wardrobe for the show. That was an important part of making my love of fashion and style very solid.
Q: What's your oddest job and what did you learn from it?
I was a trucking company dispatcher for a number of years right out of high school. I learned how to read a map and back up an 18-wheeler. But because it was a small company and the owner was in the office every day, it really drove in the idea that I would like working for a small company or being an entrepreneur. I like clients knowing who I am and what I'm about. It also helped me in the most random way. When I plan my day, I plan it so I'm going in one direction and not going all over the place. It's one of those things you learn as a dispatcher.
Q: Who was your most significant mentor?
My grandma and my mom. My grandma was an entrepreneur. She still runs her own business, a day care center. She is an inspiration because she always made it work. She taught me about family. She taught me about a work ethic. She always made it look easy even though we knew she worked hard. She raised seven children of her own and six grandchildren.
Q: You were raised by your grandmother but say you also admire your mother?
My mom growing up was addicted to drugs. But she's been clean and sober for 14 years, and she is one of my best friends. She's a home health care worker. Even when she battled her addiction, she worked hard and strove to do everything she could for herself. She never asks for anything to be given to her, and she's instilled in me the belief that anything worth having is worth working for.
Q: What's the one most satisfying thing about your work?
When my clients get a promotion or get into a new relationship or their company grows, I feel good knowing I took something off their plate. They didn't have to worry about getting dressed, and they could concentrate on doing a good job. That inspires me to keep going.
Q: Your idea of the biggest wardrobe disaster?
Bad foundation. Bad bras. They need to be tossed after two years. Bad underwear. It's going to make your clothing look bad. Men wear underwear that bunches or they don't wear the right T-shirt to match their collar. Every one of my clients has to have their foundation garments audited.
Q: What's the Golden Rule of dressing right?
Style is personal. You want to feel amazing. If you feel amazing, you look amazing. Your body is not flawed. There's nothing wrong with our bodies. We just have to learn to dress them. When people start to accept themselves and accept their bodies the way they are, they thrive.
Q: What fashion disaster makes you cringe?
Pajama pants outside. I don't think pajama pants belong outside your home. Also, women who wear fitness wear all the time. You should be able to dress for everything that happens in your life. When you're only wearing fitness gear, you miss some part of your life. There are plenty of other comfortable clothes in the world.
Q: What do men do that makes you cringe?
Pleated pants. They're the worst. I hate them. They make you look puffy. I generally put most men in flat fronted pants.
Q: What's your favorite go-to outfit?
Wrap dresses. I wear a lot of them because they're really comfortable. And because it's a dress, I only have to put on one thing. I don't have to make an outfit. I also like they way they fit my body. They accentuate all the right parts I want to show and camouflage the parts I don't want to show without looking oversized or frumpy.
Q: What's the craziest thing in your closet?
My 10 sequined skirts. They are all very different. I attend a lot of events. They all serve a purpose. They're different lengths and different shapes. I wear a lot of sequins out to dinner with my husband or for a night out with the girls. When I get dressed up, I go for a lot more sparkle and shimmer than anything else.
Q: Give us a peek inside your purse?
A Kate Spade wallet, Kate Spade aviator sunglasses, a notebook, a planner, Jo Malone Mimosa & Cardamom Cologne, Altoids, backup phone charger, Splenda, a Tiffany's pen, 14 lipsticks and a week's worth of receipts.
Q: Did you ever hate how you look?
Most of my life. For most of my growing up years I thought I was too tall, too dark. I thought I was an ugly kid. I felt that way my entire life and then one day I went, "Wait a minute. Who told me this thing that I just let hang out in my personality?" I just stopped hating my body. There are things I can change, but to me, my biggest flaw all my life was being tall. That was something I couldn't change. I got over it and learned to embrace it and love it.
Q: What led you to finally love your body?
It happened about a year ago. I saw a picture of myself that I just love and realized that is how other people see me. So why do I stand in front of the mirror and tear that girl down?
Q: What do you tell other women struggling with body image problems?
There is no ideal body. Even the women you look at online or in magazines or on television don't actually look that way. And they all have their own personal body image issues. You can't compare your body to somebody else's.
Q: On your website you post pictures of yourself in your bikini. What's your secret to rocking a swimsuit?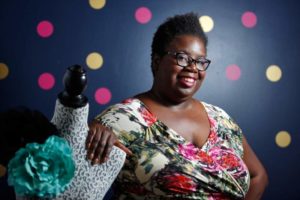 It's getting over the feeling that everybody is looking at me. Most people aren't paying attention to me at all. If I love the way I look and my husband loves the way I look and I feel comfortable, what does it matter? I love swimming and I love the water and I'm not going to not wear a swimsuit. That's how I have a good time on vacation. I could either hide in my room or put on my swimsuit and go out in the world and participate.
Q: What celebrity would you love to give a makeover?
All the Kardashians. There's a way to be sexy without showing everything. So many people look at those types of TV shows and think that's how people really live, and it's not. I speak to a lot of high school kids, and they (the Kardashians) set a bad example as to what you're supposed to go outside looking like.
Q: Where do you shop?
Everywhere. From Target to Neiman Marcus. I love shopping. The place I spend the most money? Sephora and Macy's.
Q: What's on your E-Reader?
"Sebring" by Kirstin Ashley, "Enshrine" by Chelle Bliss, "Friction" by Sawyer Bennett and Lauren Blakeley's "Sweet Sinful Nights." She's a Marin County author.
Q: What music is on your iPhone?
Everything from country music to old R&B to funk. I listen to a lot of everything. My favorite song is Dolly Parton and Kenny Rogers "Islands in the Stream." Kenny was my first celebrity crush. This weekend I was listening to a lot of Barry White. I love the music my mom and grandma love. Growing up, the house was always filled with music. It's how I calm my mind and relax.
Q: What's your best advice for other women seeking a career in business?
I try to show all women that you can run a company doing something most would find a hobby or leisure activity. If you really focus in on what your dream is and what you want the outcome to be, you can achieve it. I try and make sure people see that I come from a place where dreams are not always easy to see, but if you hold on to them and just try, anything is possible.
You can reach Staff Writer Meg McConahey at meg.mcconahey@pressdemocrat.com or 521-5204. On Twitter @megmcconahey.