During harvest, the most prized possession in Emily Ernst's Geyserville garage isn't a motorcycle or vintage car, but a 30-gallon plastic bin of fermenting Zinfandel.
Every year since 2013, Ernst and her husband Greg have picked grapes from the 250 vines in front of their home, de-stemmed and crushed them in rented equipment in their garage, and then poured them into plastic bins to start fermenting, the first step in becoming wine.
Ultimately, the juice ends up in American oak barrels, where it remains for at least a year. And when the couple finally gets the wine into the bottle, they label it Ernst & Ernst—E&E for short. "It's a passion we take seriously," says Emily, who adds that the duo has won several Sonoma County Harvest Fair Wine Competition medals. "There's something special about making your wine in a garage."
The Ernsts aren't the only ones embracing hobby winemaking these days. With so many people moving here to indulge in a love of wine, it's not surprising that a growing group of locals carry on the time-honored tradition of the garagiste. These folks have fermentations bubbling away, and maybe even a barrel or two tucked away to age in the corner of a garage or shed.
With plenty of access to high-quality grapes and with professional winemakers and growers nearby to offer creative input, Sonoma has become a hotbed of the home winemaking movement. Garagistes in other parts of the country obsess no less about their wines but must to make do with lower-quality grapes that are picked and then shipped overnight — not an inspiring kickoff.
"Garage winemakers might be part of the commercial wine industry, or they might have jobs that are entirely separate, but they all share a love of wine and winemaking that they simply can't shake," says 86-year-old Healdsburg resident Bob Bennett, considered the grandfather of the local home winemaking movement. "Once you get a taste of what it's like to make your own, you get hooked."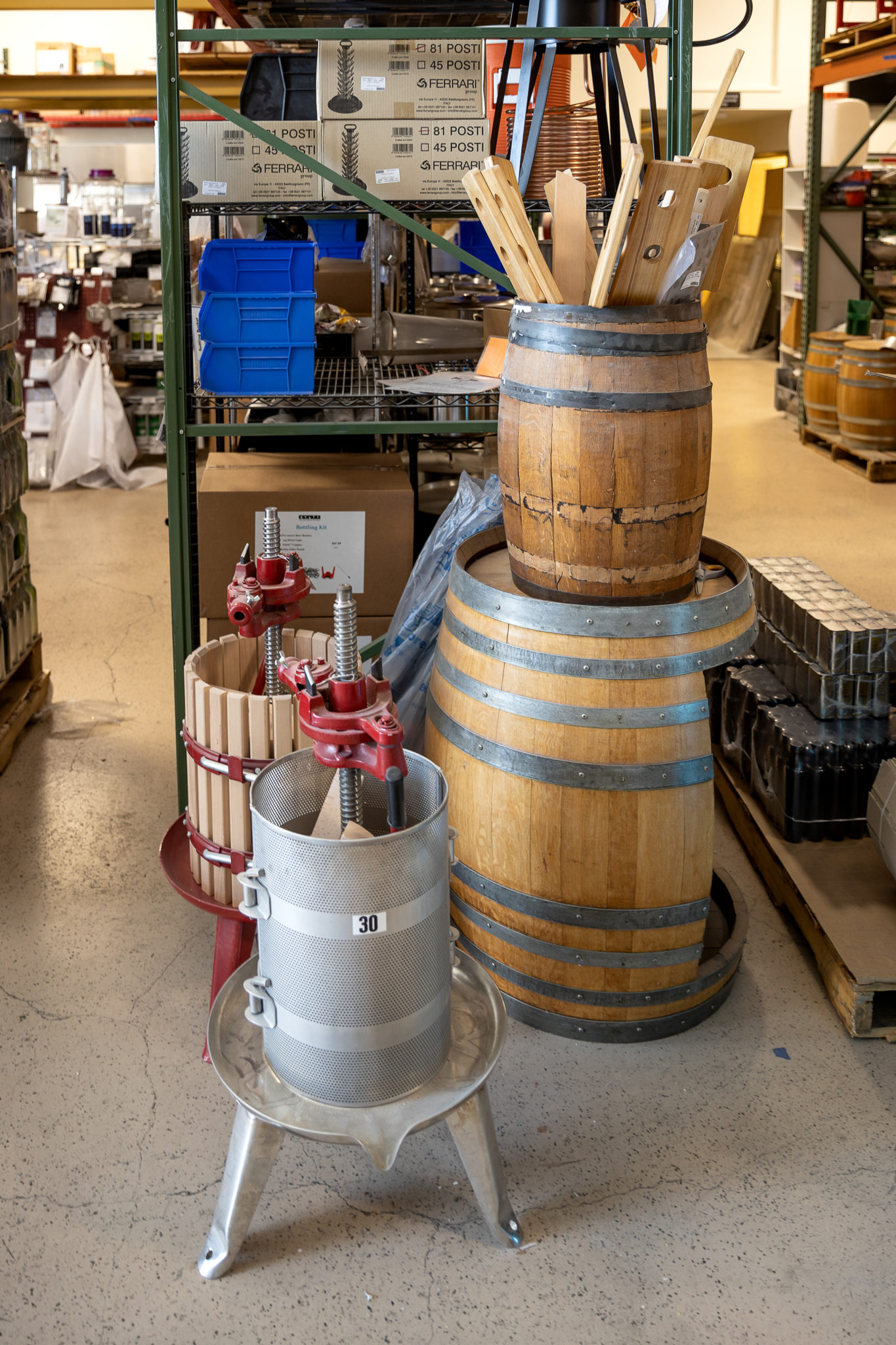 Getting started
If anybody knows about garage wines, it's Bennett. He's the founder of Garage Enologists of the North County, or GENCO (the name is a subtle nod to the movie "The Godfather"), which is one of two popular garage winemaking clubs in Sonoma County. The other group, Sonoma Home Winemakers, is based in the town of Sonoma. "It's developed into a real community," says Bennett.
He started his group in 1994 with a classified ad in the Press Democrat, and the group now has nearly 100 members. They get together monthly, lately over Zoom, to share best practices and listen
to speakers, often well-known winemakers. Until recently, meetings included plenty of tastings, and members encourage each other to submit wines for judging at the Sonoma County Harvest Fair, which rewards home winemakers in a variety of categories.
According to Bennett, the biggest difference between garage winemaking and making wine at a commercial winery facility is scale. Garage winemakers usually are working with a few tons and no more than a couple of barrels. Another difference: Because they're not bonded, amateur winemakers aren't legally allowed to sell their wine. Each household can make up to 200 gallons per year; the wine must be given away as gifts.
Because home winemakers are working with such small quantities, they usually buy grapes from friends or local growers looking to offload surplus. One great spot to find grapes of all varieties: an online marketplace run by the Sonoma County Winegrowers. Procuring equipment is important, too. Some garage winemakers own their equipment or share with friends through winemaking clubs or word of mouth. Others turn to The Beverage People, a Santa Rosa company that sells winemaking equipment and supplies, including small-scale crushers, de-stemmers, and presses along with fermentation bins, barrels, bottlers, and more.
Gabe Jackson, president and CFO of The Beverage People, says most customers come in with some basic ideas about winemaking and are exited to experiment and learn by trial and error. The shop also offers garage winemakers the opportunity to submit their wines to a wine lab for information about sugars and acid balance.
"You'd be amazed at the kinds of questions we receive and the conversations we get into," says Jackson. "People take this stuff very seriously, and it's great to be able to get them the things they need.'
Making it happen
The winemaking process begins in earnest with harvest. Most garage winemakers like to pick their own fruit to establish a connection with the land, often making harvest and crush into a social event with family and neighbors.
Quinn Donovan, a member of GENCO who recently completed the viticulture program at Santa Rosa Junior College, planned an entire Saturday last fall around harvesting Tempranillo with friends. They got up early to pick at a vineyard outside Windsor and brought the fruit back to Donovan's garage. After lunch, they de-stemmed the fruit, crushed it, and transferred it into bins to ferment.
"It's hard work, but I look forward to the process of picking and crushing all year long," says Donovan, whose day job is in rural development with the U.S. Department of Agriculture. "If I sold the wine for money, it wouldn't be fun."
After anywhere from 10-21 days, most of the wine is ready to be transferred into storage vessels. Some winemakers age their juice in oak barrels, just like they do in the big leagues. Others, such as Donovan and his friend, invest in giant glass jars dubbed carboys. Then comes perhaps the hardest part of garage winemaking — standing by and waiting while the wine matures. For white wines, this can six months or longer. For reds, it can be years.
Gary Alvey, a retired firefighter in Healdsburg, is a home winemaker and says one of his favorite moments in the process is taking that first taste and to see how a vintage is shaping up. Over the last 15 years, Alvey and his winemaking partner Mike Sinclair have experienced serious success, taking home two double gold honors for their Sauvignon Blanc. But that recognition pales alongside the fact that his friends think the wine is delicious.
"There's nothing like seeing the look on a friend's face when they pop open your wine, swirl it around, and say, 'Man, that's good!'" he says, noting that he served the award-winning Sauvignon Blanc at his daughters' weddings in 2015 and 2017. "At the end of the day, that's really what this entire hobby is all about."
Feeling inspired?
Budding hobby winemakers in Sonoma County have plenty of resources. A good first step is to reach out to a local home winemaking club for ideas and mentorship. Fall is the perfect time to get started, as most grapes are picked in September and October and are used fresh.
Home winemaker clubs:
Garage Enologists of North County (GENCO), gencowinemakers.com
Sonoma Home Winemakers, sonomahomewine.org
Equipment:
The Beverage People, 1845 Piner Road, Santa Rosa, 707-544-2520, thebeveragepeople.com
Education:
Santa Rosa Junior College Wine Studies program, ag.santarosa.edu/wine-studies
Grape marketplace:
Sonoma County Winegrowers, sonomawinegrape.org