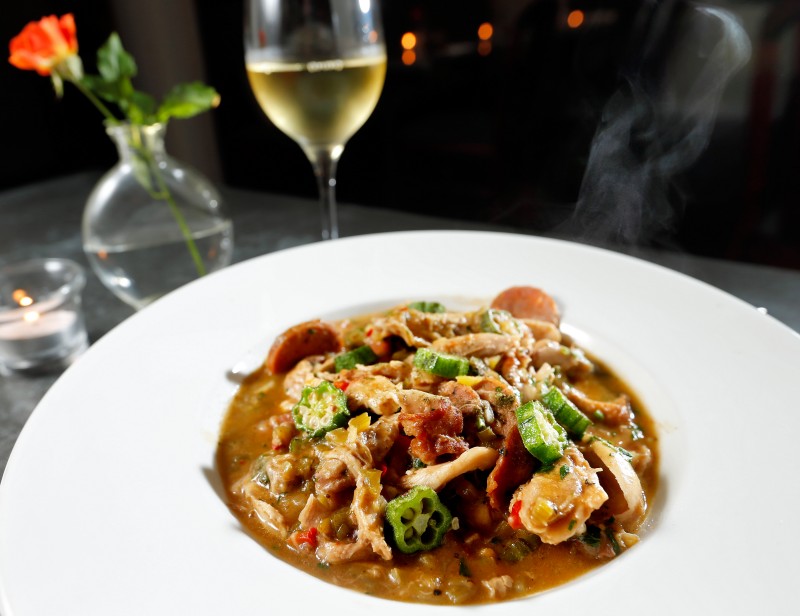 It's a rare restaurant that lifts your spirits as soon as you approach the front door. But such is the case with Calistoga Kitchen, set in a white clapboard cottage behind a cozy slate patio that feels like someone's personal garden. It just feels special.
The Kitchen has been here since mid-2010, yet it's mostly a local's secret, making it all the more intriguing since it's hidden in plain sight on the southeast corner of Lincoln Avenue and Cedar Street. You've probably walked right by the ivy draped white picket fence, too close to look up and see the tall red and white diner-style sign reading "Great Food."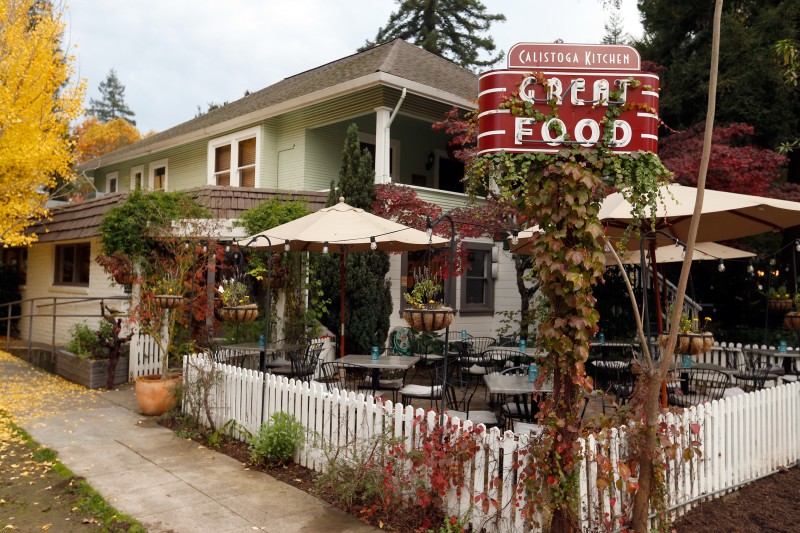 Should a regular customer fail to make the turn into the trellised entry along Cedar, chef-owner Rick Warkel has his tricks, however. His kitchen boasts a window where he can peek out through the tree canopy lining the street. One recent evening, he yelled at a passerby, "Hey! No walking on the sidewalk!" The fellow, clearly a friend, laughed and came in.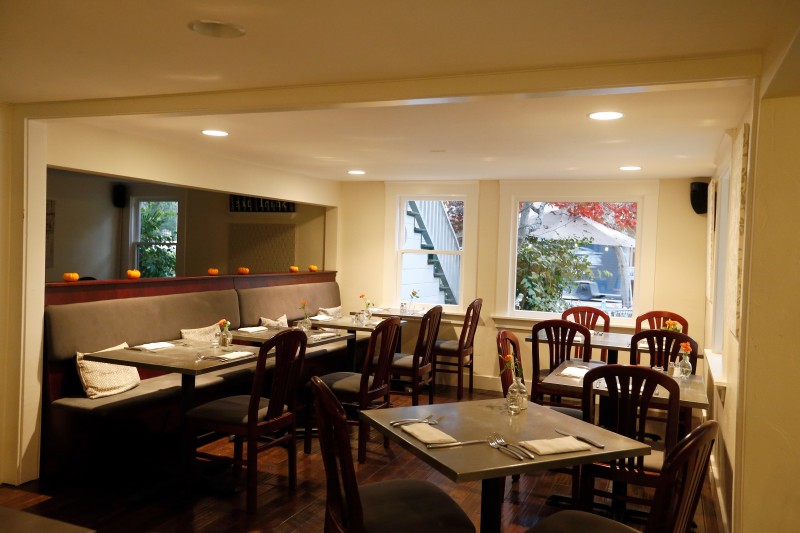 Adding to the undercover mood, the restaurant is only open Thursday for dinner, Friday and Saturday for lunch and dinner, and Sunday for brunch. That's because originally, the concept was born as a semiprivate supper club to supplement Warkel's busy catering business, created with his wife and local winemaker Ren Ta. (Pause to admire their giant mobile barbecue smoker usually hunkered in the restaurant's back parking lot.) Now, the café and catering take priority, alongside periodic supper club events hosted with area wineries.
I'm almost hesitant to share this gem, since the bistro seats only a few dozen inside and out, and the setting is so charming, I don't want to battle crowds. (Tip: be sure to make reservations.) Add in the retail pricing policy for the boutique wine list, and this is a treasure indeed, celebrating local finds like Tofanelli Family Vineyard 2013 Charbono ($44) and Hard Six Cellars 2014 Seated Cloud Sauvignon Blanc ($36).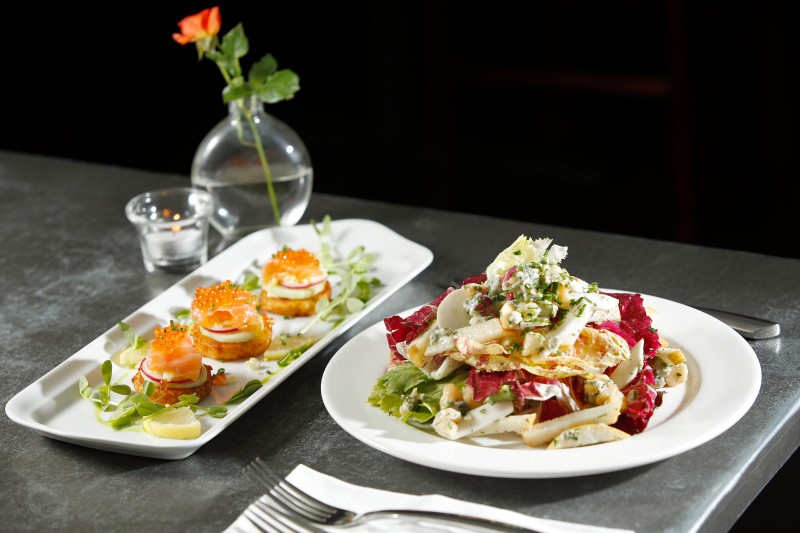 Except the food here is so very good, it should be showcased. Warkel graduated from the Culinary Institute of America Hyde Park, N.Y., and has catered many French Laundry company parties, plus events for wineries like Joseph Phelps and Schramsberg. So we get relaxed fine dining, from a reliable menu that offers such things as luscious beef Bolognese over handmade cavatelli ($24), but also fancier fare like Grimaud Muscovy duck breast, pan roasted to a crisp skin then flooded in a riveting, dark sour cherry jus that seeps into the accompanying sweet potato puree and haricot verts ($34).
Duck, in fact, is a chef signature, presented in various ways such as an appetizer of Little Gem lettuce cups stuffed with the rich poultry, carrot, cabbage and cucumber alongside spicy peanut sauce and Sriracha ($12), or luxurious confit teamed with braised lentils, frisee and carrot ($32).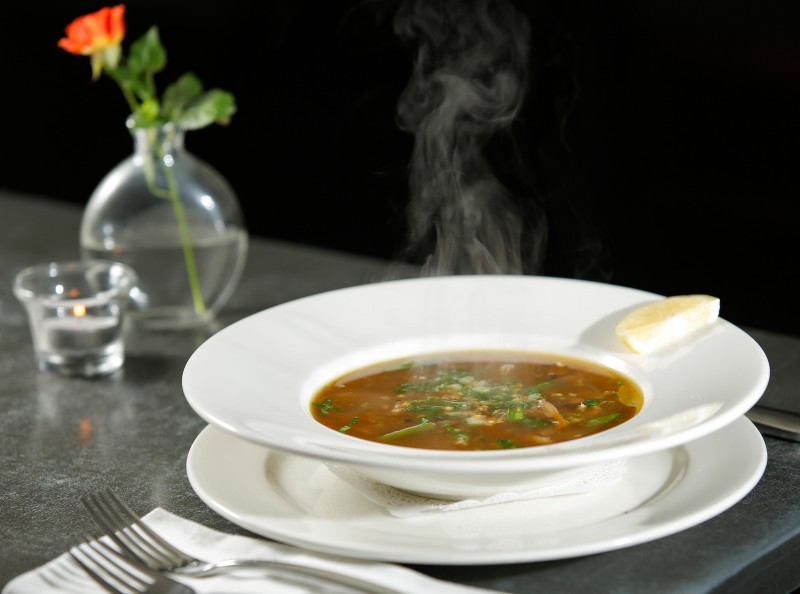 The roasted duck soup is a particular specialty, and it's decadent. It reminds me of ultra-rich pho, the roasted, shredded bird bobbing in star anise-duck bone broth stocked with al dente wild mushrooms, finely diced carrot, quinoa and lots of diced leek that adds crunch and earthy bite ($12). My server said she wouldn't chide me for lifting the bowl to my lips to get every last drop, but instead I sopped it up with warm, soft bread ($2.50).
Chef Warkel also likes rabbit, preparing it in various guises such as cacciatore, the lusty stew thick with braised vegetables and peppers over creamy polenta ($26). It's local meat, my server explained, coming from Spring Mountain Heritage Family Farm in St. Helena.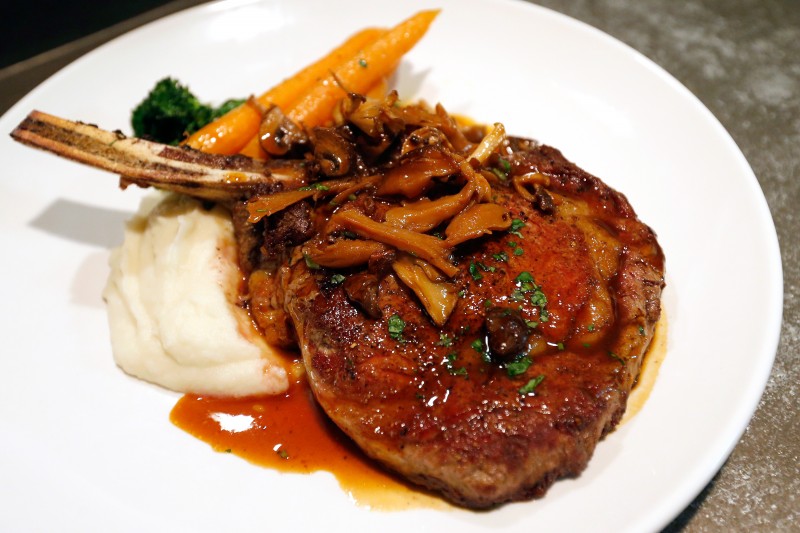 I liked the rabbit even more on another night, when the tender pulled meat came as gumbo ($26), tumbled with Andouille slices that delivered a pleasing burn in the back of my throat. Nearly raw sliced okra brought nice crunch against tiny-diced carrot and Holy Trinity vegetables, all swimming in a silky thick brown sauce for mixing into fragrant white rice. It was a small portion, but perhaps made smaller in my mind because the stew thrilled me so much.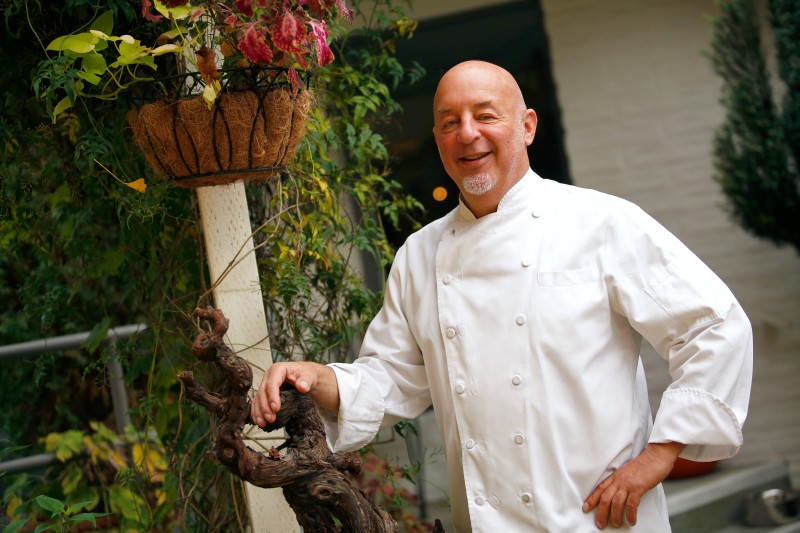 Several dishes are classics, like whisper thin beef carpaccio dressed with arugula, capers and olive oil ($12); or pan roasted, skin-on Rocky Jr. chicken breast rounded out with moist stuffing, buttery green beans and baby carrot ($26). But what may lack in inventiveness is made up in flavor.
Here and there, the chef adds upscale touches, such as the trout roe decorating the herb cream cheese dollops on house-cured salmon, atop crisp potato cake and curls of radish and cucumber ($12). Shrimp fra diavolo gets a new twist, too, with tender pieces of Monterey squid interlaced amid the pappardelle in a spicy tomato-garlic-white wine butter sauce showered in chile flakes ($25).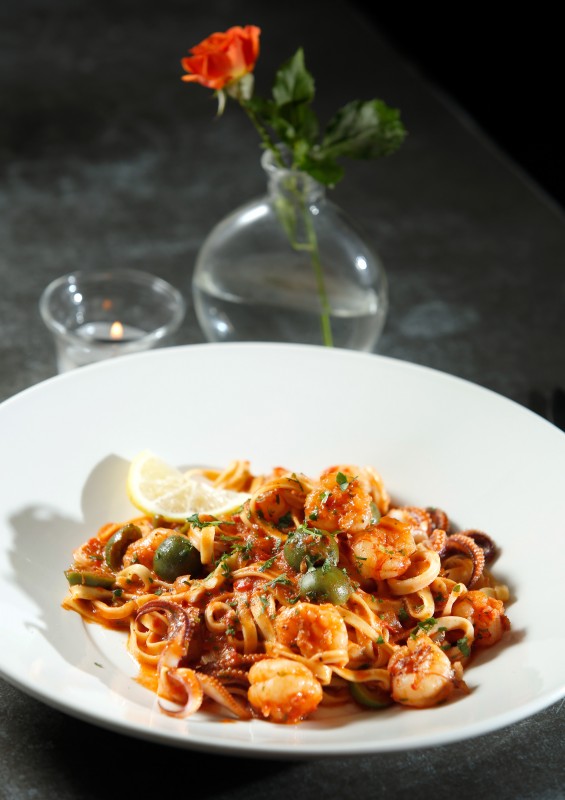 I can easily skip dessert, though. Selections like flourless chocolate cake with berry sauce, buttered almonds and whipped cream ($9); or apple crisp with garam masala and caramel-vanilla ice cream ($9) are fine, but dated enough that, for me, they aren't worth the calories.
Even the décor here is traditional elegance, done in gray, white and cream accented with dark wood chairs and softened with fabric banquettes. Broken into several small dining areas and a six-seat bar, the feel is intimate, though things get loud when the house is full.
Then, Warkel pops out of the kitchen again, checking with guests to see how they're enjoying things. It's a classic touch, just as if we were dining in his own home.
In a sense, we actually are.
Carey Sweet is a Santa Rosa-based food and restaurant writer. Read her restaurant reviews every other week in Sonoma Life. Contact her at carey@careysweet.com.