Pride Month is here and in Sonoma County there are several ways to celebrate the diversity, resilience and accomplishments of LGBTQ+ individuals.
Recognized nationwide in June, Pride Month provides an opportunity for the lesbian, gay, bisexual, transgender and queer community and its allies to come together and celebrate. It is also a significant period for fostering acceptance, promoting equal rights and raising awareness about LGBTQ+ issues.
Local events include drag performances, wine events, dance shows, pool parties, parades and more. Some events will dedicate a portion of the money raised back into the community for local LGBTQ+ nonprofits and services.
Here's a roundup of events through the end of June:
Thursday, June 1
Pride Event in the Sonoma Plaza: To kick off the first day of Pride Month, an extra flag will be raised over Sonoma City Hall to honor the Valley's LGBTQ+ community. The public is invited to take part in the Sonoma Valley Pride Flag Raising Ceremony with Mayor Sandra Lowe, who will be welcoming attendees. There will also be a procession around the square. Free. 5:30 p.m. 453 First St. E, Sonoma. pdne.ws/3Mz7MOF
Friday, June 2
Pride Movie Night on Old Courthouse Square: Grab a blanket, your low-back lawn chairs and order dinner from a downtown Santa Rosa restaurant for an outdoor showing of the LGBTQ+ favorite, "Adventures of Priscilla Queen of the Desert." The event is hosted by Jan Wahl. It's open seating and Pride Bar opens at 6 p.m. The movie starts at 7 p.m. Free. 6 p.m. 600 Fourth St., Santa Rosa. pdne.ws/428hs8o
Friday, June 2
Pride Fiesta "Al Cien": This is a Latinx dance party with DJ Rotten Robbie at La Rosa Tequileria and Grill. The event is 21 and older. $20. 9 p.m.-1 a.m. 500 Fourth St., Santa Rosa. pdne.ws/3q6xsKV
Saturday, June 3
Sonoma County Pride 2023: The 38th annual Sonoma County Pride Celebration is three days worth of events and activities. The theme for the celebration is "Community," which aims to honor how each person is a unique individual, yet united. Music and performances will be held throughout the event. The parade begins at noon in Old Courthouse Square. Free 11 a.m.-5 p.m. 600 Fourth St., Santa Rosa. pdne.ws/435qlBe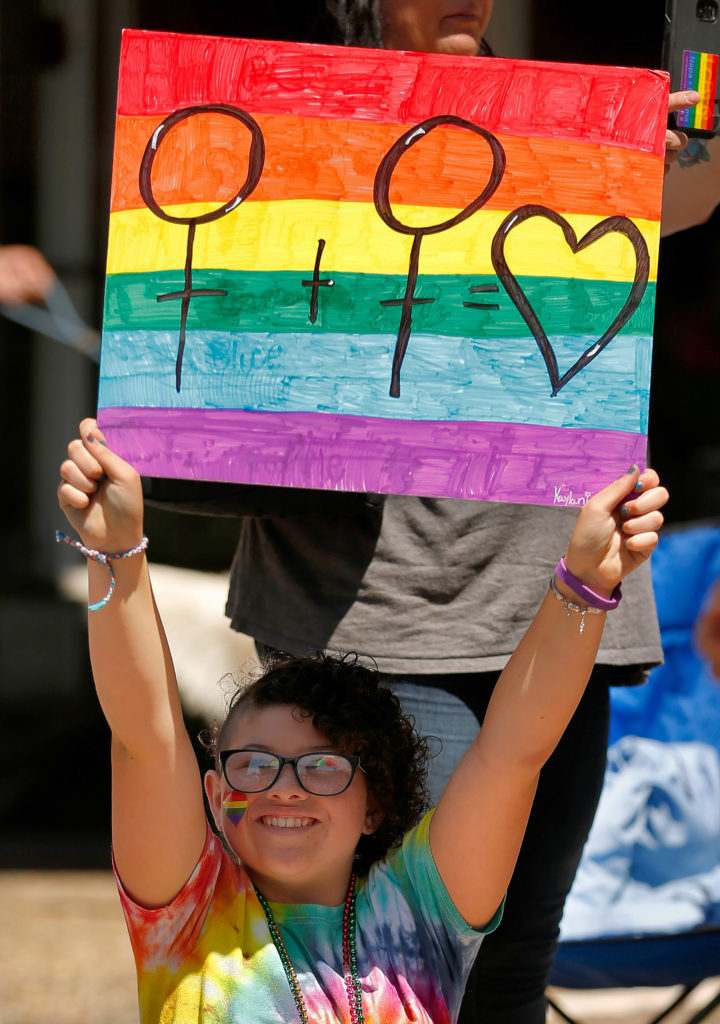 Saturday, June 3
GayDars's Boogie Nights After Party: Join Lolita Hernandez and her radical drag sisters Aubrey D O'night, Deja More and Billie Jean Queen as they dazzle with a drag show at the Flamingo Resort and Spa in Santa Rosa.The queer dance party continues with the beats from DJ Lady Char and Luke Dice. There's also a Studio 54 Lounge where attendees can groove to disco tunes under the mirror ball or chill out with divas of the 1970s. This event is 21 and older. $20. 9 p.m.-2 a.m. 777 Fourth St., Santa Rosa. pdne.ws/437tgt8
Saturday, June 3
Queer Pride Matinee Concert and Eli Conley Album Release at the Lost Church: Indie folk singer-songwriter Eli Conley and soulful self-proclaimed "queer Jewitch song-tender" Lauren Arrow are playing a Queer Pride Matinee Concert at the Lost Church in Santa Rosa. The show is all ages and wheelchair accessible. $15. 1-4 p.m. Between Ross Street and Mendocino Avenue in Santa Rosa (Use 427 Mendocino Ave, Santa Rosa for GPS). pdne.ws/43HHsZR
Saturday, June 3
Standing on Ceremony: Join the Cloverdale Performing Arts Center for a staged reading of "Standing on Ceremony" or "The Gay Marriage Plays," a series of vignettes focused on marriage within the LGBTQ+ community. The show is recommended for those 13 and older. $10. 7:30 p.m. 209 N. Cloverdale Blvd., Cloverdale. pdne.ws/3q6ZaYa
Sunday, June 4
Wigs and Waffle Drag Brunch: Graton Resort and Casino hosts Sonoma County Pride's 2nd annual "Wigs and Waffles" Pride Brunch at 630 Park Steakhouse. The over-the-top and most fabulous brunch is hosted by Sonoma County native Mrs. Princess Panocha with Mary Vice and Kochina Rude. Guests may have to share tables. Show begins at 11 a.m. $85. 10:30 a.m. 288 Golf Course Drive W., Rohnert Park. pdne.ws/3q4lAsV
Sunday, June 4
Aqua Boogie Pool Party: Performances by Kiesza, Mo Heart and Crystal Waters at Graton Resort and Casino. DJs for the event are DJ John Parker, Luke Dice and Joe Gauthereaux. $35 and up. 1-6 p.m. 288 Golf Course Drive W., Rohnert Park. pdne.ws/3MpQRhi
Sunday, June 4
Queens in Wine Country Drag Brunch at Fairmont Sonoma: Enjoy a delicious brunch, celebratory cocktails and glittering live performances by some of the most fabulous Kings and Queens in the business including Bobby Friday, Kylie Minono, Mahlae Balenciaga and Hera Wynn. Tickets include a brunch buffet and a mimosa or Bloody Mary to get the party started. VIP ticket holders can enjoy all of the above plus bottomless mimosas. A portion of the proceeds will be donated to Face2Face Sonoma County. This event is 21 and older. $89 or $139 for VIP. 11 a.m.-3 p.m. 100 Boyes Blvd., Sonoma. pdne.ws/43mlf3L
Saturday, June 10
Love Wins in Windsor Pride Festival: The 2nd annual event celebrates identity, inclusivity, community and love at Windsor Town Green. Activities include a music festival, kid zone and street fair. Free. 2-8 p.m. 701 McClelland Dr., Windsor. pdne.ws/3MTXKJn
Saturday, June 10
LGBT Pool Party: Fountaingrove Lodge will host a pool party. Food and drinks will be provided. Please RSVP to the event. Price: TBD. 1-4 p.m. 167 North High Street Sebastopol. pdne.ws/4344r12
Saturday, June 10
Phoenix Pride Benefit Showcase: The Phoenix Dance Team is putting on a community benefit performance in support and celebration of LGBTQ+ organizations in Sonoma County at the Californian. The event includes musical and drag performances by local performers, a dance party with DJ Danny D. All ticket proceeds will be donated to Sonoma County organizations that support the local LGBTQ+ community, including Positive Images and Translife Sonoma. $20 to $25. 7:30-11 p.m. 528 Seventh St., Santa Rosa. pdne.ws/3IGxTCm
Friday, June 9-Sunday, June 11
Out Watch Wine Country's LGBTQI Film Festival: All films will be shown at Rialto Cinemas in Sebastopol.
"Maybe Someday" will be shown at 7 p.m. Friday. The movie follows a non-binary photographer in her 40s who is battling depression as she attempts to move across the country amid a separation from her wife.
At 4 p.m. Saturday, "Wildhood" will be shown, a film that follows a teenager who lives with his toxic father and younger half-brother. The two brothers discover one of their mothers may still be alive and run away for a better life while reconnecting with their Indigenous heritage.
"Commitment of Life" will be shown at 7 p.m. Saturday. It's a true story of a group of people living with HIV/AIDS in early '80s Los Angeles and those who changed the course of the epidemic and saved lives.
"Unsettled" will be shown at 4 p.m. Sunday. The documentary shares stories of LGBTQ+ asylum seekers who have fled their home countries and have resettled in the U.S.
The festival will conclude Sunday with a 7 p.m. showing of "Big Boys," a coming-of-age comedy about a teenage boy who falls for his cousin's straight boyfriend while on a camping trip.
$15 for general admission and $13 for seniors 65 and older. 6858 McKinley St., Sebastopol. pdne.ws/3IGtaAl
Saturday, June 17
Pride Open Mic Night: The festivities will include up-and-coming drag queens ready to strut their stuff on the Cloverdale Performing Arts Center stage. The event is hosted by Nathanya Neurotica. Bring your dollar bills and come support the acts. $10. 7:40-9:45 p.m. 209 N. Cloverdale Blvd., Cloverdale. pdne.ws/43xW1it
Wednesday, June 21
Queer Art Club: Every third Wednesday of the month, the Sonoma Community Center hosts a safe and inclusive space for teens ages 10-17 to find their artistic voice through radical self-expression. Each month they explore a new art theme, including a demonstration from a professional artist and all the materials needed to make the project. This club offers an artistic community of inclusion for all identities of gender, sexuality, race and ethnicity. Register in advance. $5 to $25 (suggested donations). 6-8 p.m. pdne.ws/3MxA5x0
Thursday, July 1
Pride Night: Transcendence Theatre Company is celebrating Pride with the performance of the "Beat Goes On" under the stars at Belos Cavalos Ranch. It's an evening where LGBTQIA+ folks and allies come together to showcase their pride. Attendees can enjoy a pre-show picnic with vendors, including signature cocktails, performances, specialty provisions and more. A portion of all wine and beverage sales will be donated to Face2Face, Positive Images and local participating LGBTQ+ nonprofits. $45 to $180. 5 p.m. 687 Campagna Lane, Kenwood. pdne.ws/3MUHWGb
Friday, July 14-Sunday, July 16
Gay Wine Weekend: The three-day annual event makes a move to the Russian River Valley and Healdsburg wine region of Sonoma County, with all-new venues, wineries and restaurants. Proceeds benefit Face2Face, ending HIV in Sonoma County. $40 to $950. Location: TBD. pdne.ws/434AZYV
Friday, July 21
Queens and Kings Drag Night at Epicenter: Poppy Bank Epicenter in Santa Rosa will be shutting down Victory House and Chuck's Bowling Bar early for the event hosted by Danny D of Resonance Entertainment. There will be drag performances by queens and kings, dancing and queeraoke. Chuck's Bowling Bar will offer specials on bowling during the event. Event organizers suggest bringing dollar bills to tip the performers. This event is 21 and older. $10. 9 p.m.-1 a.m. 3215 Coffey Lane, Santa Rosa. pdne.ws/45BiDk2
Monday, July 31-Monday, Aug. 7
Lazy Bear Week 2023: A fundraising event featuring the biggest, hairiest, beefiest, burliest, craziest, laziest guys around. Lazy Bear Fund Inc. puts on one of the largest and most successful "bear" gatherings in the world. For over 25 years they have entertained thousands in Guerneville during their annual event. Attendees enjoy pool parties, dance parties, campfires, live entertainment and DJs. All events are ages 21 and older. All of the profits for the event go to charity. The organization has raised over $2.2 million for worthy causes. $200. 11 a.m.-5 p.m. pdne.ws/3oqdjzd