New in Sonoma County since last spring are two food and drink centers – one in Sebastopol, the other in Healdsburg – offering delicious one-stop intrigue for locals and visitors alike. Haven't been to either yet? Here's a visual feast of what you've been missing.
The Barlow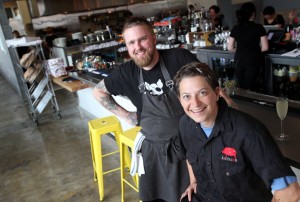 Sebastopol, the town best known for its once-bountiful apple orchards, is now ground zero for food-and-wine purveyors, with the launch of the ambitious Barlow Center on 12 acres and just a stone's throw from downtown.
(See even more pictures in our gallery)
The center has been welcoming tenants to its 18 buildings in spring, creating a new "maker hood" where Highway 12 meets Morris Street.
Barlow developer Barney Aldridge created the food-and-wine center to provide a deeper connection between consumers and some of their favorite products, from beer and wine to ice cream and bacon. The current mix of 30-some businesses also includes a clothing boutique and bookstore, two art galleries and a yoga-Pilates-dance studio.
The half-dozen original buildings of the former apple cannery underwent major renovations and structural upgrades; the rest of the complex was constructed from the ground up in a hip, industrial style with high ceilings and lots of metal and glass.
–       Guayaki Yerba Mate – Fair Trade beverage company that sources the herbal energy-boosting drink yerba mate (with the "strength of coffee, health benefits of tea and euphoria of chocolate") from South America
–       Kosta Browne Winery – among the most sought-after producers of Sonoma County Pinot Noir and Chardonnay
–       Spirits Works Distillery – a microdistillery producing its own gin and whiskey from organic grain
–       Taylor Maid Farms – for the coffee and tea-obsessed, this roaster offers tours, barista training classes, community-driven events and an espresso bar
–       Village Bakery – a longtime Sonoma County favorite for pastries and sandwiches
–       Woodfour Brewing Company – bistro and brewery with an ever-changing menu of beers on tap
–       Zazu Kitchen + Farm – where chefs Duskie Estes and John Stewart create whimsical food and their own line of bacon and salumi
 Healdsburg Shed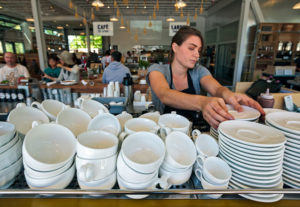 Healdsburg's Shed, which opened in spring, provides farmers and foodies with everything they need to live the Sonoma lifestyle: a market and cafe, a kitchen and garden shop, and a grange-hall-like gathering space.
Cindy Daniel, who owns the Shed with her husband, Doug Lipton, said the pair grew the concept over some 15 years. Their goal? To create a lively venue inspired by good farming, good cooking and good eating, to celebrate the land and the people who grow things.
–       Cafe – serving fresh, vegetable-driven cuisine for breakfast and lunch with a less-is-more philosophy, from waffles and pizza to meze plates, to be enjoyed indoors or on one of the outdoor decks
–       Fermentation bar – the place to sip wine and beer on tap, plus locally made kefir and kombucha
–       Front patio – where picnic tables provide a casual spot for friends to share a meal with wine.
–       Garden shop – to the rear of Shed, stocked with pitchforks and organic seeds, reminiscent of a well-thumbed Smith & Hawken catalog
–       Market and take-out larder – stocked with smoked fish and foods in various stages of preparation, along with produce from local farmers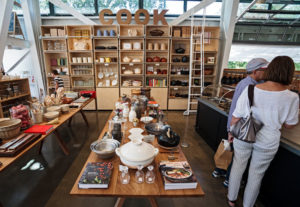 –       Modern grange space – upstairs, designed for the community to gather for workshops, films and concerts, and dinners on the last Sunday of every month
–       Retail kitchen store – stocked with everything from clay pots to fresh spices, evoking the meticulous retailing sensibility of Williams-Sonoma
–       Wooden mill – imported from Austria, it grinds locally grown grains for artisan breads and polentas
Subscribe to Our Newsletters!