A clucking good time is in store for beer lovers starting Monday, Feb. 6, when HenHouse Brewing releases its highly anticipated Big Chicken "Zero-Day" Double IPA at taprooms, bars and restaurants throughout the Bay Area.
This will be the eighth annual release of Big Chicken, and HenHouse expects to pour 60,000 pints of the sudsy stuff within the week. What makes Big Chicken special is that it's packaged, delivered and served in a single day, preserving its arresting freshness.
Founded in 2012, HenHouse sells a variety of IPAs, plus pale ales, stouts, saisons and sours, many of them released on a rotating basis. Those who live in Sonoma County know a new HenHouse beer seems to appear on store shelves weekly.
The Santa Rosa-based brewery has inspired a sense of pride among Sonoma County beer drinkers who remain stoked on the brewery's ultra-fresh, hop-driven beers and clever, esoteric packaging.
More than 400 bars and restaurants will serve the West Coast-style Double IPA beginning Monday, Feb. 6, through Friday, Feb. 10. But you also can sample Big Chicken during the weekend, by heading to the HenHouse taproom in Santa Rosa or Petaluma, where it will be poured through Sunday, Feb. 12 — if it lasts that long.
Sonoma County bar and restaurant locations that will serve Big Chicken were announced on HenHouse's social media channels Jan. 31, including Acre Pizza in Petaluma and Sebastopol, Brew Coffee and Beer in Santa Rosa, Duke's Spirited Cocktails in Healdsburg, Flagship Taproom in Cotati and Hopmonk Tavern in Sonoma.
Find all locations here: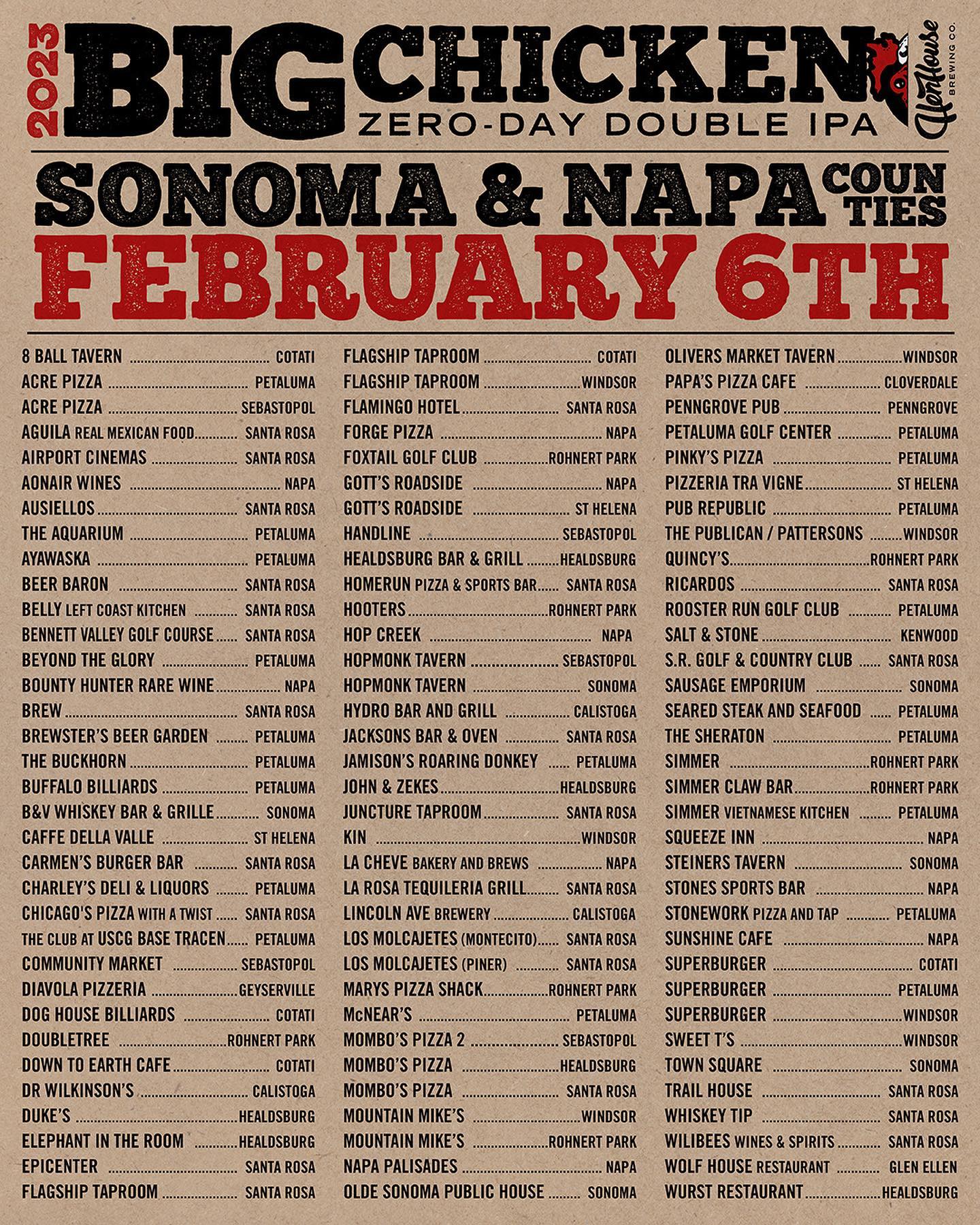 Refreshed each year, the recipe for Big Chicken highlights the HenHouse production team's favorite ingredients, techniques and trends from the previous 12 months. "Zero-Day" refers to the beer's fleeting availability.
"One of the most exciting things about this year's release is that we used Genie Barley from Crane Farms in Penngrove, which was malted at Admiral Maltings in Alameda," said Zach Kelly, HenHouse's brewmaster. "Sonoma County is really focused on agriculture, so using more locally grown ingredients and developing tighter relationships with our farmers is important to us."
But blink and you'll miss it. Big Chicken is expected to fly the coop in a matter of days. Cans of Big Chicken 2023 will only be available at the HenHouse Santa Rosa Brewery Tasting Room and Petaluma Palace of Barrels. Cans will be allocated each day from Monday, Feb. 6, to Sunday, Feb. 12. HenHouse said it can't guarantee the daily allocations will last until closing or after Feb. 12.
At 10% ABV (alcohol-by-volume), this year's Big Chicken is all you've ever wanted in West Coast-style Double IPA. A combination of Simcoe, Cascade, Centennial, Mosaic and CTZ hops provides burly, dank, resinous pine aromas lifted by notes of fresh, ripe grapefruit. The full-bodied mouthfeel gives way to a hop-imbued burst of fresh grapefruit, followed by a complex yet crisp finish.
Greener than hops
For HenHouse Brewing, this year's release of Big Chicken is especially significant as it's the first time the beer was produced with the brewery's new carbon dioxide-capture system.
During the fermentation process, carbon dioxide is typically released into the atmosphere, where it adds to greenhouse gas emissions. With carbon-dioxide-capture technology, HenHouse is able to recover the carbon dioxide and use it to carbonate their beer.
"There are so many byproducts in beer production, and the CO2-capture system has allowed us to make a dent in our carbon footprint," Kelly said. "At HenHouse, we think about how we can improve processes instead of just doing them as fast as we can."
For more information, visit henhousebrewing.com/bigchicken.
You can reach Staff Writer Sarah Doyle at 707-521-5478 or sarah.doyle@pressdemocrat.com.