To Dundee Butcher, candlelight is as crucial to a party as great wine and food, especially during the holiday season.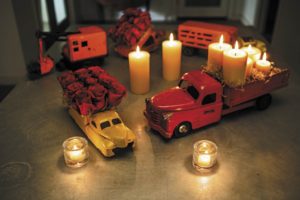 "Candles bring light and softness to a table," said the Texas native who now calls Healdsburg home. "Just like a room without flowers feels dead, I feel the same way about candles. It's warm. It's like when a fireplace is lit. It changes the room."
And she much prefers dining by candlelight to an overhead light. With the latter, she said, "You feel like you're in an operating room."
Butcher is a big fan of beeswax candles, using them in her designs at her Russian River Flower School in Healdsburg. There, she offers a variety of floristry workshops and classes, including custom classes for small groups and team-building events. She also sells floral and candle arrangements.
"Beeswax candles are environmentally friendly, have a pleasant subtle fragrance, and I love the cream and gold color," she said.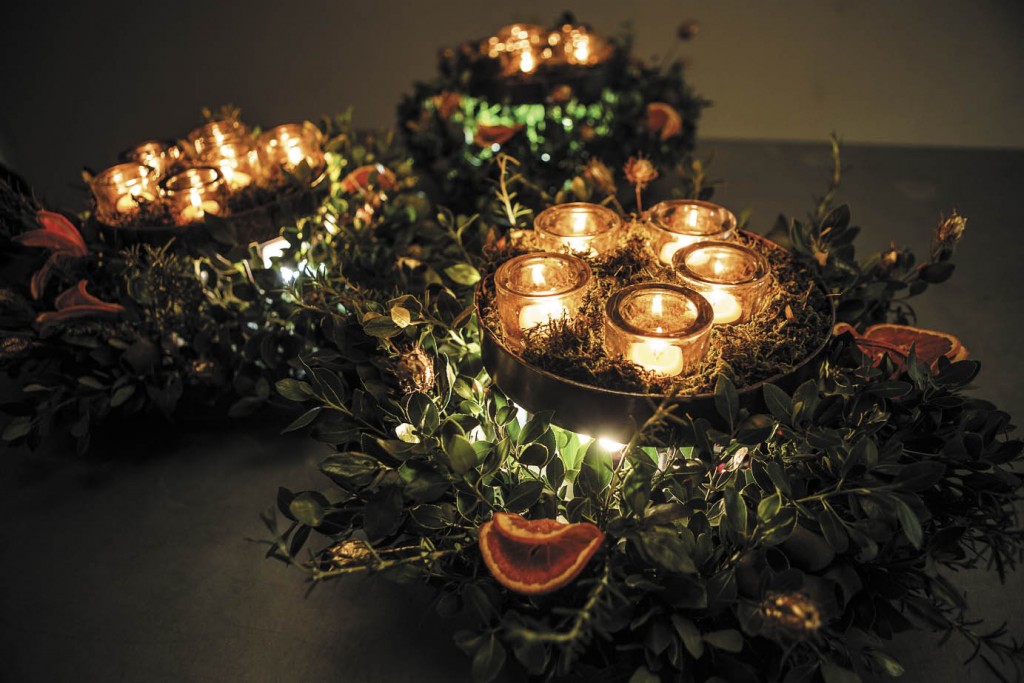 The mild scent of beeswax also makes the candles ideal for the dinner table: The aromas of the food have no competition.
When scent isn't a concern, Butcher is partial to candles made by the diptyque company in France. "They're my favorite if you want a scented candle," she said, with baies (berries), figuier (fig tree), tubéreuse (tuberose) and gardenia scents among her top picks.
Butcher began combining flowers and candles after training in floristry in England. Shortly after moving there in 2007 with her English husband, Ian, Butcher found herself apprenticing at top flower shops in London (she was once fired for leaving thorns on a rose stem). She was fortunate enough to work with renowned florist Jane Packer for five years.
"She really was an icon," Butcher said of Packer, who designed the flowers for Sarah Ferguson's wedding to Prince Andrew. "She was a pioneer in monochromatic floristry. She believed that a color palette of similar hues was most elegant and would only use whites with whites or with creams and greens. She loved foliage and incorporated a wide variety of most unusual greens in her designs."
Entering the lofty and competitive floral business in London had its challenges for Butcher.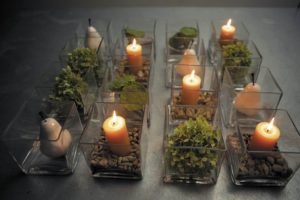 "I was in my 40s. I was an American with kids. I was enthusiastic," she said with a laugh, recalling the time one British boss told her to "stop with the high fives and the hugging." "They thought I was too excited," she said.
Undaunted, Butcher managed to learn the business as she prepared arrangements for top-notch hotels and even Kensington Palace.
Drawn by what she describes as the natural beauty and sunshine of Northern California, Butcher moved her family from London to Sonoma two years ago, opening the Russian River Flower School shortly after her arrival. She creates custom floral designs for weddings, dinner parties and other events, and candles are included in her repertoire.
"My floristry background was so formal; we did arrangements for the queen," she said. "Then you come to Healdsburg and you want more natural."
Adjusting the two extremes has helped Butcher create a signature look.
"My style is a really good blend of my background," she explained. "It's almost like learning classical ballet before you learn jazz. My style is clean, elegant and fun. I'm always looking for an opportunity to use the weird and wonderful 'ingredients' that we have on our doorstep. Whether teaching a class or designing for an event, I find it most exciting to combine a variety of flowers, branches and pods in all stages of their life cycle."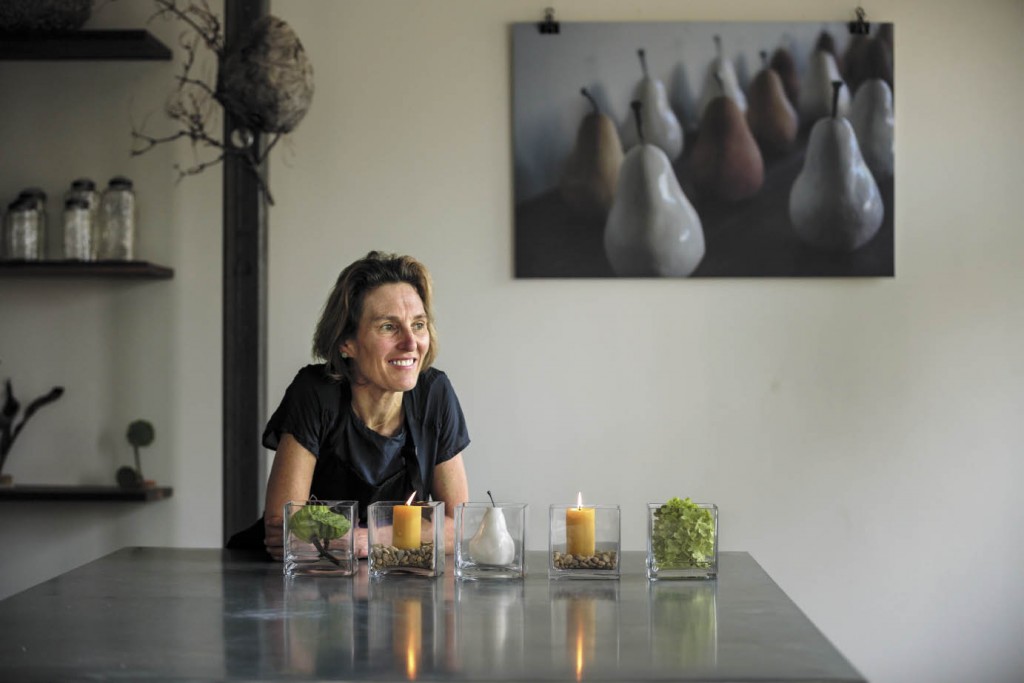 For example, she recently created a large "sunbrella" from piles of dried sunflowers and a 12-foot wedding arch filled with willow branches.
"My goal is always to produce something beautiful, introduce an unpredictable element, and keep it fun," Butcher said.
She has come to embrace the botanicals that are ubiquitous in Sonoma, from the aforementioned dried sunflowers and curly willow to manzanita branches, eucalyptus pods and oak galls. Using these accessible items in her arrangements now comes naturally to Butcher.
"It's all about wandering with your eyes open," she said.
With the holidays in mind, Butcher suggested some simple yet stunning candle arrangements that anyone can do at home, and that evoke Wine Country style while imparting holiday warmth.
Table Wreaths
"People don't do old-fashioned table wreaths that often," Butcher said. She recommends creating three similar wreaths in shades of red, cream, gold and green, using hydrangea, rosemary, scabiosa and eucalyptus. In the centers of the wreaths, place two spherical bowls (fish bowls work well) filled with pomegranates and a low glass cylinder filled with gravel and a fat candle. "Elegant, stunning, simple, traditional," Butcher said.
Pie Tins and Metal Containers
Butcher has two-tiered steel containers she fills with candles and greenery, although antique pie tins and cake pans can also be lovely. Line the bottom tin with cellophane and place a wet piece of Oasis floral foam on top to keep the greens fresh. Arrange a selection of fresh herbs and greens from your garden. On the top level, place a group of votive candles. (Butcher sells the steel containers at her school.)
Oak Gall Arrangements
With their round shape, oak galls remind Butcher of Christmas tree ornaments and she likes to decorate with them during the holidays. She fills short glass containers with moss, nestles candles in the center, and arranges oak galls around them. Or substitute roses and greens for one or two of the candles. "The moss ties everything together," she said. "So natural and unusual, but again, simple and elegant."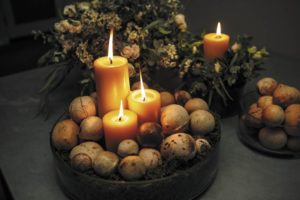 Stacked Glass Squares
"When I was working in London, we did these very simple, clean, versatile glass squares stacked on a table. Contemporary and so pretty," Butcher said. Place beeswax candles and greens in glass squares, and fresh pears, apples or pomegranates in others. Stack the squares or march them down the table. Butcher sometimes includes ceramic fruit, such as pears made by Kelly Farley of Pope Valley Pottery in Napa Valley.
Toy Trucks
The holiday season brings out the child in all of us, and toy trucks on the table are sure to bring a smile. Find vintage toy trucks with open beds in an antique store or online, and fill the beds with candles, pine cones and greenery.
Decorated Candelabra
Pull out a favorite old candelabra and candlesticks and give them a holiday look by tying olive sprigs or ivy to them, "almost like a natural skirt around them," Butcher said.
Manzanita Tree
"I did a terrific tree last year for a Christmas table," Butcher recalled. She placed a manzanita branch in a beautiful old umbrella stand, surrounding it with votive candles and a big pile of oranges around the base.