Tasting an entirely new flavor is like discovering a color you've never seen. Consider that mindbender while I explain ssamjohng — a Korean chili sauce that's become the new ultraviolet.
Sitting at a 5-foot-long hibachi table at the newly opened Han Bul Korean Barbecue with owner Han Soh, he points to a vaguely tan mixture with the kind of reverence reserved for church.
"That's required," he says as we sit among a forest of stainless steel bowls. Amid the mayhem of kimchi, pickled radishes, slivers of garlic and sesame oil studded with sea salt, his thin metal chopsticks wave around the sauce made with miso, chili pepper paste, green onions, garlic, honey, sesame seeds and sesame oil.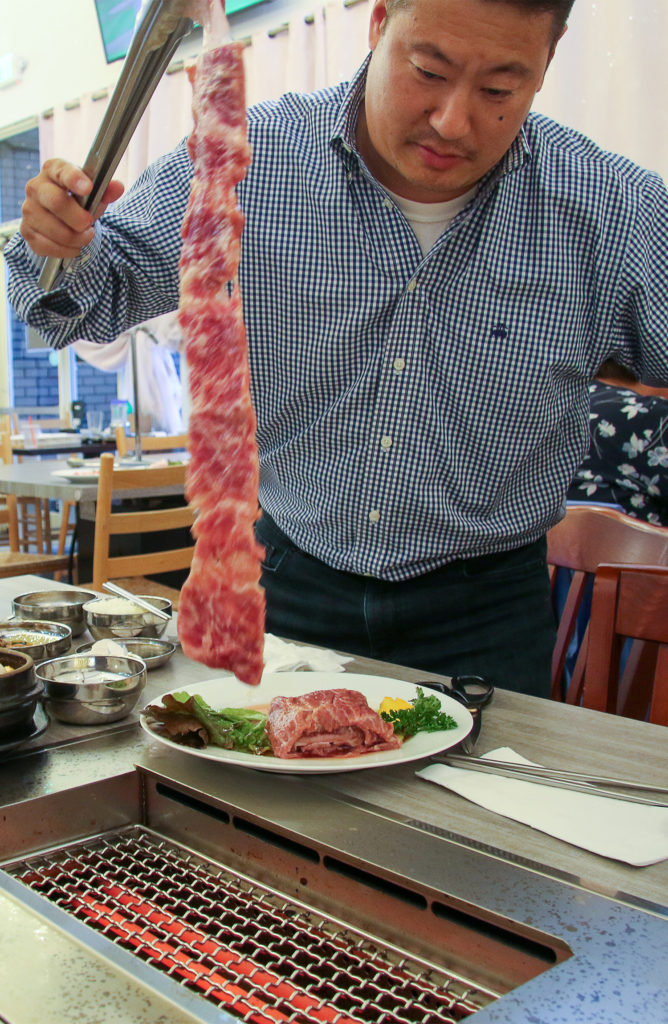 "A lot of this is nice to have, but ssamjohng is required," he says.
Slightly sweet, savory, salty and mildly spicy, it's almost impossible to describe other than to say, delicious.
Located on Seventh Street in Santa Rosa, Soh's namesake Korean barbecue has been in various stages of "opening soon" for 28 months. But Soh, who is a second-generation Korean, was set on creating the kind of restaurant that he would love in Sonoma County.
From its high-tech imported electric grill tables to its Asteroids video machine and from-scratch sauces, Soh says he wanted a gathering place for families and friends to hang out around the table and eat together, Korean-style.
"We don't have a word for 'family-style dining' in Korean," says Soh, who also owns Haku Sushi next door. "It's just called eating."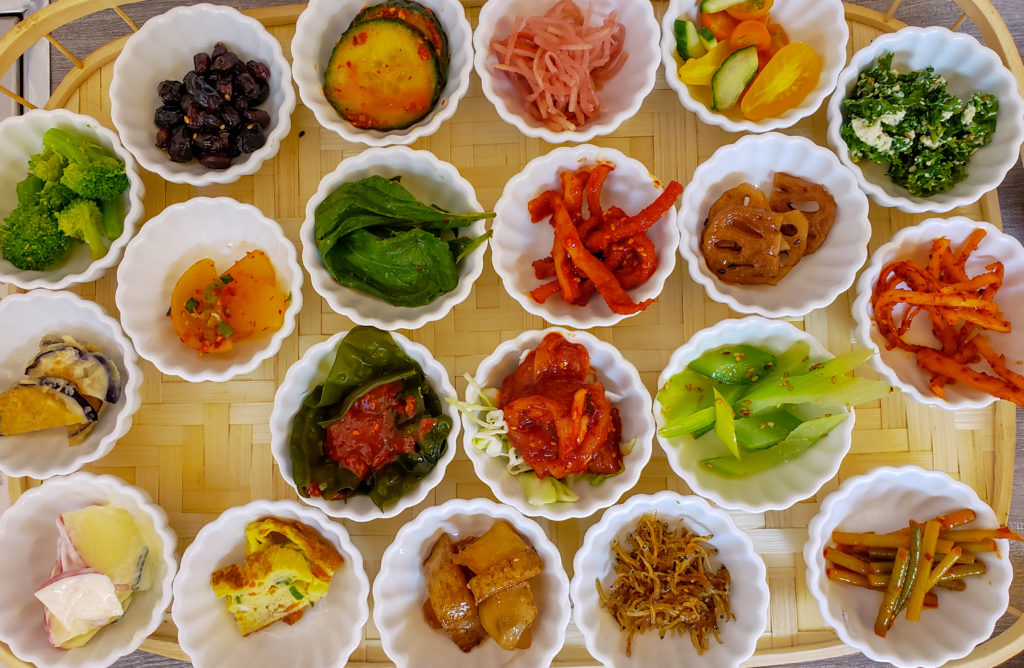 But most of the foods on the table, even for a professional eater, lie deep beyond the realm of recognition. Soh says that even for him, many of the banchan (little side dishes) that line our table are unknowns.
"In Korea you just shut up and eat what your mom made you," he said.
Best bets
BBQ Set: This is the family-style barbecue "set" that comes with three or four kinds of meat, the banchan omakase, soup, vegetable crepe, steamed egg and rice. If you're not really sure what to order for a group, go this route.
You can do beef, pork and beef, pork or order a la carte for seafood (squid, lobster tail, shrimp) or single kinds of meat. Prices range from $85 to $155.
Tofu Soup (Soondubu, $16): Beef and seafood are added to a mild, medium or spicy broth with silken tofu. A raw egg is broken over the bubbling cauldron and cooks itself while you watch. You can also have just beef, pork, kimchi or veggies.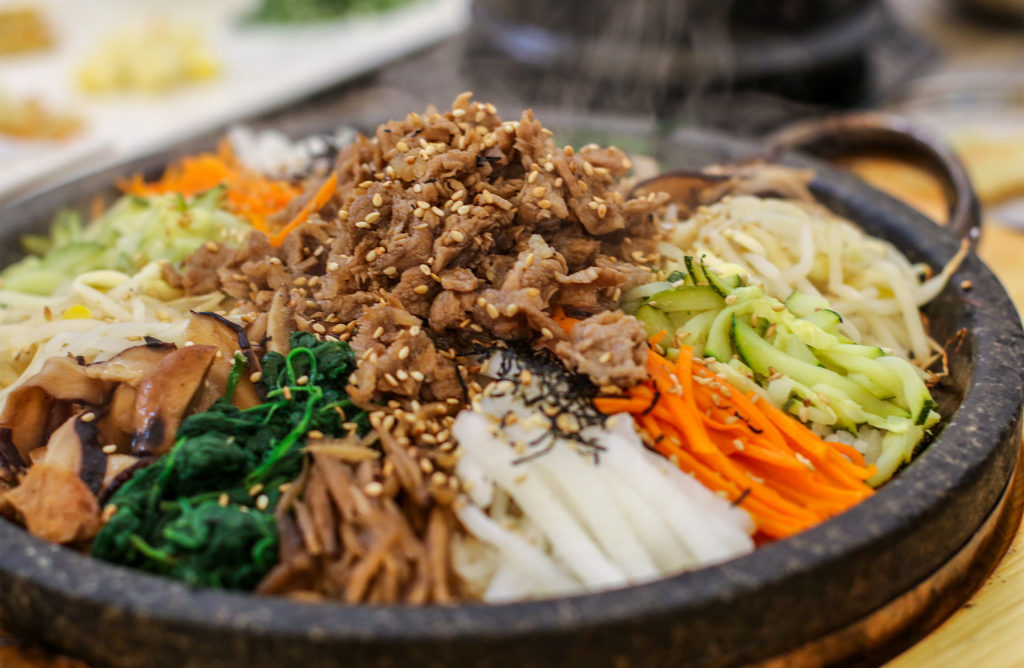 Dol Sot Bibimbap ($21): A pile of vegetables and fried egg are placed atop rice that's sizzling on a scalding hot stone bowl. Think of it as the Korean version of fajitas.
Soh says it's best to mix it up quickly so the rice gets crunchy but doesn't burn. Douse with gochujang. Available with beef or chicken or vegetarian.
Jap Chae ($18): Warm glass noodles with vegetables and minced beef in a sesame oil sauce. "It's the pad thai of Korea," says Soh.
If you go: Han Bul has been in reservation-only soft opening for several months. Lunch is slated to start in September with dishes better suited for single eaters — like soups, rice bowls and noodles. Beer, wine and Korean sake available.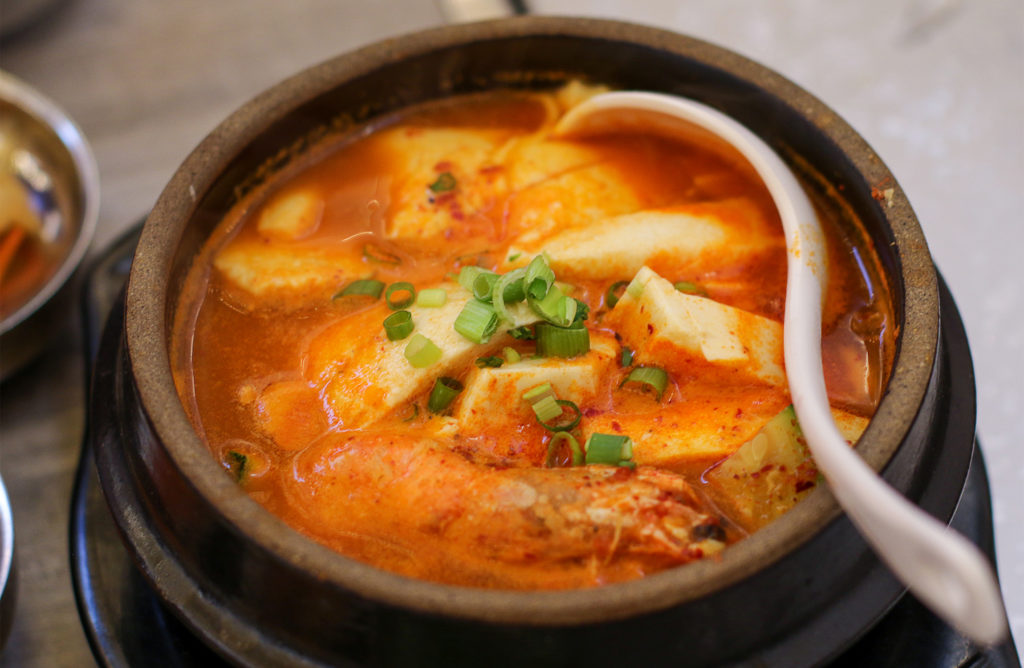 There are only seven grills in the restaurant, which are reserved for large groups or communal seating. Don't expect to get a six-person grill to yourself. The restaurant is also not all-you-can-eat.
Also note that there have been discussions about the high prices from my readers and on the Han Bul Yelp reviews. Soh says that he wants to keep the quality really high (he uses local farms, including his own) and not skimp on ingredients.
He also says that he'll be looking at pricing as the restaurant gets more settled. The restaurant offers a happy hour from 8:30 p.m. to 9:30 p.m. with steep cuts on a la carte barbecue, soup, rice and beverages.
Han Bul Korean BBQ is at 522 Seventh St. in Santa Rosa. For information, call 510-206-3947.