In the spring, when the roses and wisteria are in gorgeous bloom, the Gaige House inn welcomes a steady stream of guests.
Nestled off the main road in Glen Ellen, Gaige House is one of the oldest homes in the area, designated a historic landmark by the Sonoma County Board of Supervisors in 1980. The Italianate Queen Anne-style house, built in 1890 by Albert Ebenezer Gaige, is today an Asian-inspired retreat where folks can experience a rejuvenating getaway.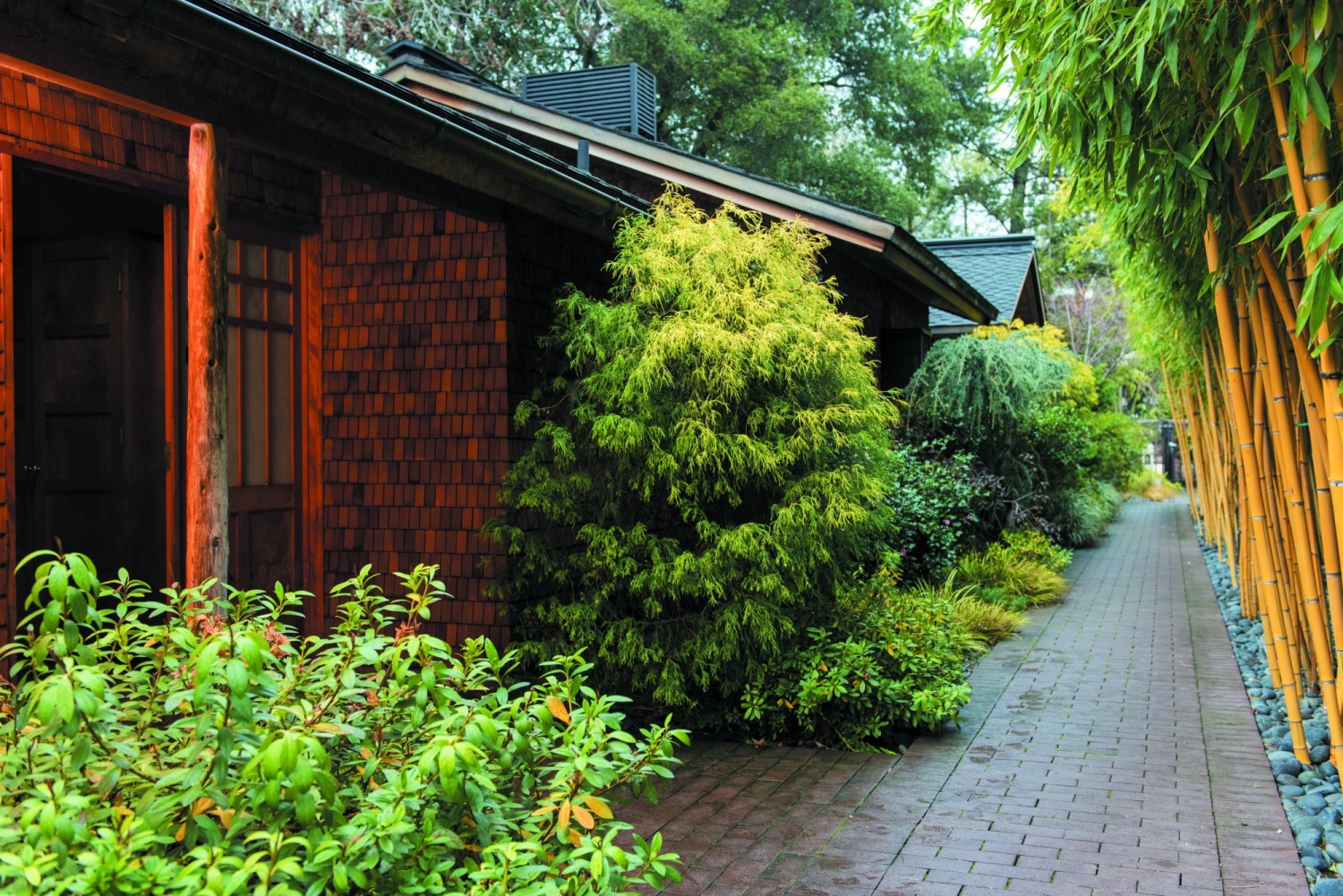 Many visitors, particularly those from out of state and out of country, learn about Gaige House the old-fashioned way, by word of mouth from family and friends in Sonoma Valley. Yet a surprisingly large number of guests are locals who routinely return for an escape. On a recent evening, all those attending In the Gaige House's club room, there's a tray with Port and glasses for guests to serve themselves. 
The allure of Gaige House is a blend of the charm of the inn and the magic of quaint, quiet Glen Ellen, including a wealth of scenery, restaurants and wineries, and its proximity to Jack London State Historic Park, Bouverie Preserve and Quarryhill Botanical Garden.
"It's a beautiful setting with a rural atmosphere, a downtown center and a sense of community," said Arthur Dawson, a historian who has lived in Glen Ellen for more than 25 years. "You can hike Sonoma Mountain or visit the Sonoma Valley Regional Park." The breathtaking landscape was not lost on novelist Jack London, who lived in Glen Ellen from 1905 until his death in 1916. It's still a small, rustic town with a mosaic of redwood forests and stunning views of Sonoma Mountain, showing a velvety green in the spring. Sonoma Creek winds its way through the area.
The two-story Gaige House was once the Glen Ellen Meat Market, though it's hard to imagine that now.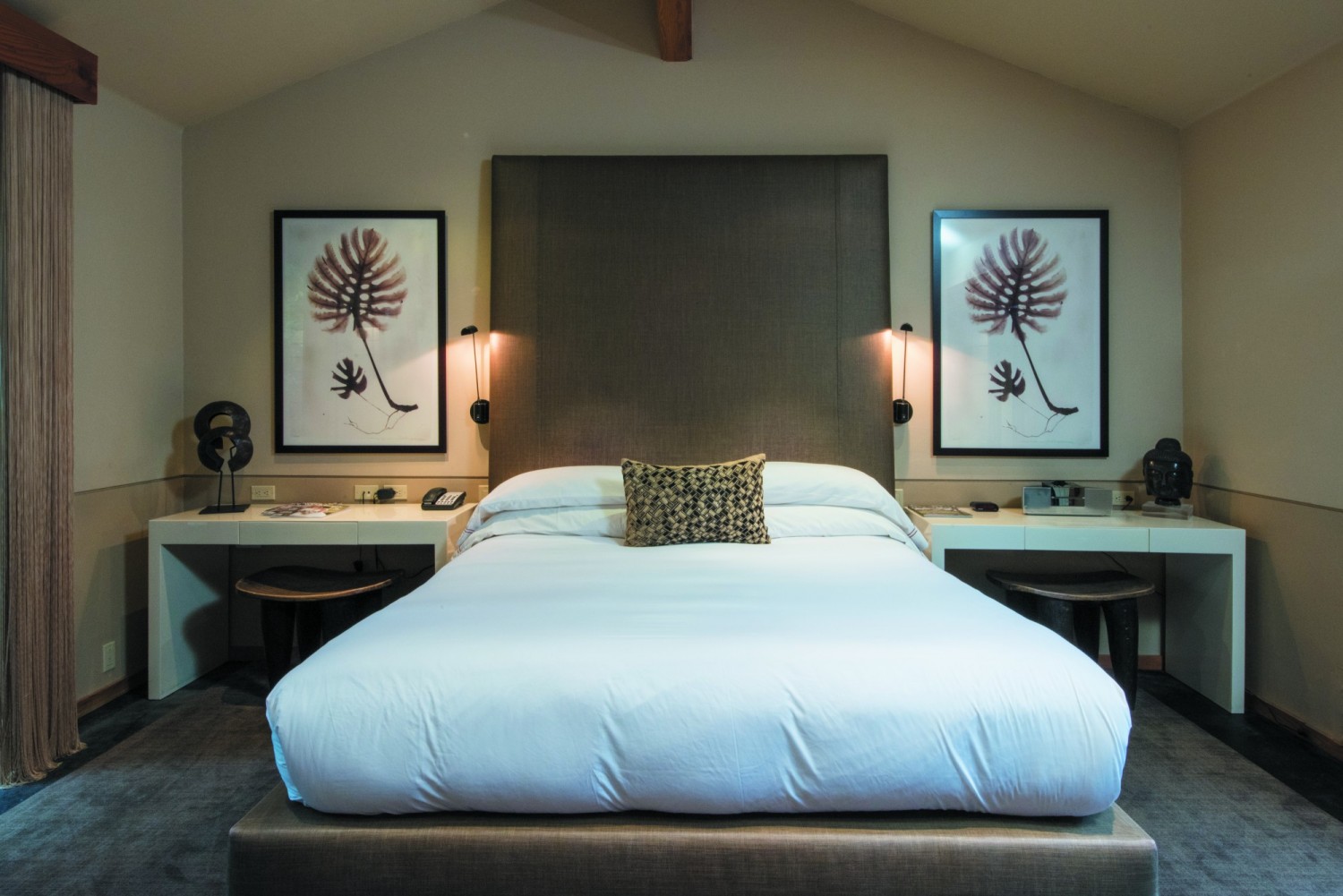 "The house is an integral part of Glen Ellen history," said Gary Kozel, a docent for Jack London State Historic Park. Gaige was a civil engineer from upstate New York, but when he moved to Glen Ellen, he started a meat business, according to his great-grandson, Loren McClurg, who lives in Pasadena.
The butcher shop was on the first floor of the house, where the inn's front desk is located, and Albert and Adelaid Gaige lived above with their four children (Walter, Howard, Emma and Alpha). Eventually, Albert operated the shop with his two sons and had dealings with Eliza Shepard (Jack London's stepsister), who raised cattle at London's Beauty Ranch. McClurg's grandfather, Howard, was once the deputy constable and postmaster general in town.
McClurg said he believes the house was sold when Albert died around 1920. In the following years, the home served other purposes. It was once occupied by the Vanders and their nine children; later, the home was transformed into four apartments, and from 1925 to 1927, it became a schoolhouse when the original school building burned down. It's also rumored to have once been a brothel.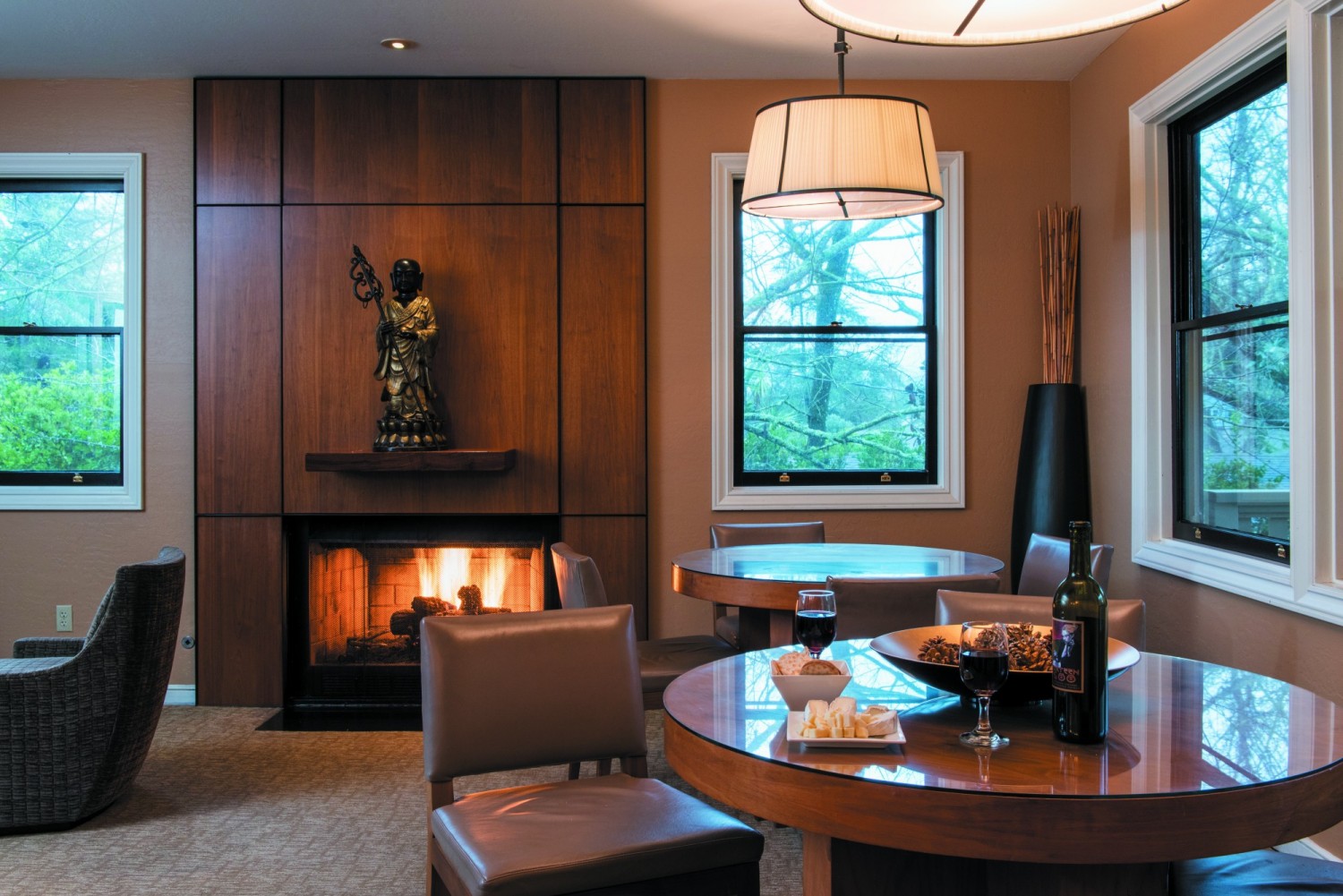 Sometime during the late 1980s, Gaige House was converted into an inn and had various owners during the next three decades. It underwent a large-scale renovation and expansion, completed in 2006, by architect Paul Discoe and New York interior designer Paul Davis. Discoe once enrolled at Tassajara Zen Mountain Center in Carmel Valley, where he was ordained as a Soto Zen priest in 1970. The following year he traveled to Japan to learn the art of Japanese carpentry. Inspired, he returned to found Joinery Structures Inc., an Oakland design and building firm devoted to integrating traditional Japanese architectural styles with contemporary construction. Gaige House today showcases Discoe's Asian design philosophy of simplified beauty. In 2012, Four Sisters Inns bought Gaige House; Rachel Retterer is the general manager.
Situated in a lush, secluded setting on Calabazas Creek, Gaige House o-ers an elegant, minimalist blend of vintage and contemporary furnishings. The main house is used for guest registration, and there are 10 deluxe king or queen rooms there. Twelve detached Zen suites have the feel of a secluded sanctum designed specifically for relaxation and rejuvenation. Most feature custom-finished woodwork, fireplaces with sitting areas and an abundance of natural lighting.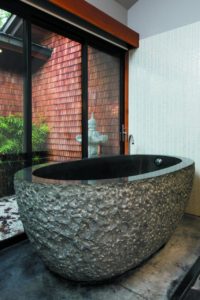 Private gardens can be viewed bedside or while taking a soak in the granite tubs for two. There's also an oversized dual shower lined with iridescent glass tiles. The suites are decorated in tranquil neutral tones of taupe, cream and beige. Beds are made with crisp white linens and oversized pillows. The walls are decorated with Asian woven baskets and leaf prints.
After a day touring Sonoma Valley, guests can indulge in massages in the spa loft or in a Zen Suite. Outdoor massages can also be booked in a private cabana. There is a heated outdoor swimming pool and hot tub, and guests will find unexpected touches such as a hammock for reading and napping among the ancient oaks; a miniature pagoda in a rock garden; and bubbling fountains scattered throughout the grounds.
Wildlife is abundant in Glen Ellen, and in 1999, Gaige House guests got a look at a black bear cub that had climbed a large pine on the property. In 2015, two bears were spotted at Bouverie Preserve, so it's a possibility that Ursus americanus might again pay a visit to the inn.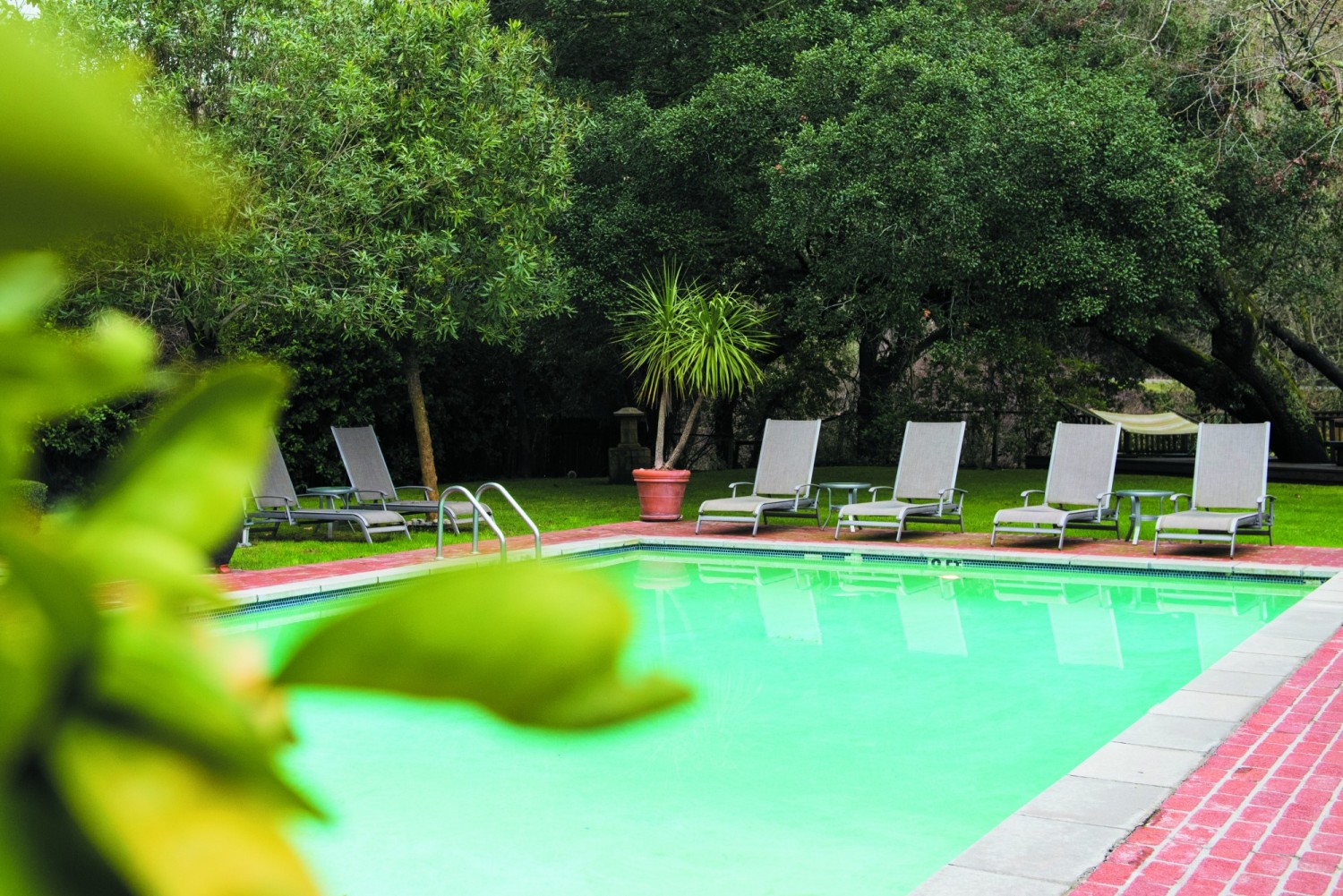 At the end of the day, the sta hosts a wine and cheese reception in the living room, where guests can meet and relax before going to dinner. There are three acclaimed restaurants on Arnold Drive within walking distance of the inn: Glen Ellen Star, known for rustic refined fare; the fig café, oering a California-casual dining experience; and Glen Ellen Inn, with its appealing oyster grill and martini bar. For those who walk to dinner, the inn provides flashlights to illuminate the way.
In the morning, guests enjoy a buet breakfast, which includes gourmet egg dishes, waŒes, pancakes, breads, muŽns and fruit. Freshly baked cookies are available throughout the day on the sideboard in the entry hall, and a there's a tray with Port and glasses in the club room for guests to help themselves.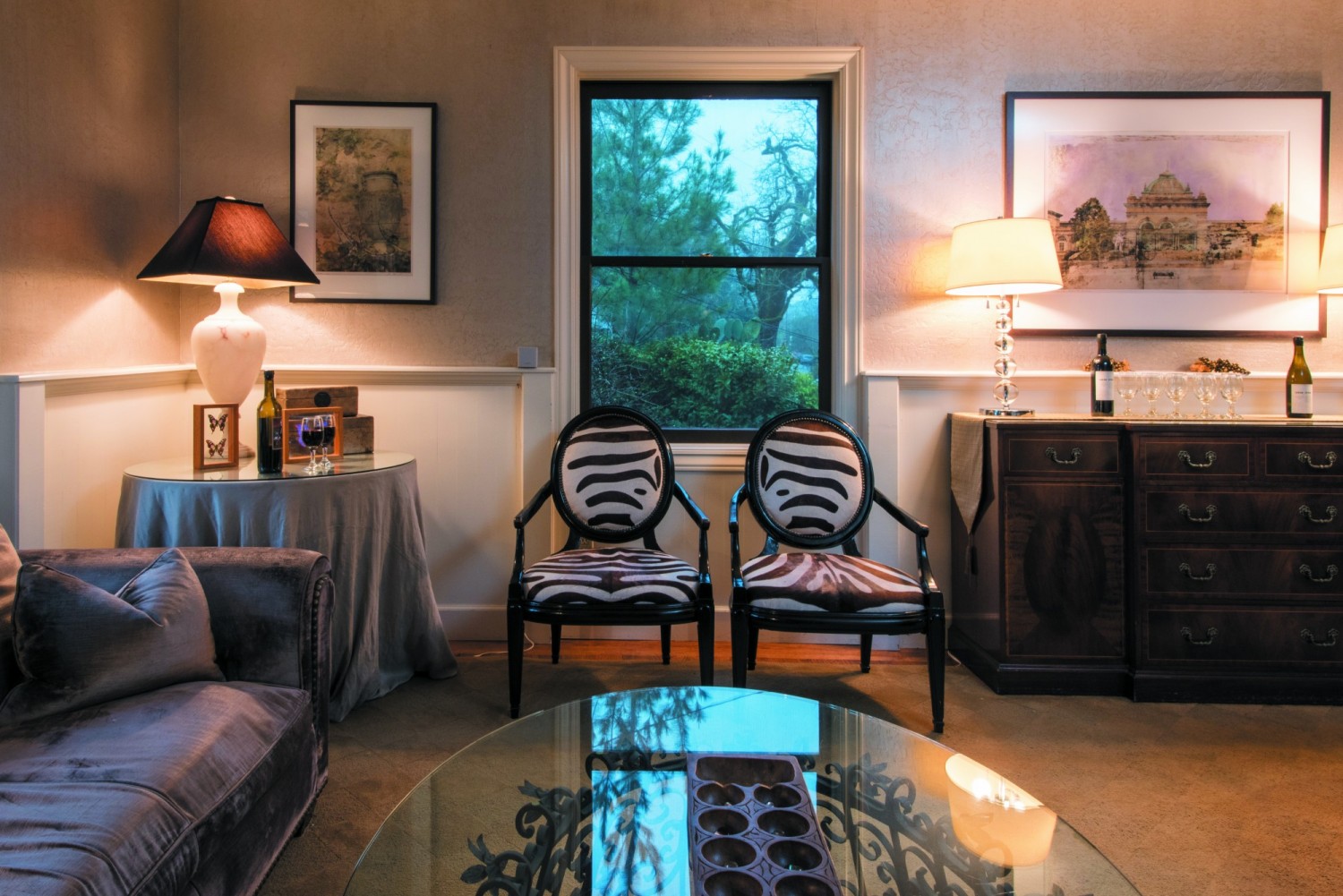 Gaige House is regularly recommended in the Michelin Guide and often makes Condé Nast Traveler's Gold List of top hotels in the world. Frommer's once called it one of the 10 most romantic accommodations on earth. And no wonder: The inn oers couples an enviable chance to reconnect, surrounded by thoughtful luxury, nature's beauty and a sense of history.
13540 Arnold Drive, Glen Ellen, 707-935-0237, gaige.com, $275-$595 per night