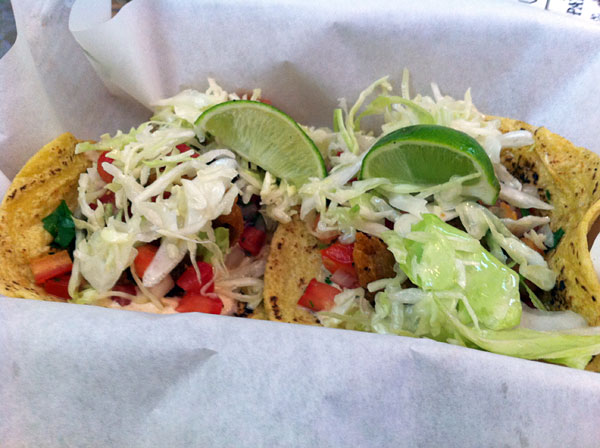 No offense to watermelon, drippy Popsicles or potato salad, but when it comes to iconic warm weather eats, fish tacos are the catch of the day. They bring to mind flip flops, sandy beaches, lazy days at the ocean and the apre-swim munchies that require anything fast, fried or finger-food-friendly to be adequately quelled.
A longtime staple of many local taquerias, the fish taco is a constantly evolving snack — transformed from a lowly fish stick on a tortilla to a crunchy, multi-cultural work of art in the right hands. Then again, sometimes a fish stick and some chipotle mayo on a corn tortilla is fine, too.  From haute to humble here are some of the area's best bets for fish tacos that quench the craving. Here are some of my favorites…
Top Pick: Fancy Fishies at Aioli Delicatessen (Friday only)
Autumn Barber is a fish-frying fool come Friday. On the menu just once a week, her wild rock cod fish tacos are dunked in Fat Tire beer batter  spiced with coriander and cayenne, fried to a crispy crunch and served up with chipotle lime sour cream, pico de gallo and lemon oil dressed cabbage. In a red plastic basket, mind you, as not to get all highfalutin. Worth the drive to Forestville, truly. Just be patient, cause there's usually a line, starting at noon. 6536 Front St., Forestville, (707) 887-2476.
Top Pick: Las Palmas
Fish tacos aren't always on the menu, but when they are, jump. Blackened fish tacos here are all about the fish, and less about the batter. Loaded up with cabbage and a side of beans and rice, it's a meal and a half.  What keeps us coming back to Las Palmas are menu specials like these that go way beyond boring burritos and quesadillas. 415 Santa Rosa Ave., Santa Rosa, (707) 546-3091.
La Texanita: Hot. Hot. Hot. These are some seriously spicy fish tacos, packing a flavor wallop. For us, they were almost too spicy for comfort, but like everything here, they're fresh and homemade. If you're jonesing for the frutas del mar, don't miss their spankingly good shrimp and ceviche tostadas. 1667 Sebastopol Rd, Santa Rosa, (707) 525-1905.
Cafe Zazzle: Fish tacos with a side of Zazzle slaw? Get past the preciousness and prepare to dig in. Fresh grilled fish with cheese, chipotle aoili, salsa and their signature slaw. One of our Petaluma lunchtime faves. 121 Kentucky St., Petaluma, 762-1700.
Third Street Aleworks: Friends raved about these fried nuggets of goodness. And they lived up to the hype. Somewhat similar to Aioli Deli's, they're beer-battered cod tacos with cabbage, pico de gallo and cilantro-lime sour cream. But without all the glamor of lemon-oil. 610 3rd Street, Santa Rosa, 523-3060.
Crepevine: Who knew eggs benny and omelets could be menu-mates to fish tacos? Santa Rosa's new breakfasty-brunchy cafe does a solid lunchtime rendition of fish tacos with mango salsa. Prepare to doggy bag, however. Servings here are huge. In addition to two broiled fish tacos, you'll end up with a side of Caesar salad and fries.740 Farmers Lane, Santa Rosa,  (707) 577-8822.
Willi's Seafood: Though it seems almost a shame to adulterate the amazing fresh fish at this Healdsburg fave (where oysters rule, along with the lobster roll), Willi's keeps their fish tacos simple. Just a simple grill, with salsa, crema and lime. Voila, perfection. 403 Healdsburg Avenue, Healdsburg, 433-9191.
And the rest…Fish taco affectionados also suggested Martha's Old Mexican Grill (305 North Main Street, Sebastopol, 823-4458), Lola's Markets, La Taquiza (2007 Redwood Rd., Napa, 224-2320) and Rubio's as their favorites. With summer still playing out, there's no doubt more and more fish tacos will crop up on local menus.
What about Ceviche?
Seafood of a different sort, ceviche is simply fish "cooked" in citrus. It takes on a variety of hues and flavors, but you'll most often find mild white fish like cod mixed with fresh pico de gallo, lots of lime and cilantro. Scooped onto a crispy tostada it's a bit of heaven.  You'll find some of the best at , Taqueria Don Jose, where off-duty chefs scarf down carnitas, ceviche and cerveza with mucho gusto. 958 Santa Rosa Ave, Santa Rosa, (707) 545-5747. But there's nothing like a nice shrimp tostada or ceviche at the El Cache truck at the Saturday Santa Rosa Farmer's Market. You'll find me most weekends with a heaping plate of salsa, shrimp and fresh sliced avocados sitting round the oilcloth table. Just leave me a little hot sauce and a spot in the shade.
What are you faves?
Subscribe to Our Newsletters!