"It's the same switch that gets turned on," Lee Gregorio said. "Whether waitressing or in roller derby. Once you're in that mode, you just roll with it."
At Wishbone restaurant in Petaluma, she's on the run nonstop, sometimes covering as many as 15 tables at a time.
In the rink, she's a hell-on-wheels blocker who goes by "Leethal" in the Sonoma County Roller Derby league.
And in case Gregorio forgets her alter ego when she's on the hash circuit, there's a regular who likes to warn everyone, "Watch out for her elbows!"
"At both places, it's all about teamwork," Gregorio said. "I don't put my energy into anything I don't believe in."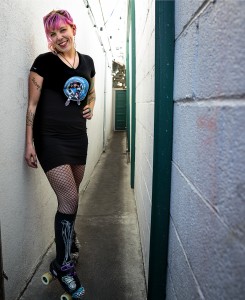 BORN: San Mateo
RAISED: Lakeport
AGE: 27
WISHBONE PHILOSOPHY: Food made with love
FAVORITE DISH: Hash with purple Russian kale, roasted garlic, potatoes and mozzarella cheese, with two eggs on top
RESTAURANT NICKNAME: Lee Lee
GO-TO RESTAURANT GEAR: Harley Davidson boots
GO-TO DERBY GEAR: $700 Riedell Blue Streak skates
TEAM: Wine Country Home Wreckers, practicing three nights a week
ROLLER JOB: As the recruiting coach, she's in charge of drafting and teaching new members. Next tryouts are March 28 (sonomacountyrollerderby.org).
PET: Princess Wanda, the tabby cat
MOST COMMENTED-ON TATTOO: Outer-space scene with a nebula and supernova on her arm
ROLLER DERBY VS. SOCCER: "In soccer, they fake injuries. We pretend we don't have injuries in roller derby. It can get really crazy. It makes it more of a spectacle, but it can get pretty dangerous."
WORST SPILL: A fall left her with 23 screws in a leg (to match her No. 23 jersey) and nine months of recovery.
WHY SHE CAME BACK: "There's kind of this pride thing that happens. You just don't want to give up."