We lost that loving feeling for Santa Rosa's Wednesday Night Market for a couple years after what felt like a lot of same old same old from the food vendors. It's time for a makeup to that breakup…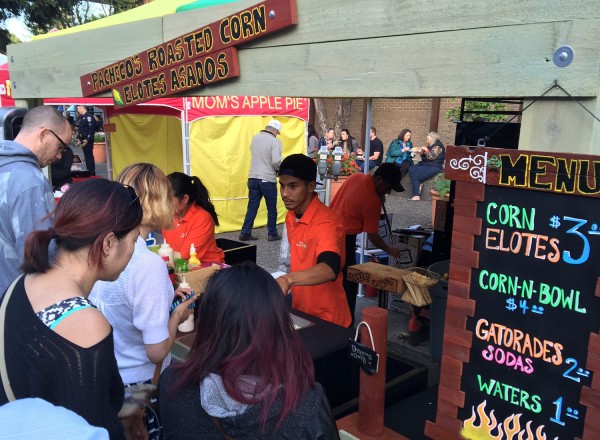 The market opened a couple weeks ago for the season, and we're excited to see some new faces, and even more excited to find a reason to eat our way through the nearly 50 food stalls and trucks. A quick first pass turned up some awesome finds: Anello Family Crab and Seafood are serving salmon and crab from their boat; Haute Gypsy with arepas, cubanos and a pork belly BLT, Gerard's Paella and Adobos n'More who are serving authentic Filipino chicken adobo, lumpia and rice.
Though they're not new to the market, S'Wine Country BBQ killed it with their Pig Pen ($8), a gut-busting sausage topped with pulled pork, mango cole slaw and fried onions. Their beans are better than my mom's (sorry mom) with sweet and heat, and the mango jalapeno slaw is also a stunner. We waited patiently in the mile-long line for Pacheco's Roasted Corn, slathered with mayo, cojeta cheese and chili powder. If you haven't tried this Mexican street food, make a bee line, because you're going to become a fan.
Biteclub's ready for a second date, Wednesday night…
The Wednesday Night Market runs each Wednesday evening from 5-8:30p.m. through Aug. 17, wednesdaynightmarket.org.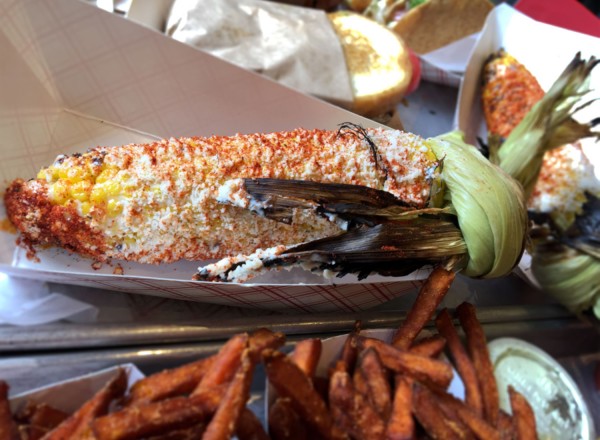 Editor's Note: Travel, dining and wine tasting can be complicated right now. Use our inspirational ideas to plan ahead for your next outing, be it this week or next year. If you visit restaurants, wineries, and other businesses during the pandemic, remember to call ahead, make reservations, wear a mask and social distance.