Here are spoon-size portions of previous restaurant reviews by Jeff Cox, accompanied by the date they originally appeared in The Press Democrat. Reviews will appear on a seasonal basis.
Angele Restaurant & Bar, 540 Main St., Napa, 707-252-8115, angelerestaurant.com. This sweet restaurant with a view of the Napa River tries very hard to be French — and succeeds. The dishes honor the ingredients, and they're served in charming and flavorful ways. The entrees run to the standards like salmon, steak, pork chop, scallops, quail and duck breast, but it's among the many appetizers that chef Rogelio Garcia's creativity is truly found. The desserts are delicious and the wine list extensive. Highly recommended. Reviewed 9/14/14. $$$.
Aventine Glen Ellen, 14301 Arnold Drive, Glen Ellen, 707-934-8911, glenellen.aventinehospitality.com. A 170-year-old grist mill is home to Aventine, brought up to date and surrounded by decking shaded by ancient trees along a year-round creek. The food is Italian aimed at the American palate, with excellent lasagna, wood-fired pizza, and grilled salmon and lamb dishes. A full bar and good wine list make this place perfect for relaxing after a hard day's wine tasting. Reviewed 8/24/14. $$$
Baci Cafe & Wine Bar, 336 Healdsburg Ave., Healdsburg, 707-433-8111, bacicafeandwinebar.com. Classic Italian dishes, many of them from the northern part of Italy, are expertly prepared by chef Shari Sarabi, who's originally from Iran but cooks as though he's from Milan. A large wood-fire oven turns out some of the best pizza in the region. The sauce Bolognese is the real thing, and there's tiramisu and panna cotta for dessert. The wine list features bottles from Italy and around Healdsburg. Reviewed 12/1/13. $$$
Brasserie Restaurant at the Hyatt Vineyard Creek Hotel & Spa, 170 Railroad St., Santa Rosa, 707-636-7388, vineyardcreek.hyatt.com. The kitchen turns out some excellent dishes from executive chef Chris Ciero, including small plates and appetizers such as mini ravioli and Humboldt Fog tomato galette, and main plates that include a near-perfect flatiron steak and herb-roasted chicken. The menu allows diners to select a small or large portion of meat or seafood, choose one of six sauces, and add two side dishes of their choice. Reviewed 1/18/15. $$-$$$.
Brasa Churrascaria and Brew Pub, 505 Mendocino Ave., Santa Rosa, 707-623-9382, thebrasa.com. This is a Brazilian barbecue restaurant with some of that country's authentic recipes carefully prepared. Don't miss Brazil's national dish, feijoada completa, a delicious pork and black bean stew. Discover the joys of a cocktail called the caipirinha and the Brazilian cachaça spirit used to make it. The rodizio, at $40, is a feast of grilled meats and side dishes that's the basis for a good party. Reviewed 8/31/14. $-$$.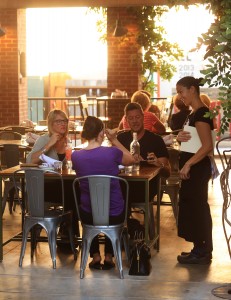 Campo Fina, 330 Healdsburg Ave., Healdsburg, 707-395-4640, campofina.com. This small-plates sister restaurant to the incomparable Scopa has the same crowd-pleasing Italian food, including perfect pizzas from the wood-burning oven. There's an patio in the backyard and a bocce court. The place specializes in house-developed and classic cocktails, as well as Italian and local wines. The food is so good you might just think you're in Italy. Reviewed 10/12/14. $$-$$$
Diavola Pizzeria and Salumeria, 21021 Geyserville Ave., Geyserville, 707-814-0111, diavolapizzeria.com. Chef and owner Dino Bugica spent years learning about real Italian food from his real Italian family and by living and working in Italy. It shows in his hand-crafted salami, authentic pizzas, pasta dishes, entrees and desserts. The house-made salami and cheese appetizer is not to be missed. Diavola is a magnet for food lovers in sleepy, out-of-the-way Geyserville, and deservedly so. Reviewed 5/11/14. $$-$$$$
Earth's Bounty Kitchen & Wine Bar, 5755 Mountain Hawk Way, Santa Rosa, 707-827-9700, earthsbountykitchen.com. The emphasis is on local, sustainable, farm-to-table fare, and the quality of the ingredients is a plus, even when some of the dishes don't quite work. There's something for everyone, from mac and cheese to grilled albacore, and the desserts are scrumptious. In addition to the restaurant, there's a deli and wine bar. Reviewed 9/28/14. $$-$$$
The Farmer & The Fox, 3111 St. Helena Highway N., St. Helena, 707-968-5434, cairdeanestate.com. Joseph Humphrey has cooked at many iconic restaurants in the North Bay, and now he's at this classy Scots-themed restaurant in the Cairdean Estate — a collection of shops and eateries at Cairdean Vineyards & Winery. His food, as always, is super, with a Scottish lilt: barley stew with fried quail, butterscotch soufflé, and one of the best burgers around. Great cocktails, too. Reviewed 1/25/15. $$-$$$
The Gypsy Café, 162 N. Main St., Sebastopol, 707-861-3825, gypsy-café.com. The Gypsy Café occupies the spot where the Pine Cone restaurant operated for decades. It's a great spot for breakfast and lunch; dinner is served only on Fridays, but there's lots from which to choose. Chef Martin Maigaard calls his cooking "modern comfort food," and so it is, with pot roast, local salmon in season, free-range fried chicken and vegetarian pasta, among other dishes. The wine list is small but from premium Dry Creek Valley producers. Reviewed 8/3/14. $$-$$$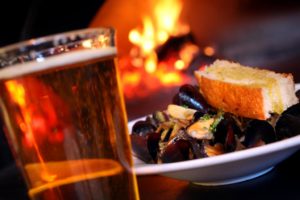 Jackson's Bar and Oven, 135 Fourth St., Santa Rosa, 707-545-6900, jacksonsbarandoven.com. This beautifully designed restaurant in the Railroad Square district is the place for meeting friends and hanging out in Santa Rosa. A wide array of drinks and a menu chockablock with well-crafted American dishes like burgers, pizzas, braised short ribs, fish tacos and great desserts (don't miss the beignets) all add up to a place you like to be in, with a staff that likes you in return. Reviewed 9/1/13. $$-$$$$
Juanita Juanita, 19114 Arnold Drive, Sonoma, 707-935-3981, juanitajuanita.com. The mural on the outside of this taqueria shows Juanita, the original owner, in profile. It's beginning to show its two decades of age, but the food inside is as good as ever. Everything from the tacos to the featured plates of enchiladas, jerk chicken, chile Colorado, carne asada and chanchamito, is a cut above the ordinary. Yes, burritos are available, but no tamales or chile rellenos. Reviewed 11/30/14. $-$$
KIN, 740 McClelland Drive, Windsor, 707-837-7546, kinwindsor.com. A big, boisterous place with a friendly atmosphere, KIN serves American comfort food (meaning an eclectic mix of favorite dishes of many cultures), and has a nice list of craft beers. Its name implies its purpose: bring the whole family, from toddlers to seniors, because there's something on this menu for everyone, including wood-fire pizzas. Reviewed 11/23/14. $$
La Toque, 1314 McKinstry St., Napa, 707-257-5150, latoque.com. Located in the Westin Verasa Napa hotel, Ken Frank's La Toque is one of Napa Valley's premier places to eat. It has earned a Michelin star, and Frank's modern French cuisine deserves it. The plates are small but intriguing. The wine list is glorious, with wines from everywhere. Whatever you order will be first rate. Reviewed 1/11/15. $$$$
Le Bistro, 312 Petaluma Blvd. S., Petaluma, 707-762-8292, lebistropetaluma.com. Chef Corey Basso has been cooking classic French and Italian dinners at this small neighborhood bistro since 1988, refining and improving the dishes as he goes. Now they are just about perfect. They're not complicated (fettucini with prawns, chicken breast, grilled lamb loin, a fresh fish of the day) but are thrillingly delicious. Reviewed 4/20/14. $$-$$$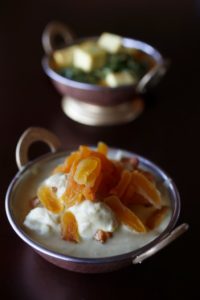 Marigold Indian Bistro, 7225 Healdsburg Ave., Sebastopol, 707-329-6965, marigoldbistro.com. Chef Uddab Timilsina makes Indian cuisine exciting, not just because he's mastered the art of combining Indian spices in intriguing ways, but also because his dishes are made with top-quality ingredients, which gives them the added appeal of freshness and purity of flavor. Along with the usual Indian dishes, he occasionally ventures into less charted territory. His lamb and apricot combination, for instance, is wonderful. Reviewed 11/9/14. $$
OSO, 9 E. Napa St., Sonoma, 707-931-6926, ososonoma.com. Owner David Bush is a talented chef who creates elaborate plates of food that might better be handled with some restraint. But his eclectic menu is invariably well prepared, and the emphasis is on raw seafood and slow-cooked meats. Guests must be 21 or older, because of the restaurant's tavern license. The wine list is a major feature, filled with interesting selections. There's a prix-fixe dinner and wine pairing menu, too. Reviewed 12/21/14. $$
Rossi's 1906, 401 Grove St., El Verano, 707-343-0044, rossis1906.com. The former Little Switzerland and its polka bands have been transformed into a Southern-style roadhouse with cherry-wood-smoked ribs, tri-tip, pork, chicken and shrimp, and live music Thursday through Sunday starting at 5 p.m. The good barbecue is accompanied by the usuals: fries, mac and cheese, hushpuppies and great onion rings. More than half of the 26 beers available are on tap. This is a fun place with good eats. Reviewed 1/4/15. $$
Rustic, Francis's Favorites, at Francis Ford Coppola Winery, 300 Via Archimedes, Geyserville, 707-857-1485, francisfordcoppolawinery.com. Francis Ford Coppola needs no introduction, but at his restaurant-resort-watering hole in Geyserville, you'll get one anyway. The restaurant features the Italian foods of Coppola's childhood, plus some adult loves such as an Argentine grill from which come big portions of beef with chimichurri sauce. The wine list is mostly from his winery, and that's fine. A wood-burning oven makes wonderful pizzas. Reviewed 11/10/13. $-$$$$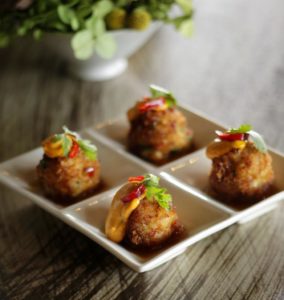 SEA Noodle Bar, 286 Coddingtown Center, Santa Rosa, 707-521-9087, seanoodlebar.com. This authentic Thai noodle shop is chef-owner Tony Ounpamornchai's third restaurant in Sonoma County, and it's just what a hungry public wants: noodle and rice bowls with tofu, chicken, duck, pork and prawns at moderate prices. His appetizers are every bit as good as the bowls, and even prettier in appearance. Don't miss the potstickers and the Dungeness crab puffs. Reviewed 8/17/14. $$.
Shiso Modern Asian Kitchen, 19161 Sonoma Highway, Sonoma, 707-933-9331, shisorestaurant.com. Chef Ed Metcalfe cherry-picks items from various Asian cuisines, but with a special emphasis on Japanese dishes. His ingredients are wonderfully fresh and the vegetables are sourced from his own garden. There's a well-filled-out list of sakes along with beer and wine. His chirashi (chef's choice) may be the best way to go. It's a unique restaurant with a scrumptious take on Asian food. Reviewed 12/28/14. $$
630 Park Steakhouse at the Graton Resort and Casino, 630 Park Court, Rohnert Park, 707-588-7115, gratonresortcasino.com. Here's your big-time casino-style steakhouse. A 42-ounce prime T-bone for two is $120, a personal 20-ounce rib-eye is $54, and filet mignons start at $43 for the "petite" cut. The meat is as terrific as the prices portend, and the kitchen also serves up chicken and seafood, such as a 28-ounce Northern Australian lobster tail for $149. Side dishes of vegetables, potatoes and mac and cheese run around $10 each. Ah, g'wan. You only live once. Reviewed 12/29/13. $$$$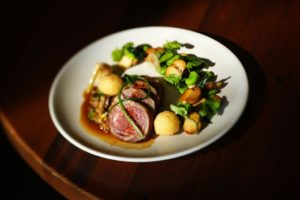 Torc, 1140 Main St., Napa, 707- 252-3292, torcnapa.com. Chef Sean O'Toole cooks classic American and Californian dishes with refinement and elegance. His ingredients are impeccably good, and he uses them in a way that's both thought-provoking and enjoyable. His impossibly tender slices of spring lamb, for instance, sit on a bed of shredded lamb shoulder mixed with bits of fresh mint. They come with small balls of fried dough filled with garlicky cream. The wine list is eclectic and ranges far beyond Napa Valley. Reviewed 6/15/14. $$-$$$$
Vignette Pizzeria, 6750 McKinley St., Sebastopol, 707-861-3897, vignette-pizzeria.com. Mark Hopper, a graduate of Thomas Keller's operations, decided to go all-out to make classic Neapolitan pizzas at his 62-seat eatery in The Barlow center. He achieves his aim, and then some, because he has Sonoma produce to use as toppings and in his salads and appetizers. The result is spectacularly good pizzas, but leave your preconceptions about pizza at home and enjoy what he gives you. Reviewed 9/21/14. $$-$$$
zazu kitchen + farm, 6770 McKinley St., Sebastopol, 707-523-4814, zazukitchen.com. While many restaurants claim to cook farm-to-table, Duskie Estes and John Stewart take the concept to a new level at zazu, located in a spacious room in The Barlow center. They have a small farm at home where they raise animals, gather eggs and grow crops, and a kitchen garden by the restaurant, too. Stewart makes great bacon and salumi, Estes ferments vegetables, and the kitchen turns out American comfort food that's impossibly tasty. Reviewed 9/15/13. $$$-$$$$