Where there are bees, there are flowers. Where there are flowers, there are fruits, vegetables and honey. Where there's honey, there's mead. And so goes the cycle of springtime life.
To participate in the action, start with Bee Kind in Sebastopol, where "Package Bee Days" will be held April 18-19 and April 25-26 for customers to pick up the bees they ordered in advance and start setting up their own hives. Anyone can do it.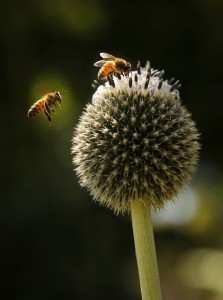 Then mark the calendar for when Farm Trails throws the Bees, Blossoms and Barnyard Babies hootenanny May 2-3. Two of the most bee-friendly farms along the trail are Asian pear hot spot Gabriel Farm in Sebastopol and Lavender Bee Farm in Petaluma. Both stage hive demos, and Lavender Bee Farm offers tastes of its raw Petaluma Lavender Blossom honey, which sells out every year.
Spring also means meadows ablaze in a bee favorite: wildflowers. It's always worth checking on the next guided wildflower hike at Bouverie Preserve in Glen Ellen. These hikes typically begin in April, depending on weather's impact on plant growth. One of the easiest and most accessible hikes is at Sonoma Valley Regional Park (13630 Highway 12, Glen Ellen), where the flat terrain is blanketed with California poppies, lupine, woodland star, hound's tongue, periwinkle and Douglas iris, spring through summer.
Tapping into the power of those wildflowers, Heidrun Meadery in Point Reyes Station makes a unique sparkling wine-style mead from fermented honey. Its 2014 Point Reyes Wildflower will be remembered as the first estate mead made from hives farmed on the property. Tours ($15) and tastings ($10) are available by reservation at info@heidrunmeadery.com and 415-663-9122.
Subscribe to Our Newsletters!