First, there's the bright snap as a thin cloak of tempered chocolate gives way to rich chocolate ganache (simply, chocolate and cream) that spreads over the palate in dark, delicious glory.
The confections from Gandolf's Fine Chocolate in Santa Rosa are among the best and most satisfying you'll find this side of Paris.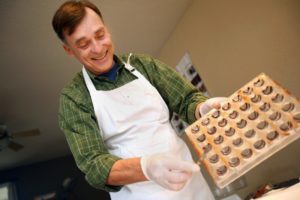 Guy Daniels, who founded the company (named after his beloved cat) in 1999, explained that tempering, the biggest challenge a chocolatier faces, is what sets his chocolate apart. To temper it, couverture chocolate (a very high-quality chocolate that contains extra cocoa butter, made specifically for this process) is first heated to 114 degrees, then cooled to 82 to 83 degrees, and then heated again to 89 degrees.
"When this is done correctly," said Daniels, a full-time chocolatier, "the molecules realign themselves. This is essential for enrobing a truffle with snap."
Tempering gives chocolates their texture and sheen, increasing their visual appeal and improving the way they feel in the mouth. (Untempered, chocolate may taste good but have a spongy texture, look dull or blotchy, or show streaks of fats.) Not all chocolate behaves the same, and procuring couverture chocolate that is consistent is an equally important task.
"I use Guittard," Daniels explained. "I am very careful, very cautious about this. I cannot afford inconsistency."
For the ganache, Daniels has more options. He's a fan of Hawaiian chocolate, in part because of its quality and in part because it is easy to verify claims made about it — for example, that it is organic. When he can get Hawaiian chocolate (very little is produced), he features it in a classic truffle. He also uses other chocolates that pique his interest.
When it comes to flavorings, Daniels is a traditionalist. A delicate restraint is part of his artistic signature.
"From my perspective," he said, "nothing is better than pure cream and the finest chocolate."
The best flavorings are, he believes, the tried-and-true classic combinations that have endured for decades. Hazelnuts, macadamia nuts, dried fruit, espresso, Kahlua and amaretto have long been praised for their affinity with chocolate.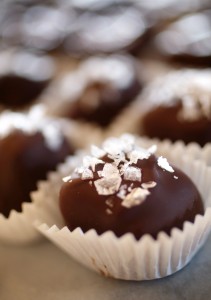 Yet Gandolf's biggest seller is a salted caramel truffle, a simple combination of caramel-chocolate ganache topped with a bit of flaky salt.
"People who buy this one buy a lot, not one or two truffles, but boxes of truffles, and they don't typically buy other flavors," Daniels said.
Come Valentine's Day, Nipple of Venus, popular year-round, garners even more attention, thanks to both its name and its suggestive slash of tempered white chocolate atop a classic dark chocolate truffle. Fans of the 2000 movie "Chocolat," starring Johnny Depp and Juliette Binoche, will recognize the name.
Gandolf's chocolates are available at gandolfsfinechocolate.com. Contact Guy Daniels at 707-861-0489. Prices range from $2 per truffle to $48 for a box of 24.
When More is More
A chocolate purist might be satisfied with a single Gandolf's truffle. But for many, more is always more when it comes to chocolate, and truer than ever on Valentine's Day. And it's not just in quantity, but also in flavor combinations that push the boundaries of tradition.
For such delicacies, look no further than Recherche du Plaisir, a sweet little sweet shop in Santa Rosa where chocolatier Lucy Gustafson crafts truffles and other bonbons, French macarons and more. Flavors range from classic dark chocolate and salted caramel to red-hot ganache; dark chocolate spiked with ancho chile and other spices; strawberry preserves with white chocolate; dark chocolate hearts filled with white chocolate and peppermint; and the Violet Beauregard, made of white chocolate and blueberry preserves.
The shop has beautiful containers, too, including a gorgeous heart-shaped box crowned with circular swirls of thin red ribbons that holds nearly three dozen morsels.
Recherche du Plaisir is at 3401 Cleveland Ave., Suite 9, in Santa Rosa. For more information, call 707-843-3551 or visit www.rdpsweets.com. Prices range from $2 for a single bonbon to $74 for a heart-shaped box of 33.