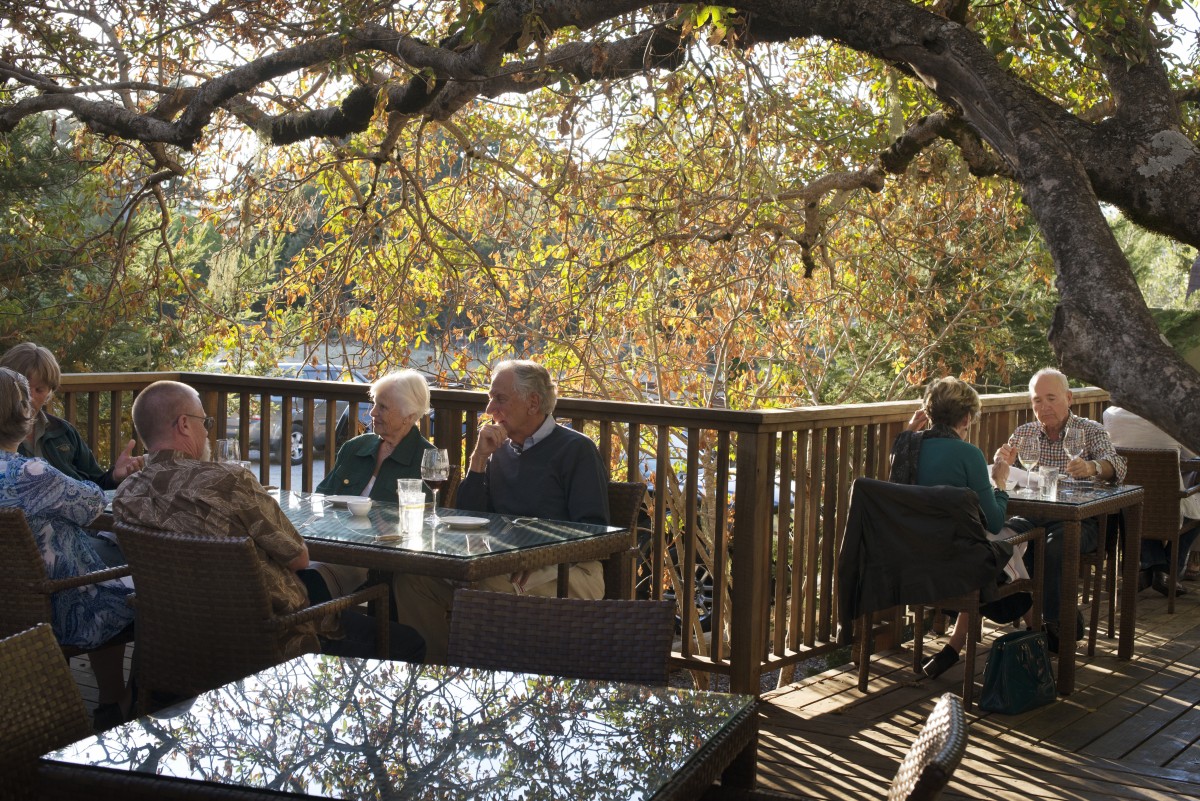 When chef Ron Siegel popped out of the kitchen to greet some customers at the Western Room in Nicasio, I wanted to applaud. Here, in the unlikely setting of a historic barbecue and dance hall, he has created a modern restaurant with cuisine that would shine in any big city.
No matter that the chef looked like he had just come off the barbecue line. His rumpled gray-blue shirt and wrinkled charcoal gray apron fit with the dining's room rough, wood-paneled walls and bare wood tables.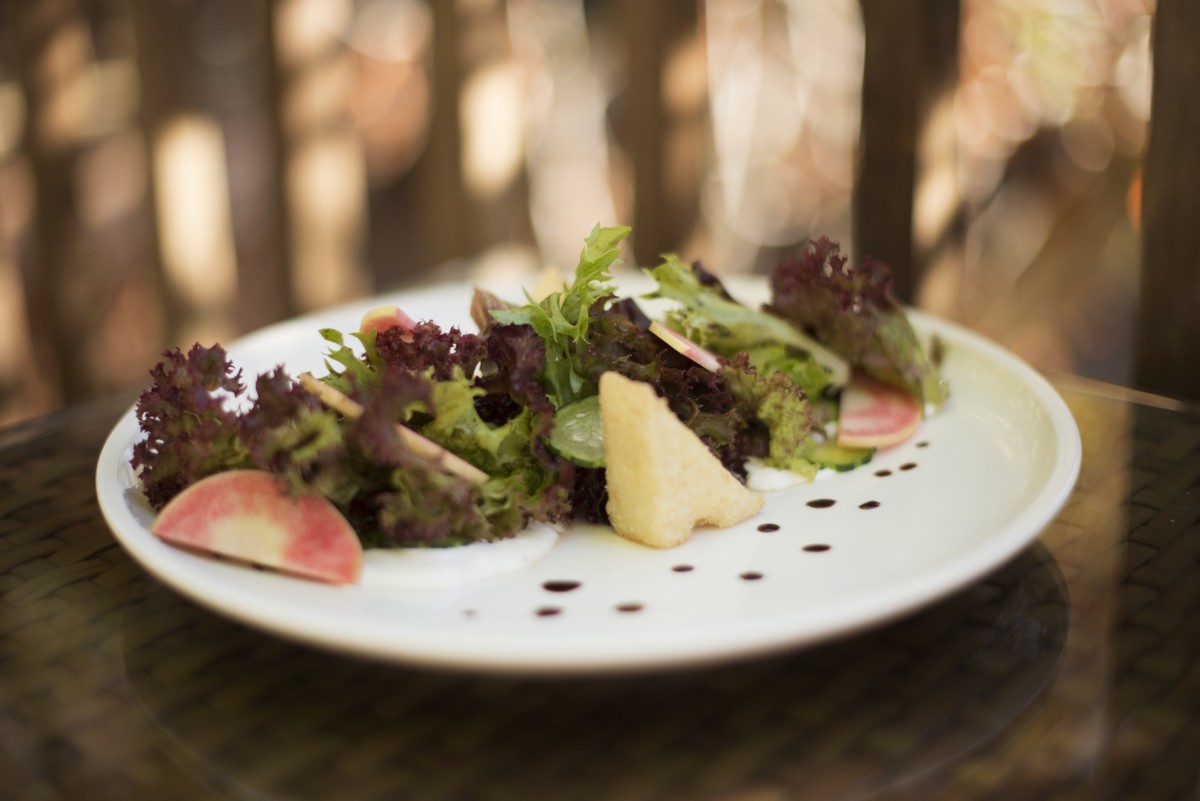 The food on the table before me was art, from the chilled corn soup kissed with lemon-nutty coriander spice ($6) to the burrata salad jazzed with thin sliced Gravenstein apple, baby greens, tart pickled huckleberries and a drizzle of aged balsamic ($14).
Nicasio feels like its own little world in west Marin, the tiny, 100-resident town known mostly for its Nicasio Valley Cheese Company and the boutique pork, rabbit, lamb and quail at Devil's Gulch Ranch. Its community hall is Rancho Nicasio restaurant and bar, built in 1941 and serving burgers, grilled rib-eye and meatloaf in the dining room that doubles as a live music venue.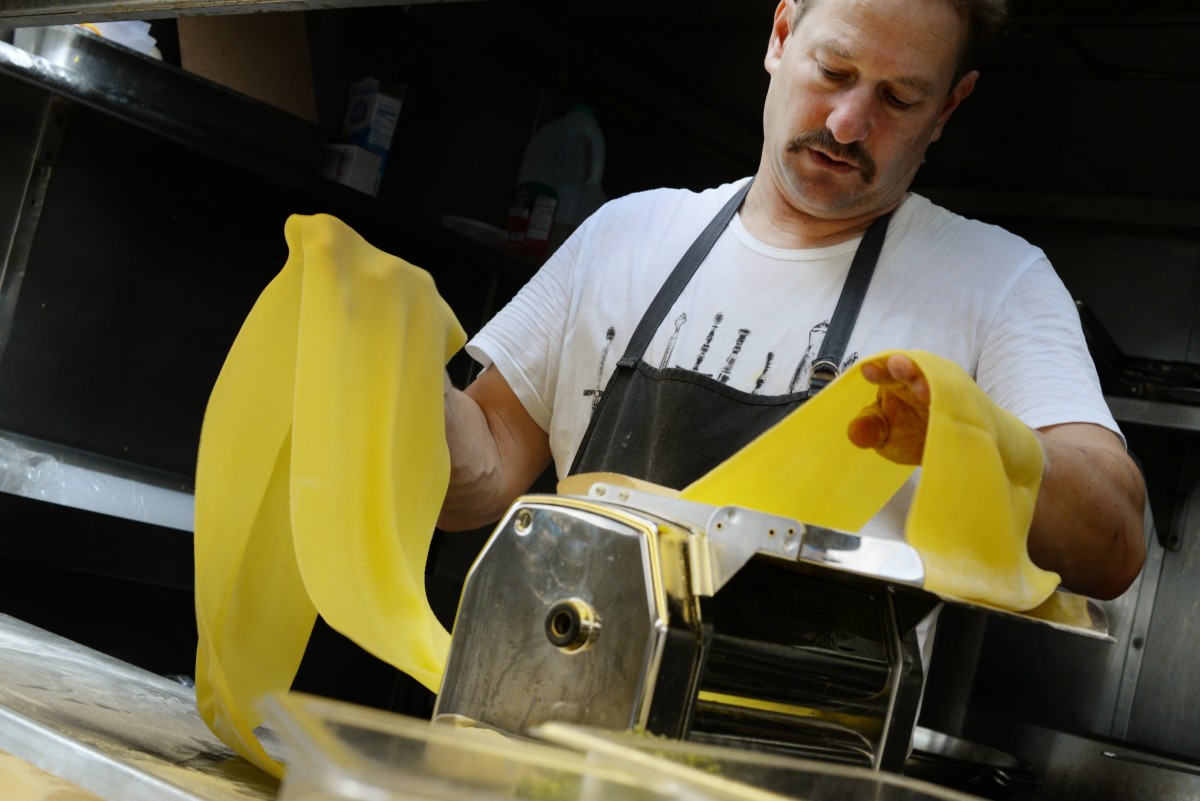 When Siegel joined Rancho Nicasio in February, it was a surprising move for a chef who previously worked with Michael Mina, the French Laundry, Charles Nob Hill and the Dining Room at the Ritz-Carlton. He was the first American chef to win the Japanese version of "Iron Chef." Yet Siegel was tired of the commute from his San Anselmo home and the demands of structured dining. Here, he could continue his meticulous cooking, but in more relaxed surroundings.
Laid back it is. We park next to the baseball field, walk past the post office and general store, and enter through the bar, with a taxidermy collection of critters from buffalo to wild boar. One evening, a chalkboard sign read, "Welcome Hogsters," presumably for the wild group that was tearing up the dance floor and the back lawn set with picnic tables.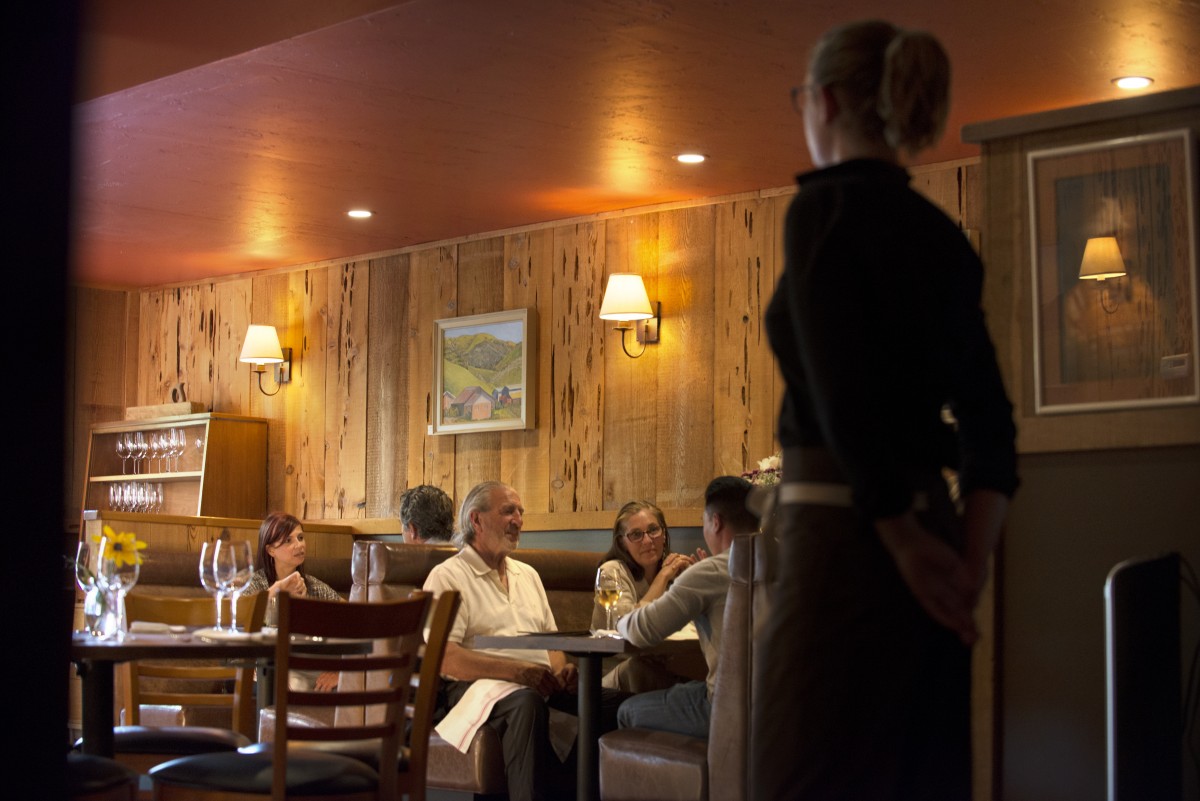 The Western Room sits behind saloon doors, with 48 seats set on a weathered dark wood floor beneath wagon wheel chandeliers. Yet the first plate arrived, and it was magnificent, in a sunburst design of silky shima aji (striped jack fish) crudo on a puddle of stone fruit puree and decorated in cubed, pickled salted plum, whisper thin daikon curls, crispy kombu triangles and rice crackers puffed like chicharrones ($16).
A generous sprinkling of sea salt intensified the smooth, sweet, tart flavors, and each bite brought contrasting textures of velvet and crunch.
It's already easy to love this roadhouse, built after the 1867 Hotel Nicasio burned down in 1940. Everyone is friendly, and the music is top notch, thanks to owner Bob Brown. Before he bought the place in 1998, he managed Pablo Cruise and Huey Lewis and the News.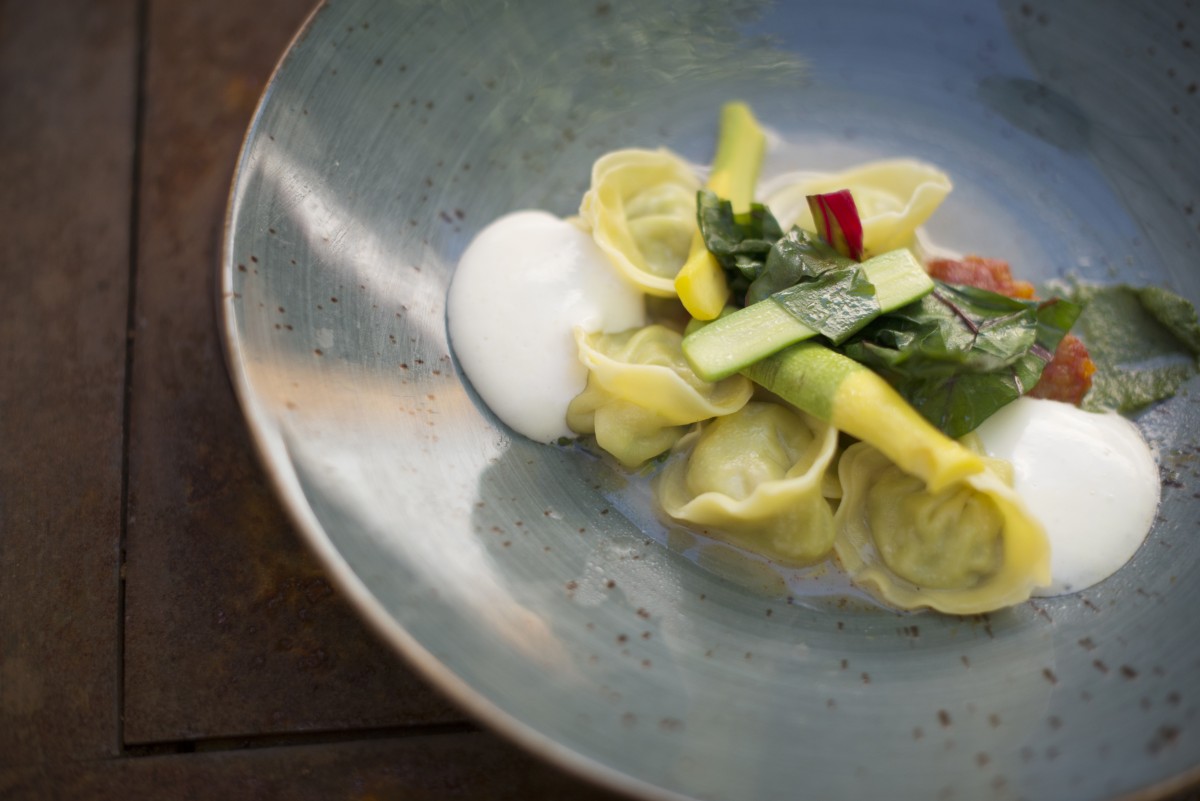 But as I admired the tortelloni ($16), my happiness was nearly ridiculous. The six big pasta packets could have made an entrée, expertly al dente and generously stuffed with moist braised rabbit that had a pleasing bit of chew. They rested atop thick swaths of pesto, Parmesan cream and braised tomato, all topped in sautéed greens, with the trick being to get a bit of each sumptuous, savory ingredient on every forkful.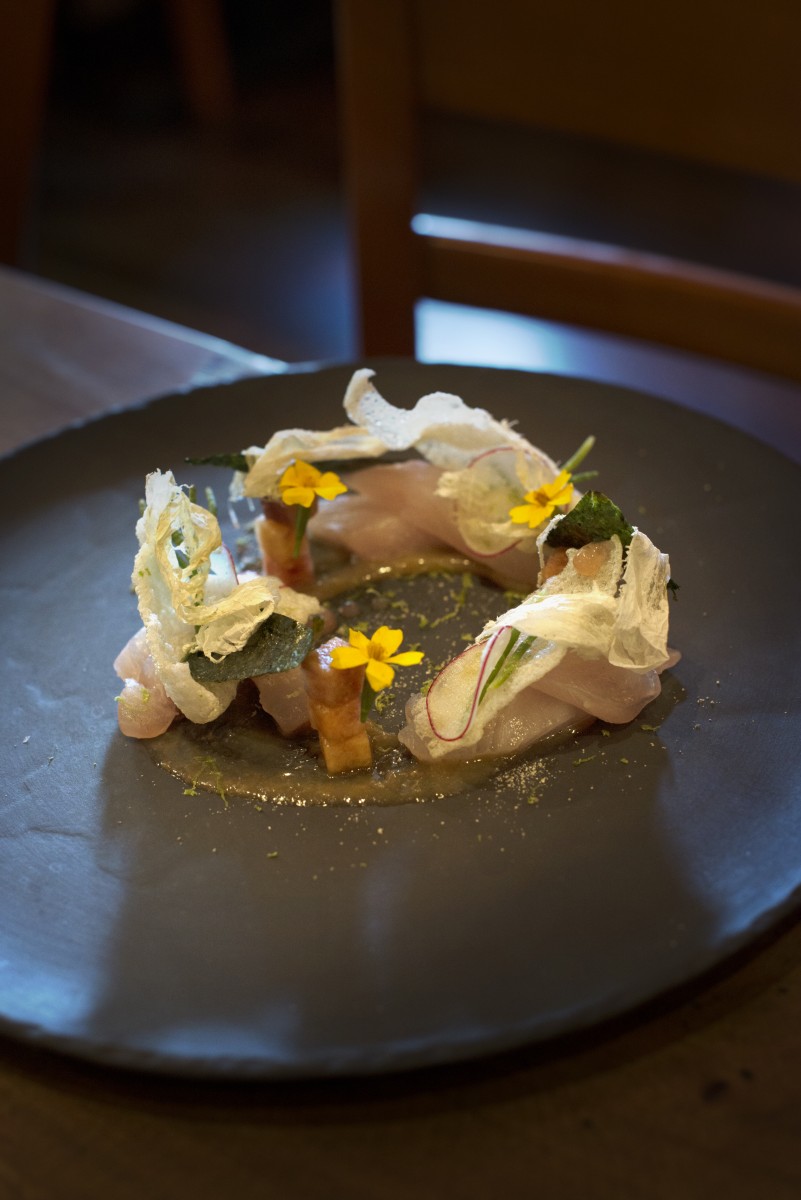 Perhaps inspired by his Iron Chef win, Siegel likes Japanese accents. Tender local squid is arranged with crispy tofu and ponzu ($7), while grilled aji rolls look like cooked sushi, stained bright green with salsa verde under a crown of diced stone fruit ($7). A slab of crisp skin-roasted Mount Lassen trout ($15) lounges atop shiitake mushrooms and radish in dashi broth. As with everything, the portion size, flavors and presentation make the prices an incredible bargain.
Each dish, too, brings its own creative twist. Tomales Bay halibut is beautiful to look at, the mild fish topped in cubed nectarine, bright red roasted pimentos, tiny bits of braised clam and microgreens ($32). But the lemon spuma and eggplant purée, flooded with the fish's natural jus, make the whole thing sing.
I wasn't as excited about a surf and turf plate ($33), however. The seared Bodega Bay king salmon was nice, but the tiny piece of short rib was overly soft, especially compared to the beautiful, meaty maitake mushrooms and firm roast potato alongside. The brown sauce was a bit heavy with vadouvan spices, though the soubise was a perfect, onion-y accent. Good enough, ultimately, paired with a 2014 Wild Thing Rendezvous Rosé (Carignan blend, Mendocino County, $9).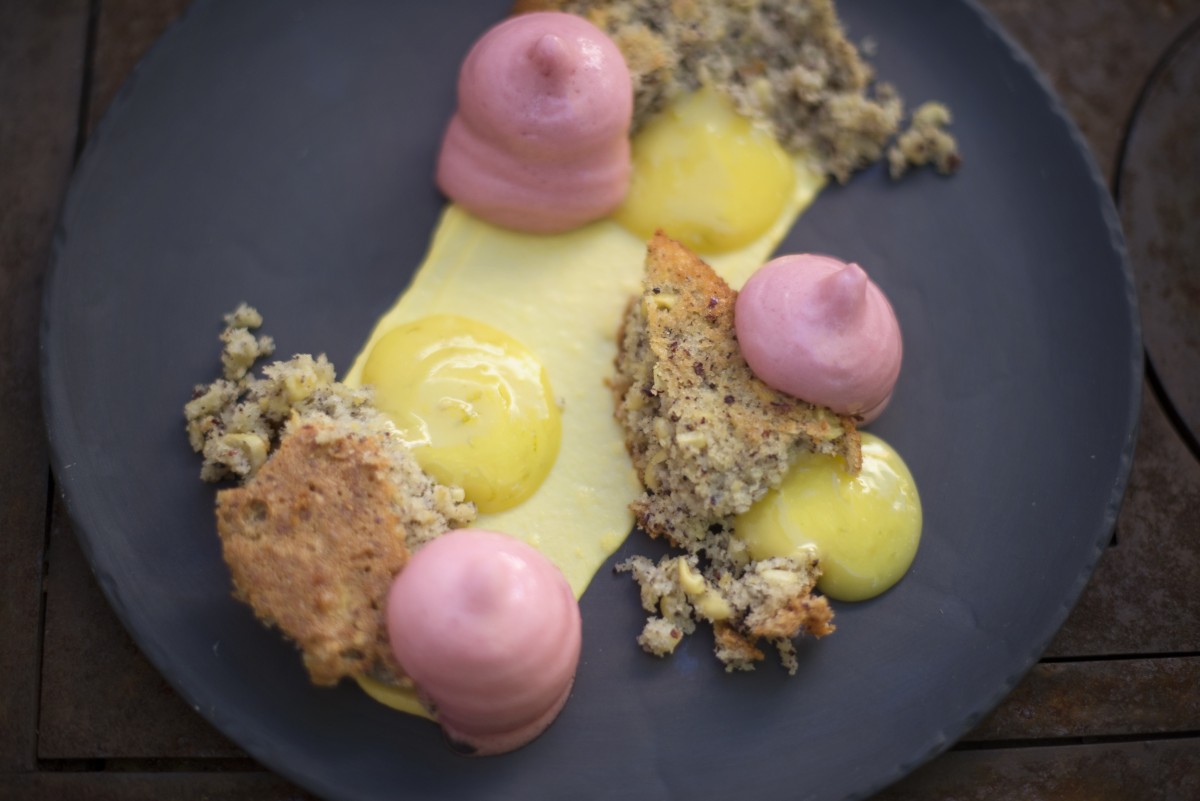 With such fine food and small town charm, the slow service here doesn't bother me. It takes at least 20 minutes between courses, mostly because Siegel is running the kitchen pretty much solo. Yet when dessert finally arrives nearly 40 minutes after our entrée plates are cleared, the server brings an extra goodie, too, an ice cream sandwich.
It was a very good sandwich, with homemade, maple hued candy cap mushroom ice cream stuffed in a baseball-size, pillowy-crunchy macaron ($8). I preferred it to the sweet corn cake, a crumbly olive oil cake liberally studded with whole kernel corn. It was too earthy for dessert, and the tart hibiscus and citrus curds accompanying it were watery.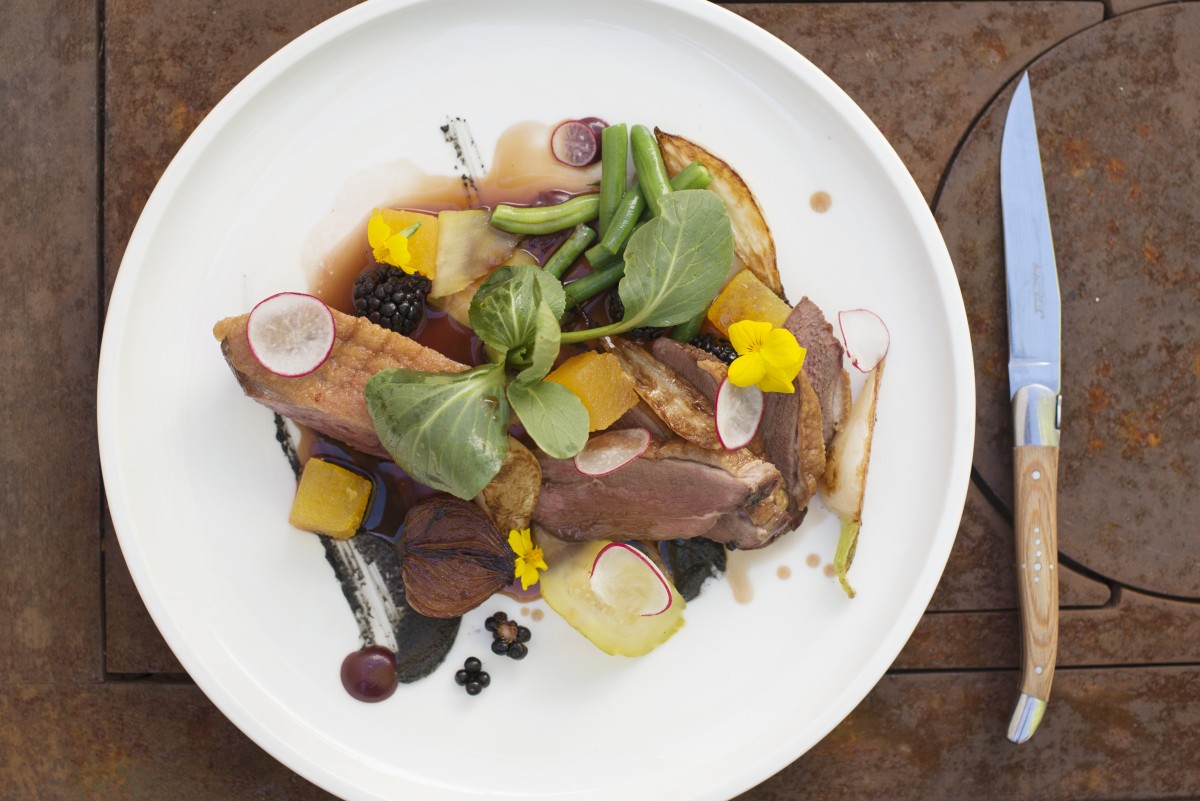 As I left the restaurant after my first dinner, I was already eager to return. Siegel changes dishes frequently, for the seasons but also for daily best ingredients, so each time we come we can enjoy something new. Sonoma duck breast ($30) may be a staple, but one night it came with black sesame and yellow doll watermelon, while another night it was paired with blackberry and watermelon salad. Subtle differences, perhaps, but making for entirely different flavors.
I just hope that as word gets about the Western Room, it doesn't overwhelm little Nicasio. But then, the Rancho Nicasio barbecue and live music parties already bring in hundreds of guests each weekend, so what's another hundred or so more?
Subscribe to Our Newsletters!