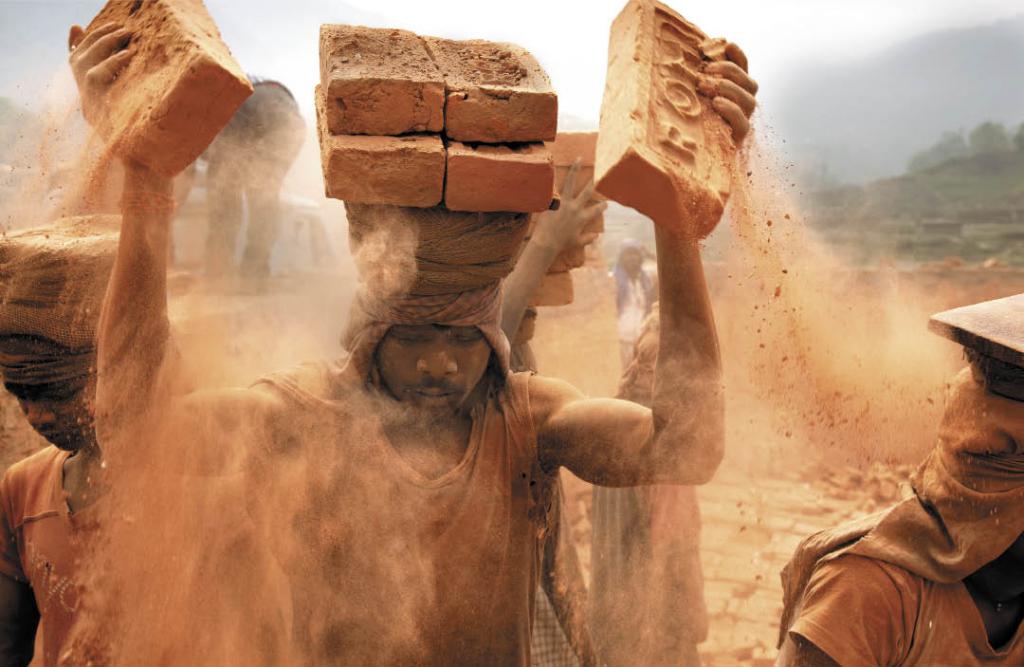 'Stacking, Nepal,' by Lisa Kristine.
More than anything, she remembers the heat.
The year was 2010, and Lisa Kristine was inside a 120-degree brick kiln in the middle of India. She had been sent to photograph indentured child laborers: child slaves. In the moment, as she captured little girls and their families enduring gruesome conditions without pay and under the threat of violence, the heat struck her as unbearable.
It was so hot she was dripping with sweat. So hot she could barely think or stand. So hot that her camera equipment stopped working.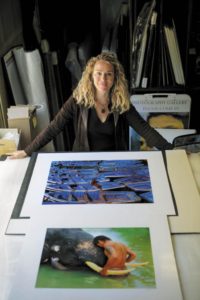 "I remember dashing back to the cruiser every 20 minutes to run the camera in front of the air conditioning vent to get it to work again," she said. "As I sat there, I thought to myself, 'My camera is getting far better treatment than these people ever will.'"
Kristine, a Marin County resident with a gallery in downtown Sonoma, is all too familiar with these types of conditions. During the last 28 years, she has documented the lives, trials and tribulations of people in other cultures in other lands. Her goal is to use photography to expose deeply human stories and to inspire change.
For this reason, Kristine, 49, has become known as a "humanitarian photographer." On the job, she has witnessed horrific injustice, heart-wrenching tragedy, and humans being treated like objects or worse.
Dealing with the emotional toll of these experiences is challenging, something that usually takes months. But according to Kristine, working to help garner support for the modern-day abolitionist movement helps; she hopes to play a small part in making a difference in these people's lives.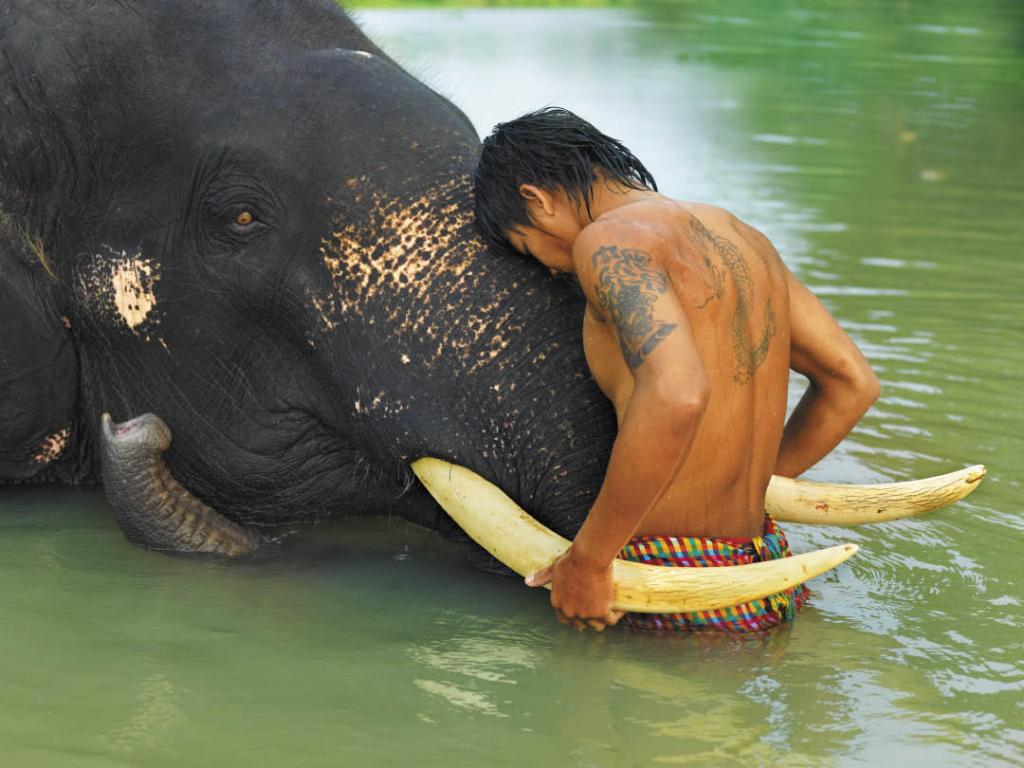 "I work from the premise that I only have the gift that I have — an ability to make an image that will capture the spirit and quality of each human being and allow people to visually connect," she said. "My hope is that this connection is what ignites others to make a difference."
As a child in San Francisco, she daydreamed about seeing the great cultures of the world. As an adult, she followed her dreams, starting her career photographing indigenous cultures in the Middle East, the Far East, South America and elsewhere. Her early work shined a spotlight on different cultures and emphasized unity. By the latter part of the 2000s, Kristine had visited almost 100 countries on six continents, shooting in digital, 35mm film and 4-by-5 large format.
But her life changed forever at the Vancouver Peace Summit in 2009. There, she ran into a supporter of Free the Slaves, an organization dedicated to eradicating modern-day slavery. The woman told Kristine that according to U.N. estimates, 27 million people are currently enslaved across the globe. They discussed specific instances of slavery in India, Ghana and other parts of the world. Kristine's mind was blown.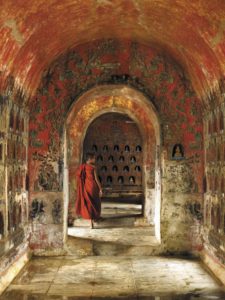 "After we finished talking, I felt so horrible and ashamed at my own lack of knowledge of this atrocity in my lifetime," she said. "I assumed slavery had been dealt with. I just thought, 'If I don't know, how many other people don't know?'"
Within weeks, she flew to Los Angeles, met with officials at Free the Slaves, and pledged to help.
After a few years of documenting slavery in images, Kristine started leveraging other media. She published a book about slavery (her fifth book overall) and was involved with a number of documentaries on the subject. She donates a portion of the proceeds from the sale of her work about slavery to Free the Slaves.
Kristine has also spoken at several TEDx events, which feature inspirational speakers and innovative thinkers, and the Wisdom 2.0 conference, which celebrates insight.
Her contributions in all of these areas have earned her acclaim from those who work on humanitarian projects every day. In 2013, Kristine received the Lucie Humanitarian Award from the Lucie Foundation, which honors master photographers, supports emerging talent and promotes the appreciation of photography around the world.
A quote on Kristine's website from Cosette Thompson, former western regional director at Amnesty International, sums up the photographer's gift for portraying the human condition in a way that appeals to all: "Few artists know how to capture the diversity and dignity of indigenous people. Kristine's portraits exquisitely convey their silenced messages."
When she's not traveling the world, Kristine keeps a modest office in a nondescript office park in San Rafael. It isn't open to the public, just colleagues and visiting journalists. The best place for people to experience the gravity and grandeur of her work is her gallery, located on the plaza in Sonoma.
Strolling around the gallery is an emotional experience. On one wall is a photograph from Kristine's trip to quarries in the Himalayas, where she took pictures of child slaves carrying giant rocks strapped to their heads. On another wall is an image from a brothel-like facility in Kathmandu, a place where teenage girls are expected to have sex for 12 or sometimes 14 hours a day.
Additional images, from the textile industry in India and Lake Volta in Ghana, are stark, raw and jarring. Even her profile shots, those of everyday people abroad, are haunting in how alive they are.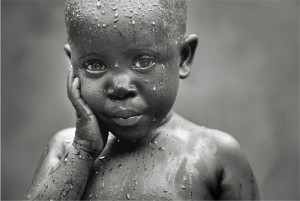 Kristine is cagey when asked to describe her next project, saying only that she spends a good bit of time every year on the road. She notes that currently she is touring two exhibits: "Enslaved," which features her work on slavery and is booked to show at St. Norbert College in De Pere, Wis., in early 2016; and "Bhutan: Pillar of Spirit," which spotlights Bhutan and is still in the process of being booked.
Long term, Kristine said she will continue to work with Free the Slaves and strive to use her photographs to engineer change.
"I hope people see my pictures, see someone who is very different from them, but feel a connection to that subject and are moved by that connection," she said. "That leads to wonder and curiosity. Ultimately, those are the kinds of emotions that are going to inspire someone to step away from the photo, love a stranger, give to a cause, raise a hand for helping others, and make a difference."
Lisa Kristine Gallery, 452 First St. E., Sonoma, 707-938-3860, lisakristine.com