Stephanie Gwilliam's hand-thrown pie plates will have you dreaming of baking. Gwilliam found her inspiration at the annual Gravenstein Apple Fair and developed a series of hand-scalloped pieces with a distinctive speckled glaze and a swirl detail on the bottom. After selling pieces at the fair, she wondered how they might work with the prized apple, and she began experimenting with pie and pie-plate making.
"My first pie did not turn out well at all," admits Gwilliam, laughing — but the 6-inch pie plate design was a keeper."
Gravenstein apples aren't the only food to inspire her work, which Gwilliam sells under the name Hayes Ceramics. Her sizable garden, right next to her home studio in Windsor, has prompted projects like a small berry colander that fits over a plate, a set pretty enough to keep out on the counter all the time.
"I will probably use this every single day of my life," she says, holding another of her favorite creations, a coffee mug marbled in different colored clays.
Gwilliam finds the everyday usability of her serveware satisfying. "I love how non-exclusive it is," she says. "Everyone can relate."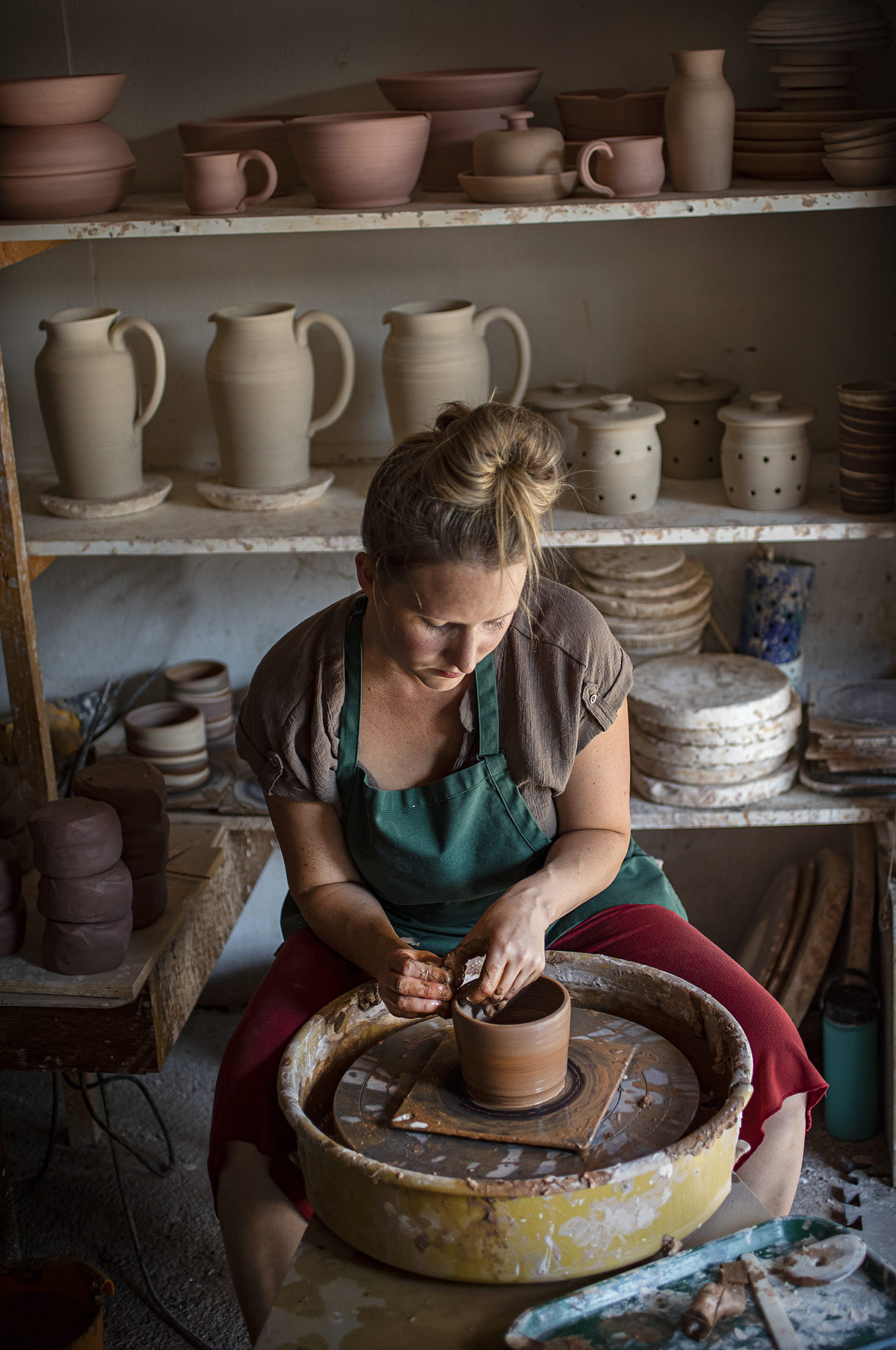 Behind all the perfect lines and pretty shapes is Gwilliam's love of the practice. As mother to a young daughter, she rushes to her studio to work on designs as soon as it's naptime. Her current signature look features speckled clays and neutral glazes for a rustic farmhouse look. Gwilliam works in batches, and it can take days or weeks to see a piece from start to finish. It's the wait, she says, that keeps her interested.
In fact, her path to success has been marked by that patience. Gwilliam began exploring ceramic design while still a high school student. Early on, she had trouble centering her pieces on the pottery wheel and, for a time, switched to more abstract ceramic sculptures instead.
But through the years, she kept at the wheel. After transferring to San Francisco State, "something clicked," she said, and she eventually earned a degree in fine arts.
Now her perfected plates can be a stage for your own baking trials and triumphs.
Purchase Hayes Ceramics pie plates, mugs, and more directly from the artist on Etsy (etsy.com/shop/ HayesCeramics).