Charlie Brown, Snoopy, and the rest of the gang may be recognized around the world, but to the people of Sonoma County, they are simply our neighbors.
"Peanuts" creator Charles "Sparky" Schulz, who lived and worked in Sonoma County from 1958 until his death in 2000, remains a powerful presence. While the world knows of his comic strips and the animated cartoons they inspired, locals have many ways to mark the Schulz influence in the county—not only by visiting the places he loved, but by remembering a legacy of local philanthropy that carries through to this day.
The spirit of Schulz rings strong in Sonoma County, from the statues of "Peanuts" characters that dot the city of Santa Rosa, to the vintage "Peanuts" comic strips still reprinted daily in our local newspaper. At the Redwood Empire Ice Arena, known as Snoopy's Home Ice, there is still a "reserved" sign on Schulz's favorite table in the arena's Warm Puppy Café coffee shop, where he sat so many mornings. "The ice arena is still a big part of Santa Rosa," says Schulz's widow, Jean Schulz, who still lives in Santa Rosa. "It's a happy place. Sparky said people needed to hang out, whether they were watching their kids skate or just having a cup of coffee."
But it's not just the local institutions that bring Sparky's legacy alive. It's also that Charlie Brown and the rest of Schulz's characters remain some of the most iconic in all of American culture—"right up there with the March sisters and Tom Sawyer," according to author Bruce Handy in The Atlantic magazine. The gang's small dramas—hitting a baseball, making friends, struggling to impress a first crush—belie profoundly moving observations about the nature of childhood itself, says Handy.
British curator Claire Catterall, in an introduction to an exhibit about the legacy of Schulz's characters, says the "Peanuts" gang became, for many, an important part of their daily life, a cast of friends accompanying fans on a journey of love, laughter, tears, and fears. "[The comic strips] didn't offer any answers, only comfort in knowing that we all suffer the same worries and disappointments," Catterall writes, "and it showed us how these bittersweet moments could form the wellspring of humanity itself."
A worldwide following
Charles M. Schulz was born Nov. 26, 1922, in Minneapolis and would have turned 100 this year. By the time of his death of colon cancer in Santa Rosa at age 77, he had written and drawn the "Peanuts" comic strip for nearly 50 years. (Perhaps cartoons were in his destiny; Schulz's lifelong nickname, Sparky, was a reference to a comic his family enjoyed as a child.)
Schulz's "Peanuts" comic strip debuted in 1950 and over the following decades, it garnered hundreds of millions of readers and spawned some 50 television specials, as well as movies, books, toys—even a Broadway show. At its height, "Peanuts" readership was estimated at around 355 million people. The daily strip was syndicated to over 2,600 newspapers in 75 countries around the world and translated into 21 languages.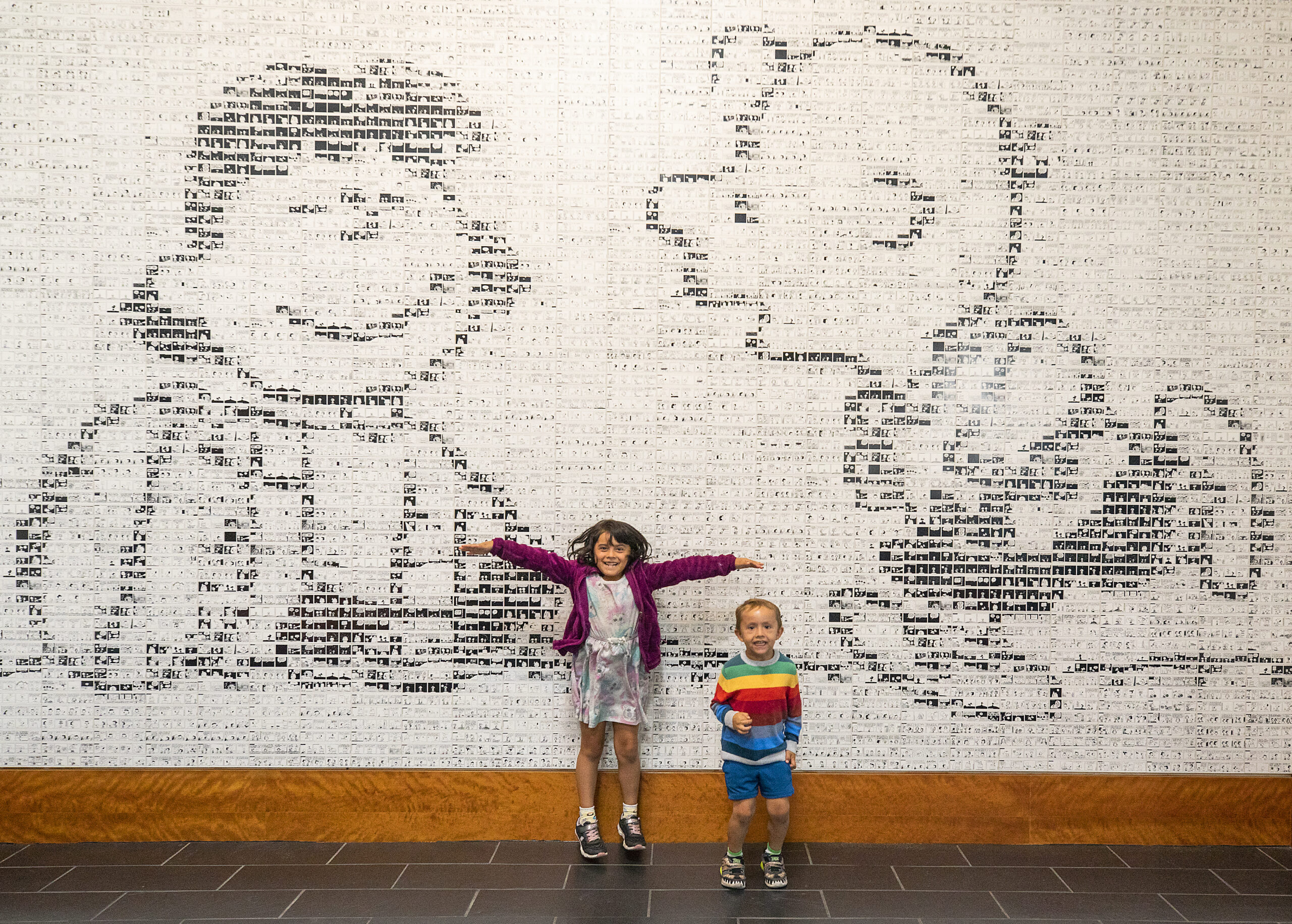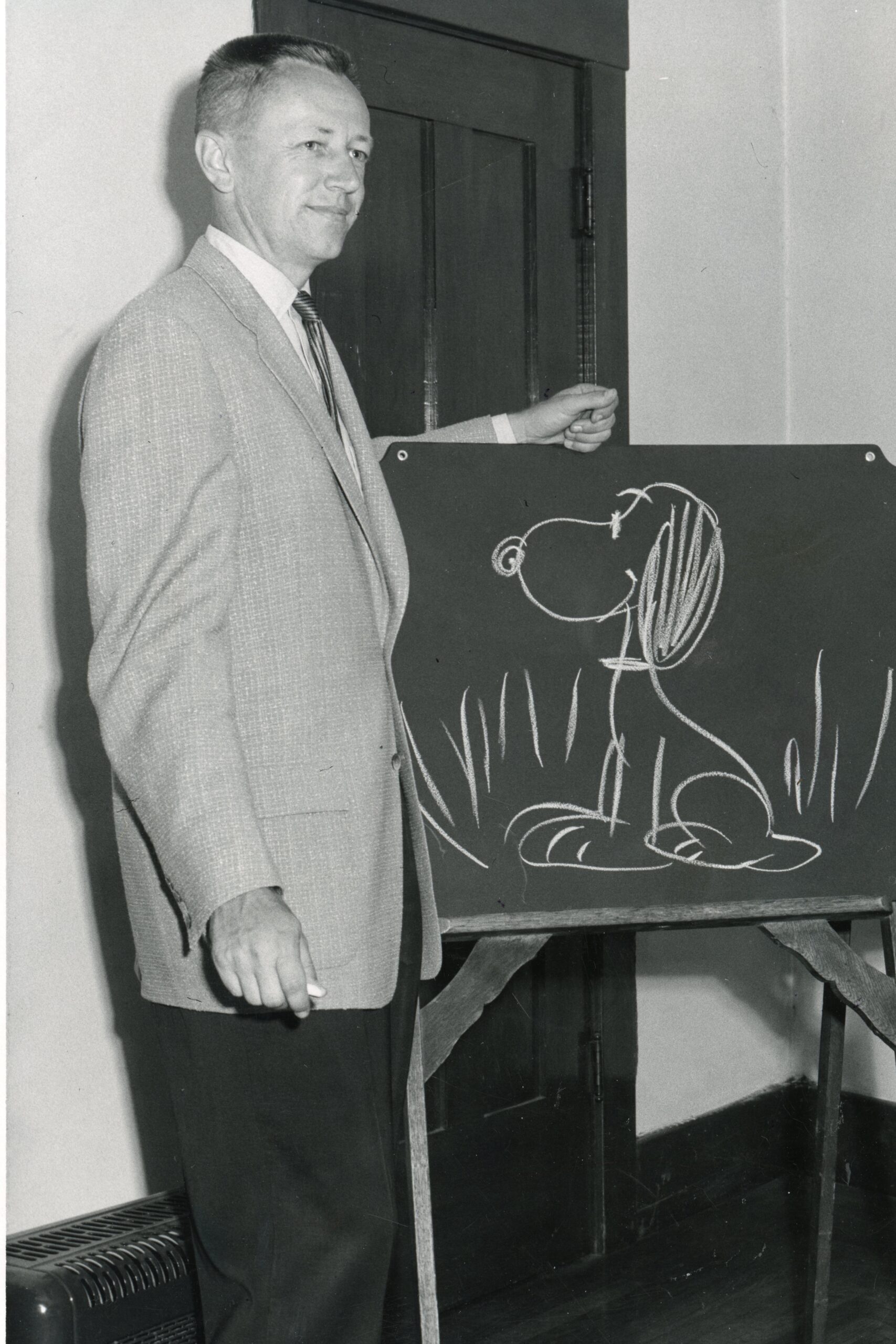 Five years after the comic strip's debut, Schulz won the first of two awards from the National Cartoonists Society for outstanding cartoonist of the year. He moved to Sonoma County in 1958, and quickly made a home, eventually raising five children here—all of whom attended public schools in the area. (Schulz famously served as PTA president at his kids' elementary school and wrote the monthly parents' newsletter.) Local landmarks regularly appeared in Schulz's work, including Santa Rosa's Spring Lake Park, Sebastopol's Pine Crest Elementary School, and the communities of Bodega Bay and Petaluma, to name a few.
Sometimes, Schulz's friends even made an appearance in print. Harriet Crossland, a friend of Schulz's from Snoopy's Home Ice, became the namesake for Woodstock's tiny bird friend Harriet, a member of the scout troop led by Snoopy. And sweet, philosophical Linus, little brother of often-crabby Lucy, was named after Linus Maurer, the longtime cartoonist for the Sonoma Index-Tribune.
"Peanuts" on display
One of the Schulz family's greatest gifts to the county is the Charles M. Schulz Museum and Research Center, which opened two decades ago near Schulz's beloved Santa Rosa ice rink. Over the years, the center has welcomed Peanuts fans from as far away as the Netherlands and Japan, who make the pilgrimage to understand the history behind Schulz's creations.
"The museum has given depth and richness to the work of Charles Schulz," says museum director Gina Huntsinger.
Over two decades, the museum has hosted over 350 visiting cartoonists, including Patrick McDonnell, the creator of "Mutts," Cathy Guisewite of "Cathy," and Mo Willems, author of "Don't Let the Pigeon Drive the Bus!" Exhibitions developed by the center travel around the world, and pretty much any schoolchild in the county has experienced the museum's riches through field trips and other outreach. The museum estimates they reach 12,000 local students each year with their programming.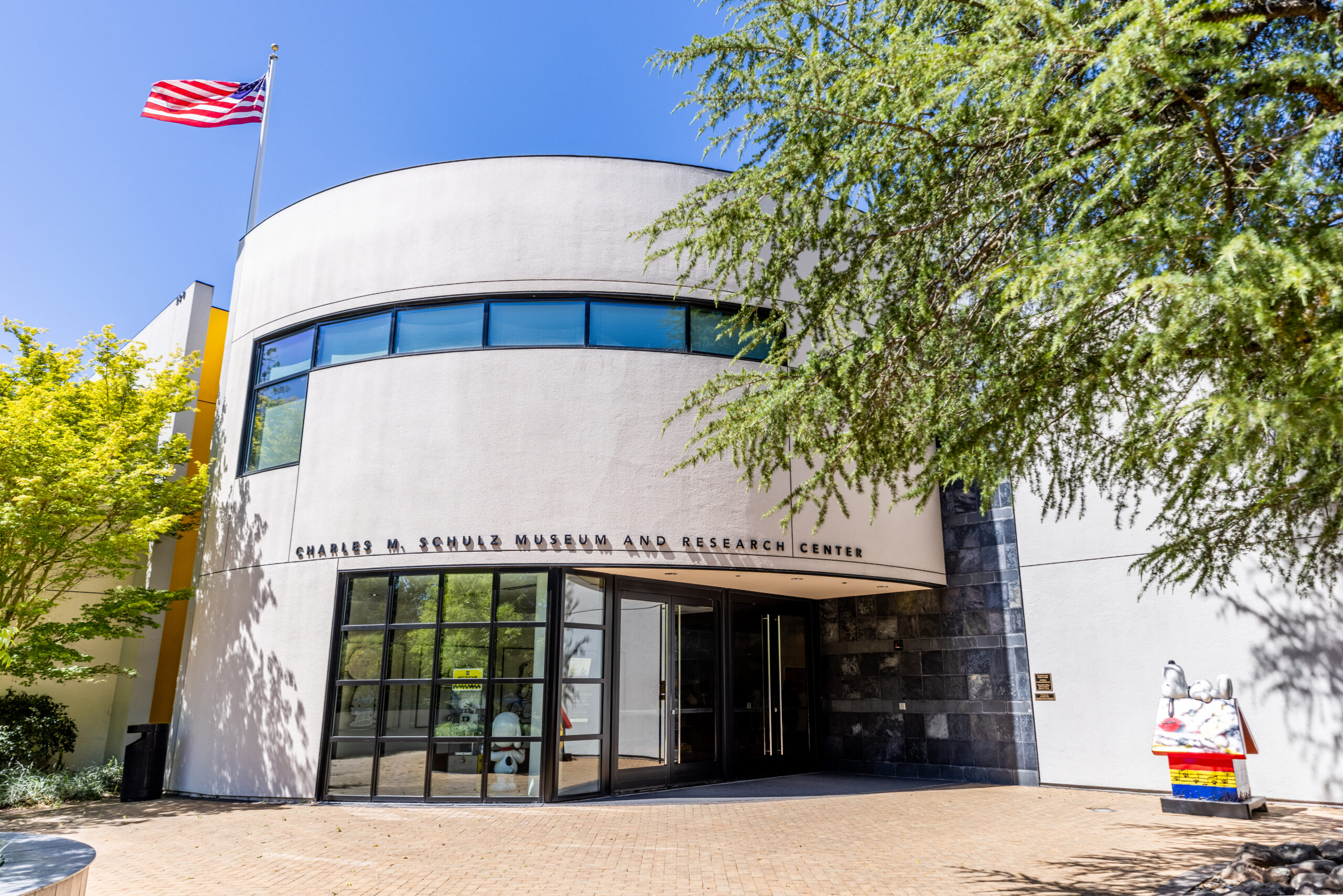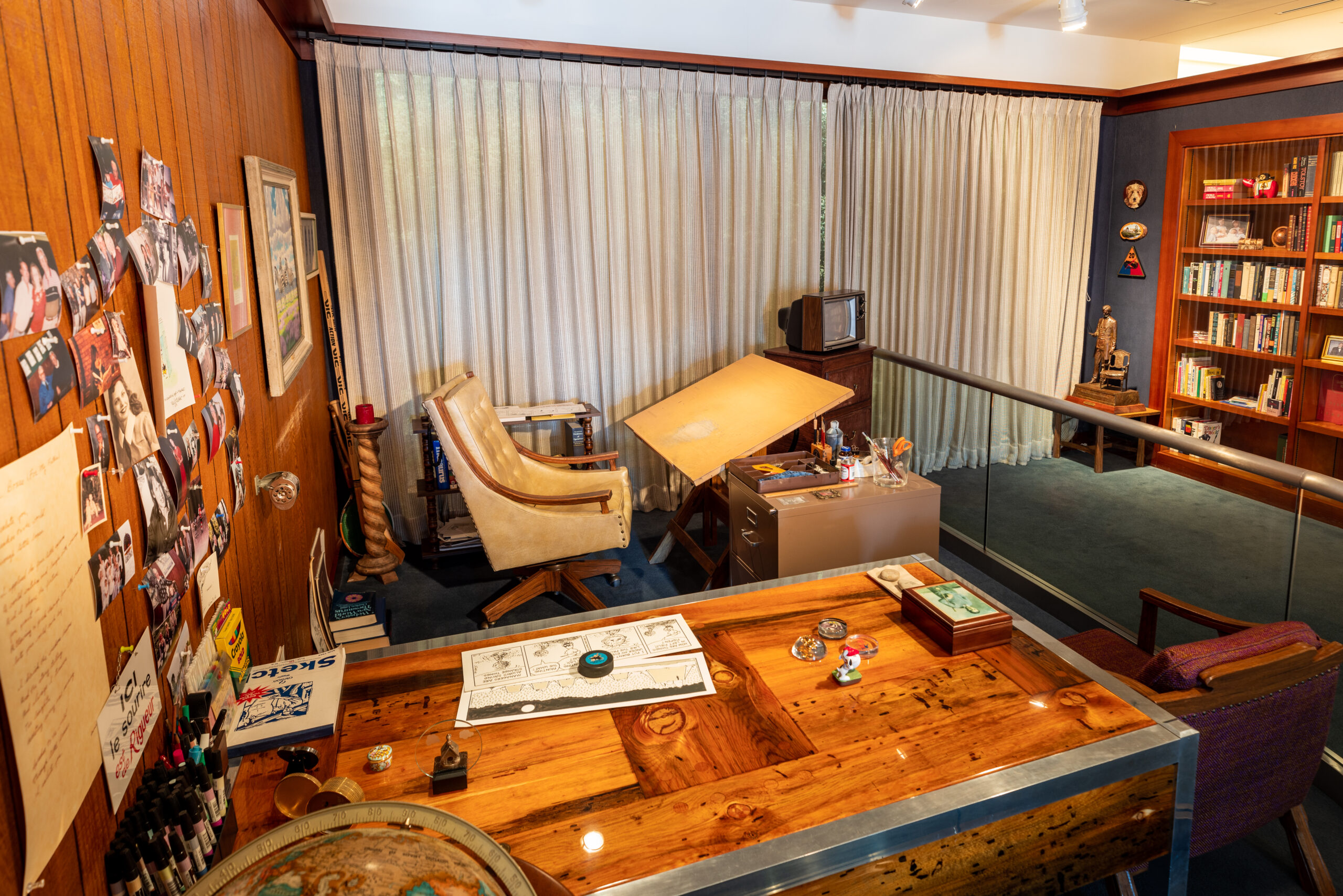 Current Miss California Catherine Liang, who grew up in Windsor, remembers visiting the museum often as a child. "I was in an after-school art and cartoon program, though I can't say I was talented at it," she jokes. "My stick figures struggled."
Liang particularly remembers the museum's bedroom wall mural retrieved from a Colorado house Schulz once lived in, a piece which shows early versions of some of his characters. She also loves the mosaic made up of numerous "Peanuts" comic strips, which stands in the museum's main hall. Schulz's creations have remained deeply impactful to Liang. "It shows how powerful a storyteller Charles Schulz was," she says. "His legacy is his personal storytelling."
Tough guys on the ice
Schulz, who made Snoopy riding atop the Zamboni ice resurfacer a recurring motif in his comic strips, was a lifelong hockey player and fan. Snoopy's Home Ice was originally conceived by Schulz's first wife, Joyce Schulz, and opened to the public in northwest Santa Rosa in 1969. "Charles Schulz enjoyed this ice arena so much, and he loved what happened here," says Tamara Stanley, the arena's general manager.
Snoopy's Home Ice became one of the main places where Schulz interacted with other locals on a day-to-day, neighbor-to-neighbor basis. Rick Denniston of Santa Rosa recalls how Schulz hosted high-level skaters, including Olympians Peggy Fleming and Dorothy Hamill, for holiday ice shows each Christmas. In 1999, at one of the holiday previews, Denniston and his wife were surprised to see Schulz get in line right behind the couple. "As the line slowly moved forward … one of his employees, with a shocked look on her face, said, 'Mr. Schulz, you can just go in!' He waved her off and continued in line with us and sat next to us for the first half of the show."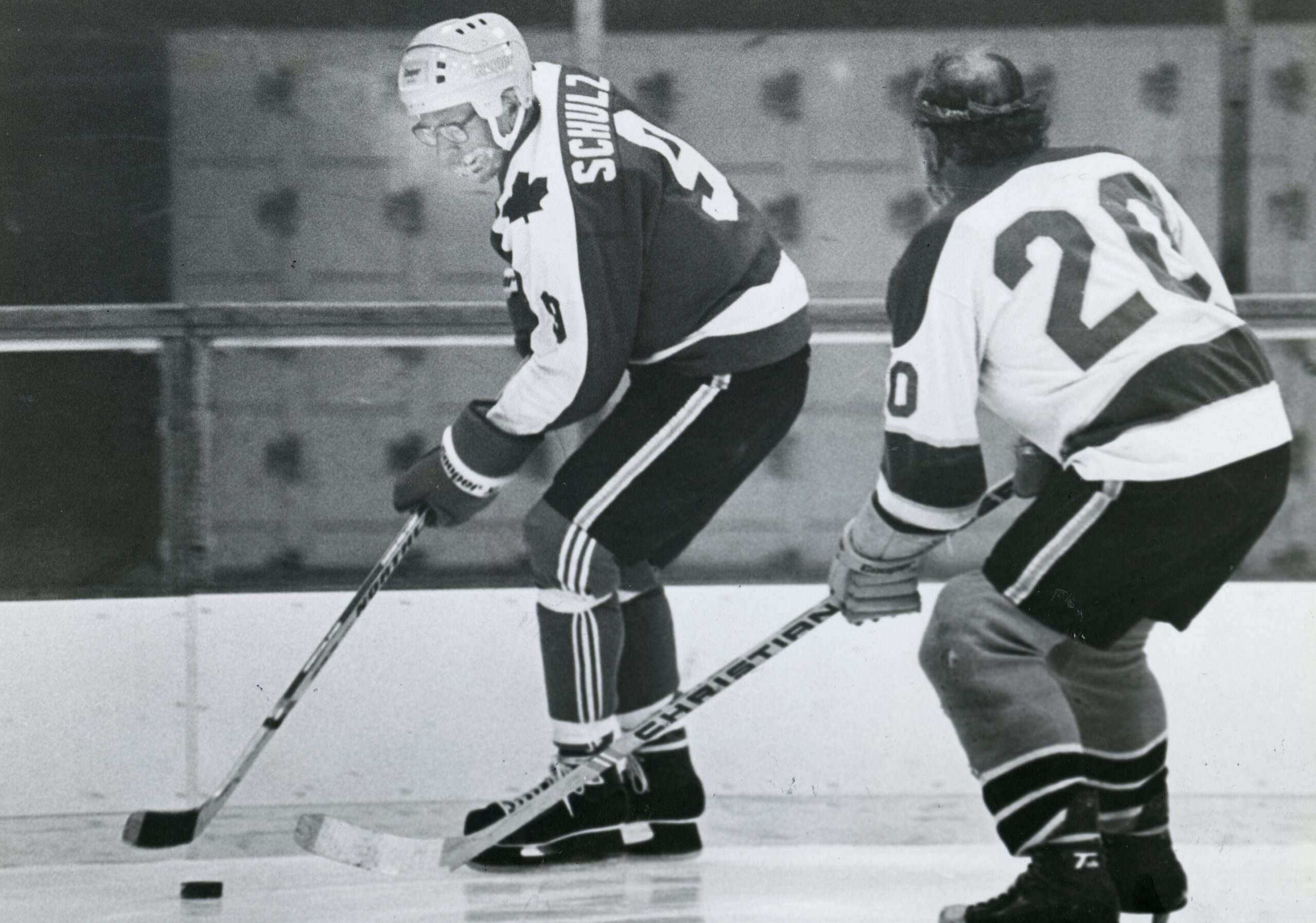 The arena still hosts the annual Snoopy's Senior World Hockey Tournament and is home to popular youth, adult, and community college teams. Roland Thibault, who coached and played hockey with Schulz, says though Schulz was generally known as a quiet figure in public, he was an aggressive player on the ice. "He was very reserved, but he was very competitive. He wanted to win," Thibault says. "He was a fairly good skater, and he was tough. You didn't try to take the puck away from him."
The connection between Schulz's real life and the storyline in the "Peanuts" comic strip was ever-present, Thibault later discovered. "He did create a character named after me: Tibo," he says. "Tibo was cranky. It's not me. I have no idea why he made me a tough guy—but I was playing hockey, so I guess I was tough."
Surprising legacies
The ice rink and museum are not the only gifts Schulz and his family have left to the people of Sonoma. Two major gifts to Sonoma State University in Rohnert Park have benefited thousands of students. The Jean and Charles Schulz Information Center, which houses the university's library and student academic services, opened in 2000 after a $5 million gift from the Schulzes.
The family also created an endowment, which allows the library to keep pace with ongoing changes in technology. It's a comfortable meeting place for students and faculty, says the library's dean, Karen G. Schneider. "We have a lot of prints on the wall, and Jeannie Schulz provided the captions," she says. "And we have a great photo of Sparky on the third floor."
In 2014, the $9.5 million Schroeder Hall chamber and choral music space opened opposite Weill Hall at Sonoma State's Green Music Center. The hall is named for the small blonde character who played Beethoven on his toy piano, ignoring bossy Lucy as she talked of marriage. Jean Schulz suggested the name, explaining that her husband had loved classical music.
"It's no small thing to say [the family's] philanthropic support allowed the Santa Rosa Symphony to go from a really good local orchestra to a professional regional orchestra that is nationally recognized," says Alan Silow, the symphony's president and CEO, noting that the cartoonist also made anonymous donations to support individual concerts. "And even with his passing, Jeannie Schulz and the Schulz Fund have continued his philanthropic legacy," Silow says.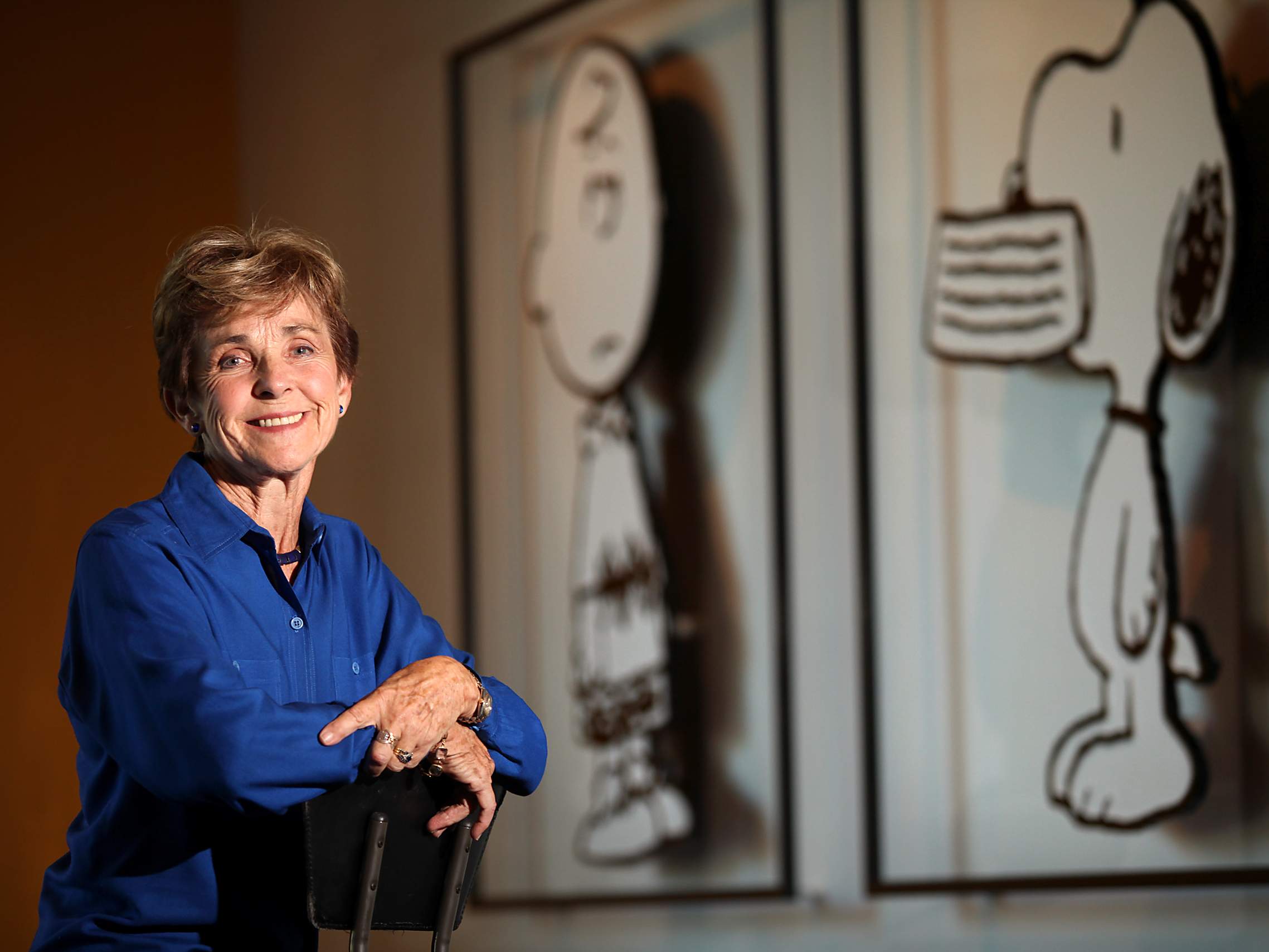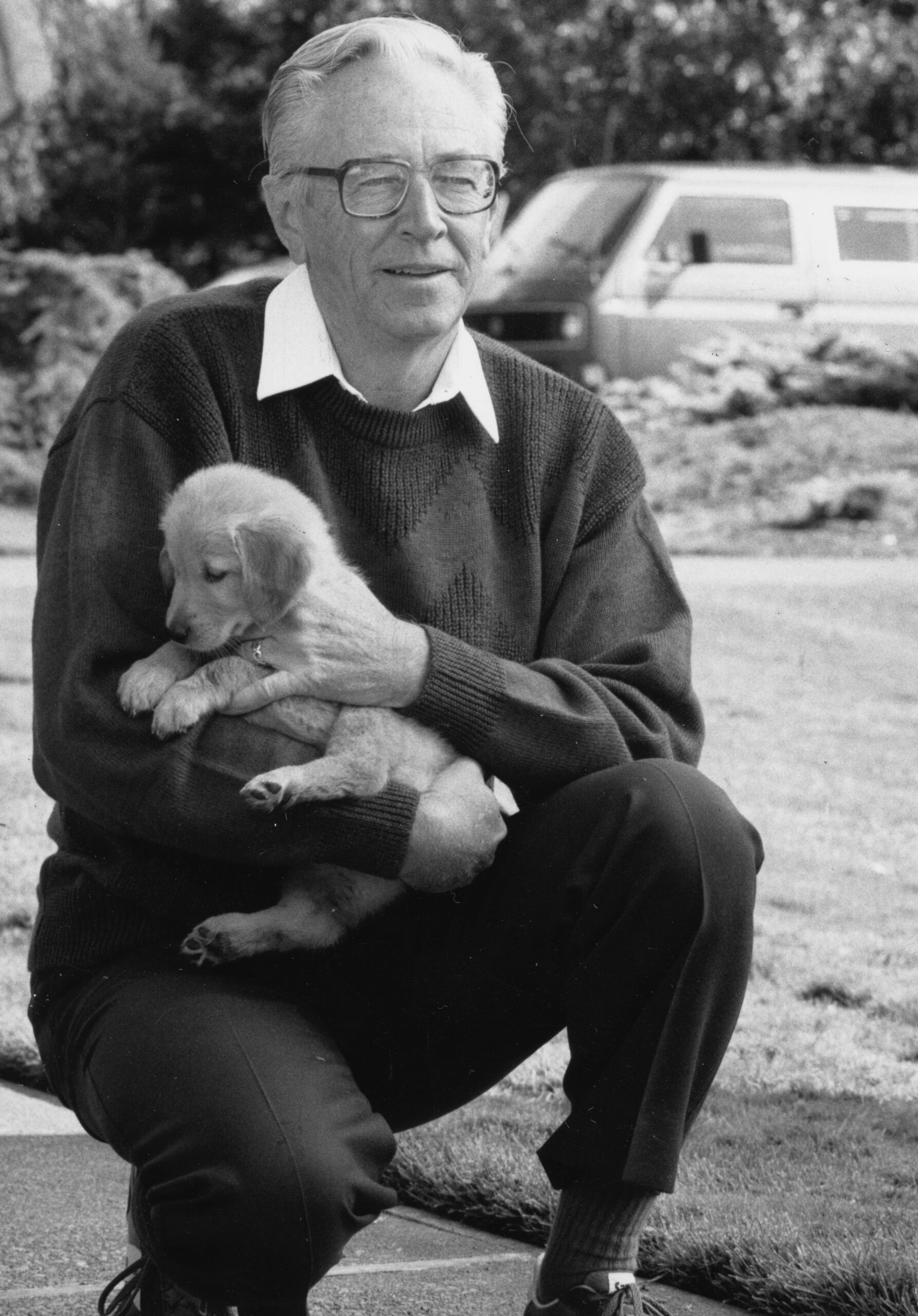 But perhaps one of the most tender ongoing legacies of the Schulz family is their relationship with Canine Companions—a relationship befitting a lifelong animal lover and the creator of one of the most memorable canine characters in history. Founded in 1975 and based in Santa Rosa, Canine Companions provides service dogs to those in need and has six campuses across the country. They broke ground earlier this year on a new 32,000-square-foot center in Santa Rosa, which will open next summer.
CEO Paige Mazzoni says the Schulzes first got involved with Canine Companions in the mid-1980s after Sparky saw a demonstration given by a service dog recipient and her canine partner. When asked to join the organization's board of directors, Sparky declined, but his wife Jean accepted and continues to serve on the board. "A huge part of what the Schulzes have done is bring attention to the concept of service dogs," Mazzoni says.
Lasting memories
In Sonoma County, Charles Schulz and his family ultimately found a comfortable balance between worldwide fame and being part of a community, say those who knew him. "When Sparky first moved from Sebastopol to Santa Rosa in the early '70s, I think a lot of people didn't know who he was," says his wife, Jean Schulz. "He wasn't famous the way a movie star is famous."
"He liked it here, because he could go places and be a regular person in the community," explains Gina Huntsinger of the Schulz Museum. "People here let him be."
In later years, Schulz got more notice from the locals, says Jean. On his walks around the Coddingtown area, near the arena and his studio, passing drivers would hail him.
There is no question that Charles Schulz is still remembered as Sonoma's most wellknown resident. Even the airport is named for him. "I think there's a heck of a lot of people who miss him," says Thibault, Schulz's onetime hockey pal. "He was a genius."
And they don't intend to forget him, his work, or the local landmarks he left behind. This is an important time for Sonoma County and its many Schulz fans. Catherine Liang, the current Miss California, expresses the love of an entire community as she reflects on the cartoonist's long life: "It's monumental that we get to celebrate 100 years of Charles Schulz."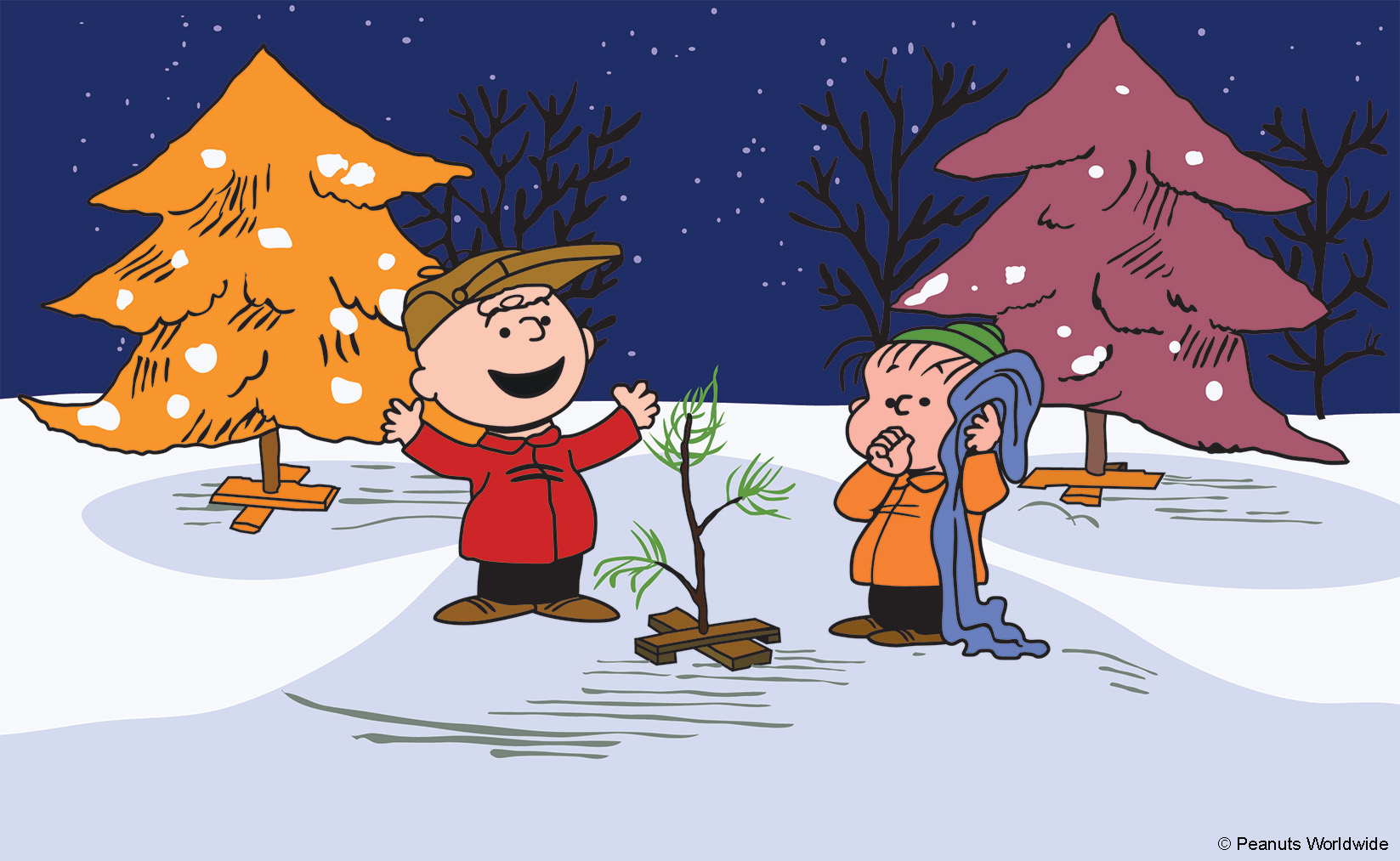 Caroling with Snoopy and the Gang
Over the years, Schulz's beloved "Peanuts" gang has appeared in nearly 50 animated TV specials, including the first, "A Charlie Brown Christmas." The 23-minute show has become a cherished holiday tradition for generations of viewers since its debut, amid modest expectations, in December of 1965. "My whole family can recite every line," says super-fan Candace Hackett Shively, an artist and retired teacher.
Shively holds a rare connection to the production. In the fall of 1965, when she was 12 years old, Shively and other members of her youth church choir in San Rafael were invited to sing on the show's hurriedly recorded music soundtrack. Here's what she remembers of that whirlwind adventure.
– Chris Smith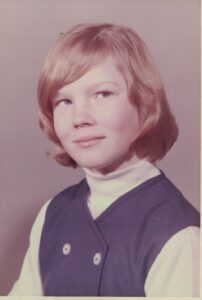 A call for volunteers
"It was just part of my childhood to sing in the junior choir at St. Paul's Episcopal Church. At practice one Saturday morning, our director, Barry Mineah, asked if anyone would volunteer to do something for the choir, but he did not say what. We who volunteered eventually were told we were going to be recorded. Barry took us on a Monday afternoon to South San Francisco, to Fantasy Records. There were about eight of us who went on that first trip."
The work at hand
"They gave us the lyrics to 'Christmas Time is Here,' and we practiced it. Later, we were accompanied by (famous jazz pianist and composer) Vince Guaraldi and his trio. I think we would have been terrified if we hadn't performed with him before. He'd had us as part of a jazz Mass at Grace Cathedral in 1963. The trio skateboarded with us during the choir breaks."
The sound of laughter
"I think I went to South San Francisco for two of the three recording sessions. We also sang 'Hark! The Herald Angels Sing.' And they recorded us laughing, making crowd noises. We had no image of what the TV show was going to look like—there had never been an animated Christmas special.
It was late when we finished up that first Monday night. We all had to go to school the next morning. At the end of the night, (show producer) Lee Mendelson handed Barry a $20 bill and said, 'Take them all for ice cream.' I was most excited to see a $20 bill!"
Showtime
"At last, it was the night of the airing. We didn't have a color TV, so I saw it in black-and-white. It was over so fast! I could hear myself for sure.
I would have done it for free, but we were paid $5 per session. That was a lot of money then. I bought Christmas presents for my family, at Woolworths in San Rafael.
I became an elementary school teacher and every year, I would play 'A Charlie Brown Christmas' for my students on the day before Christmas break. I'd tell them, 'Volunteer for something. You never know what will happen!'"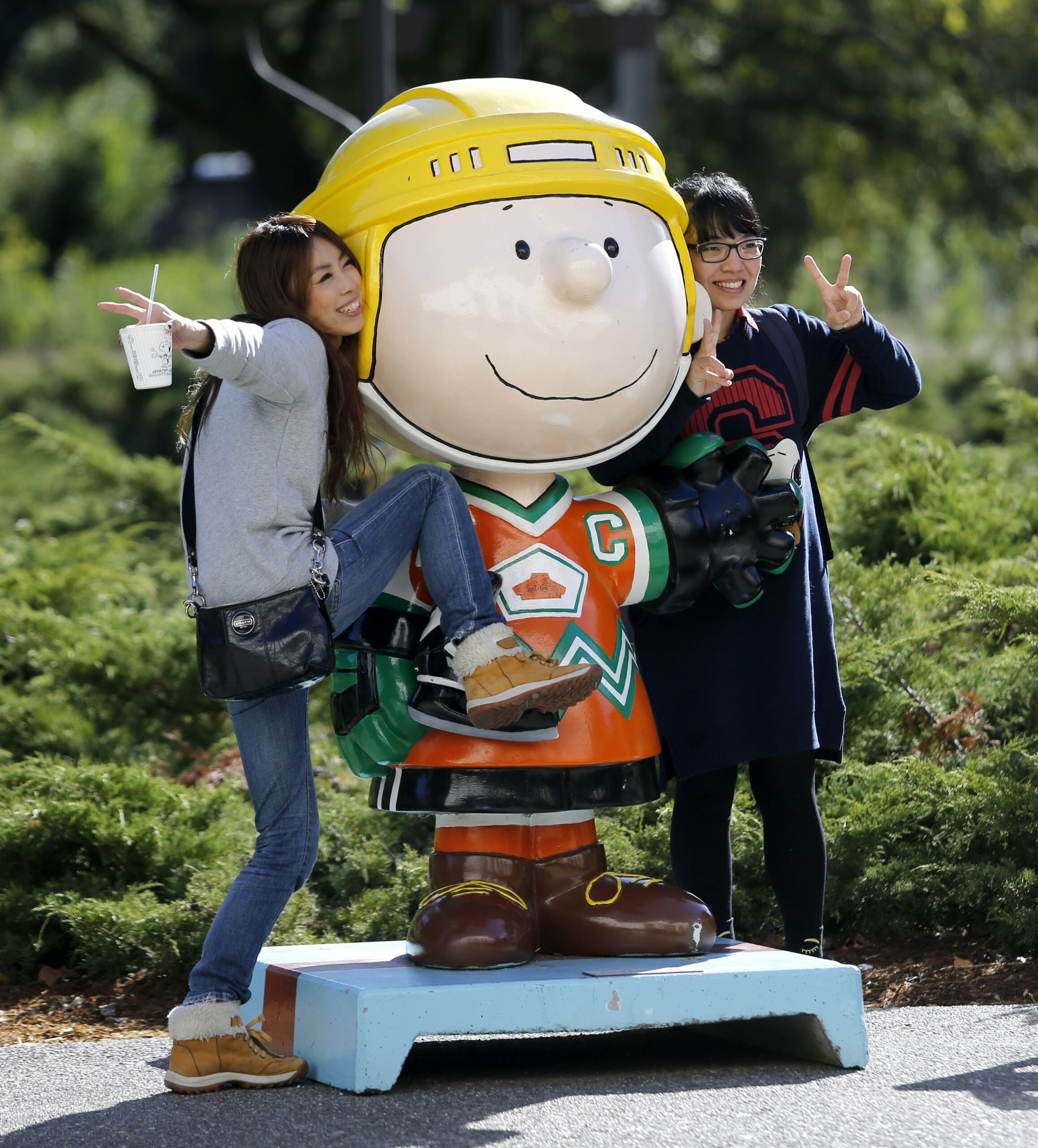 Centennial Celebrations
A series of special events at the Charles M. Schulz Museum in Santa Rosa lead up to Schulz's 100th birthday weekend in late November. "The Spark of Schulz: A Centennial Celebration," an exhibit tracing the impact of his work on modern cartooning, continues through March. And a new book, "Charles M. Schulz: The Art and Life of the Peanuts Creator in 100 Objects," co-written by museum curator Benjamin Clark, was released earlier this year.
On Schulz's actual birthday, November 26, the museum will host a daylong celebration with cake for all, live cartooning events, and other special performances. Also on November 26, Snoopy's Home Ice will host a fundraiser to benefit cancer research and a special ice show, "Sparky's Ice Spectacular," hosted by Olympic skater Scott Hamilton.
Charles M.Schulz Museum, 2301 Hardies Lane, Santa Rosa. 707-579-4452, schulzmuseum.org
Redwood Empire Ice Arena (Snoopy's Home Ice), 1667 W. Steele Lane, Santa Rosa. 707-546-7147, snoopyshomeice.com