Oysters have long been an integral part of the California food scene for at least the past several thousand years, so it is with much anticipation and fanfare that Petaluma's first oyster bar has finally opened its doors. The Shuckery is located at the bustling corner of Washington and Kentucky Streets, in the Hotel Petaluma, and will excite and delight even the most fervent seafood fans.
Prior to the arrival of European settlers, Native Americans had long supplemented their diet with local shellfish, including oysters. Mounds of their discarded shells were still prevalent around the Bay Area well into the 1900's, including several well-known shell mounds in Emeryville. The aptly named Shell Mound Amusement Park sat atop one such mound before being dismantled in the 1920's.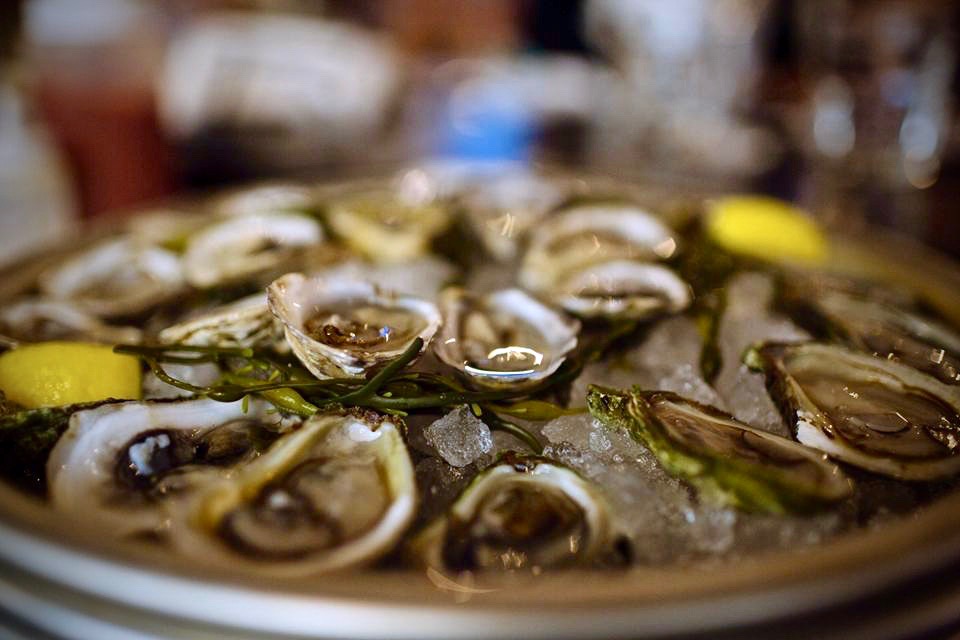 During the Gold Rush, the only food coveted as much as Petaluma's eggs were San Francisco's oysters. According to Frances Rivetti's new book "Fog Valley Winter", California's first addition to American cuisine was likely an oyster omelet. Legend has it that a newly enriched gold miner entered the El Dorado Hotel and requested the finest meal the kitchen could create. The chef obliged by combining the three most expensive ingredients of the day – oysters, eggs, and bacon, into what we now know as the Hangtown Fry.
Even today, Petaluma retains a strong connection to these tasty mollusks. A Petaluma staple, Lind Marine continues to process oyster shells, both for poultry feed and bocce ball courts, from their riverside yard at the foot of the D Street drawbridge.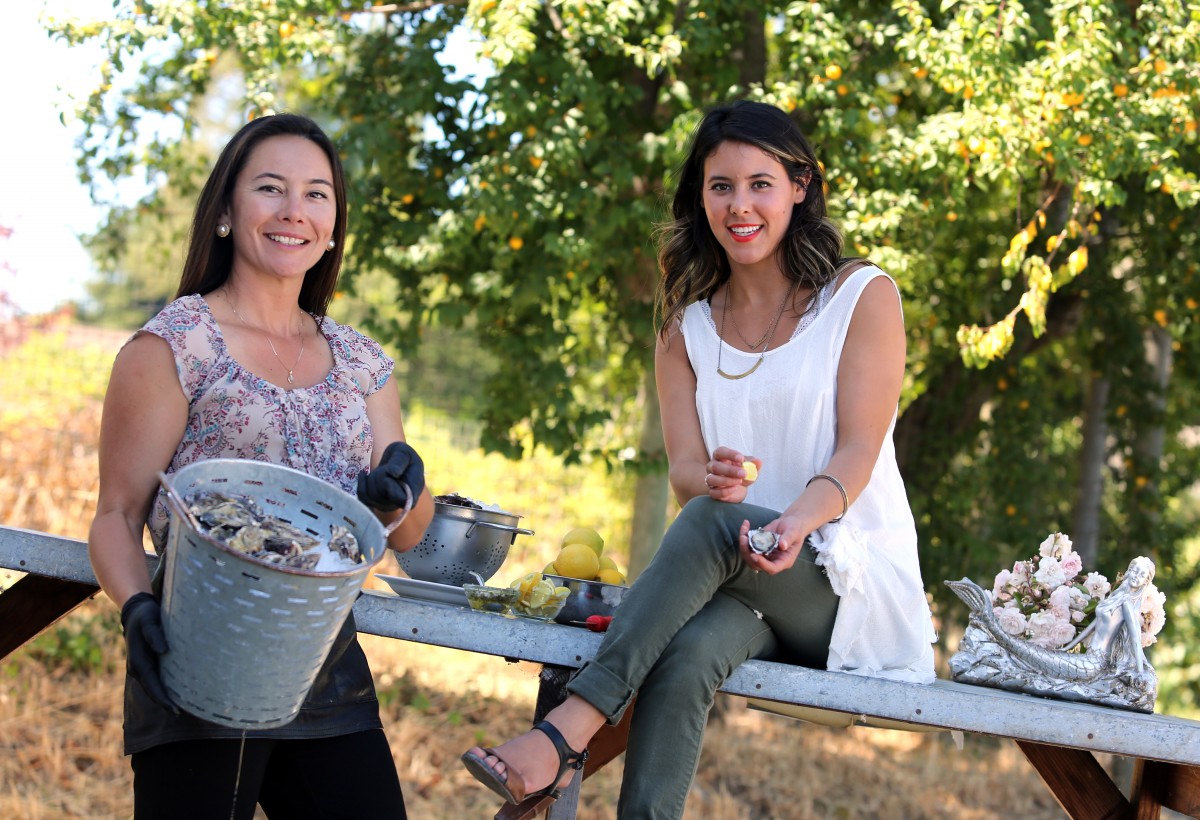 True to our marine roots, the Shuckery is the brainchild of sisters Aluxa and Jazmine Lalicker. Born in the Mexican Caribbean and Yucatan, respectively, their mother was from Texas and father was from Mexico. Along with running a successful hotel and bar in Playa del Carmen, both parents led sailing expeditions, so the family was no stranger to the sea, or the abundance and flavors it provides.
After Hurricane Gilbert destroyed the family's Playa del Carmen business in 1988, the family relocated to Oklahoma. As luck would have it, Aluxa moved to Bolinas, attended Sonoma State University, and eventually lead kayak tours on Tomales Bay. She loved the area so much that she eventually moved the rest of the family out to the Petaluma area, where Jazmine worked as a server, and later manager, at Petaluma's Central Market. Eventually, the sisters' love of seafood led them to launch Oyster Girls, an oyster shucking catering business, which has gained great acclaim throughout the Bay Area.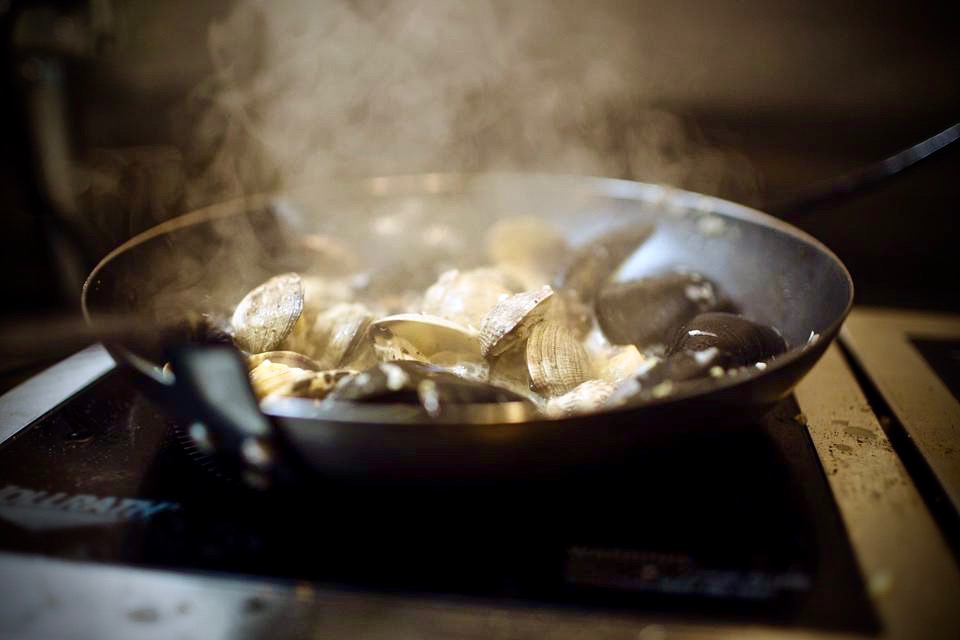 During a recent vacation to the oyster mecca of New Orleans, the sisters discussed dreams of open their own oyster bar. While visiting that city's best oyster bars, and eating oyster for breakfast, lunch and dinner, they realized that even after eight years of running Oyster Girls, their passion for oysters had clearly not waned. Another thing they noticed was that quite a few of the most successful oyster bars sat alongside the lobbies of New Orleans' downtown hotels. So, one might call it fate that friends Lorraine and Mike Barber, of Barber Cellars, informed the sisters that a suitable space for an oyster bar was available in the Hotel Petaluma.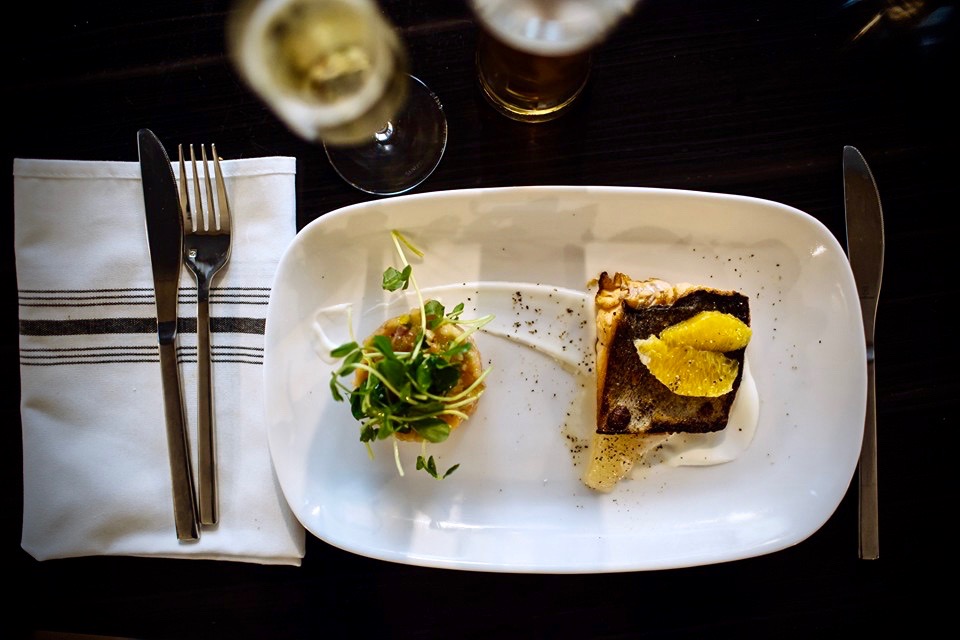 Unique, to say the least, New Orleans couples an interesting mixture of French formality with the Big Easy's laid-back demeanor. It is not unusual to see tuxedo-wearing bar tenders in even the most relaxed establishments, and nobody bats an eyelash at casual customers clad in camo shorts, t-shirts and flip-flops. Although never black-tie formal, Petaluma is similar in that even the finest dining establishments are forgiving of the most grubby farm duds. But, unlike most of the New Orleans oyster bars, which are often inward oriented, The Shuckery utilizes the large windows running down Washington and Kentucky Streets to give diners a window out onto Petaluma's downtown scene.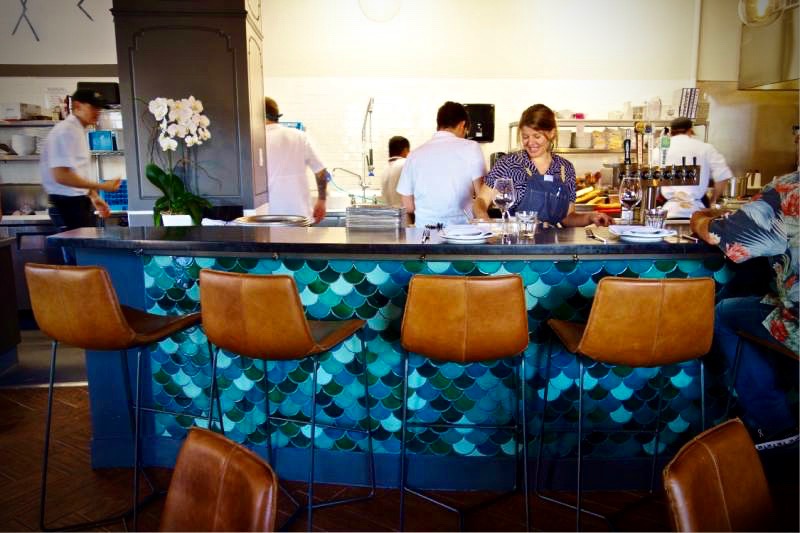 As we approached the Shuckery, the door was wide open, revealing an inviting interior. The cool and calm blue, gray, and white walls contrast, yet complement the warmth and vitality of the wood, netting, and leather furniture. There is a vibrant ebb and flow to the Shuckery's décor, which is both calming and exciting.
With few foods as hands-on as the oyster, the Shuckery pays proper homage to this shellfish by placing their shuckers front and center for all to watch and enjoy. The Shuckery's oyster bar is not only artfully appointed, but is perfectly situated between the dining room and the hustle and bustle of the open kitchen. Guests looking for a more jubilant, communal, and educational dining experience are well advised to grab seats at the bar, because this is where the action is, and where they can interact with their shucker and learn more about these curious bivalves.
"People are intrigued by oysters," says Jazmine, while standing behind the oyster bar, oyster in one hand, shucking knife in the other. "We wanted to create an inspiring place with a dynamic mix of our favorite oysters and seafood to share with our local and out-of-town guests. We delight in learning about the story behind our featured items and in educating consumers about what they will be enjoying."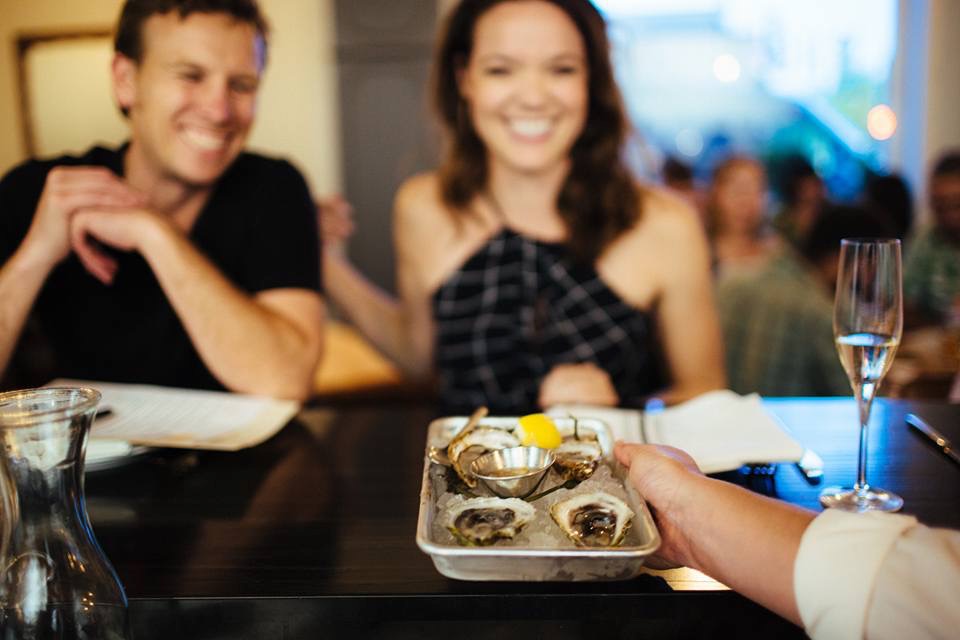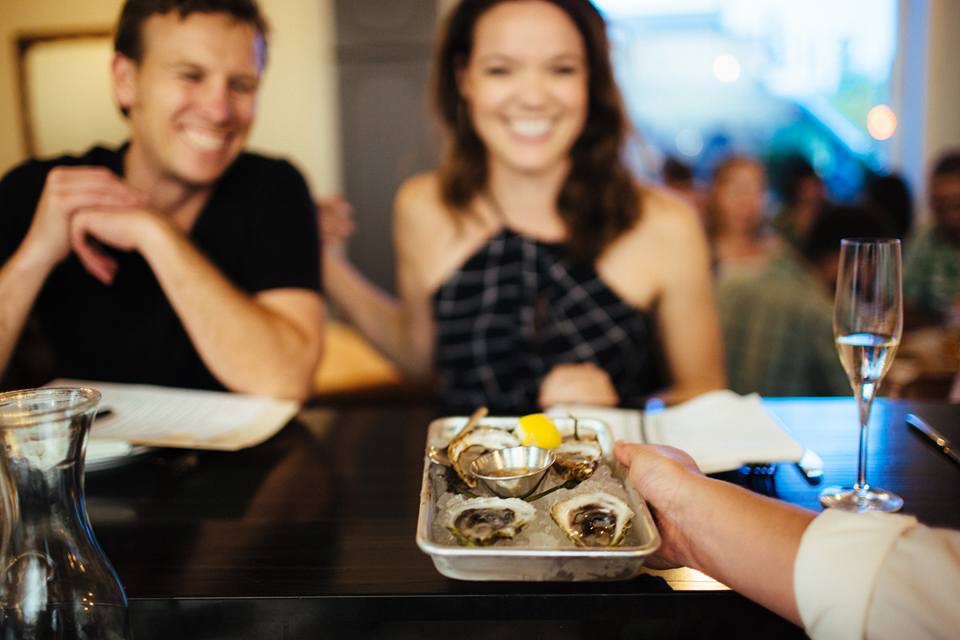 Although youthful in appearance, Jazmine has class, maturity, and a level of customer service well beyond her years. Her knowledge of aquaculture is beyond reproach, and keeps her audience captivated. "And yes, the number one question is whether oyster are really an aphrodisiac," continues Jazmine. "When we eat fresh, healthy, nutrient packed foods, like oysters, it naturally gives us more energy." With six oyster containing just about all the vitamins and minerals one needs per day, plus plenty of healthy protein and Omega-3 fatty acids, it is no wonder that oysters give people a boost of energy.
As we settled in to our table, we marveled at the seafood rich menu. Following our usual method of operation, we ordered everything that caught our eye. This ended up being a good portion of the menu, which included raw and baked oysters, ceviche, clam chowder, trout two ways, Baja tacos, mussels and clams, and King salmon, followed up by dessert. The addition of a few glasses of wine from Petaluma's Barber Cellars, McEvoy Ranch, and Keller Estate certainly added to the locavore nature of our dinner.
The ceviche arrived first, along with fresh house-made tortilla chips. The ceviche is a mix of halibut, shrimp, citrus, chili, and cilantro, surrounded by piquillo coulis, which is a pureed pepper sauce. Although we were eventually distracted by the arrival of oysters, we keep finding ourselves going back to the ceviche.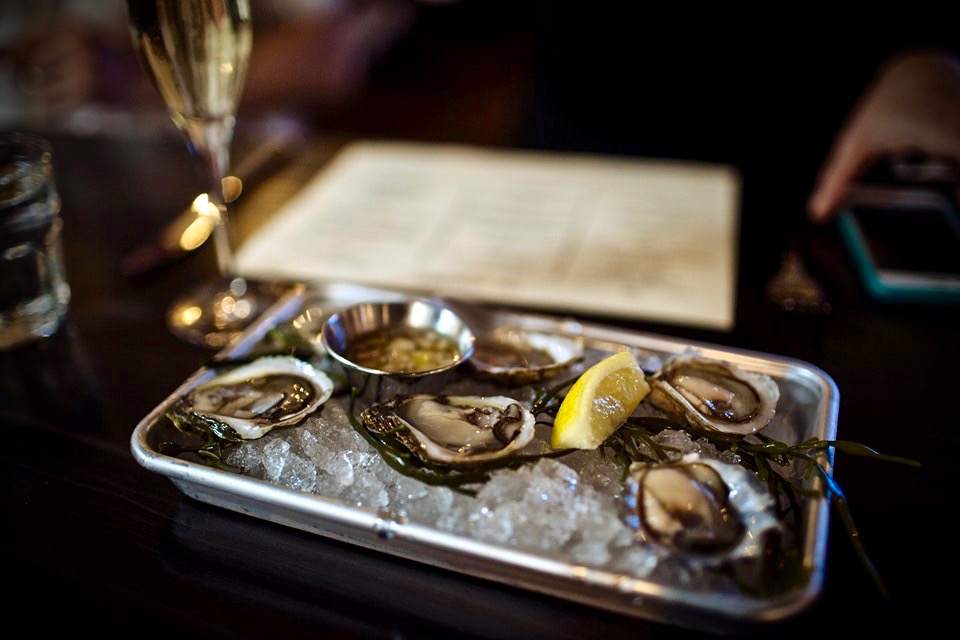 From a choice of two Canadian and two Californian locales, we chose a dozen raw oysters; half from Humboldt and half from Tomales Bay.
I have never seen the logic in ordering oysters from afar, when the ones close to home are so delicious, but I guess others do. Our Kumamoto's and Miyagi's arrived with lemons, cocktail and Mignonette sauce (a typical vinegar based French accoutrement for oysters.) Although both sauces were delightful, neither were necessary because the Shuckery's oysters are so fresh and sweet. I find that our home waters encourage a particularly sweet and crisp flavored oyster, which I prefer to all others, and these oysters were no exception.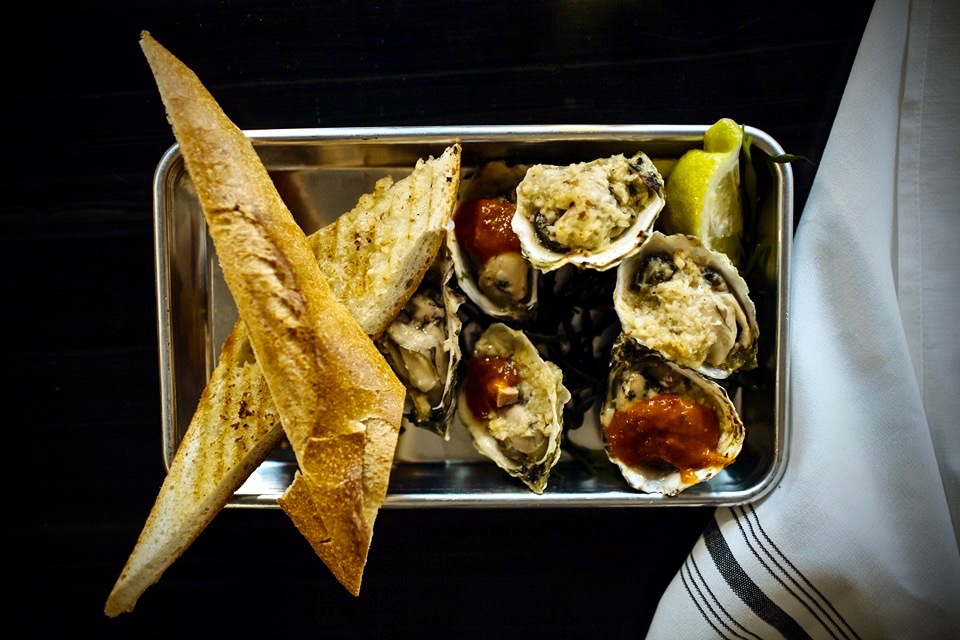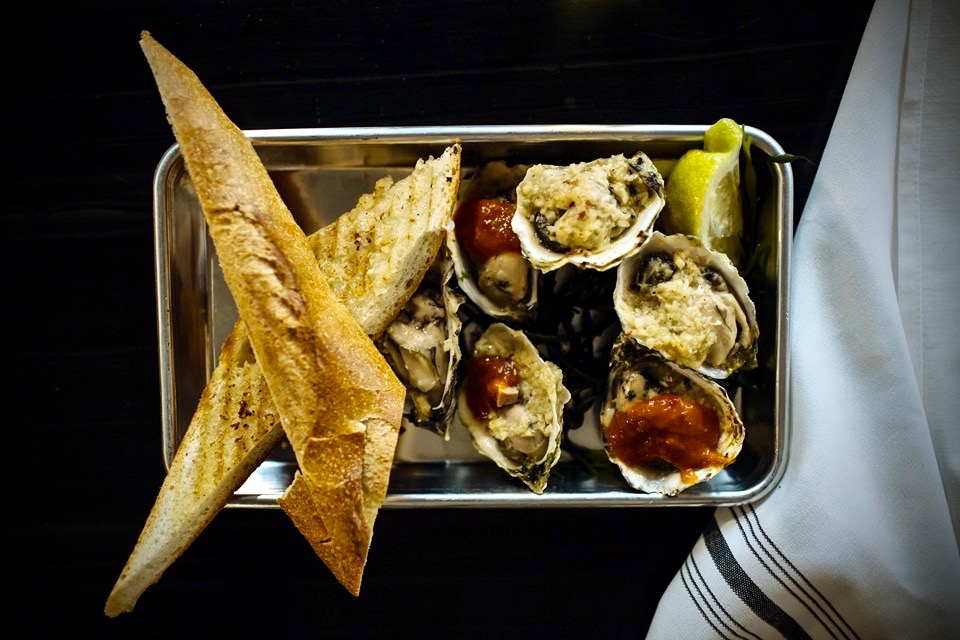 Within moments, our baked oysters arrived too. We order all three on the menu – Classic Chipotle BBQ, Salsa Verde and Tasso Herb. The textures were perfect and the flavors distinctive and delicious, and although two had some spice to them, they were not overwhelmingly hot.
Next up was the clam chowder, which along with salmon, scallops, and raw oysters, is one of the true tests of a seafood restaurant's mettle. I eat a lot of clam chowder and rarely do I come across one as distinct as the Shuckery's. My chowder preferences usually lean towards a cream-heavy gravy thickness, so I was surprised at how enamored I was with the Shuckery's lighter style. Along with a healthy dose of fresh clams, theirs includes bacon, celery, seasonings, and firm chunks of potato.
The Baja Tacos were fried cod topped with a savory combination of pico de gallo, pickled jalapeno slaw, shaved cabbage, and house-made hot sauce. The Trout Two Ways consisted of crispy seared trout and trout tartare (raw), both distinctive in their own right, and quite pleasurable to the palette. The mussels and clams were cooked to perfection with garlic, shallots, fennel, and Herbsaint (an anise-flavored liquor.) They were firm and flavorful and did not last long.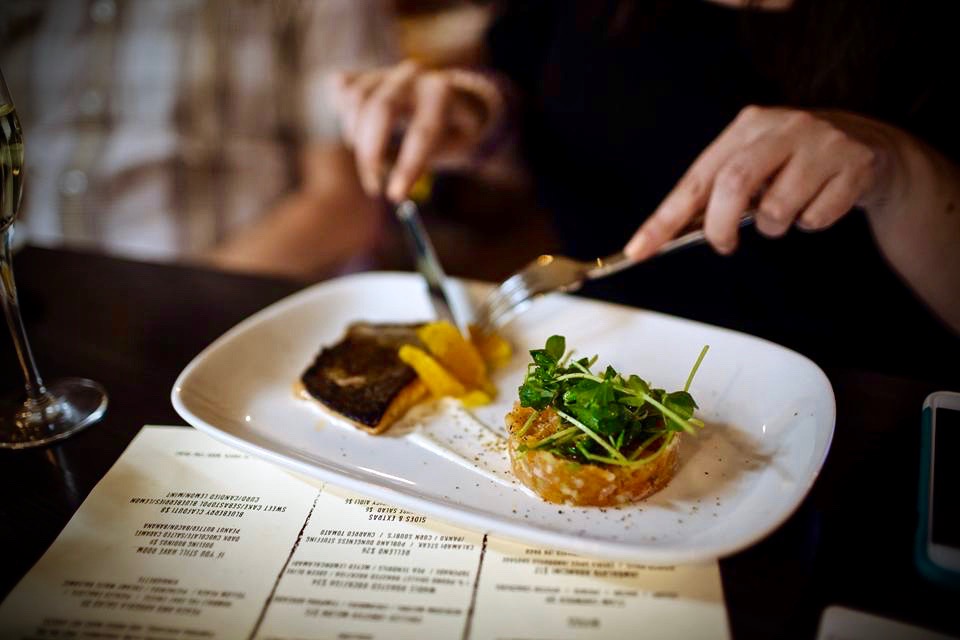 But the Pièce de résistance had to be the King salmon, atop a bed of shrimp pork belly fried rice, topped with red chili ponzu and scallions. The skin was crisp, without flaw, while the meat itself was soft, supple, and full of that oh-so-unique salmon flavor, a combination that is not easy to achieve.
We finished out the meal with both desserts – roasted peach bread pudding and Dueling Budinos. Italian for pudding, one budino was dark chocolate and salted caramel, while the other was peanut butter, bacon, and banana. The roasted peach bread pudding tasted as good as it sounds.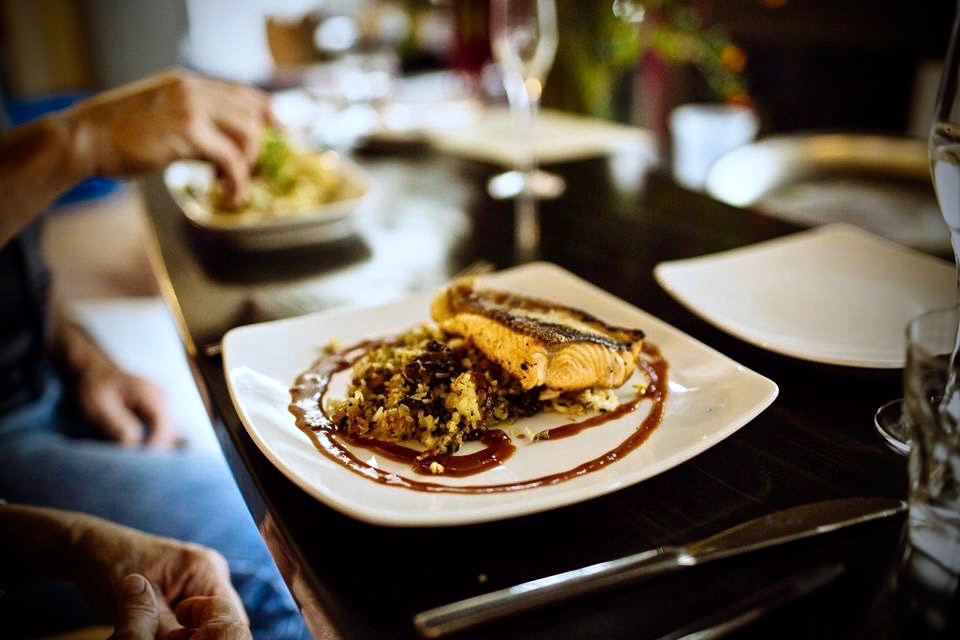 Chef Seth Harvey hails from Delaware, a state well known for seafood. He left architecture school in order to follow his passion for the culinary arts, eventually landing a position as sous chef for the now famed 821 restaurant. It was during his tenure that 821 was awarded the honor of Best Restaurant in the state of Delaware. Classically French trained, Harvey has embraced California's lighter cuisine, and is masterfully showcasing our local flavors through his combinations of fresh seafood and produce and the perfect balance of seasoning.
Combining excellent seafood, friendly and attentive service, a classy yet festive ambiance, and on-site owners to keep quality control in check, the Shuckery is already exhibiting the shiny luster of a restaurant that will likely develop into the pearl of downtown Petaluma dining.
The Shuckery, 100 Washington Street, Petaluma, CA 94952, (707) 981-7891, theshuckeryca.com