Joe LaTourre scrutinizes the ring of steel balls across the court in Sonoma's Depot Park. He has a tough shot, as the little orange target ball, the cochonette ("piglet"), is blocked by the opposing team's silver boules.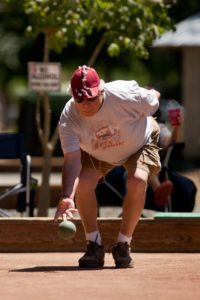 LaTourre shuts one eye and weighs the ball in his palm, shifting his weight from foot to foot. He crouches and lobs his ball underhand, palm down; it remains airborne only for an instant before landing with a satisfying "clack," knocking one of the opponent's boules out of the way and leaving his own in the winning position. Heckling and cheers erupt from the six players, many of whom have played pétanque together since the Valley of the Moon Pétanque Club was formed in 1987.
For some, pétanque conjures images of Frenchmen in sailor's caps gathered under the shade of a plane tree in Provence, a boule in one hand and a glass of pastis liqueur in the other. But the game has caught on big time in Sonoma, spawning clubs, competitive leagues and courts at wineries and even restaurants.
Bocce, a similar game brought to California by Italian immigrants in the 1800s, is the undisputed king of the courts, with lanes scattered throughout Sonoma and at more than 30 wineries.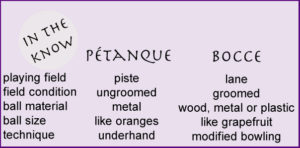 Pétanque is the new darling, with a much smaller yet growing fan base. Pétanque can be played as singles (one on one), doubles or triples. Each team shoots a round and the team with the boule closest to the cochonette gets a point. First team to score 13 wins.
On an adjoining court, or piste for purists, a younger team plays what appears to be a looser and rowdier game. Shannon Bowman, president of the Valley of the Moon Petanque Club (VOMPC), is clearly delighted that the club is attracting younger members. She has been involved with VOMPC since the days when she was one of the first female players.
"The Valley of the Moon Pétanque Club prides itself on being a diverse club, one of the few that encourages both women and children to play," she said. "We even loan out boules and give lessons. Those of us who are addicted to the game are always eager to find new victims … er, players."
Barbara Hall, another veteran player, agreed. "When I started playing in 2000, the majority of players were 50-60-plus in age. Today, our club has had a recent influx of younger players (40-plus). Their enthusiasm and involvement in the organization has helped to keep the club vibrant."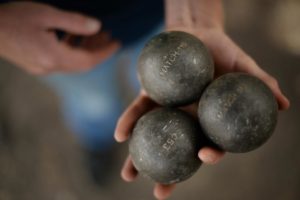 VOMPC, at 100 members, is the third-largest pétanque club in the U.S. Compared to the 17 million French citizens said to participate in the game, there is a long way to go before pétanque sweeps our nation. Yet it's found a sporting little niche in Wine Country.
In France, pétanque is a peasants' game, a way to socialize as the day cools off. In Sonoma, the season runs March through October and includes heavy action on Bastille Day (July 14) and in Oktoberfest celebrations, plus tournaments, both casual and cutthroat, scheduled throughout the season. Small yet enthusiastic clubs also thrive in Petaluma and Santa Rosa, and there is much crossover play.
The bocce club that shares the Depot Park turf with pétanque players has attracted 300 members in six years. In Santa Rosa, the Sonoma County Bocce Club started out with 10 teams and has nearly quadrupled that number, with games five evenings a week in Juilliard Park.
Susan Cole, president of the Sonoma County Bocce Federation, sums up the game's appeal: "The sport of bocce: five minutes to learn, a lifetime to perfect."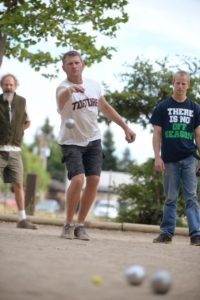 There are differences in the two games. Pétanque pistes are more uneven and rough, whereas bocce is played on groomed lanes. Pétanque balls are metal and the size of oranges. Bocce balls can be wood, metal or plastic and are the size of grapefruits. Pétanque throws are done underhand, more like lobbing, whereas the release in bocce is more akin to bowling.
Fueling the spirit of friendly rivalry, Bowman compares the players of each game to cowboys and farmers. "We pétanque players are the cowboys, a little more rough-and-tumble, more likely to have heated 'discussions' about who has the point, rather than take out the measuring device."
In Depot Park, as the games wind down, the bocce players gather up their folding chairs and stand in the setting sun chatting, as the pétanque players rib and compliment one another in equal measure, deciding finally to set up for just one more game.
~~~
Where to Play
Days and times vary for play, so contact the clubs for court availability, leagues, lessons and special events.
Petaluma Valley Pétanque Club
Oak Hill Park, Petaluma
petalumapetanque.com
Sunrise Pétanque Santa Rosa
Location varies
707-526-3661
Valley of the Moon Pétanque Club
Depot Park, Sonoma
707-258-3450, vompc.org
Bocce Sonoma
Depot Park, Sonoma
707-938-2101; 707-935-3337
Sonoma County Bocce Club
Juilliard Park, Santa Rosa
sonomacountybocce.org
~~~
Bocce + Wine
Dozens of tasting rooms have courts and invite visitors to play. Some have fees and require reservations, so call ahead. Here are some of our favorites:
Battaglini Family Winery, Russian River Valley: Where else to play but at a winery owned by Italian immigrants?
Dry Creek Vineyard, Dry Creek Valley: Rent the court ($150 for up to 12 adults) and get personal wine and cheese service. 800-864-9463, ext. 103; drycreekvineyard.com
Landmark Winery, Sonoma Valley: Also has picnic areas. 707-833-0053, landmarkwine.com
Matanzas Creek Winery, Bennett Valley: Bowl surrounded by a sea of lavender and grapevines. 707-528-6464, matanzascreek.com