Thanks to AMC's retro TV show "Mad Men," it's hip to be square again. In Wine Country, pleasure-seekers of all ages are dressing up, sipping cocktails and stepping out to dinners that come with a twist: some kind of show.
More intimate than a restaurant and more social than a dinner party, the events are creative and theatrical.
Last fall, some 600 guests dressed all in white and gathered at Cornerstone Gardens in Sonoma for the first Pop-Up Dinner Wine Country. For the posh, Gatsby-style picnic, participants brought their own food and wine, plus over-the-top table decor. Then they danced the night away in a barn to the gypsy jazz of Dgiin.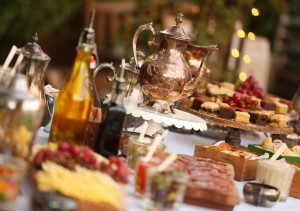 "It's not just a pop-up dinner, but a pop-up art installation," said Nicole Benjamin, co-owner of Hand Made Events of Sonoma, which hosts the intimate dinners among strangers in cities across the country.
Part speakeasy, part Venetian carnival and part shabby-chic convention, the all-white dinners started in France in the 1980s and have since gained momentum, spreading from Nairobi to New York.
The parties offer something for everyone — food, wine, fashion, decor, music and a hint of mystique — while relying on the guests themselves to create the evening's zeitgeist.
At Cornerstone Gardens, serious foodies warmed up gourmet dishes such as duck breast over Sterno, while a dozen Marilyn Monroe look-alikes imitated the fetching film star with glamorous white wigs.
The pop-up dinner will return to Wine Country this fall, in a new, secret location that will not be revealed until the last minute.
Those who can't wait that long can head to Suite D in Sonoma, where Girl & The Fig restaurateur Sondra Bernstein and her chef and business partner, John Toulze, throw weekly pop-up dinners for 40 to 50 guests.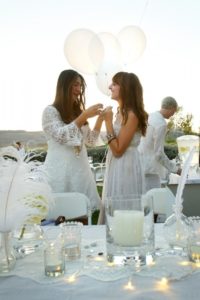 Each dinner offers a different theme, decor and menu, from Southern-style feasts to lobster bakes, with wine. Entertainment can include a flamenco guitarist, a Ping-Pong tournament or a caricaturist.
"It's really quirky and fun," Bernstein said. "It gives us a chance to do something we don't normally do."
Up north in Geyserville, Dino Bugica draws food lovers from far and near with his soulful, wood-fired Italian cooking at Diavola Pizzeria. Four times a year, Bugica also hosts the Diavola Supper Club, a pop-up dinner and dance that draws up to 120 guests to the Oddfellows Lodge above the restaurant.
It's a grown-up affair for hipsters that offers a family-style meal, guest winemakers and brewers, and a live band with dancing into the wee hours.
Bring your own fedora and loud tie. "Mad Men" would approve.
Diavola Pizzeria, 21021 Geyserville Ave., Geyserville, 707-814-0111,
diavolapizzeria.com
Hand Made Events, 974 First St. West, Sonoma, handmadeevents.com
Suite D, 21800 Schellville Road, Suite D, Sonoma, 707-933-3667, figsuited.com
Subscribe to Our Newsletters!