That their house is on English Street was perhaps destiny for Caroline Hall and Brad Villegiante, who through hard work and a keen sense of style turned a weathered, weary 1920s Petaluma cottage into an utterly loveable home.
Hall's mother was born in England and Caroline has dual citizenship, identifying strongly with her British heritage. The studio above the garage is a tribute to her roots, with Union Jack pillows, "Keep Calm and Carry On" and other British prints, and a lamp from Anthropologie made of piled teacups.
She is crazy for teacups, a theme that runs throughout the home's decor. Hall also drinks plenty of tea, made in proper British fashion: first milk, then tea, and finally a bit of sugar.
The couple were in their mid-20s when they bid on the cottage, scooping it up for $365,000, then working to bring it back to its original splendor — and a notch beyond. They entered their 30s and became parents, recently welcoming beautiful baby girl Cecily into their hard-earned haven.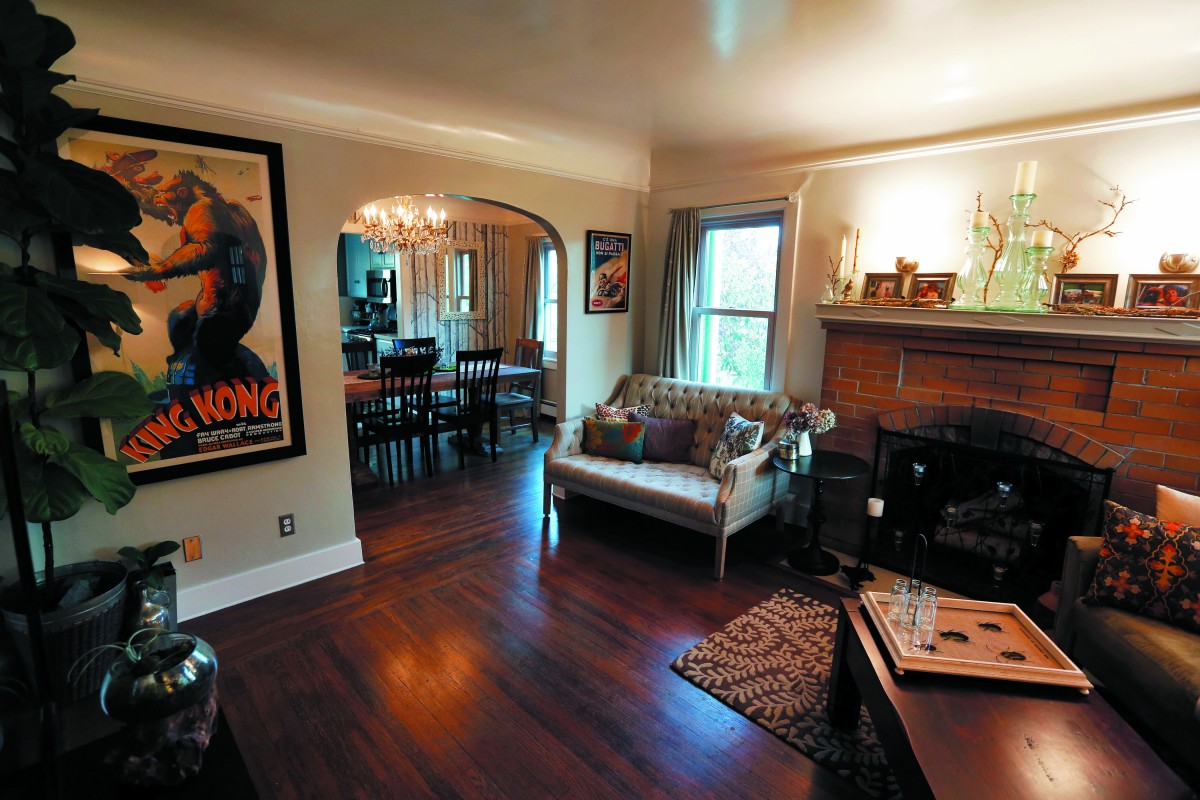 The old home's interior was blessed with the original hardwood floors and a sturdy brick fireplace that was still working. Villeggiante was especially charmed by the built-in hutch in the arched-entry dining room and the vintage porcelain sink in the bath.
"Nowadays, they build things cheap and fast," he said. "This house has character."
Hall knew she could work wonders with the enclosed courtyard in the back, making it into the essence of outdoor living space that is basically an additional room on all but the rainiest days.
That's particularly advantageous because the home on Petaluma's west side is smallish at 950 square feet, with just two bedrooms and one bath. The bonus is that a previous owner added the 350-square-foot studio. Flooded with light from windows on all sides and skylights, it seems twice its size, complete with a living area, raised bed with storage underneath, a kitchen and full bath. The couple removed six layers of linoleum and re-did the studio floors in a gray-washed hardwood.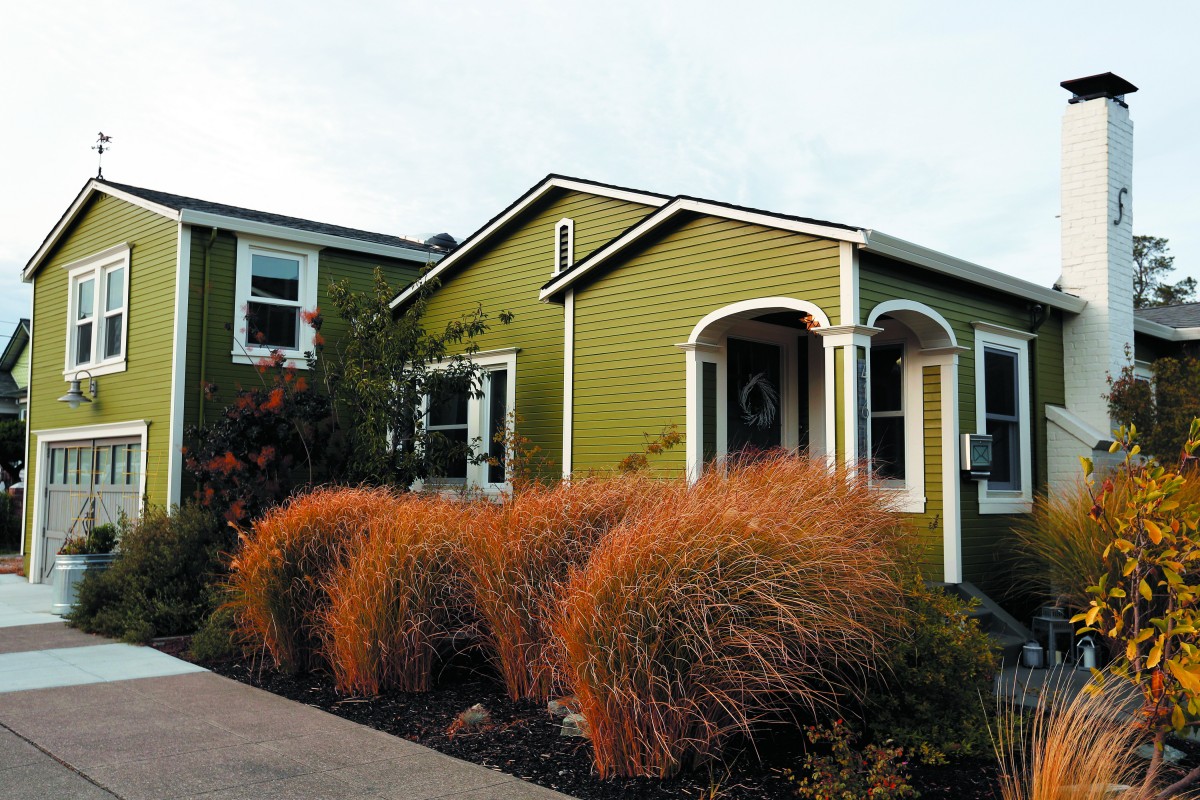 The house is framed in old-growth redwood, with plaster walls that the couple patched here and there. It was the shabby exterior siding, a lack of insulation and the old rickety windows that called for major overall. They put in triple-paned windows, framed in fiberglass on the exterior and wood inside. The new siding is new-growth milled redwood board, hand-nailed the old-fashioned way, and Villeggiante proudly points out the visible nailheads. Ben Bryant of Santa Rosa, who specializes in older homes, was the contractor.
They painted the house, which was once a faded bluish gray, an eyepopping shade of green that works with the white trim, gray custommade garage doors and nickel hardware. For a large exposed exterior wall, Hall designed a billboard-esque Petaluma scene, complete with a cow, rooster, barn and California poppies that she and Brad's mother, Karine Villeggiante, painted together. It's made of five pieces of plywood, with a frame that Brad built with his father, Andy Villeggiante, who also put in the new concrete driveway.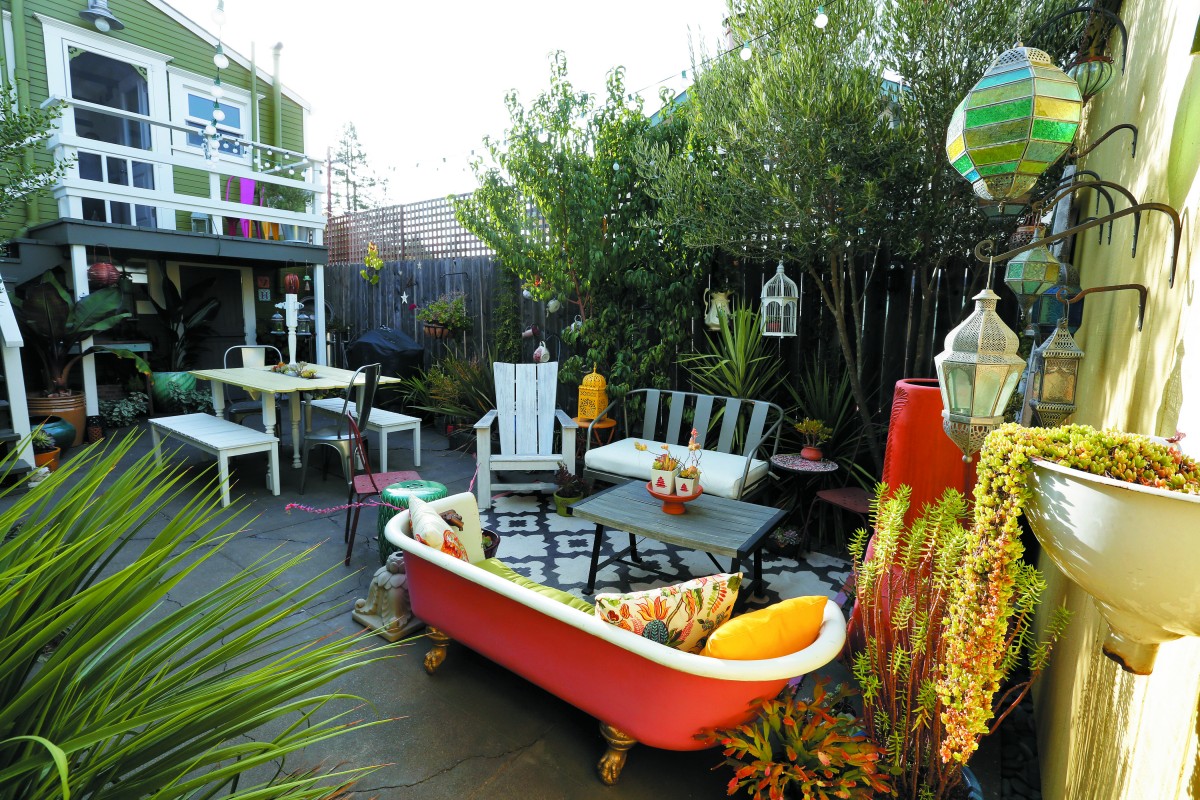 The landscaping is completely drought-tolerant. It was designed by Hall's cousin, landscape architect Heather Fletcher, and Hall and Villeggiante did the planting and drip irrigation themselves.
They met in high school in Santa Rosa. Hall has a photography degree from Brooks Institute, earned while Villeggiante was at San Jose State University working on a business degree. They both went to the University of Edinburgh in Scotland for their advanced degrees.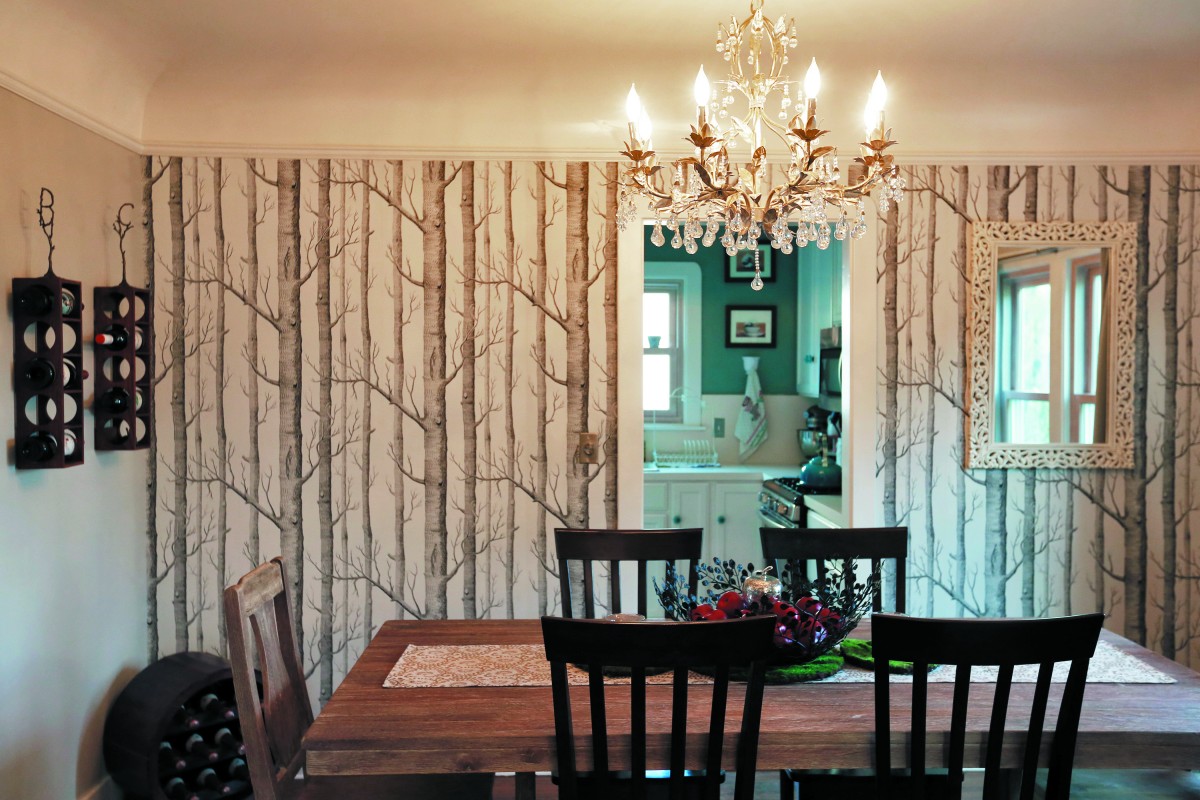 Today, Hall is the photography producer in the advertising department of Cost Plus World Market and Villeggiante is a manager at Smaato Inc., an Internet advertising firm in San Francisco. They said they are among the lucky souls who love their careers. Their backgrounds account for the artistic flair that is everywhere in their abode. "I am around designers every day," Hall said. "You start to think that way."
Villeggiante has a love for old advertising and movie posters, which is why King Kong and Marlene Dietrich grace the walls of his home.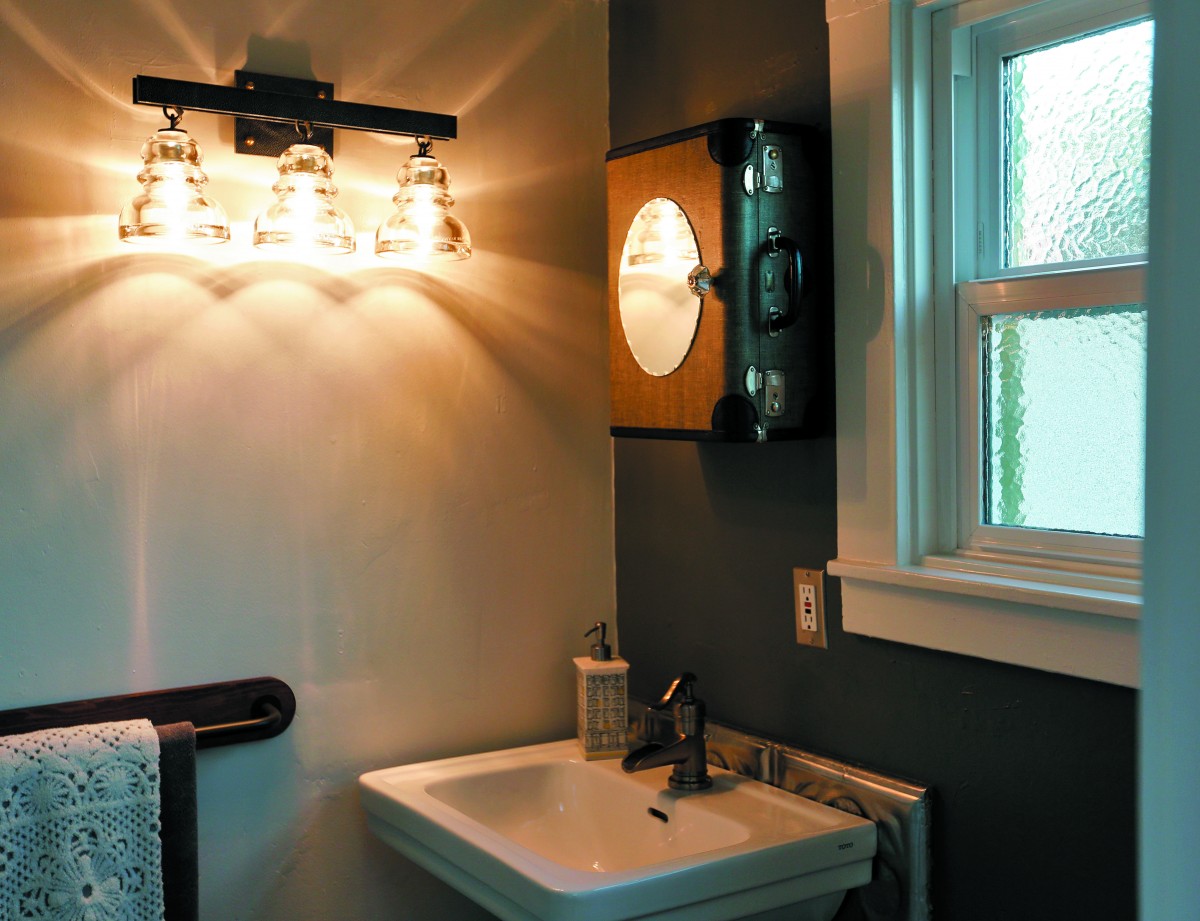 Cecily's nursery is a dream, with her name hung high in moss-covered letters with tiny birds, made, of course, by Hall. She also crafted a mobile-like wall hanging, from a tree branch with hand-folded origami butterflies floating from it. Hall and Villeggiante bought a gray Bellina Conversion Crib from Restoration Hardware that will turn into a twin bed when Cecily is ready, and a chalk-gray and white chest of drawers that they scored at The Find in downtown Petaluma.
While Cecily is so tiny, she sleeps in a Moses basket, a nook of warmth perched on a stand. Her nursery is full of toys and treasures, and on the lower shelf of a bookcase sit some very special stuffed animals that were once her Mommy's.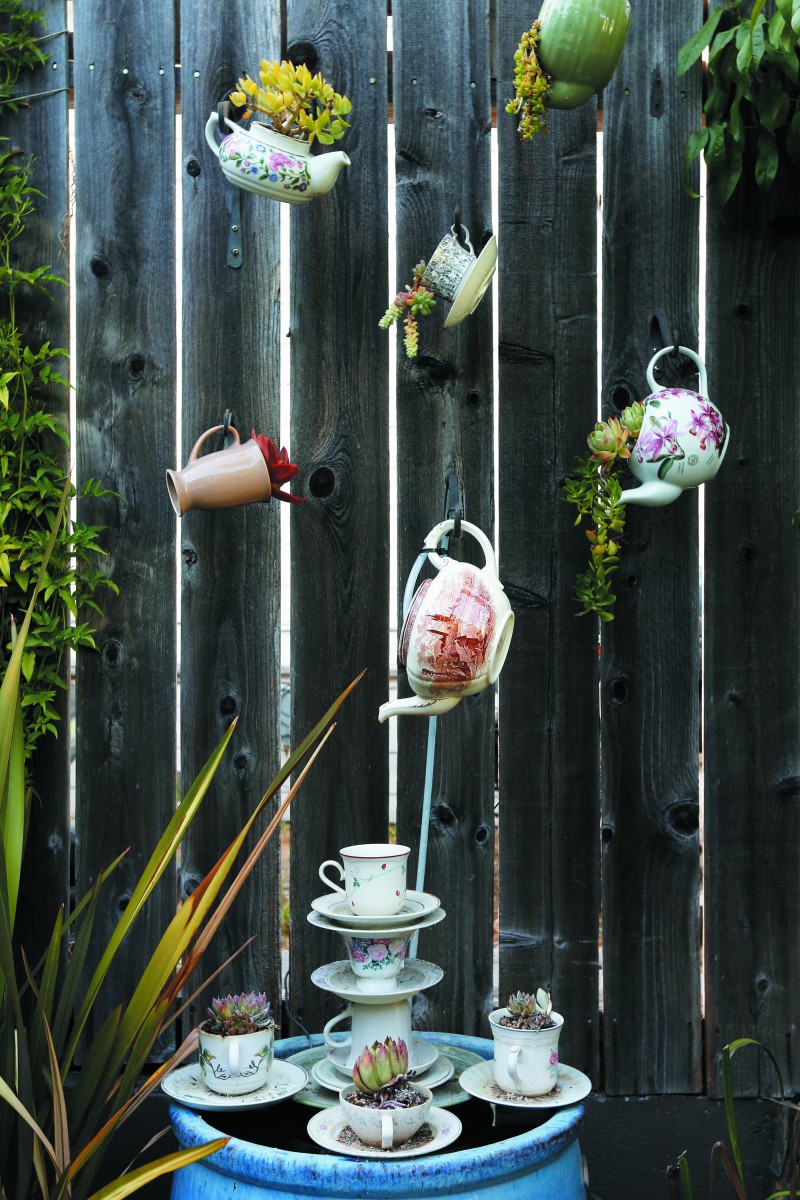 The couple, who won an Award of Great Merit from Heritage Homes of Petaluma last fall, knew from the start the house had good bones and had the vision to appreciate its potential. They also enjoy their older neighborhood that long ago was a fairgrounds. It's a mix of longtimers and young couples; everyone is friendly, and once a year they shut down the street and have a party.
"Everyone genuinely cares about each other," Villeggiante said. "The new blood is great for the older people."
He said they have learned the history of the area from those who remember when one bungalow was a Girl Scout headquarters and another home was a hunting lodge.
"We will own this house until we die," Villeggiante said. "We've put so much into it. It feels like it has a soul and we just love it."
Photography by Alvin Jornada.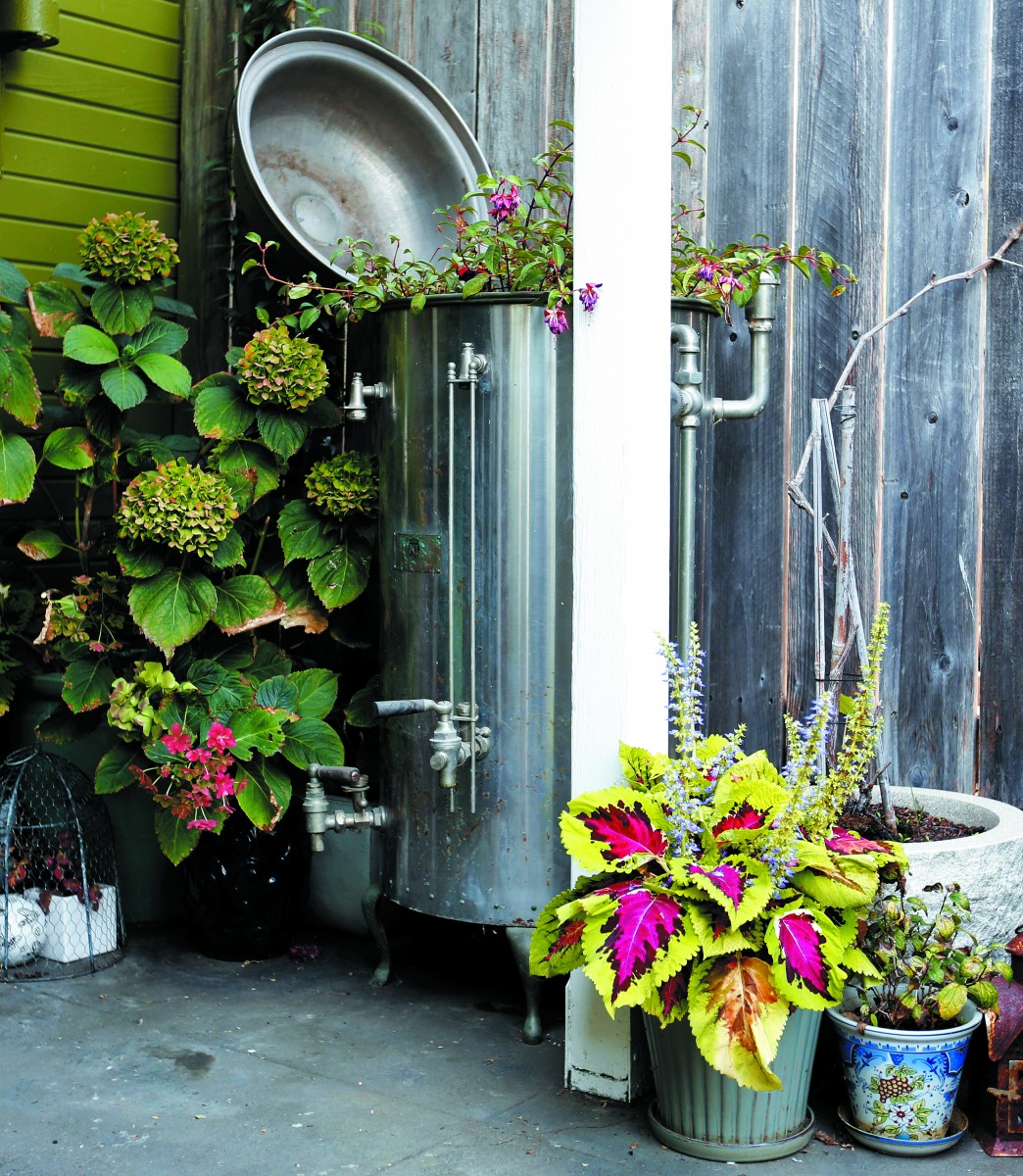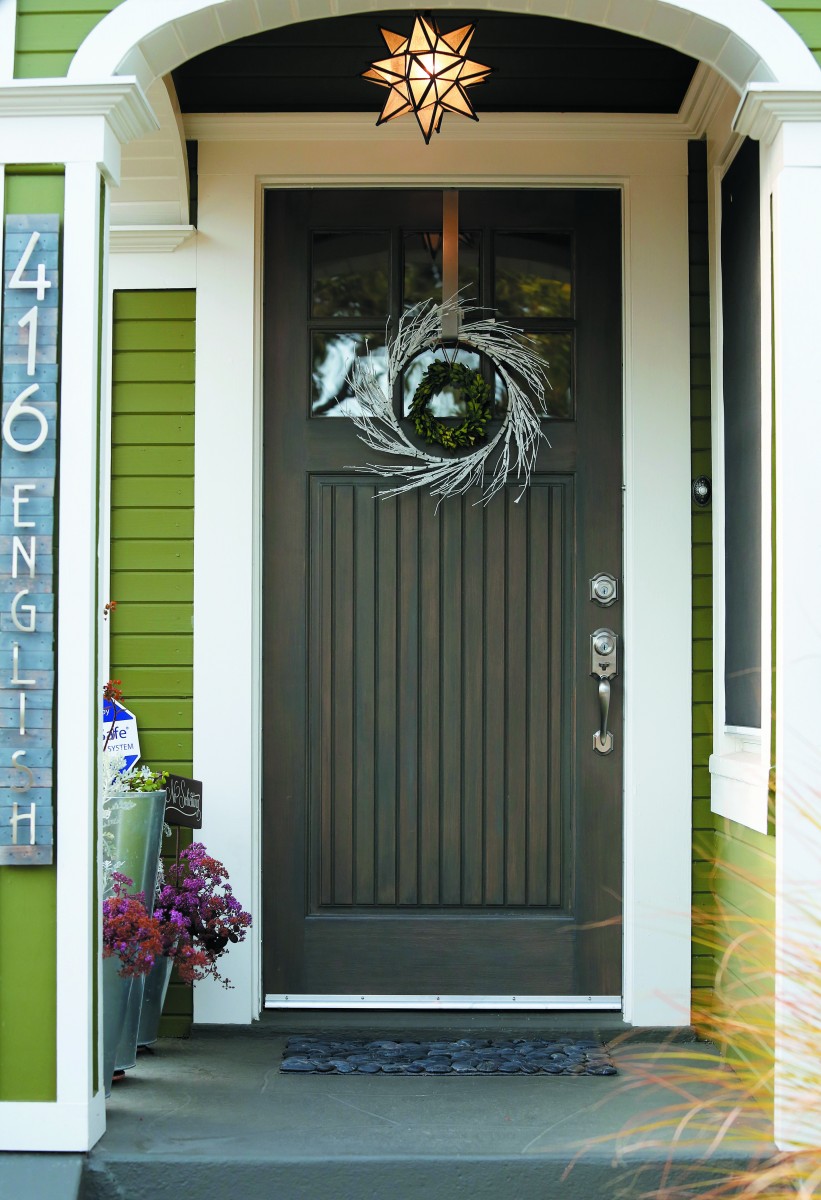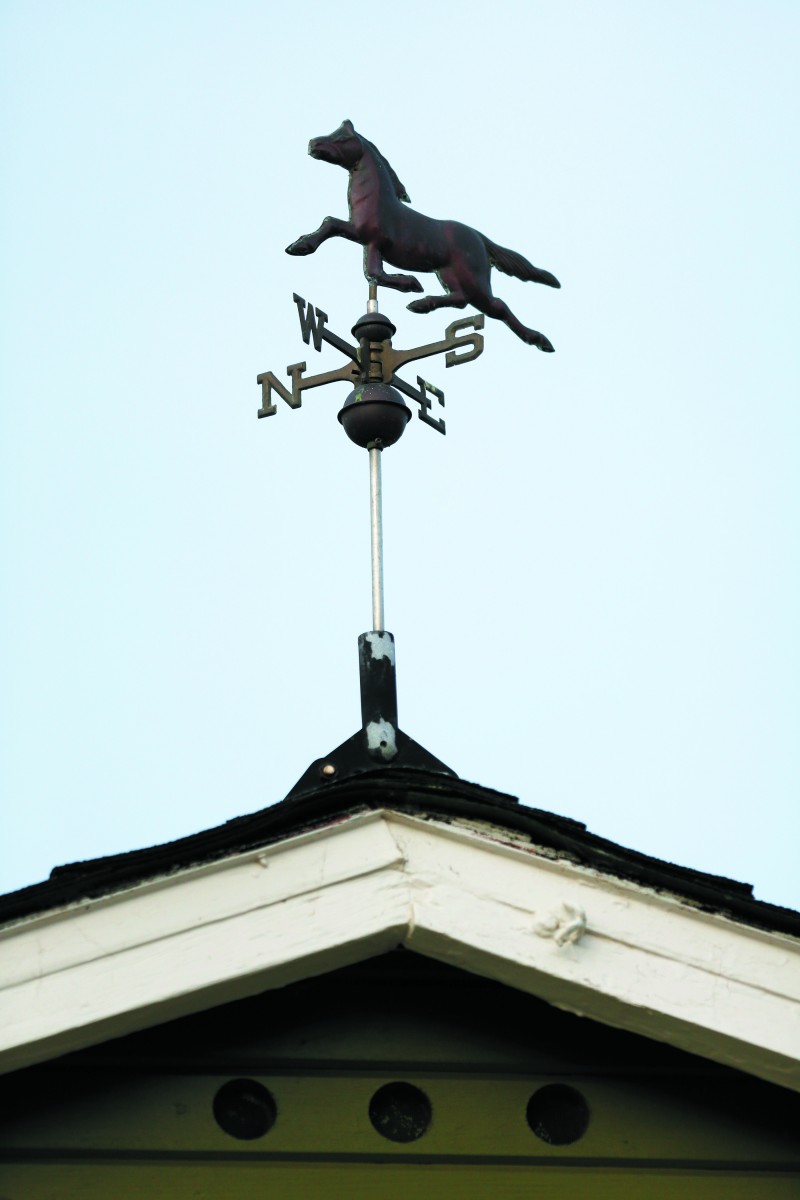 Subscribe to Our Newsletters!