Profile on Press Democrat Photographer Kent Porter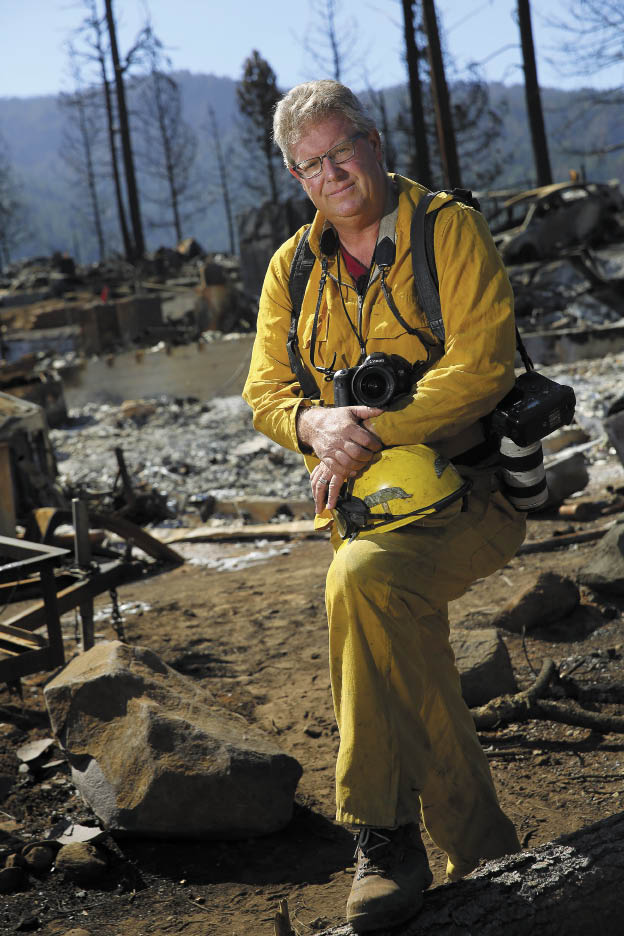 When the New York Times used the word "heroic" to describe The Press Democrat's coverage of the Valley fire in Lake County, it was talking in large part about photographer Kent Porter.
The Santa Rosa newspaper's master of disaster photography for 28 years, Porter has covered floods, mudslides, earthquakes and too many fires to count. This time, he was the first photographer on the scene in September, as a fire on Cobb Mountain began tearing across the drought-parched mountain and Middletown, overwhelming firefighters and sending thousands fleeing from their homes.
A few hours before, Porter, a 6-foot-5 giant of a man, had been relaxing at home in Windsor. When several air-tankers flew overhead, he checked his Twitter feed and scanners before racing northeast to the familiar rugged terrain of Lake County, where he grew up.
Porter would spend the next month documenting the flames' unforgiving path of destruction, as well as the barren aftermath as thousands of residents returned home to only ashes. His photos ran worldwide, including the cover of the Times and dozens of TV programs and websites, as the fire scorched more than 175,000 acres and destroyed 1,050-plus structures.
Age: 53
BEEN THERE: 1987 Saragosa tornado in Texas, 1989 Loma Prieta earthquake in the Bay Area, 1991 Oakland Hills fire, 1994 Northridge earthquake, 1998 Rio Nido mudslide.
FIRST FIRE PHOTO: Age 8, armed with a Kodak Hawkeye 126 Instamatic, "I remember standing with my father, taking photos of the Aurora Marina in Nice (in Lake County) as it burned to the ground."
CLOSEST CALL DURING VALLEY FIRE: Driving out of Middletown on Highway 175, "There were flames on both sides, the wind is blowing across the road, big sticks are coming at me on fire, trees are dropping everywhere, there are boulders on the road… . It was probably the most scared I've been."
THE MUSIC OF FIRE: "Some people say it's like a freight train, but I don't get that. It's like standing next to a giant waterfall. And sometimes when it goes through trees and brush, it sounds like sizzling bacon hitting a really hot grill."
MENTOR: John LeBaron, the late Press Democrat photo chief and Santa Rosa Junior College instructor.
HIS WIFE'S TAKE: "She tells people, 'I'm a fire widow,' meaning she doesn't see me much this time of year."
Subscribe to Our Newsletters!