Napa, you are now officially cool.
City Winery, a buzzed-about New York City winemaking facility, restaurant, wine bar and concert hall, lights up its first West Coast marquee in downtown Napa in early April, adding another layer of style and sophistication to a city making an energetic recovery from dreariness.
Taking over the 134-year-old Napa Valley Opera House, City Winery Napa promises a 300-seat concert space, state-of-the-art sound system, 100-seat restaurant and wine bar. More than 400 wines will be available by the bottle and 35 by the glass, served from kegs. Among the performers scheduled to appear in the first half of 2014: Bruce Cockburn, Leo Kottke, Maria Muldaur and comic Lewis Black.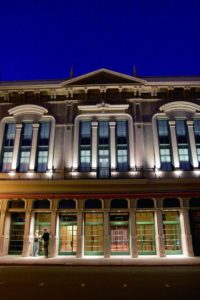 But there will be no winery at City Winery Napa. New York impresario Michael Dorf, who created City Winery in New York in 2008 and added a Chicago location in 2012, offers regular folks the opportunity to have their own wines made for them at those sites. But Dorf figures there's enough winemaking going on in Napa Valley as it is, and will leave the hose-dragging and barrel-rolling to the established pros.
Dorf has a 10-year lease on the opera house. Built in 1880, it was shuttered from 1914 to 2003, reopening after an extensive renovation. The grand edifice on Main Street became a source of civic pride and a keystone in the transformation of downtown Napa from drab to upbeat, with new restaurants, hotels, galleries and tasting rooms opening in rapid fire.
But the Napa Valley Opera House struggled through the recession, and in 2013, its directors learned that Dorf was searching Napa Valley for a City Winery site. They proposed sharing the building with him, impressed by his ability to attract top-name acts and the profit-generation potential of continuous food and drink sales, even on dates when the concert hall is dark.
Dorf's lease allows for 300 City Winery performance dates per year, 75 of which are reserved for the opera house's own community-based programs. Weddings and other private parties can book the venue, and wine- and food-focused events are also in the works.
Opera house regulars will notice some design changes. The downstairs has been retooled to accommodate the restaurant, and the sloped floor of the second-story Margrit Biever Mondavi Theatre is now flat, its row seats replaced by cocktail tables and chairs so that concert-goers can eat and drink during shows.
Of course, the announcement of City Winery's lease for the building didn't sit well with everyone in Napa. Some feared that Dorf was installing a noisy nightclub or cabaret; others accused him of killing their opera house.
His response? "We are not about the 'destruction of the opera house,' as some have speculated, but rather about helping the venue do more of what it was designed to do: creating a lifelong memory of an experience involving all of the senses, and reaching as many people as possible."
Napa will be all the hipper for it.
Subscribe to Our Newsletters!