Interior designer Jay Jeffers wasn't in the market to buy a hotel. It had never even crossed his mind. But when a friend suggested that he check out an inn for sale in Healdsburg's Dry Creek Valley, he shrugged, "Why not?"
It was Memorial Day weekend 2020. Most businesses were shut down, and there was nothing else to compete with a guided tour of an 1881-era mansion listed on the National Register of Historic Places.
"It was a chance to get out of the house," he says, laughing. But the former Madrona Manor had him at the gate. Passing through the distinctive twin pillars at the entrance at Westside Road, he was thunderstruck by the whole package—a Gilded Age "cottage," lush grounds, vineyard views—and a sense of stepping into another world.
"I had never seen it before. I didn't even know it existed," says Jeffers. "You come into the gates to these beautiful gardens and suddenly the mansion presents itself to you. And then you turn your head and look over the Dry Creek Valley. It was just one of those things. I could see its future immediately."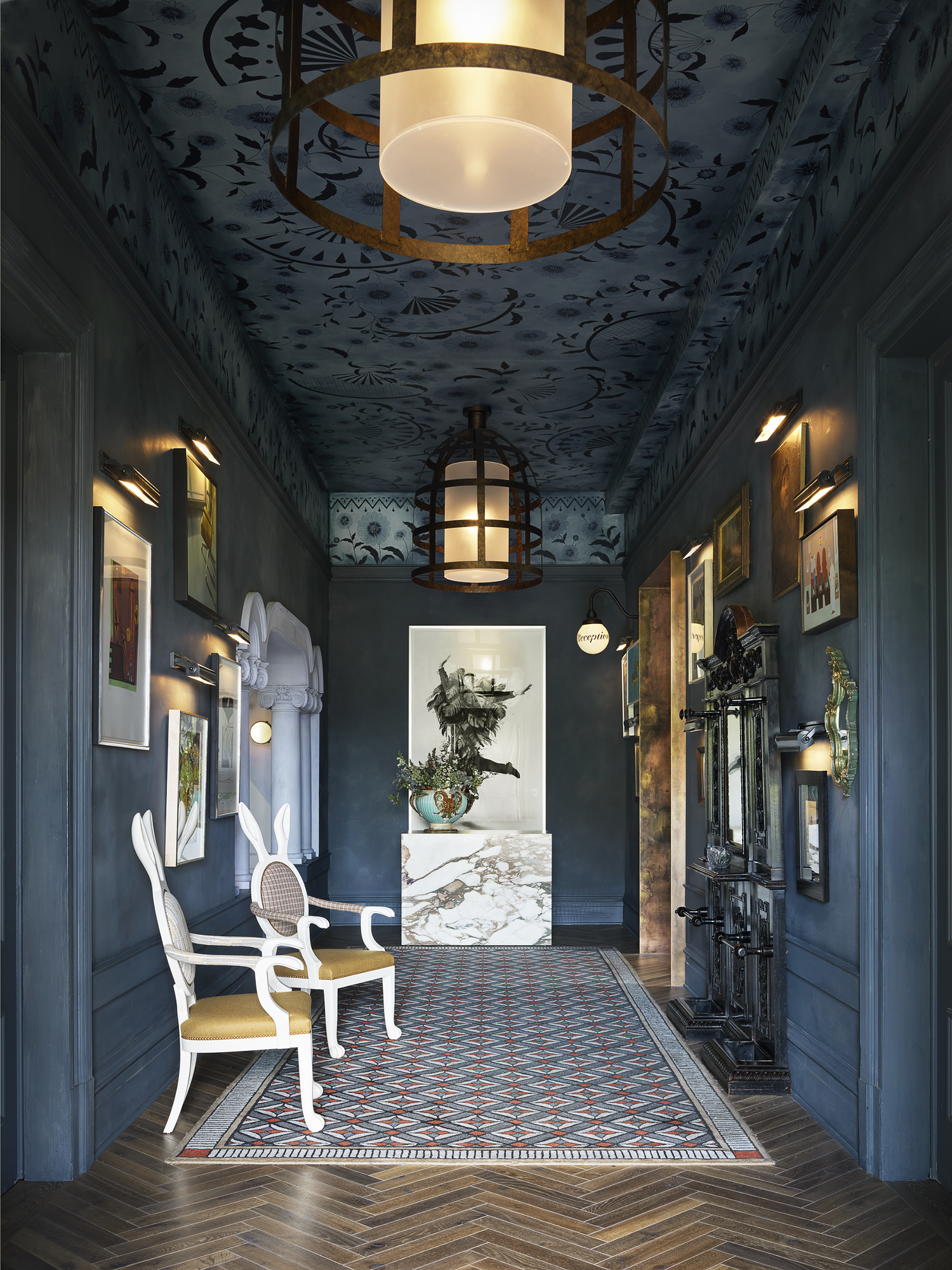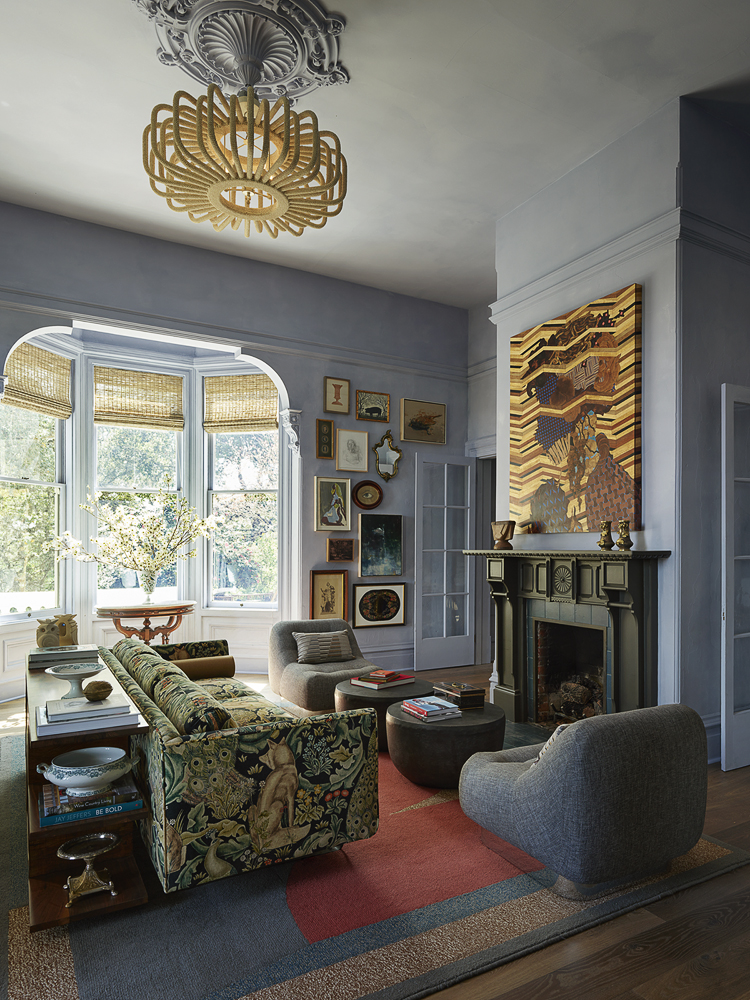 After a 2 ½-hour tour, he was sold. Jeffers recruited a group of investors, who purchased the 8-acre estate for $8.6 million in February 2021. By April, they were "swinging hammers," as Jeffers enthusiastically dove into a $6 million makeover in partnership with Santa Rosa architect Daniel Strening and Petaluma-based Redwood Builders. The restored building, now a 24-room boutique hotel, reopened in April 2022.
Longtime fans will feel a difference the minute they pull up to the mansion. A sophisticated pale grey replaces the yellow on the exterior. Inside, down came heavy Victorian drapes, letting the Sonoma sun stream in. Jeffers installed new European herringbone oak floors, and he commissioned dramatic, painted ceilings, one by San Francisco artist Willem Racké that incorporates designs found on 18th century china.
To furnish the space, the designer incorporated antiques original to the 1881 mansion alongside custom furniture he designed himself and commissioned pieces from makers and artists. Much of the art comes from his friend Lisa Chadwick's Dolby Chadwick Gallery in San Francisco. "We catalogued about 750 pieces of furniture, fixtures and artwork, and we did end up using about 250 of them," Jeffers says. "I tried to use at least one piece from the property in every room," Jeffers says, noting that the historic pieces give the hotel a "rich character that has been built over the years."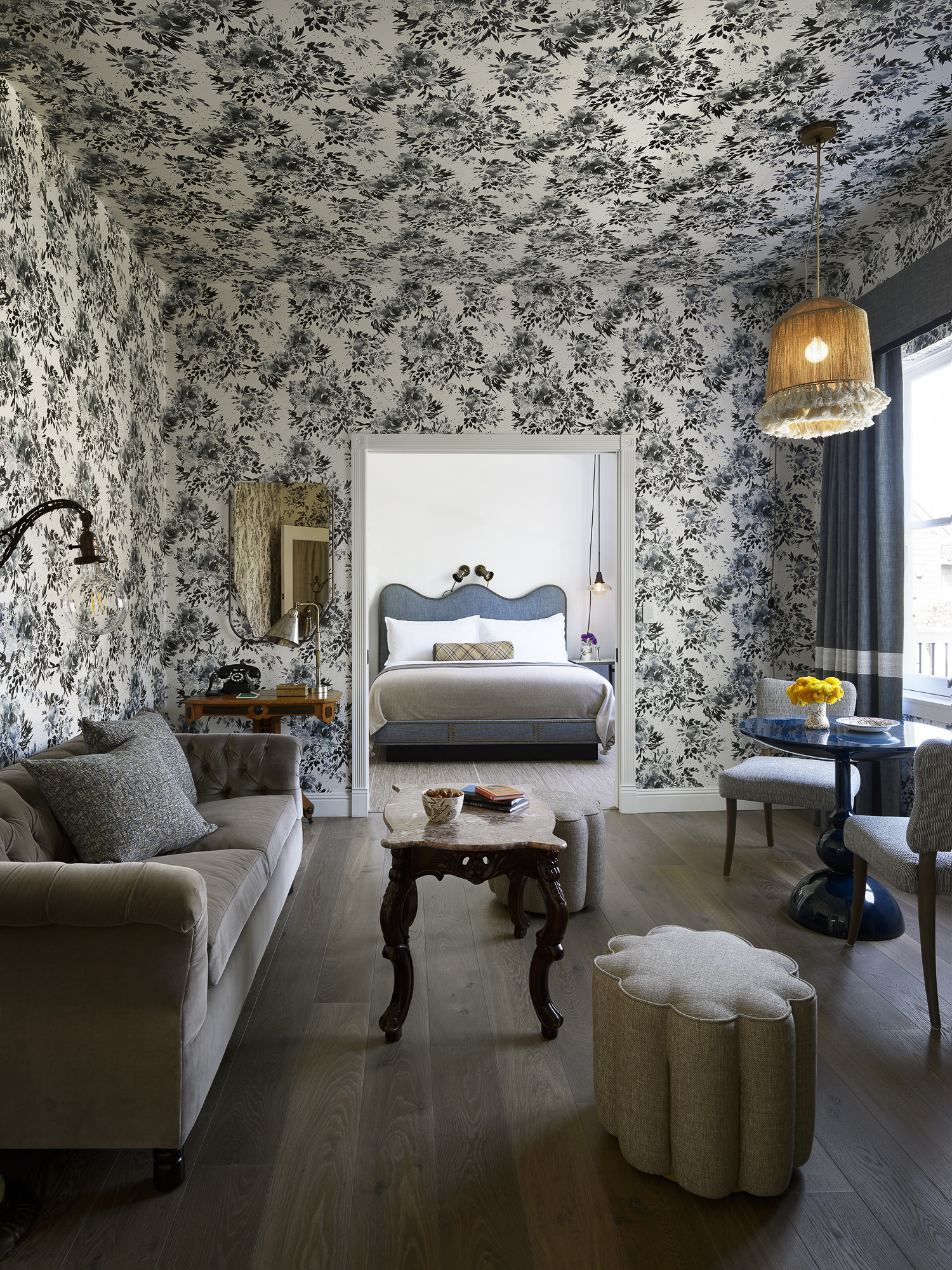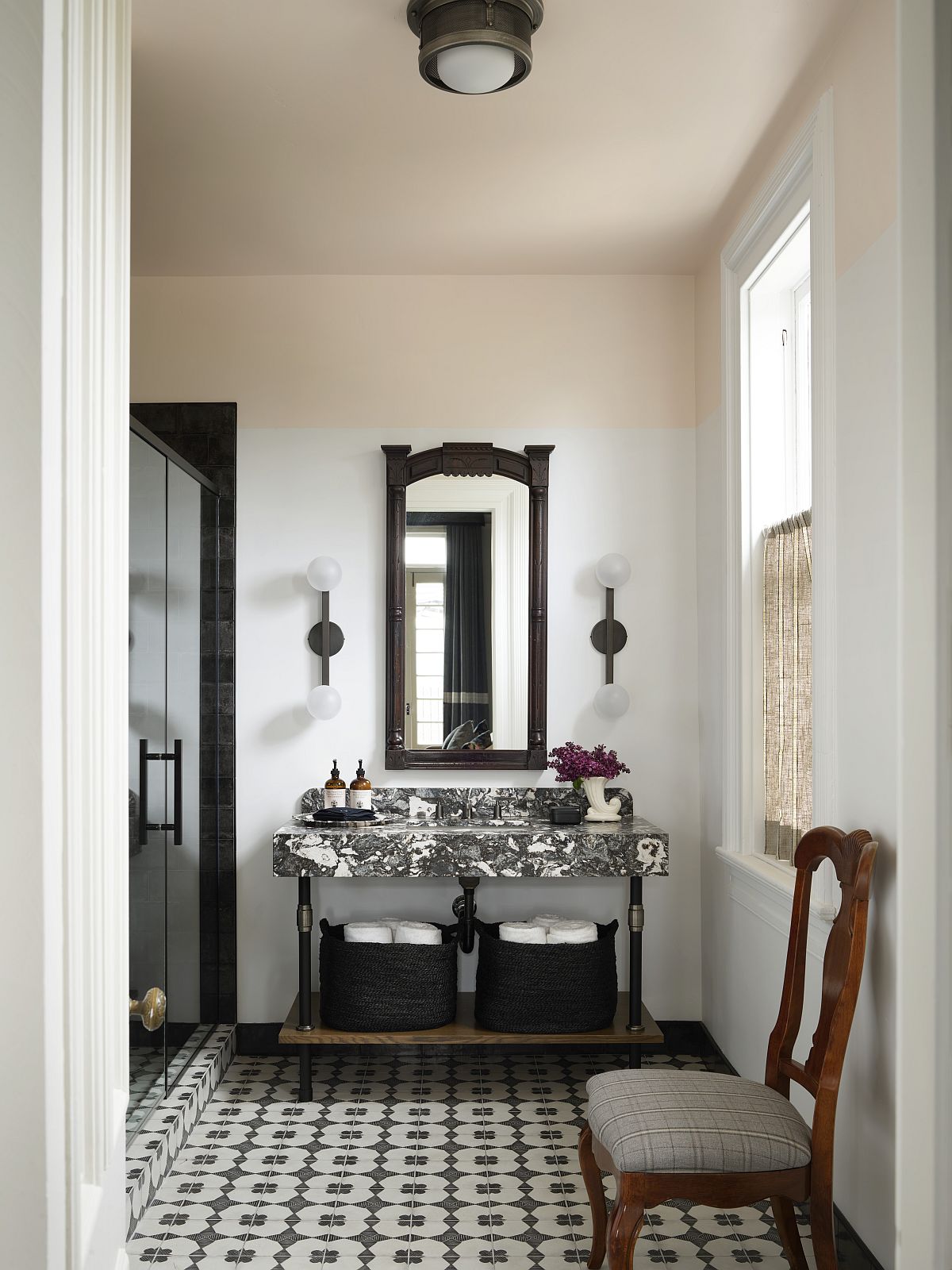 Jeffers explains he was inspired by the 19th century British Aesthetic movement, which embraced beauty and art. "It was about art for art's sake, and beauty for beauty's sake," he says. "It was about joy and having fun. They say in some ways, it was the birth of residential interior design, because it was about how your home made you feel instead of what your home meant to other people who saw it."
That feeling of hospitality extends outward, not only to The Madrona's guests, but across the wider community. "I feel like this is part of the Healdsburg community," Jeffers says. "I don't want it to be so insular…We have a whole bar menu if you want to come up and sit at the bar and have a burger or pizza and a snack and sit out on the front porch. It's a 24-room hotel. We want there to be energy, vibrations, and people enjoying the space at all times."
Touched by the many stories people have shared about their weddings, romantic dinners, and other special occasions marked at The Madrona over the years, Jeffers has big plans to invite in the community, perhaps with outdoor movie nights featuring theater food that is a cut above—like executive chef Jesse Mallgren's exceptional fried chicken. And he looks forward to a more relaxed summer season, after the flurry of renovations.
"In a way we were pushing it to get it done," Jeffers says. "I always felt like we were behind. But when I look back on it, I think what we did in a year is quite an accomplishment."
The Madrona's revamped dining program
Longtime executive chef Jesse Mallgren has remained at The Madrona through the renovation. And it's in Mallgren's Michelin-starred restaurant where guests of the property will perhaps notice the most dramatic changes. Gone are the creaky, uneven floors, heavy white tablecloths, and petticoat drapes that never jived with Mallgren's forward-thinking culinary prowess.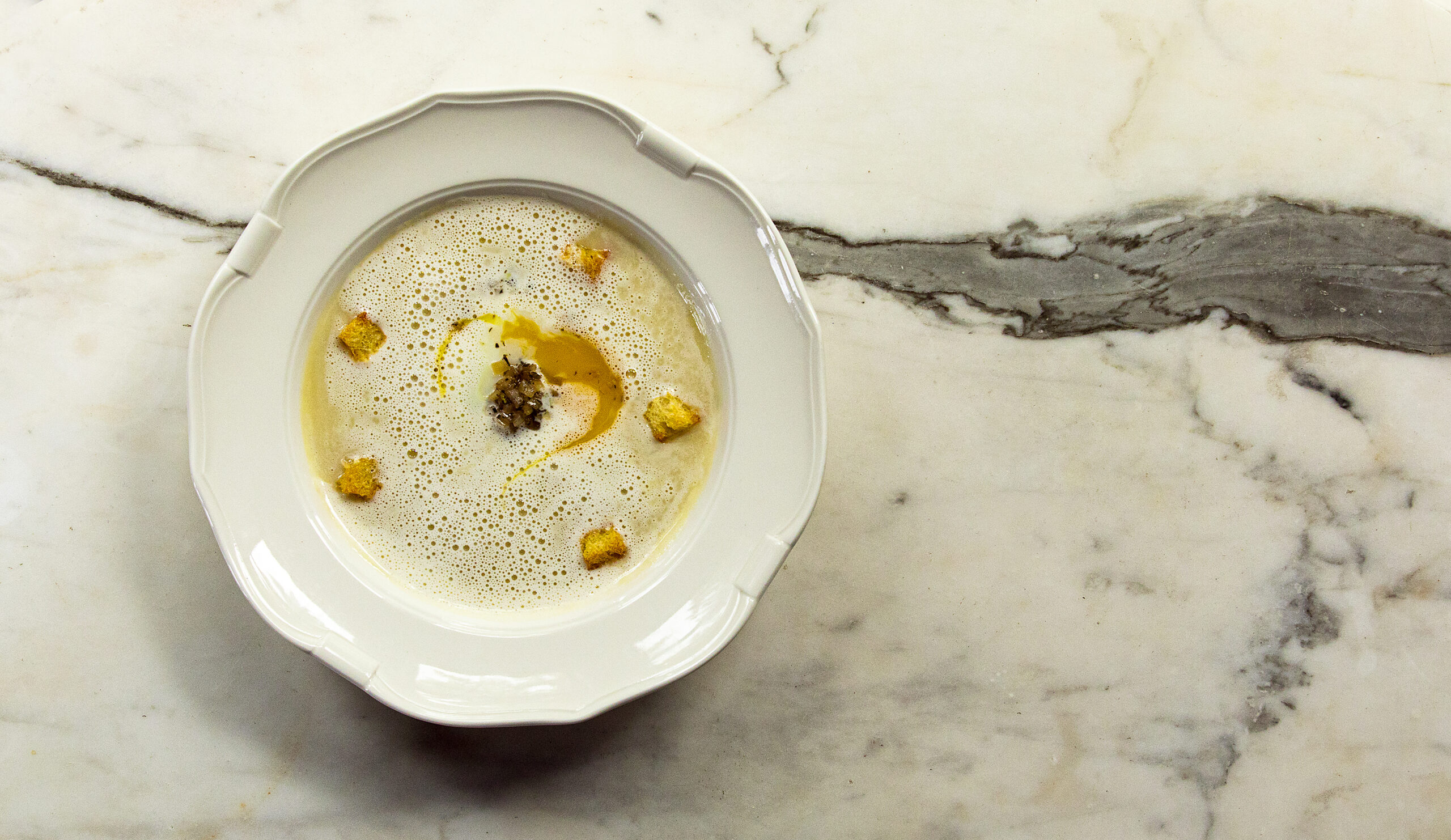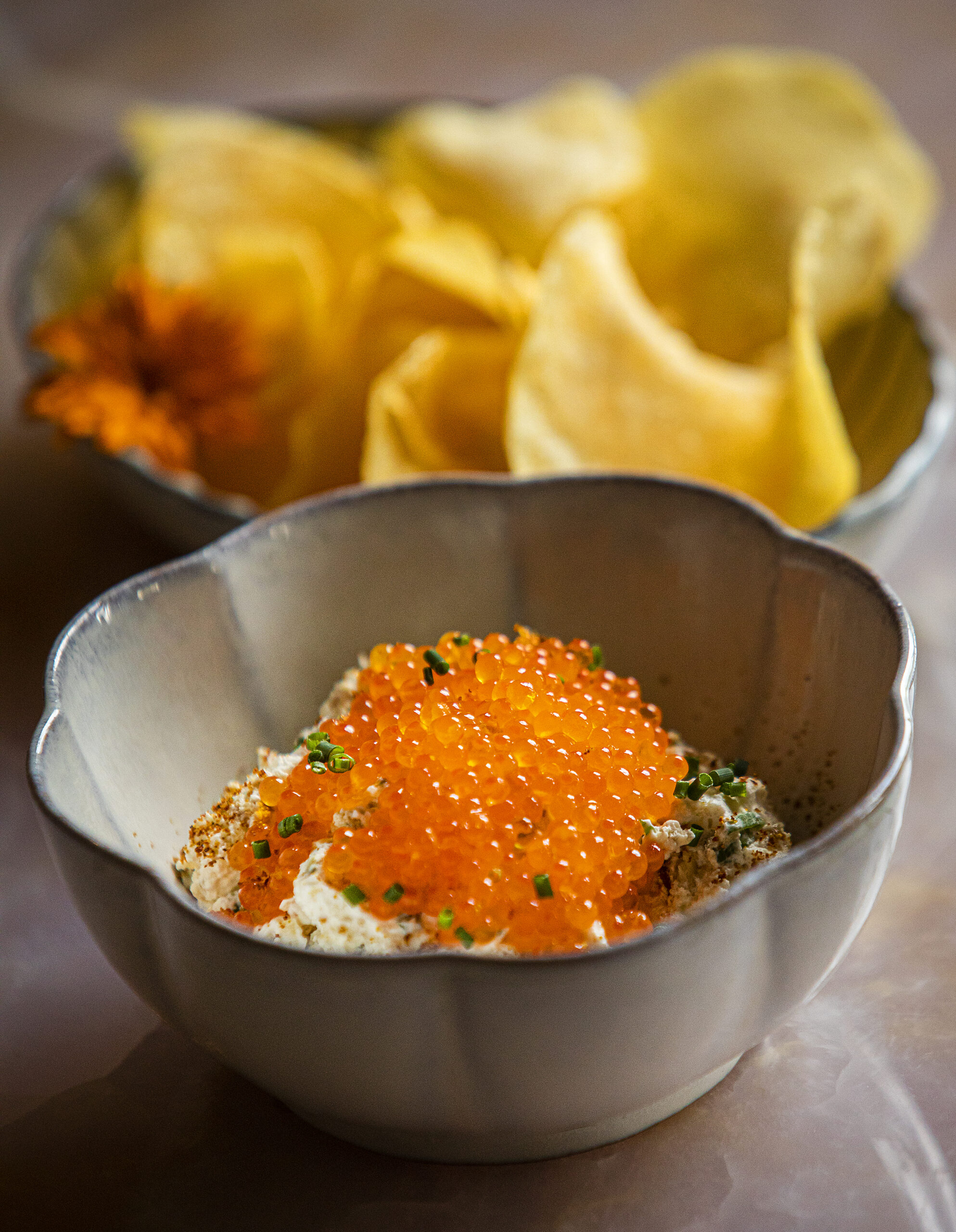 Instead, modern lighting and bold, pinstriped outdoor furniture hint at Mallgren's simplified new menu. Complex molecular gastronomy has been tossed aside for more approachable, but still opulent dishes like caviar and onion dip with trout roe and homemade potato chips, fresh estate-grown green salads, and chicken paillard with spicy brown butter and rice powder.
And yes, Mallgren's famous tableside ice cream made with liquid nitrogen is gone from the menu—but so are the early 2000s, and we're all ready to move on.
The Madrona 1001 Westside Road, Healdsburg, 707-395-6700, themadronahotel.com
-Heather Irwin
Best Bets
Onion Veloute: One of the only dishes that remain from the original menu, this creamy soup features a floating slowcooked egg that melts into the dish, adding a second layer of luxury.
Grilled Local Black Cod: Gently poached cod is gets a bath of lemon-thyme broth studded with fresh peas and estate carrots. So simple, yet so good.
Guava Sours: Don't overlook the house cocktail menu, which plays to seasonal, estate-grown fruits and herbs. This tart vodka sour gets a mix of guava nectar, lime, orange oil, Lillet, and black salt with just a hint of herbaceous absinthe.